Gaming is always the best to entertain yourself. A caveat to this is playing with friends boosts this up so much. Choosing a game that can enable you to play games with five or more of your friends could prove challenging.
Nowadays, only a few games support more than four players in a team, but having the ability to play such games with five or more players is always fabulous to enjoy. Imagine playing a game with 6 of your friends or more and beating the final boss like its cheese. Or even going far enough for a man-hunt, fantasize about the fun to gain in it.
The top 5 multiplayer games for a group of 5 people that provide the best gameplay are Minecraft, Fortnite, Call of Duty: Mobile, Fall Guys, and Among us. These games stimulate you to enjoy various types of gameplay with friends. 
Also read: Best Japanese PS4 Games
1. Minecraft
Minecraft is a game that blew up in 2020 once again. The game is still popular to this day in 2023. Minecraft has a day and night cycle and the infinite world of the Earth itself. The world of Minecraft is surrounded by villagers, which most players loot for their hard-earned loot, and that is when those golems come and smash you up.
The game can offer a lot. It has excellent bosses to fight, like the Wither and the Ender dragon, and an end dimension to explore after ending the game. The game is a grind in itself, and the never-ending wood can be a problem, but automatic farms make it easy. The best part about Minecraft is it's multiplayer because a player can produce their Minecraft server and host it on different websites or their local IP; the choice is up to you.
If you want to skip the enormous hassle of building and publishing a server, hundreds and thousands of Minecraft multiplayer servers are already published. One of the most noteworthy servers of Minecraft is Hypixel. The server offers a lot, and playing it with friends is fantastic. 
Are you looking for some privacy? You can find some servers with some to no player count. Because of this, the endless world of Minecraft is yours.
One of the best parts about Minecraft and its multiplayer is that no matter how many groups of friends you are, even 100, you can fit into one world and live your life. Some players go far enough to make their SMP and play it together, building towns and much more.
Typically the more players you have, the best for Minecraft because making automated farms is always intriguing but a long process.
2. Fortnite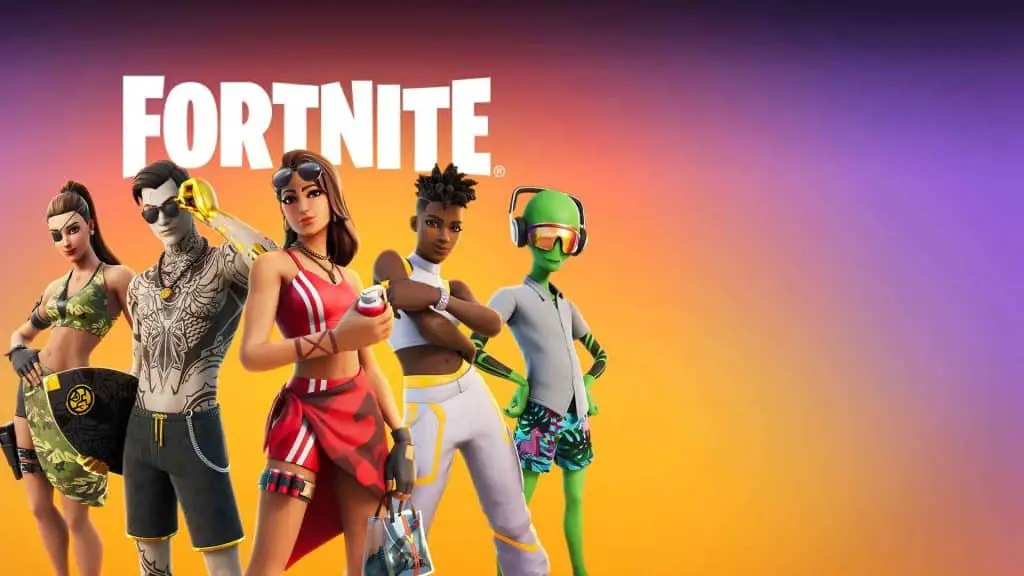 Fortnite was the most popular game in 2018 because of its new Battle Royale. The game used to be only a zombie game, but there was a new change in 2017, releasing its Battle Royale. When Fortnite came, it flooded the internet with its immersive world, and 100 players fit in a world fighting to survive. Fortnite offers a lot of weapons and choices to choose from.
The gameplay that Fortnite released was the main reason for its popularity in its prime. No game had the building concept, and even today, except Fortnite, no game performs in more building than any other element. In Fortnite, players can build anything they'd like and add a new way to fight called build fights.
Jumping in a squad match with your four buddies and build fighting against a 4v4 of your own while the remaining 92 players fight themselves.
Fortnite is a multiplayer game developed by Epic Games. It is free and of no cost. Anyone could play this game on any platform nowadays. Because the game is free and cross-platform, it is the perfect choice for a group of 5 people. The old squads won't offer you the five players option, but other modes, such as Creative and Team rumble, does.
In Team Rumble, 16 players can play in one party with other teams. The creative mode is different. The party limit is 16, so invite as much as of your friends as you can and make your islands and fight in them. Players can make various islands in the game and publish them for other players to enjoy.
Gamers can host custom games only locked behind a support creator code. But if you have one, invite your 100 friends and start a game without boundaries. 
Also read: Anime Games With Character Creation
3. Call of Duty: Mobile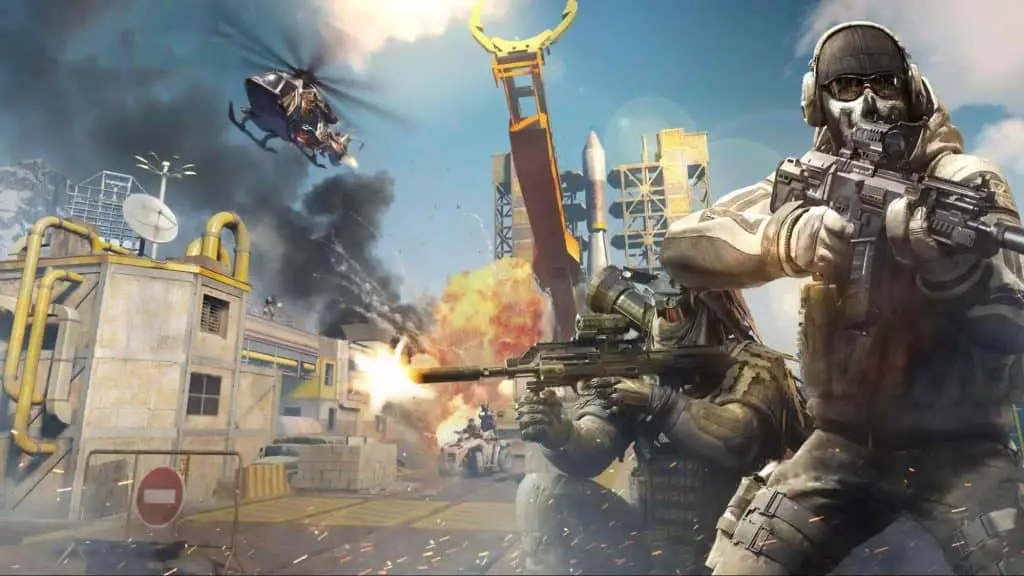 Call of Duty Mobile is a free to play, and shooter game developed and published by Activision. The game was released in 2019 Call of Duty series has always been famous for its games. There are countless games available of Call of Duty. Call of Duty Mobile offers so much for its small size, and the best part about the game is whether you are a Mobile or PC player, you can game on both.
The game is free to play on both platforms and offers free rewards for its players. To access the game on a PC, players can download emulators to play it. Call of Duty Mobile offers numerous game modes for more than five players in a group.
The game offers a variety of modes to choose from, such as Hardpoint, Search & Destroy, and Kill Confirm, and these modes can be played privately or in public.
1. HardPoint
HardPoint is a 5v5 match divided by Red and Blue with a score limit of 150. Every elimination players gain a point, and any team able to get the most point first wins. Players who keep a kill streak without being eliminated gain score streaks. These have a limit, and players can unlock score streaks on five kills of a streak or ten.
2. Kill Confirm
Kill Confirm has a score limit of 30, and each player gains a point upon killing an enemy, but they have to pick Dog Tags dropped by the enemy upon their death. Friendly Dog Tags are marked in Blue, and Enemy Dog Tags are in Red.
A twist to this is if your teammate has been eliminated and you pick up their Dog Tag before the enemy can, the kill won't be counted for the opposite team.
3. Search & Destroy
Search & Destroy has two 5v5 teams divided by Attackers and Defender, which is random every round. There are six rounds in this game mode, a total of two points in the map known as A & B. The target for the Attackers is to plant a bomb in either of the spots, and Defenders have to prevent this.
The team who wins more rounds wins the match.
4. Fall Guys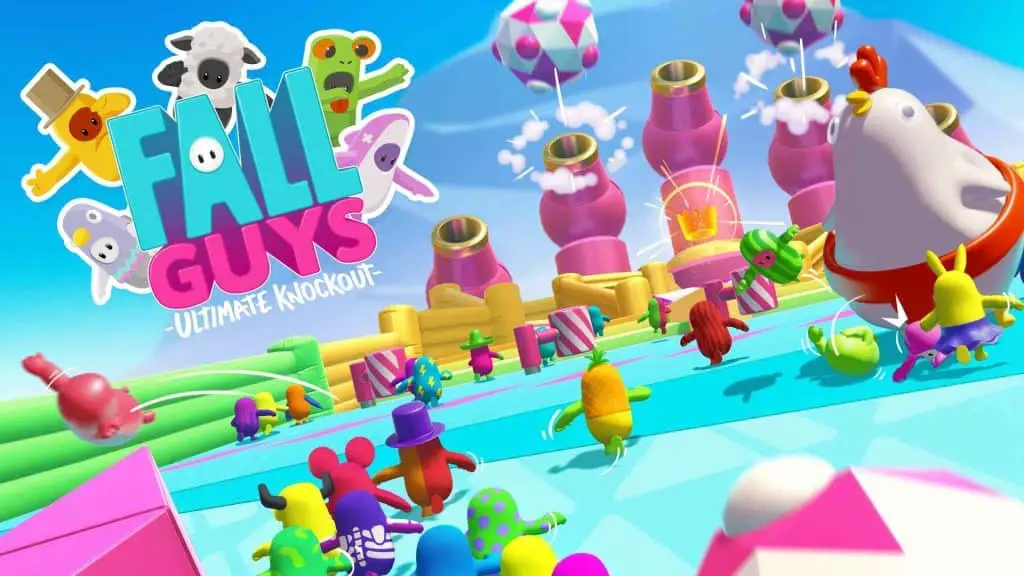 Fall Guys is a free-to-play Battle Royale game published by Epic Games now. Gamers can play the game on PS5, PS4, PC, Nintendo Switch, Xbox One, and Xbox Series X|S. It was released in 2020 and developed by Mediatonic.
Sixty players in a match compete in a race to the objective while parkouring their way.
Fall Guys is best for five players because you can invite friends to compete in this parkour while hanging in a Discord VC. If you haven't played the game with your friends, you miss a ton because it is filled with joy. The game used to be paid, but it was made accessible for free on Epic Games, and now players can enjoy it for $0.
Also read: Best Indie Games Of All Time
5. Among Us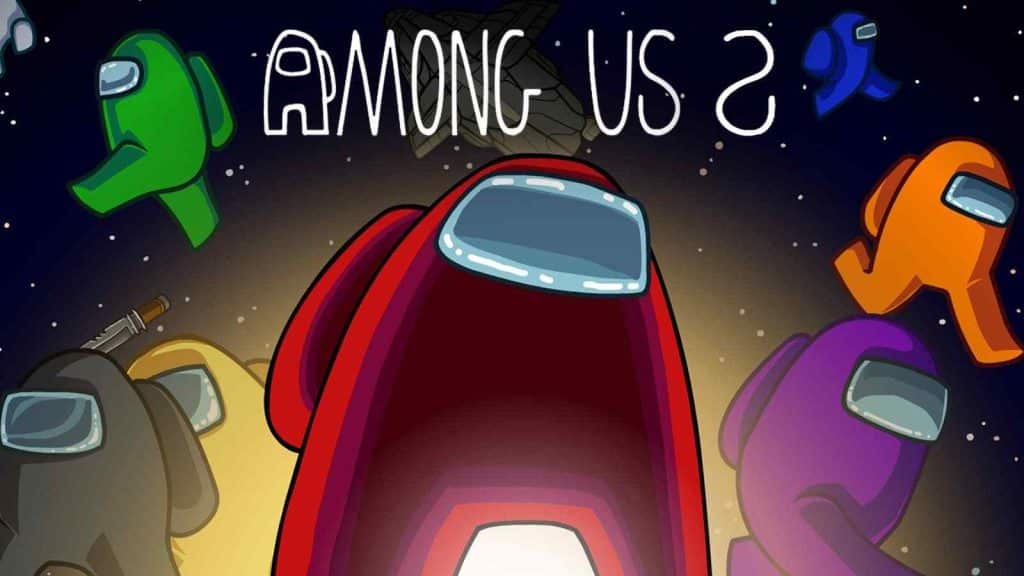 Among Us is a multiplayer game developed and published by Innersloth and released in 2018. The game gained popularity in 2020 and is accessible for free on Android but $2 on Epic Games for PC. However, Among Us was made $0 in 2020 in Epic Game's mega sale. The game focuses on Crewmates and Imposters, and Imposters have to hunt and secretly kill Crewmates.
The crewmates must complete the tasks or vote the Imposters out before a disaster. Among Us is best for a group of 5 people because you can make private games and play the game hunting which is the Imposter and vote them out. Unfortunately, the game only has this concept, this is way more exciting and incredible than it seems.
Final Thoughts
Without a doubt, these games are the best for a group of 5 or more to enjoy. These games have and are still gaining popularity and offer their own gameplay. Some of them offer a ton of other game modes to relish.
Ultimately, it all comes down to the leisure time you want to have with your friends, whether the game is Among Us or Fortnite.