A powerline adapter is a better option than running Ethernet cables into the wall or depending on potentially unreliable WiFi. A powerline adapter will transfer your songs, photos, videos, and device data through your home's current electrical wiring in the same way as ethernet cables can. Since electricity is concerned here, one often asks himself, "do powerline adapters need to be on the same circuit to work"? Let's take a look and find out.
When powerline adapters are attached to separate electrical circuits and converge at the same distribution board, they can operate, but they would not function as efficiently as when connected to the same circuit. The electrical wiring's efficiency would also have an impact on how well they work.
Some individuals have had problems with various circuits, although others have had no problems with them. However, based on our research, the vast majority of people have discovered that powerline adapters operate through several circuits, although with a slight drop in performance.
Also read: Best Powerline Adapters for Gaming
What Is An Electrical Circuit?
If you're not familiar with electronics or how electrical circuits operate, it's not a bad idea to brush up on the fundamentals. You may notice that having this extra expertise comes in useful when setting up your home network.
An electrical circuit is nothing more than a direction that electricity from a voltage or current source takes.
The "source" of electrons is the place where electrons join the circuit and is referred to as the "start" of the circuit.
The "earth ground" or "return" is the point when the electrons exit the circuit. It's named that since electrons actually return to the source to complete the circuit. They return back to the source.
The "load" is the portion of an electrical circuit that connects the return with the source. The powerline adapter you're plugging in becomes a component of the circuit and is used as a charge in your scenario.
"Direct Current" (DC) and "Alternating Current" (AC) are two types of electrical control that may be used in electrical circuits. Larger appliances and engines are usually driven by AC, which is provided by and originates from large power plants.
Battery-operated gadgets and electronics, such as a torch or a telephone, are driven by DC. Should the need arise, converters may be used to convert DC to AC and vice versa.
What Are The Different Types Of Electrical Circuits?
Three kinds of electrical circuits can be seen in the typical household.
Lighting circuits
Ring circuits
Radial circuits
– Lighting Circuits
These circuits only exist to provide light, as their name implies. While it isn't directly related to powerline adapters, knowing a little about them isn't a bad idea.
Lighting circuits are radial circuits that can have two types, with a fusion of the two being common.
The first is loop-in, which involves extending a cable from the user unit out to several ceiling roses, each of which is connected to the light pendant and its toggle.
The other type of junction box is a little more traditional and isn't as usual these days. Junction boxes are placed in a convenient location across the main cable to supply energy to a lighting pendant, but each light switch is connected separately.
Even now, when adding more light to a current circuit, this approach is frequently utilized.
– Ring Circuits
The most popular way of building electrical outlets in a house is to use ring circuits, where each floor typically has its own circuit.
The sockets create a continuous circuit, with the circuit starting and finishing at the consumer device. The twin and earth cables start at the consumer unit, pass through the walls, and attach to one of the plug sockets before returning to the consumption unit's main terminal.
Power may be supplied to the power sockets in any direction along with the coil, reducing the cable's load.
– Radial Circuits
While ring circuits are now considered the industry norm for electrical circuits, several homes may still use radial circuits.
In radial circuits, the cable that passes across each outlet does not return to the consumer device, which distinguishes them from ring circuits. Instead, it comes to an end at the circuit's last electricity source.
In a radial circuit, power is required to flow in one direction, but it can only support a limited region since the demand on the cable will be too high otherwise.
Also read: Best Low Profile Mechanical Keyboards for Gaming
Do Powerline Adapters Work On Different Ring Circuits?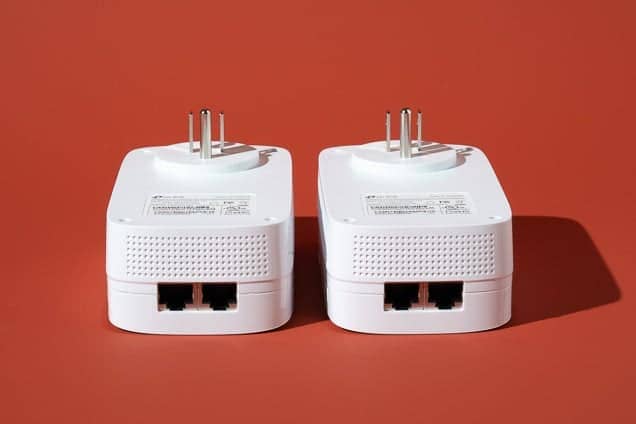 As discussed earlier, all ring circuits start and finish at the same consumer unit. So since all roads finish at the consumer unit, you may wonder if powerline adapters will still work even if they are connected to different ring circuits.
Suppose you have an adapter wired to a ring circuit at your basement and the other one wired to a separate circuit upstairs, and your home utilizes ring circuits.
Despite being wired to opposite circuits, you can see contact between the two powerline adapters if the electrical wiring inside all ring circuits is in good condition.
Consumer units with RCDs or powerline adapters plugged through extension lead with burst protection have been reported to trigger problems, which leads to the belief that powerline adapters just don't work while attached to separate ring circuits.
Now to answer the question, yes, powerline adapters can operate through various ring circuits, however, if you use electrical wiring, several factors vary from home to home.
A downside is that by using a pair of powerline adapters on separate ring circuits, some people have indicated a drop in output. Others also reported needing to re-pair the adapters on a regular basis.
Conclusion
It was difficult to find a conclusive response to the issue of whether powerline adapters must be connected to the same circuit to work, but the conclusion we reached based on our study is that they do.
They won't do as good as if they were wired to the same circuit, but most households have several circuits that need powerline adapters on various levels, so this isn't always feasible.
The vast majority of people who have tried powerline adapters attached to multiple circuits have considered them to be functional.
My theory is that those who say they don't function have an issue somewhere else, but blame that on the adapters being wired to multiple circuits.
Given how complicated electrical wiring is, how different electrical setups vary from household to household, and how many factors are involved, it's clear to see why they believe this. Now, next time you ask yourself, 'do powerline adapters need to be on the same circuit?', we hope you'll have a clear-cut answer.