The internet has unquestionably evolved into one of the most important and flexible lifelines for accessing just about everything – connectivity, business, schooling, finance, video game consoles, and entertainment. Many people are really interested in online gaming and use powerline adapters to improve connectivity for a better gaming experience.
In some instances, hardwiring all of your game devices to the router can be difficult. Since the router and devices may be in separate rooms, it often necessitates rather long cables. Furthermore, if your game console is located far away from the WiFi router, the WiFi connection thus produced may be unstable. Therefore, if you need a decent, quick, and reliable internet connection, powerline adapters are the way to go.
Since the signal is based on electrical wiring, powerline adapters will overcome any obstacles or internet problems you might have. If your network is being blocked by a wall, this is a great way to get around it. It's the perfect workaround if your WiFi network can't penetrate certain areas of your house or workplace. Some of these adapters also have WiFi antennas that enable them to transmit signals.
If you need to play games away from your network's router without sacrificing internet latency, the best powerline adapters are something you need to look into.
Are Powerline Adapters Good for Gaming?
A powerline adapter is an excellent example of a "bridging" technology that can be used to set up a home network. Powerline adapters are portable devices that connect to a home's internal electrical wiring.
Powerline adapters serve as a connection between your game console and your internet access point (your home router). Powerline adapters use the current electrical copper wiring to transmit internet and data signals across your house.
Strong internet access, low latency, and minimal lag are the hallmarks of online gaming. The time it takes for the network to deliver data packages from the connected device's source is known as latency.
Low latency means that your gaming console's home network connectivity is powerful, secure, and dependable. A delay in the game is caused by a high lag (bad and sluggish network). A lag is crucial since it may result in a match loss or death in an online game if it is too extreme.
Powerline adapters are the solution for a lag-free internet connection with a fast bandwidth and optimum game reliability. They are simple to mount and come at a reasonable price. As a result, powerline adapters are unquestionably an essential tool for gaming.
Top 6 Best Powerline Adapters for Gaming in 2022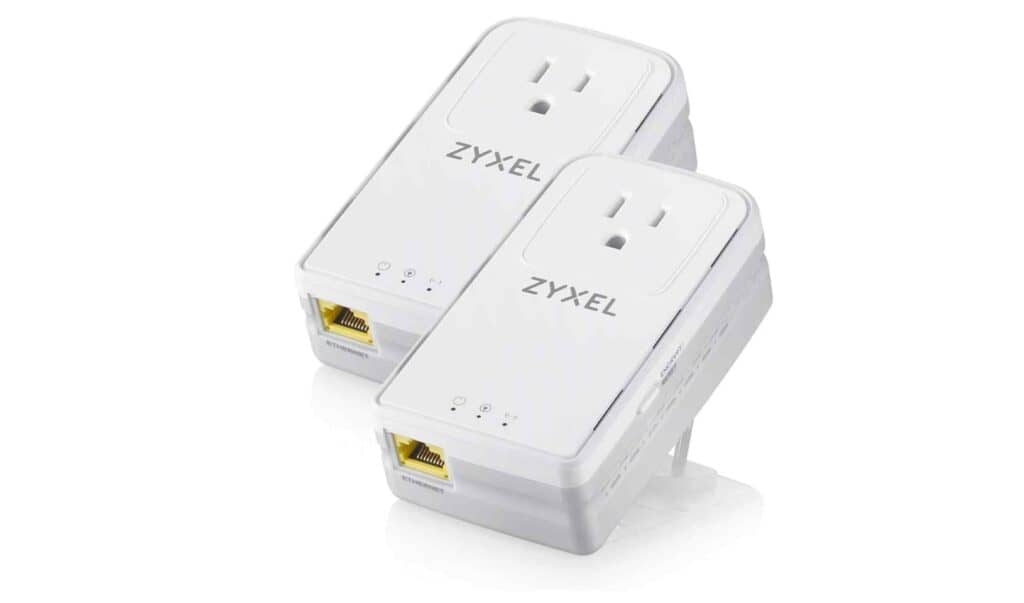 The G.hn powerline adapters from Zyxel pledge to transform a regular powerline network into a supersonic network. It has a plug-and-use user module that is simple to set up.
These powerline adapters have been specially developed for video streaming and gaming. Because of their high speed and low latency, they are more than capable of broadcasting 4K video. Zyxel claims that there is also enough capacity for 8K video sources, but because this content isn't readily accessible right now, it's impossible to know if this is true.
In terms of actual output, the PLA6456BB is capable of delivering up to 2,400 Mbps, which is ideal for a lag-free gaming experience.
On the bottom of the PLA6456BB is a Gigabit Ethernet port; all you have to do is plug in an Ethernet cable from your games console or PC to get the fastest speed available.
Another helpful feature is an incorporated pass-through outlet that filters out undesired noise, as well as a power-saving feature that places the powerline adapter into standby mode as soon as it's not being used. This alone should save you up to 90 percent on your overall energy costs.
These powerline adapters are also extremely simple to use. To quickly create a stable AES 128-bit encrypted network, simply plug all adapters into an available electrical outlet and press the sync button.
The PLA6456BB's best feature has to be its speed, which is among the quickest we have seen in a powerline adapter, which is just what you need while gaming online. That, and the low latency that these adapters have is what makes them the best overall option.
Pros
The G.hn powerline provides ultra-fast internet connection speed
It saves almost 90% of power consumption
It provides lag-free mode, uninterrupted data transfer, and a stable connection
Cons
It has a limited pool of bandwidth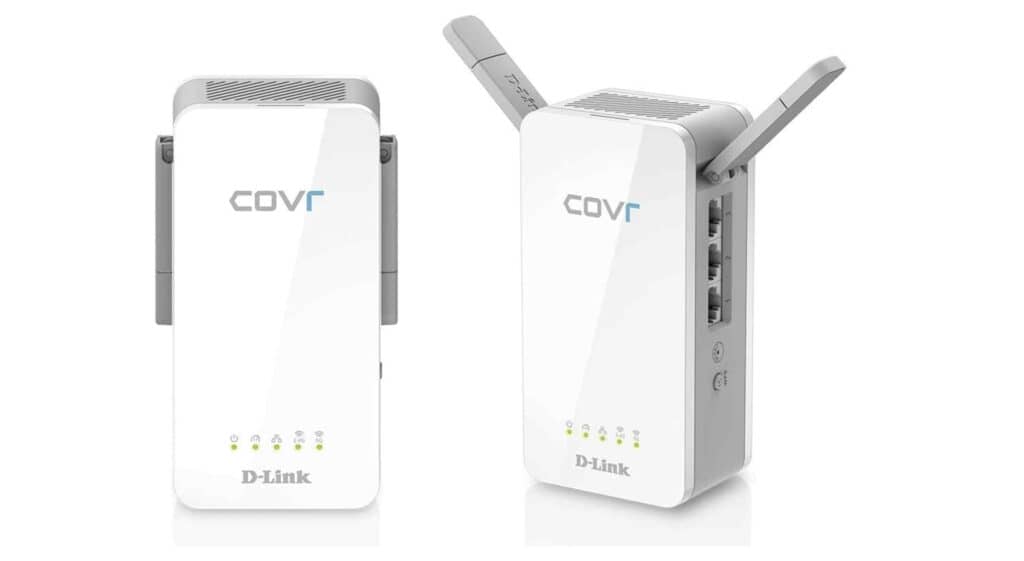 This D-Link starter kit, which includes two powerline adapters, is ideal for those wanting to get started with a powerline network for gaming.
The AC1200 adapters have fast connectivity speeds, allowing you to enjoy uninterrupted 4K video playback and lag-free gameplay to get the most out of your gaming experience.
These adapters use AV2 1300 technology, which allows you to stream more media, play more video games, and upload big files without sacrificing performance. If you have several people connecting to the internet simultaneously, AV2 technology can ensure that all of them have a fast data transfer speed.
These adapters have a built-in Gigabit Ethernet socket on the bottom and a pass-through outlet on the front, as well as quality customer service and support.
The AC1200 adapters are extremely simple to set up and use. Simply plug them into an accessible power socket, connect your router, and then establish a connection using the Simple Connection button on the bottom of each adapter.
You won't get anywhere near these rates with powerline adapters that promise to have speeds of up to 2,000 Mbps, particularly if each adapter is attached to a separate electrical circuit, where the data transmission speed will drop drastically.
The main takeaway from the AC1200 starter kit is that the adapters deliver average speeds that are significantly lower than advertised but are still adequate for their purpose.
Pros
It offers wired as well as WiFi connectivity
It reduces power consumption by around 85%
Cons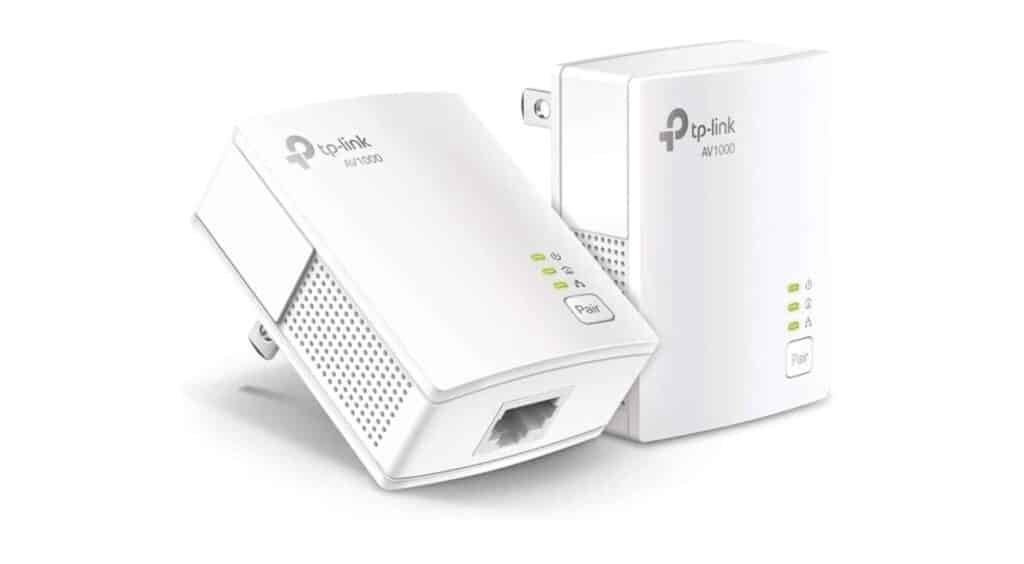 If you are searching for a kit with built-in WiFi, these TP-Link powerline adapters are a great option.
They are AV2 compatible adapters that can provide up to 1000 Mbps of bandwidth. A Gigabit Ethernet port is also located on the device's bottom, allowing for the highest possible Internet speed.
Since the adapters support Homeplug AV2, it's simple to add more adapters if necessary, even if they are from a different brand.
2X2 MIMO technology with beamforming improves coverage in your house, which is particularly helpful if power outlets aren't near your most-used electronics.
Since TP-Link understands how annoying flashing LED lights can be, they have added a function that lets you switch them off by pressing the LED on/off button on the adapter itself or monitor them remotely via the tpPLC software on your smartphone or PC.
Apart from that, the TL-PA7017 adapters are simple to set up, and they sync up in seconds without the need for re-pairing while going around the house.
Pros
Affordable
It saves around 85% of power consumption
HomePlug AV2 support allows you to add multiple adapters with ease
Cons
WiFi connections are not available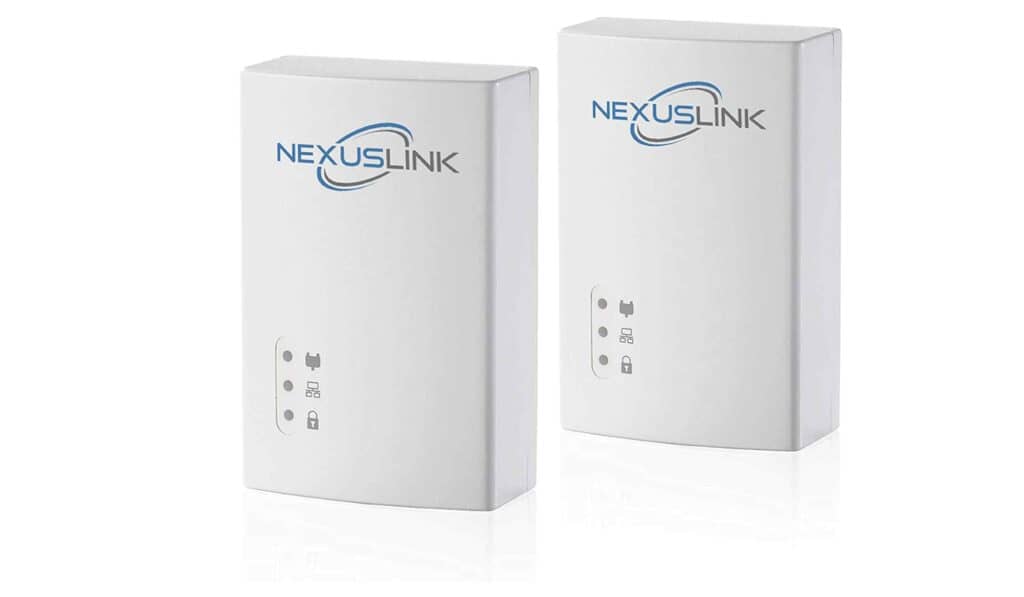 NexusLink sells the G.hn Powerline Ethernet Adapter, which comes with two GPL-1200 powerline adapters for a very affordable price when considering their technology.
These adapters comply with the G.hn powerline specification, which provides better performance and a more reliable connection as opposed to other standards. You should expect to get a limit of 1,200 Mbps in terms of actual speeds.
The LCD/FEC error correction technology enhances video streaming optimization, while the MIMO dual-phase technology enables the connector to be used consistently through electrical phases while still improving speed and stability.
It's a disappointment that the GPL-1200 doesn't have a pass-through outlet, so they don't actually obstruct the nearest main outlet, but we guess you just need one outlet per adapter anyway.
Each adapter has a Gigabit Ethernet port on the bottom for attaching your PC or game console, as well as a small button for quickly pairing your adapters.
If you need several powerline adapters in your house, you will be relieved to learn that your G.hn-compliant powerline network can support up to 16 devices.
Pros
It can support up to 16 devices at once
It reduces lag in the connection
Affordable
Cons
Pass-through outlets are not available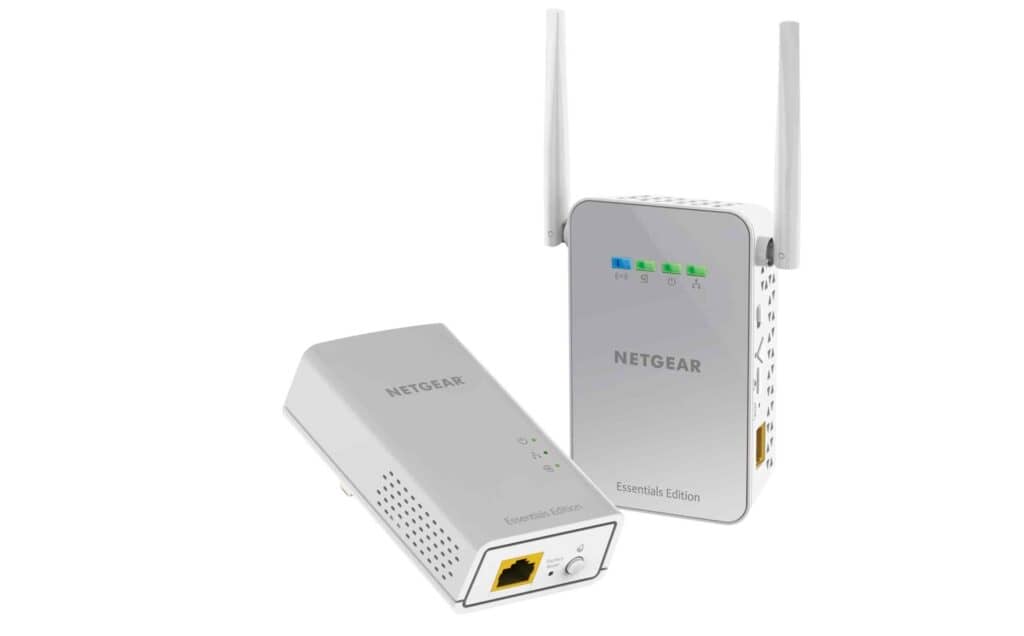 When it comes to the best powerline adapters for gaming, the NETGEAR PowerLINE has all the bells and whistles.
It's as simple as plugging the PowerLINE into an existing main socket and then connecting your computer or gaming console to the integrated Ethernet ports.
Thanks to plug-and-play technology that needs no setup, you can be up and running in minutes. There is also no need to install any apps.
For a powerline adapter, the PowerLINE has exceptionally high speeds. Gigabit speeds are supported by the Homeplug AV2 technology, which is ideal for 4K video and lag-free gameplay.
Two Gigabit Ethernet ports are located on the bottom of the adapter, with an optimized power outlet on the front that is built to block out unnecessary noise and provide the best possible output.
The PowerLINE also includes MIMO with beamforming technology, which improves total coverage by directing the signals to its desired location.
The PowerLINE's press and safe button at the bottom of the interface is a function we especially liked. With a single button tap, the powerline network connection is encrypted.
Pros
It has beamforming and MIMO technology
It has a fast speed and plug-and-play that eliminates the hassle
The adapter connectivity range can go up to 5382ft
Cons
It is bulky, and syncing takes time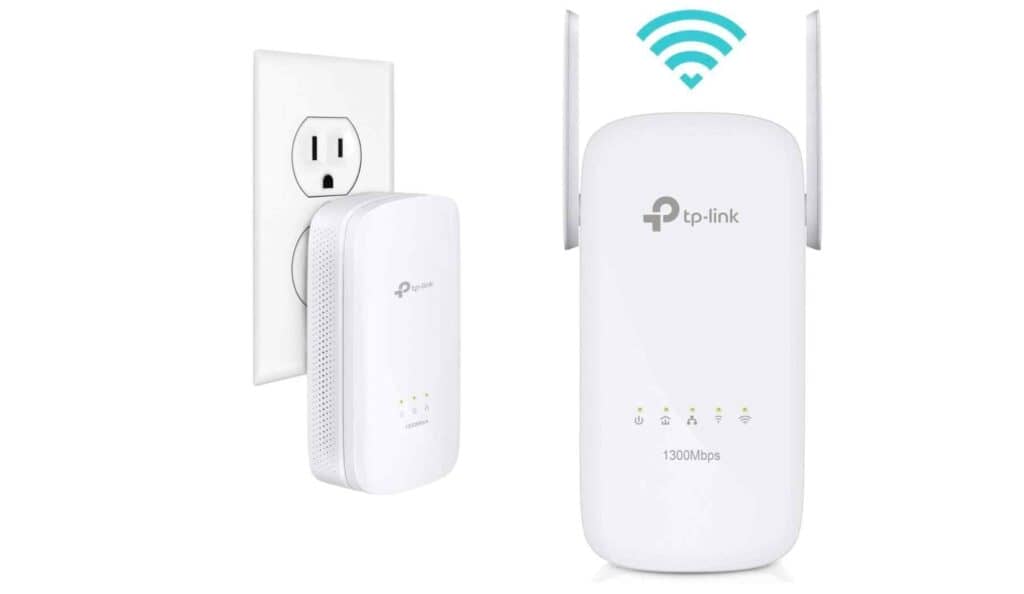 The TP-Link Powerline AV1300 WiFi extender converts your house's electric wiring into a wired internet connection, allowing you to access data through your floors and walls quickly.
It's a dual-band powerline adapter, which means it has both wired and built-in WiFi. It conveniently copies your router's network address (SSID) and password and connects you to the WiFi with the click of a WiFi clone switch.
It provides a quick and reliable connection. The Ethernet connection with low power consumption provides about 1300 Mbps, while the dual-band connection provides about 1350 Mbps.
Its wholly integrated working temperature varies from 0 to 40 degrees Celsius (32 to 104 degrees Fahrenheit).
It supports the AV2 home socket, which operates effectively at a home current of 110 to 240 volts. It can also be connected to several adapters, including a gigabit socket. It consumes very little energy and recovers approximately 85% of the energy it consumes.
The TP-Link AV1300 is well-built and simple to set up. It's much better than the majority of other TP-Link powerline adapters, so it punches way beyond its weight class. Though still in TP-Link mid-range, it provides outstanding value at near-top rates, and if you need more, you can choose the WiFi variant with a pass-through socket with several Ethernet ports.
Pros
It is simple to set up and well-built
It saves almost 85% of power consumption
Pairing is easy, and no configuration is needed
Cons
The internet signal receiver and transmitter must be plugged into the same circuit
Final Verdict
These were the best powerline adapters we have found for enhancing your gaming experience with high efficiency and low latency.
When selecting a powerline adapter, keep in mind if you require incorporated WiFi, the number of adapters included in the package, and if it is compatible with your current adapters.
The Zyxel G.hn 2400 Wave 2 Powerline Kit would be our option among the powerline adapters on this list if we had to go with one option.
While it has a smaller bandwidth pool than most powerline adapters, it does have integrated WiFi, comes with a two-pack, and has valuable features like lag-free mode and uninterrupted data transmission. Its speed would undoubtedly be sufficient for most users out there.
Hello everyone! My name is Kyle, and I've been a passionate gamer for 15 years. I enjoy playing video games such as League of Legends, Stellaris, and Cities: Skylines in my free time. I created this blog with one purpose, and that purpose is: to help you out. Whether you're stuck on a quest in Black Desert Online or you simply don't know what to build on Lucian in League of Legends, don't worry because I've got you covered.