Ever since the invention of typewriters in the mid-1800s, typing work has become exclusive and matchless. The regular keyboard for the computer was invented in 1868. Henceforth, many modifications and features have found their way to what we now use as modern mechanical keyboards.
Low-profile mechanical keyboards are nothing but an improvised version of the traditional/regular full-size keyboard. The low-profile mechanical keyboards that are available today have numerous features, excellent design looks, and versatility.
Don't have time to go through our article for the best low profile mechanical keyboards in 2022? Here's the best low-profile keyboard pick!
What is a low-profile mechanical keyboard?
A low-profile mechanical keyboard is simply a mechanical keyboard, but with some variations. As its name suggests, low-profile mechanical keyboards have lower mechanical switches and keycaps. With the reduction in the keycaps' height, the key travel distance when typing is shorter. The shorter height also lowers the actuation point of the keys in comparison to traditional mechanical keyboards.
The whole functioning of a mechanical keyboard lies in its mechanical key switches. The mechanical key switches are the switches that register the keypress every time you hit a key to type something or put forth a command in a game. The low profile of the keys also reduces strain and stress by allowing palm rest when doing a lot of typing work.
The older mechanical keyboards come with a set of general disadvantages – a little inexpensive, not very durable, and require a fair amount of force to press the keys. It is because below the keys are a silicone dome with a connection of two circuit board traces. Over time, the dome would lose its springiness and thereby becoming non-functional.
However, all of those drawbacks have been upgraded with low-profile mechanical keyboards. Instead of using silicone in a low-profile mechanical keyboard, they use an actual, physical switch. This physical switch makes for a smoother typing experience and requires lesser force to type. The modern low-profile mechanical keyboard is more expensive, and it has a longer life span and gives an overall realistic and undemanding typing experience.
The enhanced properties stated above that make low-profile mechanical keyboards a user-friendly keyboard have numerous distinct features. Some of the key highlights in its improvisation include – LED backlighting to all the keys, several color lighting modes and styles that stay lit when the keyboard is in use, modified keyboard key sets, etc.
The durability of a low-profile keyboard is also higher than that of regular keyboards. Two prime contributing factors to enhancing their durability are the use of robust materials for their body construct and a mechanical switch. Low profile mechanical keyboard's body is made using either high-grade aluminum, or sturdy plastic, or a combination of both.
Also read: The Best Gaming Mouse for League of Legends
Why are low-profile keyboards good?
Low profile keyboards are a good investment choice as an all-purpose keyboard for daily use or gaming purposes. A brief highlight on the advantages of a low-profile mechanical keyboard includes-
1. Ergonomic-friendly keyboard
Low-profile keyboards have a lower profile, meaning lower height. The lower height of the keys makes the fingers put less stress and force when typing while giving room for palm rest.
2. Low profile switches give a faster response
Low profile keycaps mean lower switches. Lower switches represent a smaller distance to travel between a key command (typing) and the response it generates.
3. Portability
There is a reduction in their height and size in low-profile keyboards, making them incredibly light in weight. It makes them highly portable, and even traveling with a low-profile keyboard is hassle-free.
4. Durability
Low profile keyboards come with a significantly longer life span. On a broad scale, the low-profile keyboards come with a life span of approximately 5 million key hits.
Why should I buy a low-profile mechanical keyboard?
By now, you must have a clear idea of the advantages of owning a low-profile mechanical keyboard. Although, buying a low-profile mechanical keyboard is entirely up to one's personal choice. If you consider purchasing a low-profile mechanical keyboard, your job profile, Travelling, and Personal preference are three main criteria.
1. Job Profile
If your profession involves doing a lot of typing work, investing in an excellent low-profile mechanical keyboard is necessary. Be it a productivity-based job (content writing), educator, journalist, writer, blogger, etc., you will not regret buying one. Low profile mechanical keyboards give a realistic and seamless typing experience with more extended durability.
These days, low-profile mechanical keyboards are gaining high popularity among online gamers too. Most gaming low-profile mechanical keyboards have a construct to suit the gaming needs specifically. As seen in regular keyboards, the extra number pads are removed in most gaming low-profile keyboards. It further adds up to more room for the mouse pad. Therefore, there is more space for maneuvering the mouse, making it ideal for gaming sessions.
2. Traveling
If you are a person who loves to travel (by choice or by profession), investing in a low-profile mechanical keyboard will not be an issue. Low profile mechanical keyboards are ultra-slim in design and highly compact. Traveling with them will be of least hassle in terms of its wireless connectivity, size, and weight. Low profile mechanical keyboards are gaining popularity among travel bloggers and business professionals whose work requires them to relocate within 5-6 months.
3. Personal preferences
Beyond your requirement of a good functioning low profile mechanical keyboard, it could be just your personal choice. Low-profile mechanical keyboards are aesthetically pleasing in terms of their built and design. There are plenty of great options, designs, and choices out there on the market to suit your taste, requirement, and style.
Top 7 low-profile mechanical keyboards for 2022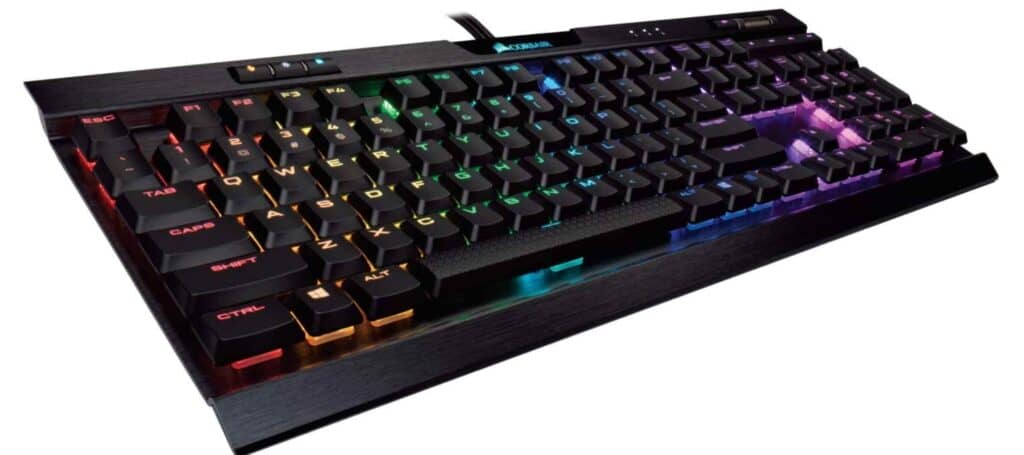 K70 is the best overall low-profile gaming keyboard, with a good performance. The connectivity of this keyboard is through a USB cable, and the keyboard-polling rate is at 1000Hz.
The keyboard's mechanical key switches are the low-profile Cherry MX speed, which delivers high precision and easy palm position. The height of the keys is also lower by about 35%. While most standard keyboards are 40mm in height, CORSAIR low-profile keyboards come at approx 29mm.
The design structure is very sleek and slim. It is light in weight, and its body is made using an aluminum frame. The aluminum body used is made of aircraft-grade aluminum, making it very long-lasting to use.
CORSAIR low-profile keyboards use CORSAIR iCUE software. This software gives two unique features to the CORSAIR low profile keyboards:
It allows for dynamic and realistic control of the lighting. Those devices compatible with CORSAIR's coolers, fans and peripherals, etc., even enables synchronization of lighting across the entire system.
The functioning of sophisticated and complex macro – programming is done with ease.
PROS:
Low-travel keys and comfortable to use.
Vivid key backlighting of all the keys using dynamic RGB lighting.
Durable and guarantees quality of lifetime performance.
CONS:
The price range is expensive.
It requires devices that will be compatible with the iCue software of CORSAIR.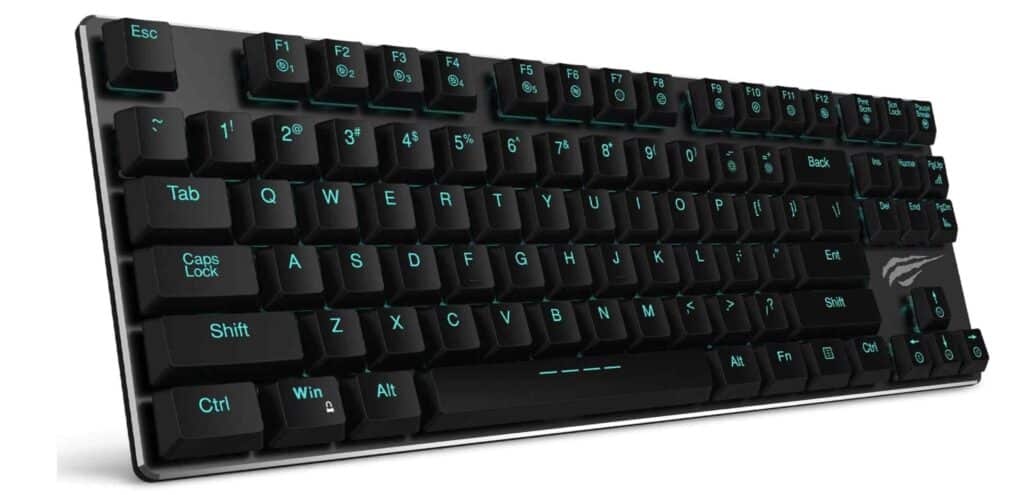 If you are looking for good low-profile keyboards under a budget, this is the best among the many others available in the market today.
Due to its ultra-thin design, it is light in weight. It comes with a pre-set LED lighting in a unique shade of ice blue. Nevertheless, customization for backlighting the keys is also possible. There are also many options for backlighting modes and patterns.
HAVIT low-profile mechanical keyboards are made using the latest technology of the Kailh Blue Switch. This technology aids in giving the keyboard a low profile switches along with the following features:
A low switch height of about 11.5mm.
An extremely thin keycap suspended at 6mm.
Smooth key travel space of 3mm.
Swift response distance of 1.4mm.
The switches are 7mm lesser in thickness in comparison to the traditional mechanical keyboards.
The connectivity to this device is through a detachable USB switchable into a micro cable. It also has the option of driver-free usage – plug and play. It is compatible across devices of different models, make and operating systems: windows 7/8/10, Linux, Mac, Vista, and IBM personal computers.
PROS:
Efficient for both gaming and office use.
It is a solid and compact design.
Great backlighting options and with minimum click sounds.
CONS:
It has a plastic body.
Not very durable.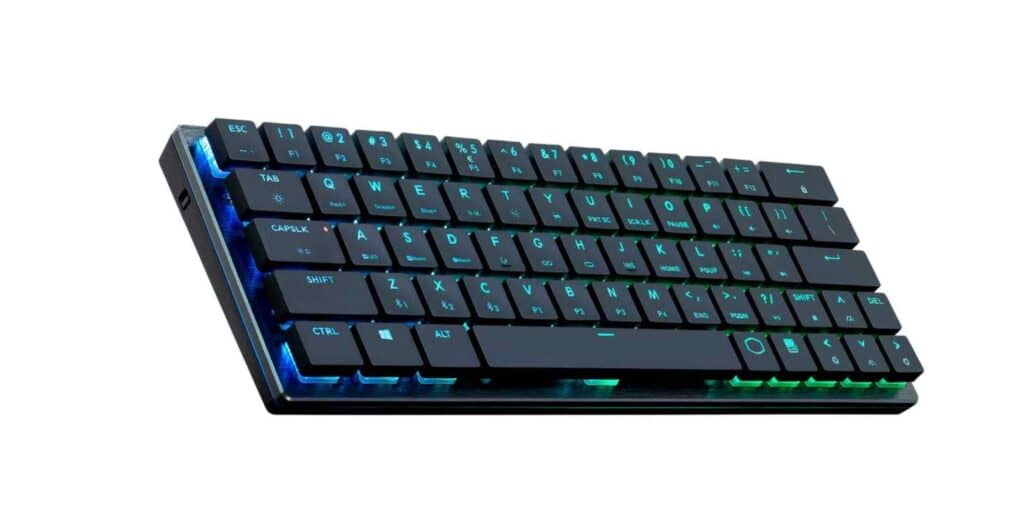 Cooler master keyboards are 60% mechanical keyboards – meaning only 60 % of the traditional keyboard's format is retained.
60% of mechanical keyboards only have the alphanumeric zone and ditches three features from the traditional full-size keyboard –
Number pads on the right.
Navigational cluster keys on the top of the extreme right side.
F key row at the top line.
The keyboards use Cherry MX low-profile key switches. Therefore, it has less travel distance but with high precision. The keyboard report rate is at 1000Hz. This device's connectivity is a hybrid between it being usable through type – C USB cable or Bluetooth 4.0. It is also ultra-portable.
Design-wise it is compact, mini-sized, with minimalistic and chic floating type keys. Its body is made of brushed aluminum. It allows many options for customizing the per-key backlighting and the adjacent light-bars. It gives ease of macro recording without the use of any software.
PROS:
Wireless connection, portable and efficient to use.
Reasonable pricing.
CONS:
The compact size is not very applicable for office typing work.
Bluetooth connectivity sometimes faces some glitches.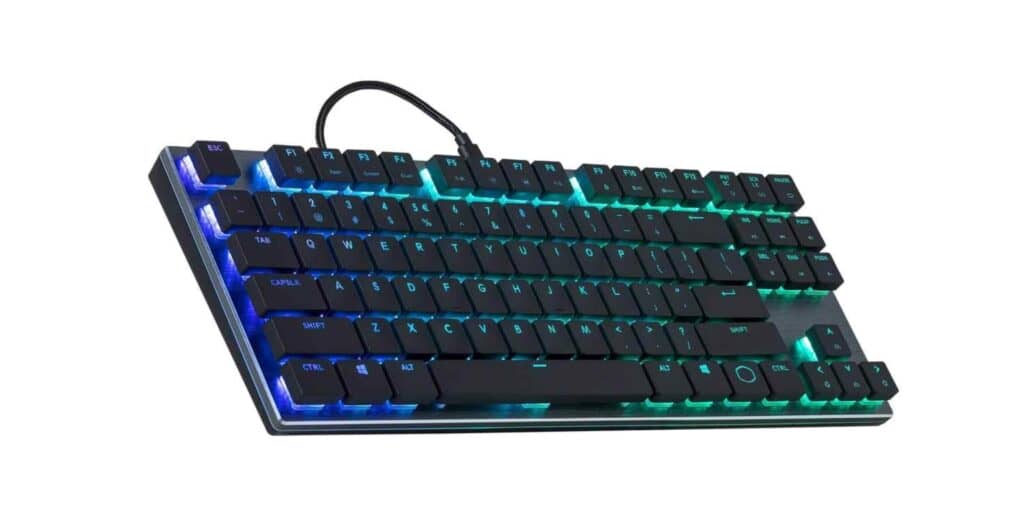 Cooler Master SK630 is a low-profile tenkeyless mechanical keyboard. A tenkeyless keyboard means it has ten keys lesser on the keyboard – the number pad on the right in a traditional keyboard.
Its connection is through a USB Type-C Cable, with an onboard memory of 512KB. It is similar in function to that of Cooler Master's SK621 low-profile mechanical keyboard. You can choose between flat-type keycaps and concave-type keycaps.
Overall, this keyboard has excellent precision and high durability. The mechanical switches in a Cooler master SK530 use Cherry MX low profile switches which causes lesser travel distance and better actuation time.
The whole design has functionality in mind – sleek design, floating keycaps, minimal tenkeyless keyboard. Its body is of brushed aluminum with a slender top plate finish.
It gives full on-the-fly-control and access to macro and lighting control. Every key is backlit with multiple options for customizing the look and color of the light.
PROS:
Compact keyboard size with the tenkeyless feature.
It comes with software to remap the function of the keys.
CONS:
The keycaps are a bit flat; therefore, concave keycaps might be a better option.
Keystrokes can sometimes cause a doubling of the letters while typing.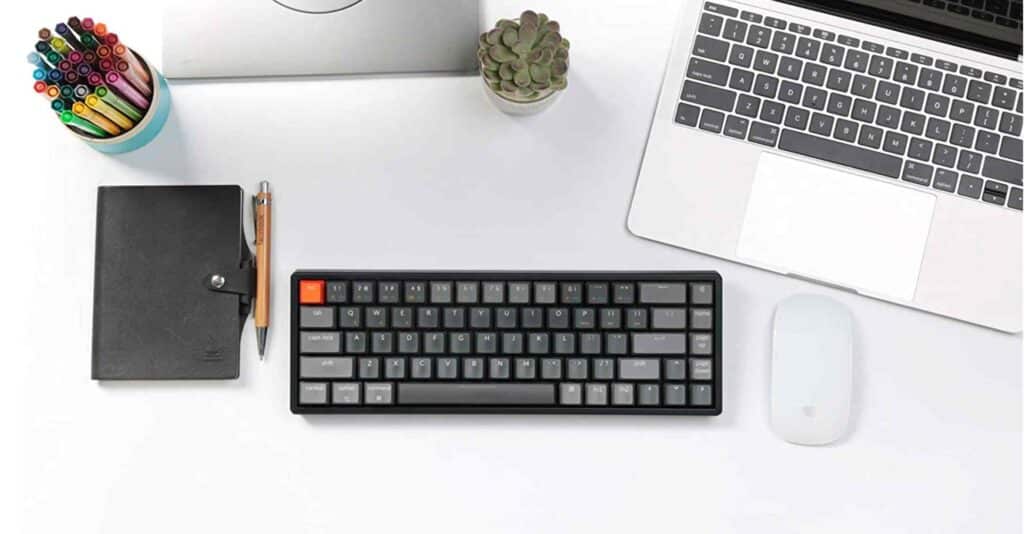 It is the best minimalistic design low profile keyboard. One exciting feature is its innovative design of a 65% keyboard. Here, only 65% of the traditional full-size keyboard is retained. The 65% keyboards are very similar to 60% keyboards, but they have arrow keys.
Altogether, the 68-keys come lit with an RGB backlight. You can connect it via a wired USB cable or wireless Bluetooth connection of the latest 5.1 version. The keyboard comes with three ports that can connect up to three devices through Bluetooth.
The Keychron K6 comes with a fast and reliable Broadcom Bluetooth chipset that allows for broad compatibility across devices for setting up the connection. Its battery capacity is noteworthy – 4000mAh. Even when the key backlight is on, the battery can last up to about 72 hours on a single charge.
Moreover, the keyboard's design is captivating, and it embodies an aluminum frame design. One key feature in its construction is the use ofGateron mechanical switches that can last up to 50million keystrokes, making it highly durable. In order to give you a smooth and fast typing experience, the keyboard comes with a full N-Key rollover.
PROS:
Excellent compatibility using the Bluetooth 5.1 version.
Sleek, compact 65% keyboard design with an aluminum finish.
Long-lasting battery performance with high durability.
CONS:
No indicator light to notify for low battery when in sleep mode.
Slight glitches occasionally occur with the function (Fn) keys.

Logitech's G915 tenkeyless low profile keyboard is the best pick for a wireless type of low profile mechanical keyboard. As with tenkeyless keyboards, they do not come with the number pads on a regular keyboard's right side.
There are two ways to connect this keyboard – wired USB cable or wireless Bluetooth connection. It provides the best and the most seamless light-speed wireless connection across many devices, among many other wireless mechanical keyboards.
The design is compact and modern with the ten-key-less keyboard, with more accessible space for mouse movement. Its body design finish uses an aircraft-grade aluminum alloy.
Another cool feature of this keyboard is that it comes with customizable RGB backlighting. The unique LIGHTSYNC technology allows the creation of customized colors and animation specific to each key.
Logitech G915 can give a performance service time of about 40 hours per single charge. Whenever the keyboard's battery reaches a low of about 15%, a light indicator blinks, as well as a pop-up notification flashes on the screen.
PROS:
The Best wireless connection across multiple compatible devices.
Excellent typing experience,
Integrated command key for gaming.
CONS:
Premium price range.
It uses a micro USB cable instead of the modern USB Type C cable.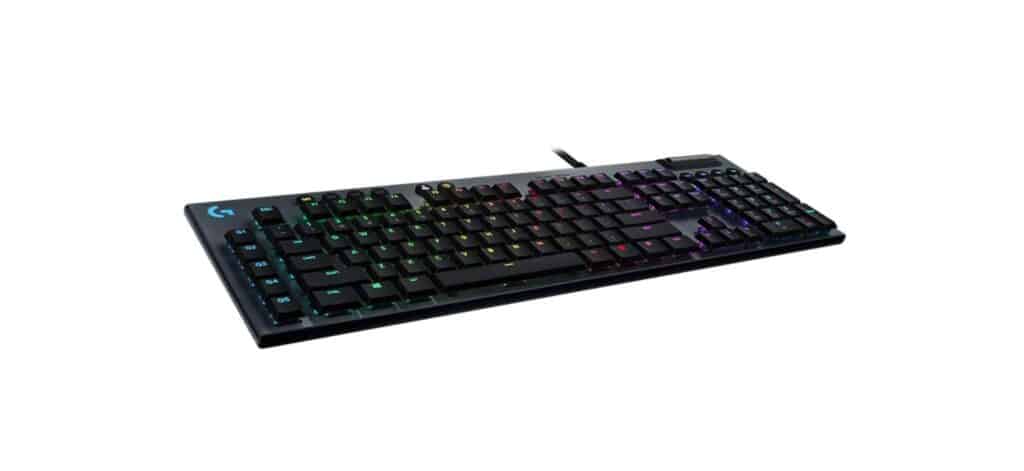 One important thing to note is that it incorporates a GL linear switch. GL linear switching provides a highly smooth keystroke with speed, precision, and better actuation. The connectivity to this keyboard is through wired USB cables.
With the Logitech G815, you will not only get a sleek design look but of durable quality. Its body is crafted beautifully using high aircraft-grade aluminum, the G815.
One positive feature is its compatibility across several devices. System requirements for connecting Logitech G815 – Windows 7, 8, 10, mac operating system of 10.11 and above.
Logitech G815 comes with a parent Logitech G hub software that caters to the following:
Provides five dedicated G-Keys solely for programming custom macros and commands; for in-game app profile account or management of commands per game. The dedicated G-keys come with in-app commands of complex actions for execution with a single keypress. The user can customize the commands according to their preferences.
Allows access to advanced features to control, create, and customize and share game profiles within the Logitech user community.
PROS:
Easy functionality in complex commands using G-keys.
USB pass-through cable – for charging and connecting.
CONS:
Numbers and alphabets printed on the keys are a little small.
No onboard memory.
Choosing the best low profile mechanical keyboard – Buying Guide
There are over dozens of varieties of low-profile mechanical keyboards available in the market. With so many upcoming new products and better improvisations, shortlisting to a single product for purchase can be a tasking affair. Therefore, here is a brief buying guide to help you with selecting your low-profile mechanical keyboard.
There are six prime criteria's you need to keep in mind when looking for a low-profile mechanical keyboard –
1. Mechanical Switches
The mechanical switches are the switches that lie beneath a keyboard cap. These switches decide the smooth experience when typing. The type of mechanical switch a keyboard uses is of prime importance. Mechanical switches are of three main types –
Linear: Smoothest ease when pressing the keys.
Tactile: A little bumpy feeling when pressing the keys for better precision during a keypress.
Clicky: Similar to tactile switches but with a precise "click" sound when pressing the keys.
2. Size
You can select a size for the low-profile mechanical keyboards according to your need. The keyboard size is determined by the kind of keyboard it is – Full-size, tenkeyless and compact.
Full-size keyboards are the biggest among the tree, and it houses 105 keys. Tenkeyless keyboards have about 88 keys, while compact keyboards have about 61 keys.
3. Build
Most low-profile mechanical keyboards are made to last, and manufacturers use sturdy materials for their construct. You can compare the keyboard's durability by checking its body material. Some low-profile keyboards are made entirely using either a robust plastic or a substantial aircraft-grade aluminum alloy. Meanwhile, some low-profile keyboards are made using a combination of both aluminum and plastic.
4. Wired or wireless
Low profile mechanical keyboards come in three variants of connectivity – wired (USB cables), wireless (Bluetooth), or are a hybrid of both.
5. Design and RGB lighting
Low profile mechanical keyboards come in various design patterns, style, size, backlit lighting, and minimalistic keyset designs. You can choose from a pool of options that best suit your design taste.
Low profile keyboards also allow for RBG (red, green, and blue) LED lightings. The keys' backlighting comes with many pre-loaded patterns – solid colors, or a mix of colors, rainbow patterns, etc. You can also set the visual effect of letting the lights stay lit, or dim, or blink too. Some low-profile keyboards allow customization modes for lighting – the colors, the patterns, the time for which it stays lit, etc.
6. Responsiveness and Ergonomics
Low-profile mechanical keyboards are widely popular among productivity users (typists/bloggers), programmers, and online gamers. For writers and programmers, typing with fewer typing errors is very crucial.
Hence, the level of responsiveness and feedback of a keyboard is significant to consider when buying a low-profile keyboard. It will be beneficial if you purchase a keyboard with an N-key rollover. N-key rollover helps the keyboard to register all keystrokes, even with multiple presses.
Similarly, ergonomics is essential, as it allows for comfort to both the wrists and the fingers. All low-profile keyboards come in different styles, shapes, and profiles. If it requires you to type for long hours, you may want to look for Spherical-All (SA) type keycaps. SA keycaps in a low-profile keyboard have an additional feature like wrist rest.
Conclusion
Low-profile mechanical keyboards are slowly catching momentum and popularity among consumers. Low profile mechanical keyboards have their design base construct, keeping the consumers in mind – simple office workers, online gamers, and productivity users. A low profile's prime advantage is that it has a low-profile key allowing for ample palm rest. Since they are significantly ergonomically friendly – they an ideal keyboard for a broad spectrum of users.
Investing in an excellent low profile keyboard makes working, typing, and gaming an easy affair with its high functionality features. Their prices vary from affordable to mid-range to premium price range. Moreover, the compact, sleek design with a durable built and high portability adds to its beauty. Besides, the RBG lighting of each key highlights and renders the modern ultra-cool gadget.