Notwithstanding the widespread updates of weapons, the Grau weapon has recently become the favorite among several players. Like any warzone weapon, the Grau has several blueprints that a player can earn after completing specific tasks or purchase them through the in-game store.
The Grau weapon is a versatile weapon that is easy to control with reasonable accuracy, especially at long ranges. Furthermore, it has decent short and mid-ranged skirmishes. While many players are not conversant with the Grau, we will be unveiling the top 10 best Grau blueprints in Warzone.
Note that these blueprints won't be based on their associated attachment or looks. It will be based on their functionality and features. Let's get started with the best Grau blueprints in a warzone if you are ready.
Grau Blueprint 1 – Vizsla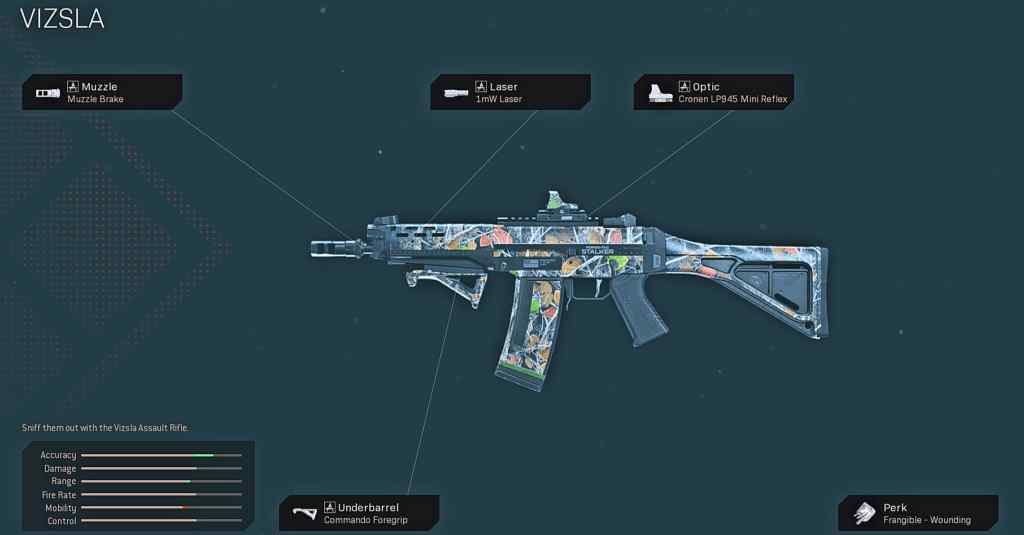 First on our list is the Vizsla blueprint, which has nuanced artistic merit. From its appearance, it boasts of a spray-printed design with a combination of dark orange and green colors. These colors are splattered such that it makes the weapon the best for people who prefer sloppy painting.
Besides this, the attachments give the blueprint some form of structure, making it perfectly resemble the original Grau. If you prefer the Grau when it is in the stock form, you will ultimately like the Vizsla blueprint. The blueprint allows you to add some spice without changing the look considerably. You can get the blueprint at level 81 of the game.
Grau Blueprint 2 – Contraband 
If you want to play a role in Call of Duty, especially trafficking illegal items into Verdansk, we recommend you use the contraband. The body of the contraband weapon is made of pure gold with carbon fiber finishing throughout the body.
The attachments make it look highly compact. The blueprint is suitable for people who like packing high-value heat at a high-value target. You need to take the contraband blueprint in the Cartel Casanova bundle.
Also Read: How to Fix Warzone Wins Not Counting?
Grau Blueprint 3 – Alpha
The alpha blueprint is a blueprint with a futuristic test piece appearance. It is a masterpiece on its own as it resembles a proper assault rifle. The feature includes a tac laser, hybrid optics, and a 50 round mag. The main feature is the carbon fiber finishing that complements the magazine's green measurement and purple coating. This makes it distinct such that it fires other things besides the regular bullets.
Importantly, you need to acquire this blueprint, and the best place to get it is in the tracer pack. The purple tracer rounds and bundle should look at when you want to get the blueprint.
Grau Blueprint 4 – Drawn and Quartered 
If you are a player that loves a realistic approach when playing games, you will find the Drawn and Quartered a reliable blueprint. The blueprint features a blackjack stock that adds different lengths to the Grau, a woodland camouflage paint job, and a compensator mule with a snubbed look. Overall, it is one of the best Grau blueprints in Warzone you can lay your heads on.
With the Drawn and Quartered blueprint, you can get the job done straightforwardly. Remarkably, you can acquire the drawn and quartered blueprint in the Maze–Guns Blazing store bundle. It is a necessity if you love simple guns for any adventure.
Also Read: Best Operator Skins in Warzone
Grau Blueprint 5 – Death
One blueprint that has sparked several creativity and pulled extra attention in the Call of Duty – Warzone game is the death blueprint. It features a dark purple and teal painting with no space on the gun. The gun's grip comes with intricate shadings that offer more when looking at using your natural eyes than other players.
While other features set the death blueprint apart, the monolithic suppressors ensure you can increase the canvas space as it compliments the teal color. Peradventure you like it when all eyes focus on you as you run and gun down enemies; we recommend the death blueprint since it has everything you need to strike enemy forces. Furthermore, you can acquire the death blueprint in the Hii Mishkin.
Grau Blueprint 6 – Going Bark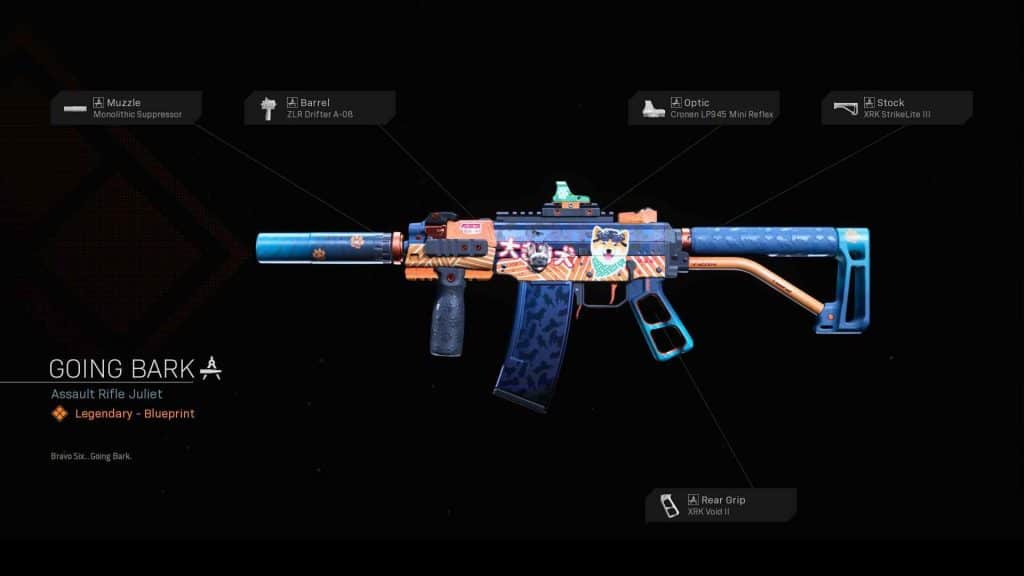 It doesn't matter if you want to move directly into the moon or want to act like a good boy; the Going Bark blueprint is a masterpiece to earn you that accolade. The appearance is quite appealing as it has a light blue and orange finishing that makes it visible wherever you are.
Furthermore, the suppressor and strike light stock features are noticeable, making the weapon compact. Further, this makes it relatively fatter, giving you space to unleash when required.
You can quickly get the Going Bark blueprint in the Shibuya Station bundle. We believe the blueprint contains everything you need for a friendly battle.
Also Read: How to Gift Bundles in Warzone?
Grau Blueprint 7 – Executive Suite
Ultimately, the Executive Suite blueprint is one pretty blueprint you will find in the Call of Duty – Warzone game. The blueprint is designed for luxurious days when you have all the resources to lavish on it and showcase your wealth. It has a dark brown and olive painting on the body and under the barrel.
Besides the appearance, it has a golden metal look that stretches through the 26″ archangel barrel. Remarkably, this runs through the monolithic suppressor. While we are not concerned about the usefulness of the blueprint attachments, we can't neglect the beautiful appearance that is irresistible. The Executive Suite blueprint is obtainable in the Fool's Gold bundle.
Grau Blueprint 8 – Envenom
So far, we have talked about simple Grau blueprints, but now we will look at a delicate art-style weapon. If you are a marvel that loves a protagonist's outlook, you have the Envenom to contend with as it has the perfect marvel skin. The small optics and tac suppressor are pretty nifty and beautiful. The most striking thing when we consider this Grau blueprint is its coloring.
Half of its body is covered with a black carbon fiber color, with the other half covered with tealish olive. If you want both pretty and subtle, the Envenom blueprint is the perfect match, as you can purchase it in the Alex – Death Stalker Bundle.
Also Read: Best Blueprints in Warzone
Grau Blueprint 9 – Mother Lode
It is tough to find gold in a mine, which is what the Mother Lode is about. It is a rare weapon that captures perfectly well. It has a dark golden color that outlines most of the weapon and is complimented by a sleek black appearance. The blueprint gives you that appearance of spotting a gold mine.
Overall, it has a pretty look with several flavors. The vital aspect of the Mother Lode blueprint is the flavor, despite having a great appearance. The primary way to get the Mother Lode blueprint is in the Executive Armorer bundle. It is a must-have weapon to unleash terror on any enemy.
Grau Blueprint 10 – Wolf Mother
We like to save the best for the last. The name alone should create something resounding in you to want to get it. The blueprint depicts its name and contains all the flavor you ever want in a weapon. Although it has a bright color, it still creates that beauty that attracts.
Putting all the Wolf Mother blueprint's features and attributes isn't that easy. However, looking at it from far, you can see the perfect combination of art and perfection. It has an Iberian husky-like paint on the body. The color is made of light and dark blue that almost resembles a white and blue color. The hole from which all the bullets proceed is blood-red, making it more deadly to enemy forces.
Overall, the Wolf Mother is the winner in our top 10 best Grau blueprints in Warzone. Its excellent appearance, great blueprint and great flavor are undeniable for anyone to ignore. Interestingly, you can acquire the Wolf Mother blueprint in the SERE Kit.
Unlocking Grau in Warzone
Grau is a strong assault rifle in Warzone. Unlocking the Grau weapon in Warzone can be difficult for new players. However, you need to eliminate at least 5 players using an assault rifle within a minute. You have to continue the process 25 times to unlock Grau. You don't have to get 5 kills successively without getting killed. All you require is to eliminate the 5 players within 60 seconds, whether you die or not.
After this, you have to equip yourself with a rifle to destroy all enemies. Importantly, we recommend you use something automatic if you want to unlock Grau. The Kilo, M13, and M4A1 can do a good job. However, if you want to produce high damage to an enemy, you can consider the Oden and AK47 rifle.
There are also other modern weapons to use in Grau. Assuming you want a modern playlist to get the kill immediately, you can try something like Rust 24/7, Scrapyard 24/7, and Shipment 24/7. If you want to unlock Grau, it is kind of tricky. You can get aggressive using the super kill weapon. You can't waste time seeing enemies; you need to kill them before they strike first.
The Toasted Warzone Blueprint
When it comes to the Grau 5.56 weapon, there are several blueprints besides the ones we have mentioned. The toasted blueprint is one epic variant for the Grau that offers many styles and punch for your assault rifle. It has a new skin with four attachments. The blueprint is helpful for players that haven't unlocked any specific attachment or weapon in Warzone. Purchasing or unlocking these blueprints allows players to test new setups and weapons.
You can buy the toasted blueprint from the COD store, which is included in the Avocado's Revenge bundle. From the store, its price is 1,100 COD points. Inside the bundles, you will find an epic melee, two epic weapon blueprints, emblem, charm, and a calling card. Furthermore, the gun comes with four attachments such as:
Ammunition – 50 Round Mags
Barrel – XRX CZEN
Rear Grip – XRK Void II
Stock – FSS blackjack
Conclusion
In the Call of Duty: Warzone game, we have rounded up the top 10 best Grau blueprints. Although, for most people, the Grau looks like a boring weapon, it doesn't stop it from doing the job it was designed for. These 10 best blueprints can help change the narrative for those who think it is boring.
If you have used any blueprints in our list, we would like to hear from you. We want to hear about your experience when using the blueprints and your review of how the blueprint performs.
Hello everyone! My name is Kyle, and I've been a passionate gamer for 15 years. I enjoy playing video games such as League of Legends, Stellaris, and Cities: Skylines in my free time. I created this blog with one purpose, and that purpose is: to help you out. Whether you're stuck on a quest in Black Desert Online or you simply don't know what to build on Lucian in League of Legends, don't worry because I've got you covered.