Everybody loves fishing, and in that case, Black Desert Online is undoubtedly an exciting and fun game to play. It gives us the chance to go fishing and various other activities that we do in real life. However, while fishing, one can have some trouble repairing their fishing rods once they get broken. If you are also facing this problem, worry no more as in this article, we will walk you through how to repair fishing rods in BDO.
Fishing is listed among the most accessible life skills in Black Desert Online because it only requires a few gears, such as an in-game fishing rod. Fishing could be carried out by two modes, actively of AFK. Most of the players prefer AFK fish as an alternative for getting extra profit. However, to do fishing, you must have ample inventory space for your fishing character as fish would not pile up in your standard inventory.
Levels of Fishing
Players can obtain different tiers of fishing levels for catching more fish and gaining more experience in fishing. The rarer a fish is, the more experience it would provide. The various fishing tiers are as follows:
Beginner Level
Apprentice Level
Skilled Level
Professional Level
Artisan Level
Master Level
Guru Level
Also read: Top 5 Best Things to Purchase at BDO's Pearl Shop in 2021
Benefits of the Elite Fishing Level
Just like any other game, high tiers award your different in-game privileges and rewards. In BDO, the elite fishing level could reward you in various ways. You could gain a worthy experience within the game. This experience would surely help you in catching high-tier fish and piling them up in your inventory.
A higher fishing level can help you in catching a high-grade fish in less time. You would be able to use the rods better and would also unlock specific fishing quests. So a higher level also helps to get a better rod to do fishing at a much greater rate.
Types of Fishing Rods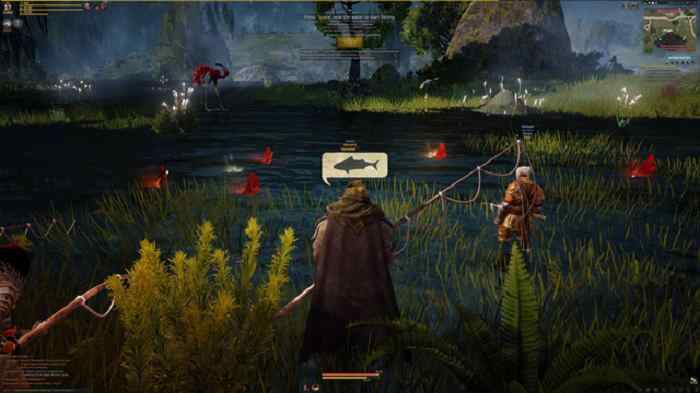 In Black Desert Online, the following types of rods can be used for fishing:
Old Fishing Rod (Cannot be repaired)
Fishing Rod (Cannot be repaired)
Thick Fishing Rod (Cannot be repaired)
Steel Fishing Rod (Cannot be repaired)
Fishing Rod – Balenos (Can be repaired)
Mediah Fishing Rod (Can be repaired)
Calpheon Fishing Rod (Can be repaired)
Golden Fishing Rod (Cannot be repaired)
Triple-Float Fishing Rod (Cannot be repaired)
Also read: How To Delete A Character in Black Desert Online?
Repairing of Fishing Rods
Fishing rods can be repaired if they don't get severe damage with the right tools and replacement parts. You can also repair a broken fishing rod at any blacksmith shop for a low amount of silvers. A complete break or a big crack in the primary shaft of the pole indicates permanent damage. However, you can enhance the working of fishing rods by using 6 or more fail stacks.
So, this is it. This is all you need to know about how to repair broken or damaged fishing rods in Black Desert Online. Still, if you are facing any trouble in repairing your rods the feel free to comment below. We will try our best to solve your queries.