In Black Desert Online, wagons are primarily used for horse training and trading. There are eight different types of wagons that you can trade with other cargos. Wagons have a limited time and should be used before they break down. However, how do we connect a horse to a wagon?
The wagon is represented with a life span and should not be confused with durability. All wagon repairs are made in stables with a wagon repair kit. However, the white wagon and merchant wagon are repaired at the Altinova workshop. In addition, trade wagons are fixed in the Calpheon workshop.
Also read: Best Cooking Utensil in Black Desert Online
How to Connect a Horse to a Wagon?
To connect your horse to a wagon, you will have to visit a stable. You can also train your horse in the stable for individual training or wagon training. The only difference from personal training is that you don't have to feed the horses. In addition, you can train the horses in a group. However, the limitation is the time-span of the wagon, which decreases with its usage.
All wagon parts are crafted in the wagon parts workshop, while wagons are crafted in wagon workshops. Wagon workshops are available in Calpheon, Heidel, Altinova, Velia, and Olvia. Out of these, Altinova and Calpheon are tier 1, 2, and 3 workshops. Calpheon requires 14 contribution points, and Altinova requires 11 contribution points.
Trade wagons can only be made at Calpheon. Farm, shabby and flimsy wagons are easily bought at 180K, 100K, and 35 K, respectively. You can connect a wagon in these stables and remember to train your horse.
Speed and Weight Limit of the Wagon
The speed of the wagon is dependent on the wagon and has nothing to do with the horse. There is a specified limit of weight that you can carry in the wagon. If you carry weight above the specified limit, the goods will be destroyed on the bumpy tracks and reflected in the impact absorber rating.
Also read: How to Buy a Pickaxe in Black Desert Online?
Which Horse Levelling Method is the Best?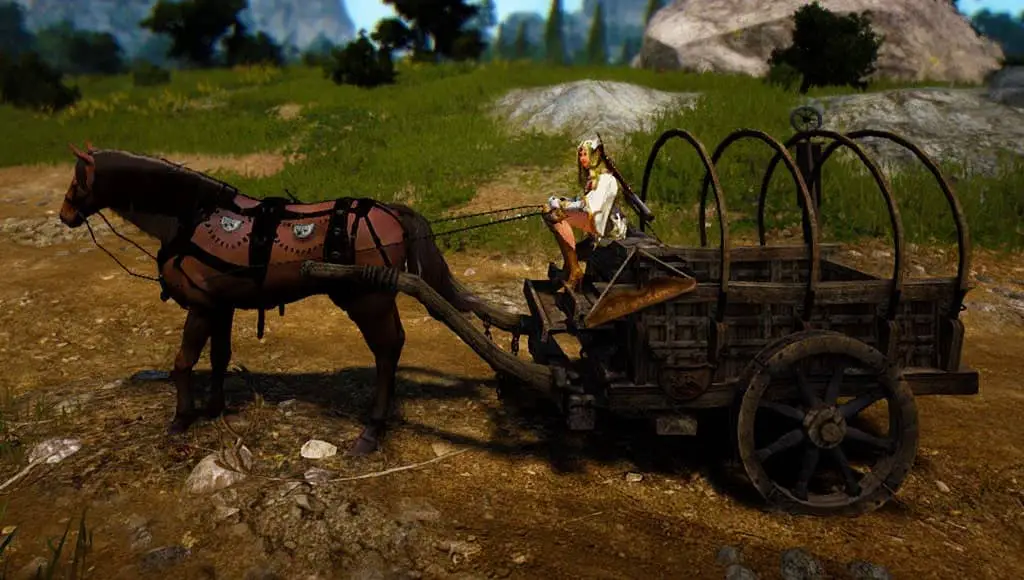 One of the most fundamental of training life skills is horse leveling. It increases their abilities and stats. You can attach four horses to a merchant wagon and level four-horse simultaneously. There are a few things worth considering before leveling a horse.
A wagon will provide a greater mount experience in the same amount of time, but the experience is split equally within the four horses.
The wagon will take more time to level four horses as compared to a single horse.
A wagon will invalidate the effect of a horse costume.
Enhancement of wagon wheels will improve the experience.
Training clothes and riding crops will have no impact on the wagon.
Wagons possibly produce horses with inferior skills.
Final Verdict
Connecting your horse to a wagon in Black Desert Online benefits your skills in the game. Using a wagon will not increase your horse's stamina, but it can be useful for other tasks. While attaching your horse to the wagon, remember to train your horse to add on skills and outfits.