Black Desert Online is a combination of strategic planning, management, and great managerial skills. So, whenever it comes to deleting or removing some players from Black Desert Online, many players find it confusing. Black Desert Mobile game is, undoubtedly, fun to play.
However, it can become some trouble when it comes to deleting any playable character in this game. If you are looking for a solution to your troubles, then you have come to the right place. Here is a step-by-step guide that will help you remove a Black Desert Online character and solve all of your queries related to removing a character. So, what are you waiting for? Let's get into it!
Although removing a playable character in Black Desert Mobile is easy, it takes some time to process for almost three days. A grace period begins whenever you give instructions to the game to remove the selected playable character. During this grace period, you can undo your action of deleting a character.
When the grace period ends, the character you chose to remove will be automatically removed after three days. Let's learn the step-by-step instructions on removing a playable character in Black Desert Online (Mobile Version).
Also read: Top 5 Best Things to Purchase at BDO's Pearl Shop in 2021
Steps to Remove a Playable Character in BDM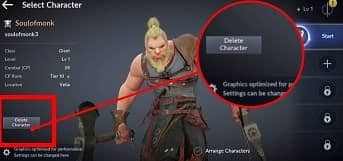 The steps to delete a playable character in Black Desert Mobile are as follows:
Go to the lobby
Select the character selection screen
Instruct the character that you want to remove
Tap on the delete character button
Confirm your action by taping the confirm button
Wait for three days until the end of the grace period.
These are the simple steps that you need to follow to delete/remove the playable character. As we've discussed before, the processing time of deleting a character is three days. After that period, the grace period ends, and the character file will be removed.
Higher-level characters can usually take up to a week, while low-level characters can be removed much faster than that. Please think carefully before deleting a character because once it's removed, you cannot restore it. 
Also read: BDO Dream Horses (Tier 9) – The Ultimate Guide
Reasons to Delete a Character
A lot of reasons can make you delete a playable character. Since the BDM allows only three slots, you cannot try all the classes. There are five total classes in the global version of Black Desert Online (Mobile Version). It's conceivable that you chose the incorrect class and are now out of character slots.
In this situation, this function assists the player in creating a free empty character slot so that a new character profile can be created, and you can start over from the beginning with a new profile.
We hope this guide helped you solve all of your queries related to deleting a character in Black Desert Online (Mobile Version). We have outlined detailed instructions regarding removing a playable character and then creating a new character profile.
Still, if you have some questions or are facing some trouble in deleting a character, feel free to leave a comment below. We'll try our best to answer your questions.