After spending countless hours in a gaming chair, there is a tendency to start feeling your back arching, and your legs and neck in pain. Everything within your body system will inform you something is wrong. Well, if you understand ergonomics, you would know that chairs are uniquely built for different purposes. However, if you are an addicted gamer and constantly having issues because of your sitting position, it is time to get a new chair. In this article today, we will look at one of the best gaming recliner chairs in the market that offers comfort when in use – The Vitesse gaming recliner chair.
We understand you want an in-depth Vitesse gaming recliner chair review; For objectivity, this article will explore what makes the chair good, pros, cons, and FAQs. With this information, you can make a knowledgeable judgment if the chair is worth your investment.
What Makes The Vitesse Gaming Recliner Chair Good
Undoubtedly, the Vitesse Gaming recliner chair has all the features a gaming chair should have. With a beautiful design, incredible comfort, good support, and features that allow you to adjust the chair to your needs and preference, you won't think twice about hitting the buy button.
– Excellent Design
The Vitesse gaming recliner chair comes with a stylish design and premium leather that ensures you don't have any problem cleaning. The elegant design, especially the all-black version, gives your interior that exquisite look it deserves. However, when you focus on the design alone, it is a chair worth investing in, especially if you prefer a modern but elegant chair for your home.
– Highly Customizable
Interestingly, the chair is one size fits all because each individual can customize it according to their satisfaction. The customization allows you to reconfigure it to how comfortable and supportive you want it to be. For most ardent gamers, customization is a great feature. For instance, you can adjust the seat height, tilt the backrest reclining angle to 180 degrees. Additionally, you can also take advantage of the 260 degrees swiveling.
Notably, most gamers find it hard sitting in a particular position while playing games. Nevertheless, the Vitesse gaming recliner chair gives you flexibility as you enjoy 360 degrees swivel without stress. There is also a removable headrest pillow and lumbar cushion that help provide additional comfort.
– Rotatable Wheels
Remarkably, the chairs come with rotatable wheels, which freely allow you to move without standing up. If you are considering the damage it will cause to the floor, the chair comes with a protective wheel that doesn't damage your floor.
– Premium Material
The chair has a skin-friendly PU leather with high resilience thicker sponge that improves comfort when in use. It is manufactured from durable and waterproof leather that provides more convenience during cleaning. Additionally, the protective footpad and stable metal transmissions make it the perfect option for your gaming adventure.
– Easy to assemble
Unlike most gaming chairs with complicated installation processes, the Vitesse Gaming Recliner Chair is easy to assemble. Within 8 minutes, you can finish the installation process and sit back in your favorite position.
Also read: Polar Aurora Gaming Chair Review
Essential Features You Need in a Gaming Chair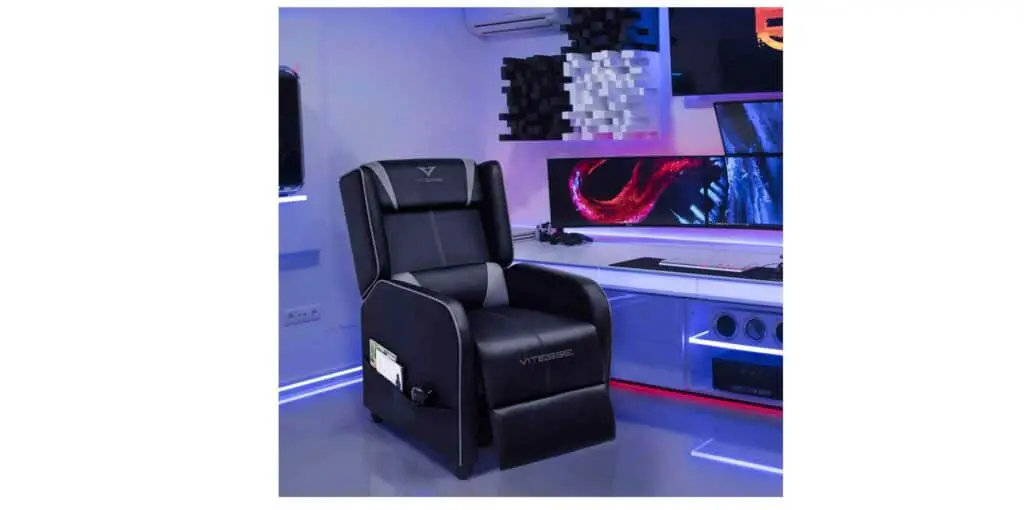 The decision on what gaming chair to choose has long-term consequences. It is not enough to base your purchase on the brand or cost. You need to pay attention to important features. The following are essential things to look out for in a gaming chair.
– Size
Gaming chairs come in different shapes and sizes; some are designed for bigger users, while others are suitable for a smaller size. At times, it might be difficult for a smaller size to fit a bigger user. Therefore, before investing in a gaming chair, check the specifications such as height and seat level.
– Adjustability
Adjustability allows you to customize or personalize the chair to your needs. Important parts to adjust include the seat depth, armrests, seat height, and lumbar cushion. Notably, the Vitesse gaming chair has all of these features besides the armrest.
Other things to consider include:
Breathability
Padding
Quality of material
Price
Durability
Final Thoughts
Overall, the Vitesse Gaming Recliner Chair has every quality you need in a gaming chair. With an excellent price-quality ratio, it is worth the investment when considering the features. Regrettably, you can't expect the chair to last forever. Nevertheless, it will certainly last you for a long period of time.
One of the interesting features of any gaming chair is customization. With adjustable seat height, this chair is well-suited for everyone, notwithstanding their height. Furthermore, it is an all-multipurpose chair, which means you can use it for your games, read a book, watch your favorite TV series, and relax comfortably on it.
Finally, you can tap a nap peacefully since you can recline the backrest to 180 degrees. We believe we have done justice to the Vitesse Gaming Recliner Chair review, and it is now in your hands to make the final decision.
Frequently Asked Questions (FAQs)
Is Vitesse a good gaming chair?
If you want a less expensive gaming chair to relax and play games comfortably, then you might want to consider the Vitesse Gaming Recliner Chair. It is incredibly comfortable and one of the best you will find in the market. Its lumbar and headrest pillow provides comfort, while the adjustable seat height provides the perfect match you need. Furthermore, you can use it for your gaming and office-related activities due to its sturdiness and quality material. Looking at the pros is enough to convince you that Vitesse is a good gaming chair.
How much does a Vitesse gaming chair cost?
Gaming chairs are costly and vary extensively. A primary determinant of their price is the features they offer. Some Vitesse gaming chairs can cost as high as $2000, whereas others can be significantly less expensive.
However, getting a Vitesse gaming chair will depend on your budget and taste for quality. In choosing a gaming chair for your gaming, here is an important trick – a chair that costs $600 might be cheaper in the long run than a $200 gaming chair.
Finally, the higher the price, the more quality, and comfort the chair provides. Therefore, everything lies in your expenses and what you want in a gaming chair.
Is Vitesse a good brand?
Overall, Vitesse is a good brand in terms of ergonomics, quality, and material. From the high-quality material to easy setup and customizable features, Vitesse is a good brand. Despite not being among the top gaming chair manufacturers, the brand is pushing itself and making giant strides to be a renowned gaming chair manufacturer.
Are gaming recliners worth it?
Gaming chairs usually command a lot of criticism, and for first-time buyers, it can even create more confusion. However, most gamers buy gaming recliners because they look good and provide comfort. Generally, gaming recliners aren't a bad option to consider and worth any investment.
However, not all gaming recliners are worth it. Therefore, before hitting the market, have a checklist of what you want in gaming recliners. Consider the chair's lumbar support, adjustable features, height/weight, and the brand before making a final decision.