Black Desert Online is a game with many features that make it unique and in-demand. One of the most prominent features is the marketplace that offers players an opportunity to buy and sell their goods. If you're new to the marketplace, let's offer some tips.
First, you have to find the Marketplace Director to buy items or sell items in the marketplace. The easiest way is to use your map and look for a house icon with a person leaning over it. If there's no icon with someone leaning over the house, then that means that you're not near a Marketplace Director's house. When you click on their house, they'll tell you what they want or need to buy from or sell to them (unless, of course, it's your very first time talking to them).
You need first to store your items and then sell them on the marketplace. You can then go into the storage interface of your local warehouse and select deposit from there. After making sure that they are in storage, they will be waiting for you to retrieve them once you have found a buyer. Next, if you are offering for sale on the marketplace, you'll need to put an item into the slot to be sold with the Marketplace interface. Once the item is ready for sale, you will see a red "sold" icon on it in the Marketplace interface.
Also read: How To Walk In Black Desert Online?
Selling on the Marketplace: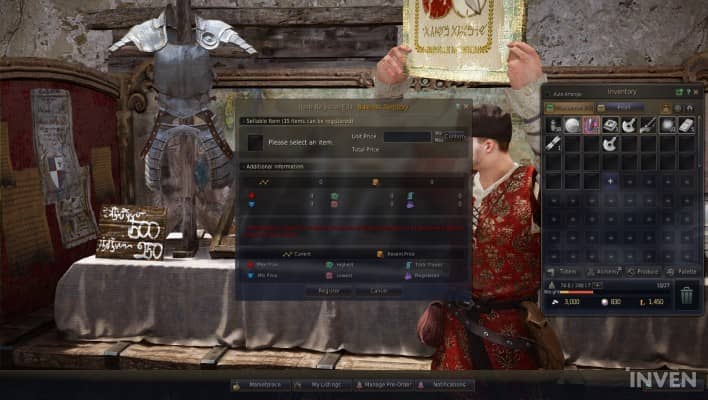 If you want to put something up for sale on the marketplace, first talk to the Marketplace Director. Click on "Marketplace" and then "My Registered Items".
You can now see the items you registered for, so you can sell them!
In case of any problems, you can try talking directly to the Marketplace Director and not clicking on "My Registered Items".
The Marketplace Director will give you a reaction to your comments. Click on the item you want to register. It will show you the current price range for this item. Click "Confirm". Then click at the bottom "Register". You may register up to 30 items at the same time.
In general, whenever you sell an item in the marketplace, you will not receive the total amount of money because there is a 30% tax and 5% sales tax that goes to your country. So, therefore, the more Value Packs you buy, the less expensive it'll be on your end.
Collecting the Money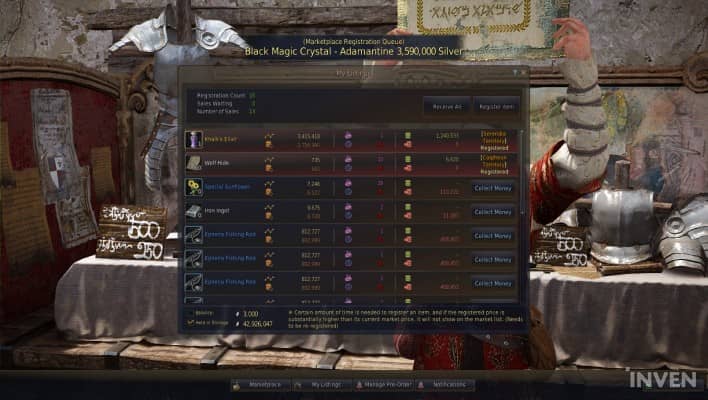 To get the money, talk with a Marketplace Manager in that territory, open the "My Registered" list. Then, you can either spend the money on your local store or their inventory. When you put them in your inventory, make sure to go to the store first and deposit all your items first. Why? Because you cannot collect the money if there are items in your inventory!
Also read: How to Fish in Black Desert Online?
Purchasing from the MarketPlace
Purchasing Listed Items
Meet a marketplace director as you open the market. Click on the "FIND" button in the top right corner of the window. Select "Products" from the drop-down menu. Find and select an item you desire. It will then open a drop-down list of offers for that particular item. Click on how you desire paying for it on the bottom left, usually from money present in your inventory or money in the storage or warehouse. Purchase your desired item!
Pre-Ordering Items
To pre-order an item that is not available on the marketplace, you must first create a listing for it. Once you have your listing created, you can create a pre-order for the item. Since it is not currently available to purchase, Marketplace Director will list the items in a "Coming Soon" state. Therefore, you will be able to purchase the item when it is released.
The items will be listed in chronological order, with priority given to the first listing created.