Welcome to another how-to guide in Cities: Skylines. This city-building game was released in 2015, and can be found on the Steam platform in the classic PC version, and versions for PS4, Nintendo Switch and Xbox One. In this game, it is important to show the ability to manage a big city and all its zones. In addition to building industrial, commercial and residential zones, it is necessary to build transport infrastructure so that all zones are connected and citizens are satisfied.
In addition, it is important to pay attention to all other aspects that affect the quality of life in the city – waste collection, public health, environmental pollution. Today we are going to deal with pollution, so keep reading.
Pollution is a real problem that the real world faces day by day. Why would anything be different in Cities: Skylines?
In Cities: Skylines there are three types of pollution – water pollution, noise pollution and ground pollution.
We will briefly mention, ground pollution is created by industries (except forestry and farming industry specializations). Ground pollution can be detected by changing the color of the soil and reducing the monetary value of that part of the country. Also, citizens living in or near a polluted area will begin to get sick and will eventually either leave the contaminated area or die. Therefore, always keep industrial areas away from residential areas to avoid the impact of pollution on citizens.
Another type of pollution is water pollution. As you already know, all buildings produce sewage that goes to the water through pipes. It is very important to have separate pipes for clean water and polluted water because if citizens come in contact with contaminated water they will get sick. Polluted water will also change color, this will immediately warn you that something is not working in your drainage system. It is very important to place the drainage pipes downstream from where the pump stations are located.
Now, let's get back to our main topic today – noise pollution.
Also Read: How to Make It Daytime in Cities: Skylines?
What is Noise Pollution in Cities: Skylines?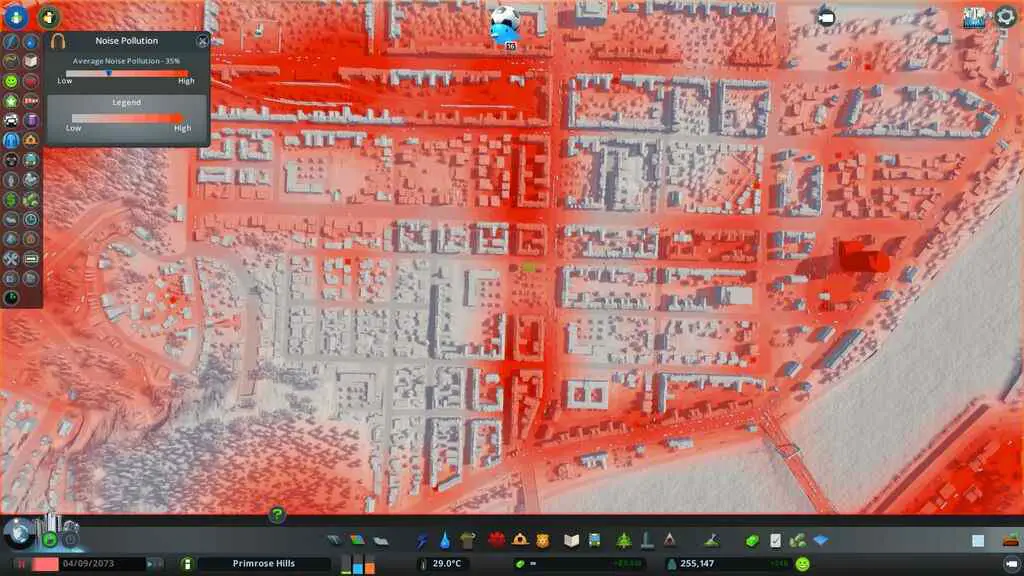 First of all, technical advice. If you want to check the level of noise pollution in your city you need to click on the informational panel located at the top left of the screen. There will be a menu with different icons, noise pollution has a headphone icon so you will find it easily. Click on the headset icon and you will be able to see how the levels of noise pollution are distributed in different parts of your city.
Let's go with basics; noise pollution means how noisy your city is. Another real situation, you know very well that there is a lot of talk about city noise in cities, so some larger cities have a policy that on weekends, for example, work can be done only in the afternoon because it is assumed that people will rest and sleep longer on weekends. and the noise of construction work would disturb them.
Furthermore, residential areas are often located away from urban centers precisely for the reason that too much noise affects the quality of life in these zones.
In Cities: Skylines, when you set up a unique building you will see an orange circle around that building. This orange circle indicates the zone within which the noise pollution level is very high. Most unique buildings have noise pollution, so you have to be careful where you place them.
However, noise pollution is something that is inevitable and cannot be completely removed from the city, which is understandable.
So it is good to have a plan for what your city will look like and where the different zones will be set up, so you will be able to greatly reduce noise pollution and raise the quality of life in your city.
Be careful, noise pollution like other water and ground pollution affects the quality of life of your citizens. From high levels of noise pollution your citizens can also get sick and die. So make sure there are no highways or many unique buildings near residential areas.
How to Reduce Noise Pollution in Cities: Skylines?
Let's start with highways. When your city is advanced enough you will unlock highways with sound barriers. Sound barriers will protect the rest of the city from the noise that is created on the highways. You can set the sound barrier exclusively on highways, but if your highway passes through the city this is a great option to reduce noise pollution from traffic.
Also, as your city progresses, you will unlock tree-lined roads, which you will not have at the beginning, you have to rely on basic roads at the beginning. Tree-lined roads not only have an aesthetic purpose to make your city look more beautiful, their main purpose is to reduce noise pollution in your city and increase land value. Tree-lined roads are desirable to build in places where there is a high level of noise pollution or where there is a high traffic density.
Carefully place your zones in the city because it is the most important item because of which you can solve many problems (or create new ones if you are not careful). Residential zones do not produce noise pollution, and the only way noise levels can be raised in these zones is due to traffic. However, by setting up residential zones you cannot reduce noise pollution.
Generic commercial zones produce a medium amount of noise pollution, tourism commercial zones and leisure commercial zones produce a high amount of noise pollution, and local and organic produce commercial zones do not produce noise pollution at all. Industrial zones are certainly the most common producers of noise pollution, so place industrial zones away from other zones in your city.
Office zones will also not produce noise pollution, just like residential zones, and the level of noise pollution can only increase due to traffic. Use office zones to reduce noise pollution by setting up office zones between noisy areas and residential areas. Instead of new industrial areas place more offices. This is definitely good for the citizens because it creates new jobs.
The level of noise pollution can also be affected by trees. Trees reduce noise pollution so place trees near roads so that residential areas do not feel an increase in noise pollution. Trees are always a good option!
Speaking of trees, place parks around your city. Parks will also reduce noise pollution and increase the happiness of your citizens. Place parks between residential and commercial zones, but also among other busy parts of the city.
Also Read: How to Use Natural Resources in Cities: Skylines?
The Pollution Solution Mod for Cities: Skylines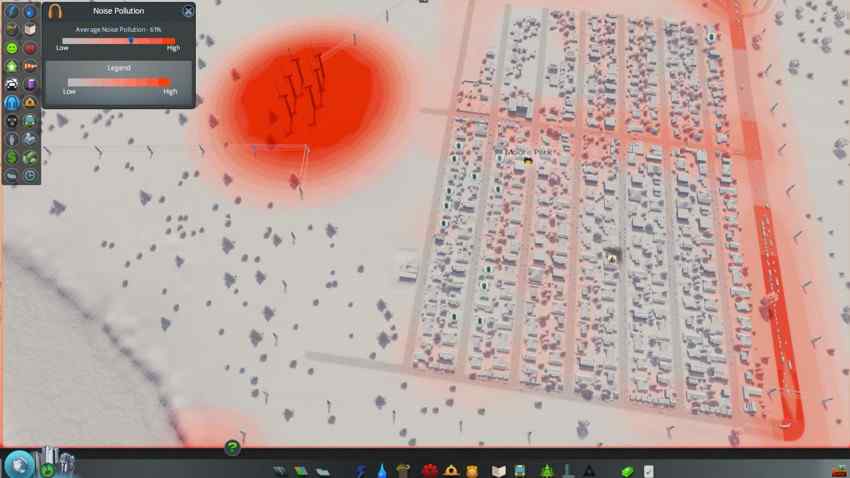 If you are a fan of mods, check out this mod designed to exclude or include different types of pollution in your city. With this mod you can disable or re-enable water, ground or noise pollution in your city, in just a few seconds.
Warning: Download this mod at your own risk, the mods were not created by Paradox Interactive and have nothing to do with the official version of Cities: Skylines. By downloading the mod you agree to share your data with the creator of the mod. Mod can also negatively affect your game, so be careful when you add it to your game.
Also Read: How to Increase Tourism in Cities: Skylines?
Final Thoughts
Now you know everything about noise pollution in Cities: Skylines game. Noise pollution in this game does not differ much from real noise pollution, so the methods of reducing it do not differ much. Remember to remove residential areas from industrial areas and unique buildings right at the beginning of the game because they have a high level of noise pollution. Also, place many trees and parks around your city and set up sound barriers on highways to reduce noise pollution from traffic.
With these tips your city will develop smoothly and noise pollution will no longer be a problem.