Apex Legends is a game that allows you to express your innovation and creativity. You can use different strategies to get the upper hand on your enemies. The game features a long list of weapons and Legends, each bringing something unique.
You can use different strategies and implement them through these Legends and weapons to win your team the game. You can also play with your friends, where each of you plays a unique role in securing the victory for your team.
Out of all the roles that you can play in the game, none of them are as older or as reliable as a Sniper. Sniping lets you watch your enemies and track their movements from a long range.
You have to ability to take out the entire enemy squad without them even noticing if you time everything correctly. Because of this, it is one of the best roles in any first-person shooter multiplayer game, including Apex Legends.
So, who are the best Legends for Sniping in Apex Legends? The correct response to this question relies on the individual and the Legends they favor. But Legend's skills and advantages provide a clearer picture. Let's take a look at the top sniping Legends in Apex Legends.
Vantage is arguably the best Legend for Sniping in Apex Legends. Her abilities revolve around positioning and getting the upper hand on the enemies. So, you can use her abilities to get into scouting positions and keep an eye on your enemies. She can also take out all enemies from afar without breaking a sweat.
Similarly, we have other Legends like Rampart and Wattson, whose entire game revolves around positioning and making moves for their team. Legends like this are perfect for sniping because of their abilities and the fact that that is their best role.
We suggest you keep reading if you want to learn about this topic. We will look at the best Legends for sniping and what makes them stand out in this particular role. Without further ado, let us jump right in.
Best Legends for Sniping in Apex
1. Vantage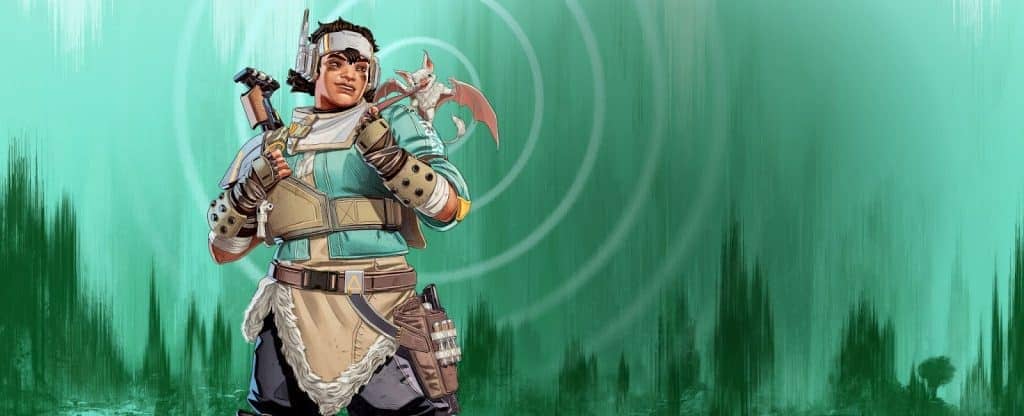 Vantage ,needed the Sniper Savant, is hands down the best Legend for Sniping in Apex Legends. Her gameplay and ability pool involve getting into significant positions and sniping the enemy. She was specifically designed for players who loved the scouting and sniping aspect of first-person shooter games.
Her tactical ability allows her to launch her winged companion to different spots on the map where she has a vision. She can then jump to this location rapidly without wasting any time. This ability allows her to reposition easily and target enemies from a distance.
Her passive provides her vision of where her bullets will land when she fires them. This also gives her an idea about where and how she must take a shot to hit the enemy every time.
Her ultimate ability is a custom rifle with great range and DPS that provides you and your teammates a damage buff. All of this makes her the perfect sniping Legend in Apex. She can reposition herself, provide vision to her teammates, and take the shot and kill the enemy when the time comes.
Related: How to Report Cheaters in Apex Legends?
2. Wattson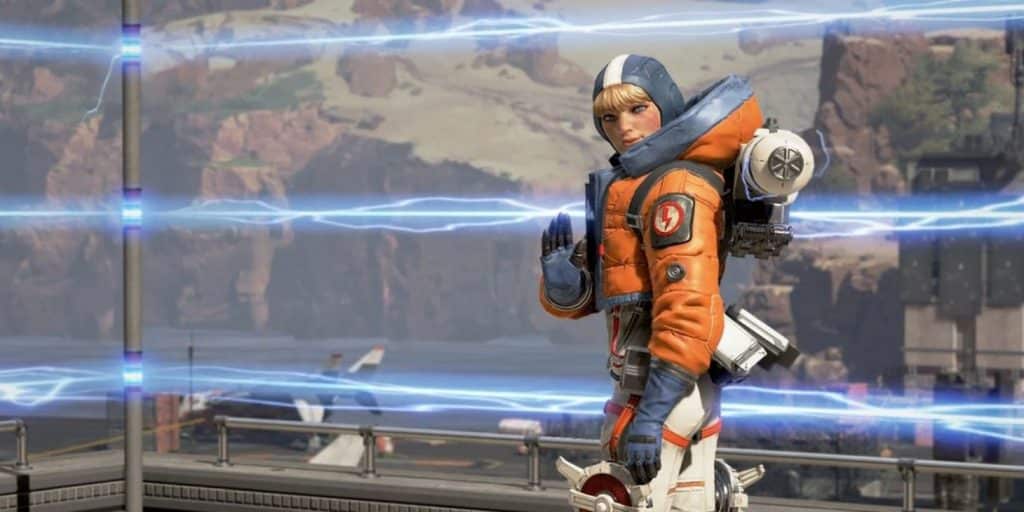 Wattson, the Static Defender, is the following Legend on our list. She is associated with the Controller class and has been a part of the game since Season 2. Wattson is regarded by many as one of if not the best camping Legends in the game.
She can find a good spot on the map, put fences and shields around her and then stay there and target enemies. She can also heal herself when she takes damage. This allows her to stay in a single spot for the game and snipe the enemies in her vicinity.
Her tactical ability allows her to put electrified fences around herself. These fences act as shields and deal damage to any enemies who dare to cross them. You get a new charge every 15 seconds, meaning you can have a constant wall around you to protect yourself from enemies.
Her pylon also helps recharge the shields of her teammates near her. These towers can also protect her from airstrikes and any drones thrown in her direction. Lastly, her tactical ability allows her to recharge her ultimate as she sits around and snipes enemies.
This makes her the perfect sniping Legend, as you can sit in one position, let your abilities recharge, and put shields around you as you take out enemies from afar.
3. Rampart

Number 3 on our list of the best sniping Legends in Apex is Rampart the Amped Modder. She was introduced in Season 6 and is associated with the Controller. She is sorely underrated and one of the best sniping Legends in the game today.
Her tactical ability makes her perfect for the role of a sniper. She can set a cover wall that protects her from incoming bullets and damage.
You can reach a high-ground position on the map and shop there using your tactical ability. Have a wall capable of absorbing much damage and keeping you safe. You can use this wall as cover to aim, fire at enemies, and take them out before they even destroy the wall.
She also is highly versatile and allows you to change your play style in the middle of the game. If you picked Rampart and started as a sniper and decided later on that it was not working, you can change your play style mid-game to surprise the enemies.
Her passive ability provides extra ammo if you use a machine gun or a minigun. You can use this to your advantage and rush at the enemies and attack them.
Her ultimate ability produces a sturdy turret that can be utilized offensively or defensively. If you prefer to play like a sniper, you can do so by positioning the turret behind you.
It will keep you safe from enemies trying to sneak up on you. This will ensure you are safe from the front and back with the wall and turret combo.
Related: What Engine Does Apex Legends Use?
4. Gibraltar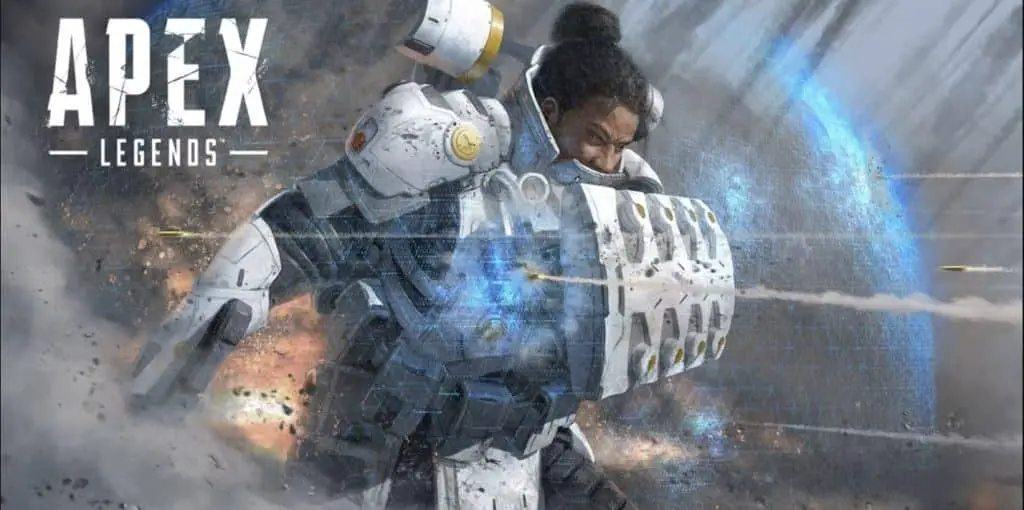 Next up on our list is Gibraltar, the Shielded Fortress. He is a support Legend who has been a part of the game since the start. Gibraltar is widely known as one of the best support Legends in the game.
Her support abilities are also extraordinary; they can help him play the scout role in the game. This helps him keep an eye on his enemies and makes him one of the best snipers.
Gibraltar's Tactical Ability is the Dome of Protection. This ability, when used, creates a dome around Gibraltar that protects him from all types of incoming damage.
This is a great tool to use when you are in a high-ground position and want to maintain your positioning without the threat of attack.
His passive ability is fantastic; it provides a shield when you are about to take a shot. The shield also allows you to calmly take your shot without the added stress of dying and being shot at.
Lastly, Gibraltar's ultimate makes you a nuke threat and a sniper. If you see multiple enemies in an area and cannot take them all with your rifle without being targeted, you can call a mortar strike on them and take them out from a long range.
All of this makes Gibraltar a defensive and offensive threat and one of the best Sniping Legends in Apex.
5. Lifeline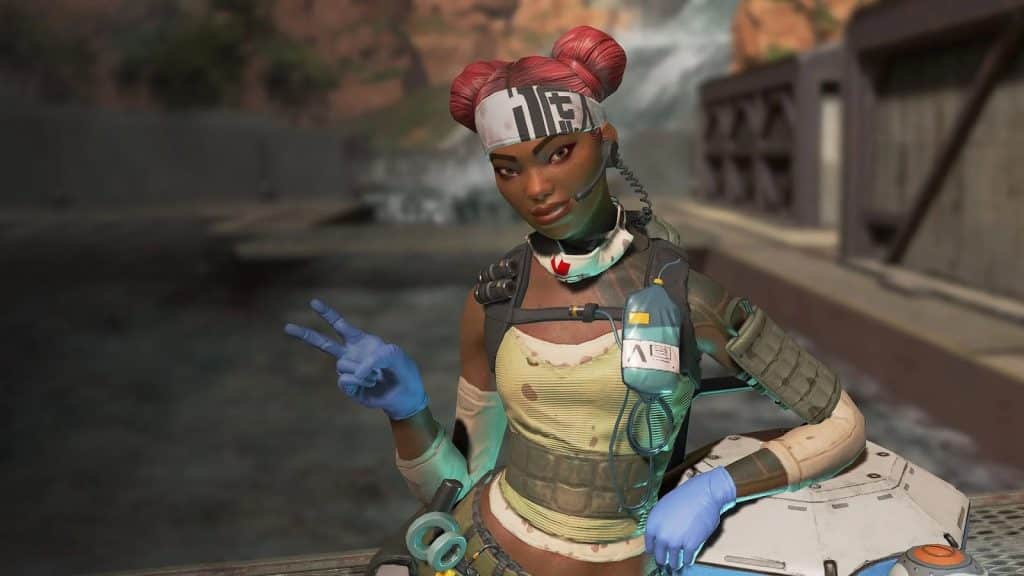 After that, there's Lifeline. Even if you've been playing Apex Legends for a while, you probably have some questions about the new content. The Combat Medic Lifeline is a Support Legend whose skills strengthen and aid her comrades. The bright side is that she is now the pivotal piece of the puzzle that can help you and your team win the game.
Lifeline can act as a central point for your entire team. She can occupy a single spot on the map and cover fire for her teammates. This gives your team plenty of space and opportunity to push and kill enemies.
However, if your teammates get attacked and suffer damage, they can return to Lifeline. Her passive and tactical are both targeted toward saving her teammates. So she can heal and even save her allies if they fall close to her.
She can also provide her team with notable defensive loot and items that will help you take better fights. Once your teammates are healed and geared up, they can return to the battlefield and continue pushing the enemies.
You can repeat this process again and again until all the enemies are either dead or run out of resources. This makes Lifeline a unique Sniper and a significant threat from range.
6. Crypto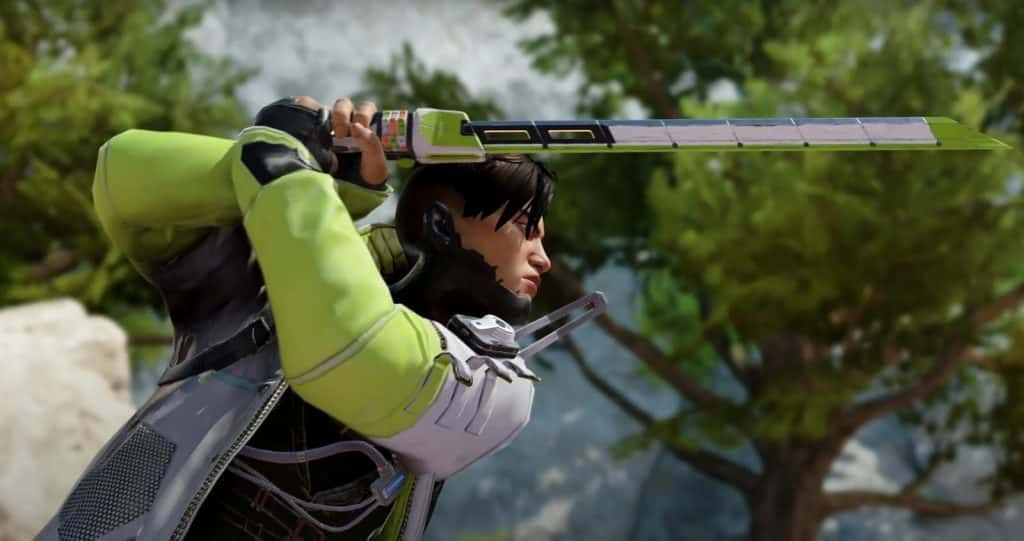 The last entry on our list is Crypto the Surveillance Expert. He is a part of the Recon Class and has been in the game since Season 3. As he is a part of the Recon class, most of Crypto's abilities revolve around tracking enemy movements and relaying them to his teammate.
These abilities make him a great addition to any team he is a part of. They also make him a great sniper as he can locate and take out his enemies from range.
Crypto's Tactical and Passive abilities give him a fantastic vision of the area around him. He can use this vision to alert his teammates of possible enemy moves.
He can also use them from a range to predict his enemy's future movements and then take them out. These two abilities alone make him a prime Legend for Sniping in Apex Legends.
However, his ultimate is fantastic and can leave his enemies vulnerable to incoming attacks. His ultimate is a drone EMP that deals damage, slows down enemies, and takes out their traps and shields.
This leaves them vulnerable for a few seconds and provides Crypto a prime opportunity to snipe them out using a powerful rifle.
His abilities enforce a strategic play style that various players in Apex Legends love. Combining these abilities with the long-range sniping gameplay will give you the perfect combination of a scout and a sniping threat to all enemies. This makes Crypto a notable entry in our list of the Best Legends for Spinning in Apex.
Best Sniper Rifles in Apex Legends
Even though Vantage has her sniper rifle, you still need a strong sniper rifle that you can use in combination with these Legends to ensure that you can destroy your enemies with a single headshot. So, the best Sniper Rifles in Apex Legends include;
1. The Kraber .50 Cal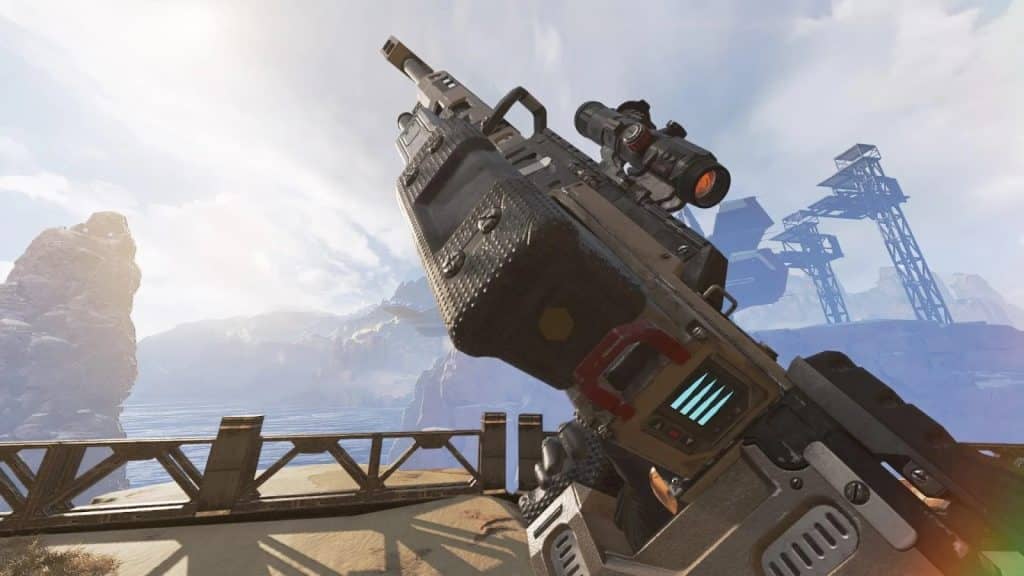 The Kraber remains the game's most potent sniper weapon despite recent reductions in its power. It deals 280 damage to the head, 140 to the body, and 112 to the legs if used well. One headshot from the Kraber is all it takes to kill an opponent.
It also comes with excellent attachments and items that make it fun to use and allow you to express your creativity. However, the Kraber only has a magazine size of 4, so you need to be precise with your shots.
2. The Longbow DMR

Next up on our list is the Longbow DMR. The DMR can do 55 body damage, 118 headshot damage (130 with the Skullpiecer Rifling), and 44 damage from a leg shot. The Longbow is one of the easiest Sniper Rifles to use in the game because of its forgiving and easy-to-learn aim system.
And although the Longbow does not do as much damage as the Kraber, the higher bullet capacity provides you with more shots that you can take.
3. The Sentinel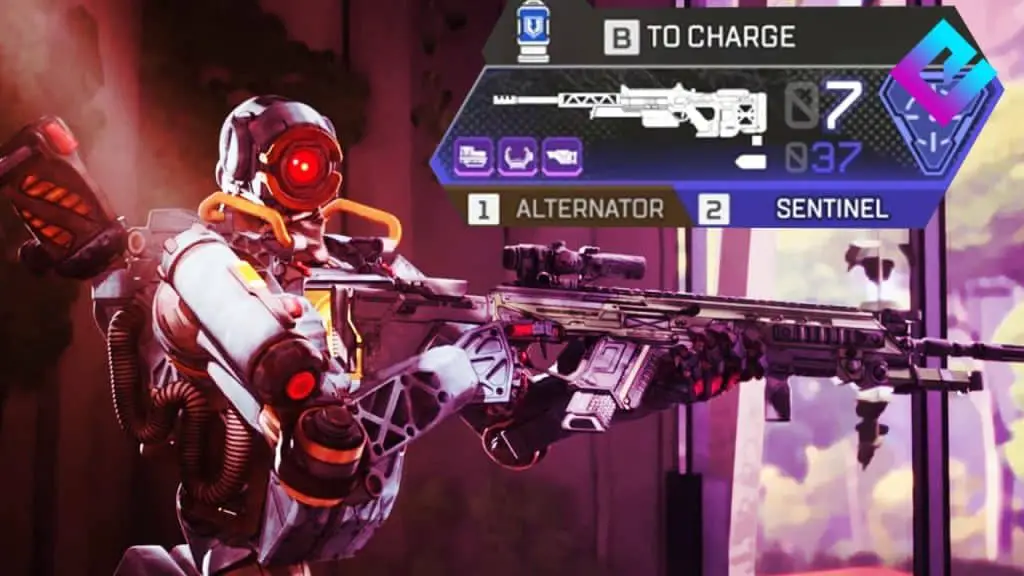 The Sentinel is a more conventional Sniper Rifle in contrast with the Longbow. It can be amped and upgraded to deal 88 damage from a body shot, 176 damage from a headshot, and 79 damage from a single bullet to the leg. It has a magazine that can store up to 7 bullets after modifications.
It has a slow fire rate, so you must be careful when taking a shot. It is a weapon that most Snipers in Apex Legends love because it is a conventional Sniper Rifle that you will find in other games as well.
Related: Best Japanese PS5 Games
4. The Charge Rifle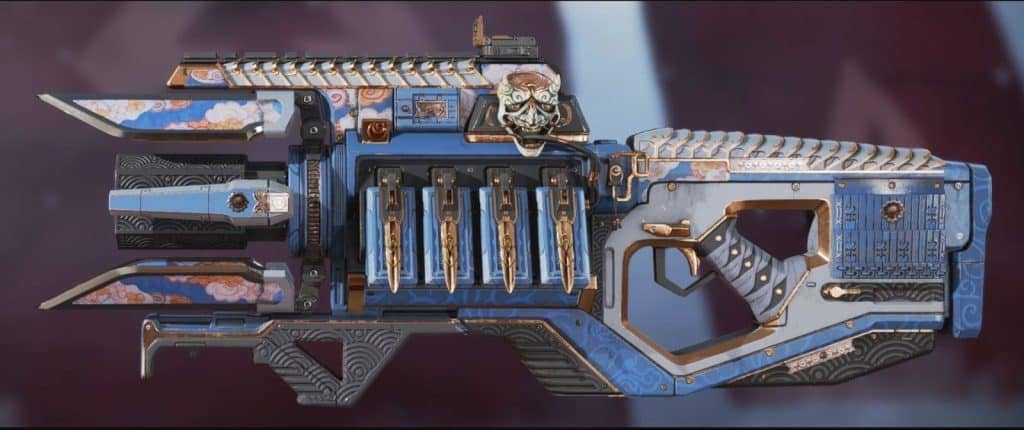 Lastly, we have the Charge Rifle, one of the game's weirdest and most unconventional weapons. It would help if you charged the rifle before you could fire it. After charging, it will shoot out a burst that will damage the enemies.
The gun has no bullets, meaning it has no bullet fall. This makes it an ideal starter weapon for players learning to snipe and have difficulty aiming. It has a magazine capacity of 8, and you must wait a specific amount for it to charge after using it.
The Best Legends for Sniping in Apex Legends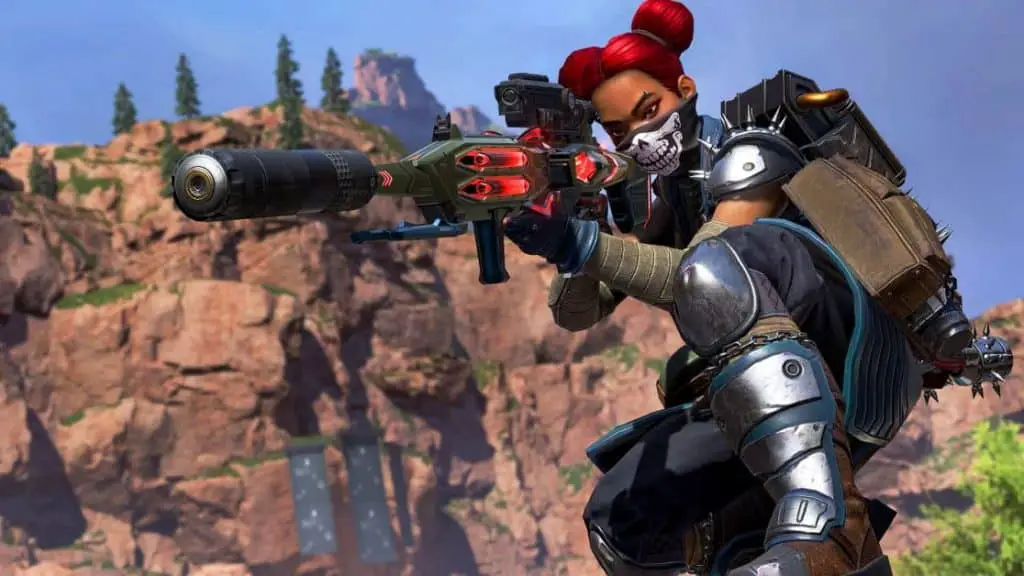 Vantage is the clear-cut choice for the best Apex Legends for sniping. She has unique abilities that allow her to get into shooting positions and target enemies. She also has a custom rifle to boot with a high DPS and provides bonus damage to all her allies.
After that, we have Legends like Gibraltar, Lifeline, Wattson, Rampart, and Crypto, which are also fantastic Legends for sniping. These Legends have unique abilities to watch their enemies and track their moves.
They also can protect themselves from incoming damage in case they get detected. Lastly, these Legends also have abilities that help to reposition and get a jump on the enemy team quickly.
Conclusion
This concludes our list of the best Legends for sniping in Apex Legends. Shooting is a lost art in today's world of first-person shooters.
In the old days, you would have campers and snipers who would spend the entire duration of a match in a single spot to target the surrounding players and make them question their life choices. However, most games today revolve around past-paced plays.
Players try to use heavy-duty LMGs and assault rifles to rush at the enemies and take them out as soon as possible. However, if you still want to learn how to snipe in Apex Legends or want to perfect the art of sniping, these Legends are for you.
Their abilities and play styles bring something unique to the table. Picking any single one of them will give you the tools to get into better positions and remove enemies from afar.
We hope that this list helped you in your search of finding the best sniping Legends in Apex. Let us know what you think about the guide in the comments below. Your feedback is highly valued and appreciated. Till next time, good luck and have fun!