The industrial area in Cities: Skylines is a vital zone in the game as it guarantees the availability of goods and services to citizens.
But the game may sometimes display a notification saying, "Not enough workers!".
This can be pretty annoying especially if the UI tells you 13% of the working-age population is unemployed, and yet there are 1,000 jobs available.
This article explains in detail how to get more workers in Cities: Skylines.
What does the 'Not Enough Worker" alert pop up?
The Cities: Skylines 'not enough workers' notification usually appears because of the following factors.
There are not enough citizens in your city.
You don't have enough workers with the required education.
The prospective workers cannot reach your workplace.
How to get more workers in Cities Skylines
1. Improve your transport options or move the industry closer
If the residential areas are too far from the industrial zones, cims may be unwilling to work in your industry; especially if you do not have a good transport system that leads them to the industries.
To remedy this situation, you need to work on building an efficient line of transportation to and from the industrial and residential places so that the citizens can reach the location quickly enough.
 A more effective approach is to demolish and rebuild your industrial zone closer to residential areas. Build residential areas close to buildings that need workers.
Also Read: How To Build Highway Exits in Cities: Skylines?
2. Enable School's Out policy
Industry specializations usually require lot of uneducated workers. So, if a large majority of your citizens are very educated, you have have trouble filling those jobs.
The reason is that the college-educated employees will search for other jobs first before considering filing the industry jobs. That is, they'll wait a longer time for a more suitable job to open up before taking up the lower-education job.
However, on the other hand, the worker shortage could be because the uneducated workers can't get a job that requires a higher education, thus the need to balance the level of zoning and the education levels.
To fix this problem, you can remove the universities or use the Schools Out policy in some zones. However, this is not always necessary as the problem is only temporary.
The truth is, eventually the educated citizens will finally settle for the industry jobs.
3. Wait a while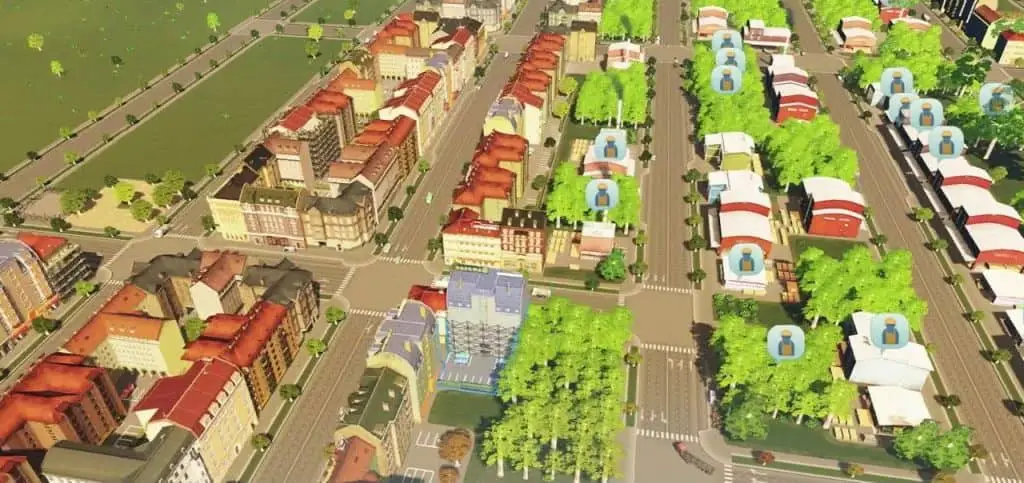 If the roads are good and there are plenty of transportation options, you just need to wait. Eventually, the better-educated cims will stop looking for alternatives and take jobs below their education level.
However, be aware that if a more suitable job – at a new office block, say – opens up, they'll switch over.
How to prevent the cities skylines no worker issue from happening
Always control your zoning; avoid building big high-density zone in low-density residential districts.
If possible, always have minimum residential demand and avoid fulfilling industrial and commercial demand completely.
Invest in education. It is always advisable to have an educated population, because they will eventually fill the lower-skill vacancies iif there are no office jobs.
However, this need to be regulated as the very educated citizens will often consider an industry job as a last resort. You can use the Schools Out policy in some zones so people to leave education early and go straight to work
Put proper transport in place
Also Read: How to Upgrade Roads in Cities: Skylines?
How to improve transport options in Cities: Skylines
Build bus stations in major areas in your city such as near the central train station and airports.
Consider building a bus or train line
Build a metro station
Though quite expensive, the metro is one of the best means of transport in the game. By going underground, your lines can be straightforward, making travelling by metro an easy choice for residents.
Build bike highways throughout the city.
If done properly, biking highways are really good transport option for medium-distance travel. Build main, direct roads and link them to each one of your neighborhoods; and you'll discover hundreds of people spontaneously opting to ride to work.
Also Read: How to Increase Land Value in Cities: Skylines?
Conclusion
To get more workers in Cities: Skylines, ensure that your industrial zones are accessible to the citizens and that are the education level in your city is minimal.