Stellaris is one of the best-selling 4X Grand Strategy Games that can provide gamers with endless hours of special gaming bliss. The game has all the features that you would want from a top-end strategy game – wide exploration options, multiple weapons, robust resource management, and an unlimited number of strategy and tactics combinations that make for a fascinating gaming experience.
However, Stellaris has been suffering from bugs and sudden crash issues. Many users report that Stellaris crashes right after you launch it with a dialogue box warning that the game could not be launched.
In this guide, we do a deep dive into the causes of this annoying Stellaris-won't-launch error and also show you how to fix Stellaris won't launch problem.
Also read: How to Gain Influence in Stellaris?
Why does Stellaris crash on startup?
While there could be many causes for Stellaris crashing on startup, we collect some of the most commonly known reasons here.
STEAM CLIENT ISSUE: Sometimes, the problem is not with Stellaris, but rather with the Steam client. Steam is a very popular gaming platform, and many Stellaris lovers play the game on Steam. If your local Steam installation has some issues, they might cause Stellaris to crash suddenly.
BORDER MODE: Many players have reported facing the annoying Stellaris-won't-launch bug when playing the game in Border Mode.
ISSUES WITH THE LATEST UPDATES: There have been some stability issues with the latest updates released by Stellaris. These might also be the reason for those sudden abrupt Stellaris crashes.
What's the fix?
To solve this annoying Stellaris-won't-launch bug, the following solutions are the best.
1. Direct Running from the Installation Folder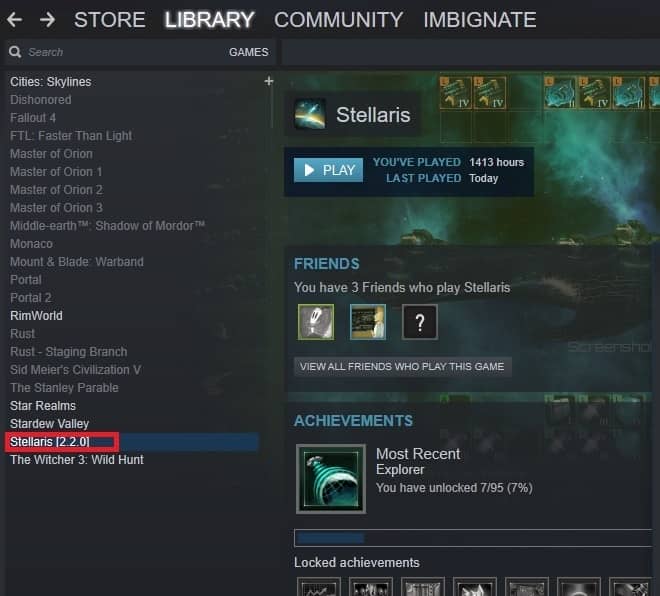 Sometimes there might be compatibility problems between the local Steam client and the game, especially with new patches, updates, and extensions being loaded all the time. Often these complicated bugs can be quite tough to track and even tougher to resolve.
The best strategy in such scenarios is to launch Stellaris directly from the installation location in your local file system.
Login to your Steam Client
Click into your Game Library
Once inside the library, locate and right-click Stellaris
From the drop-down menu, choose Properties
Under Properties, navigate to the Local files tab and click on the Browse Local Files button
Navigate to the Installation Folder
Once inside, locate the Stellaris.exe file.
Right-click on this file, and choose Run as Administrator
Enjoy Stellaris as it now runs smoothly without any irritating crashes.
This is one of the most successful ways of solving the Stellaris-won't-launch error. For Windows users, this will almost always solve the issue.
2. Use Borderless Mode to run the Game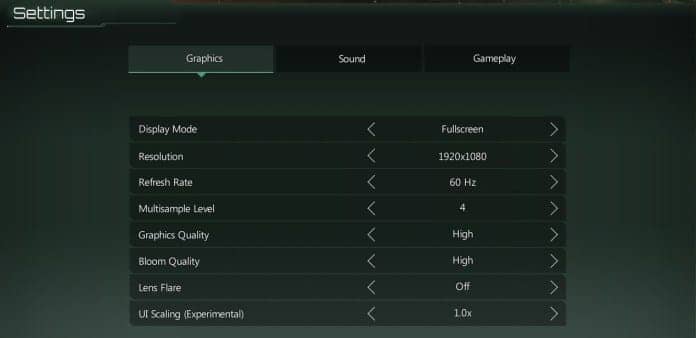 This is another effective method that solves the crash-after-launch issue with Stellaris. Like many other games, Stellaris lets you run the game in two modes – you could either launch it in a Border mode or choose to play it Borderless.
Some gamers have reported that Stellaris often crashes if you launch it in the Border mode. With Borderless Mode, most gamers have reported a smooth and seamless gaming experience.
If your Stellaris installation keeps crashing after launch, you should try playing it in the Borderless mode. To do this, follow along with the following steps.
As you are playing the game, head to the Main Menu
Navigate to Settings
Under Settings, choose Graphics
Spot the option for Display Mode
Select Borderless from the range of options in there.
Save the changes that you have made
Launch a fresh instance of Stellaris
This should get the job done for you! Now Stellaris should work like a charm without those annoying bugs and crashes.
Also read: How to Increase Administrative Capacity in Stellaris?
3. Installed Game Files issues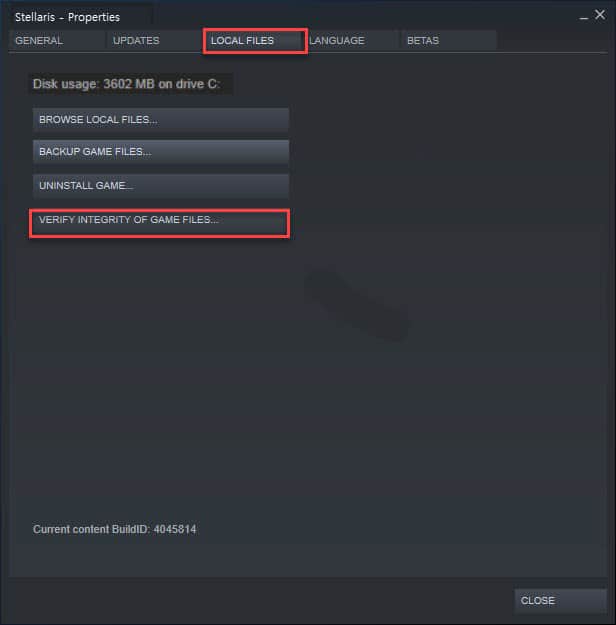 If all the above methods don't work, then perhaps your game files are improperly installed. Or maybe they have gone corrupt otherwise. In any case, it is best to check these game files and make sure they are in working condition.
To verify your Stellaris game files on a Windows installation, follow along with these steps:
Go to your Steam Client
Once inside the Steam Client, go to your Game Library
Inside the library, look for the Stellaris option and right-click on it.
Choose Properties from the menu that opens up.
Locate the Local Files tab and click on it
Next, press the Verify Integrity of Game Files button
The scanning process will begin. Please be patient, as it may take some time.
Once the process is completed, your game files have been verified.
Launch a fresh instance of Stellaris, and you should be on your way to Galactic Supremacy!
Stellaris is an amazing game, and there is no place for annoying launch-crash bugs in the Stellaris universe to spoil your fun. Hopefully, with these techniques, you should be able to work your way around this Stellaris-won't-launch issue and enjoy endless hours of gaming pleasure!