Are you a newbie to MapleStory and don't know the importance of Mesos farming or which is the best map to do Mesos farming? Don't worry! We are here to help you.
Farming in MapleStory is one of the vital means to prosper your character. Besides, it is so essential in Reboot Worlds. This is because in case of their absence you can't buy and sell items with others. Very intriguing, isn't it?
In this article, we will discuss what is the best map for Mesos farming and how you can reach there.
Longest Route Of Bye Bye Station- What Was It?
The best route for Mesos farming was Bye Bye Station at lower levels. This station earlier existed in the Kampung village of Malaysia.
Here you have to go through two portals named Fantasy Theme Park 3 and Entrance to Water Coaster while defeating two monsters, Froscola and Booper Scarlion.
Also read: The Best MapleStory Leveling Guide
How Can You Get To Bye Bye Station?
First of all, you need to go to Malaysia. You can either go through Spinel in particular towns or through Irene at Platform of Victoria Tree.
Keep moving to the right side until you reach Fantasy Theme Park 3. Fantasy Theme is a kind of map that possesses Vikerolas, which are Viking-themed mobs. Then enter the inside portal to get to the Bye Bye station.
Removal Of Bye Bye Station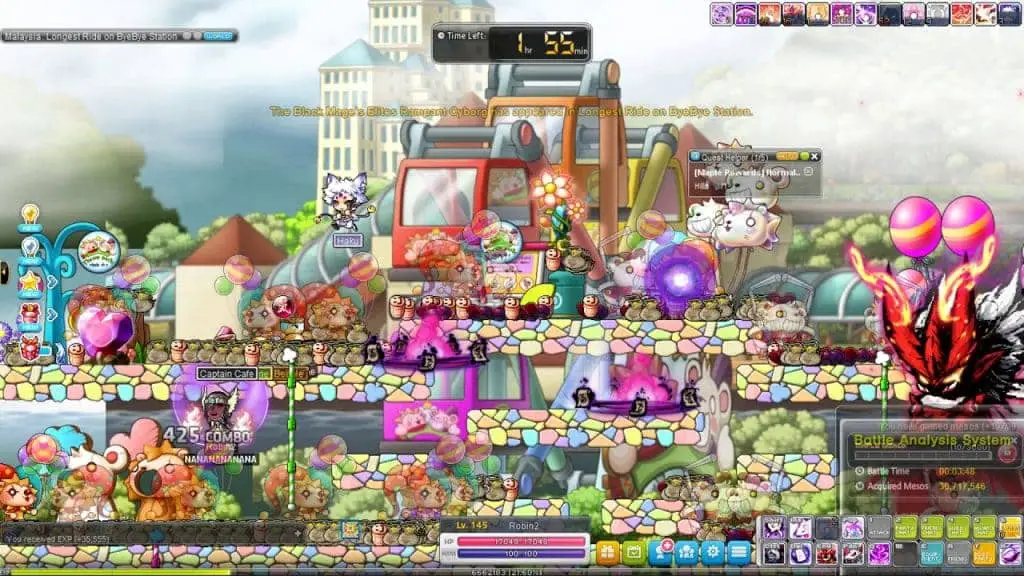 After the intro of the 212 patch version, Bye Bye Station got removed along with the capacity to make millions of Mesos an hour. To overcome the players from this shock, game developers introduced Maple Tour so that participants could reap a reasonable amount of Mesos in the game.
How Can You Access Maple Tour?
You can access Maple Tour through the Dimensional Mirror prevailing in significant towns in MapleStory. Only participants at level 105 and more can join in or a maximum of 7 times per day.
Your entry the first two times to Maple Tour is free. However, to join the subsequent five times, you require to spend 300 Maple Points. You can also use a Maple Tour VIP Pass to join in.
Moreover, only one character is allowed to enter till you get a claim of meso rewards on that character. After getting bonuses, you can use a supplementary character.
What Rewards Can You Get After a Maple Tour?
When you complete a Maple Tour, you will get Maple Tour Coins as a reward which you can use to buy items from the Travel Bag established in the Broadcast Station of MNN.
Also read: How to Unlock MapleStory Pocket Slot
What Items Are Available In The Travel Bag?
You need to pay 140 coins to buy a Meso Piggy Bank. You can collect 50 million Mesos a day with it and it is available for only 28 days.
Lulu's EXP Box needs only one coin for purchase. It provides a spontaneous quantity of EXP to you.
Power Elixir needs only one coin, which provides hundred Power Elixirs. A Meso-Raining Chair needs 50 coins to consume 1,000 Mesos for every 3 sec., you hunch on a chair.
Final Thoughts
We can say that mesos farming via Bye Bye station or Maple Tour will give you an unbelievable long-lasting experience. Good luck with your game. Share this article with gaming buddies who may find it helpful. Feel free to make any additions to the information by writing in the comments section below.