Eve Online is a space-based MMORPG developed and published by CCP Games. It is a player-driven, persistent-world game set in a science fiction space setting. Players can participate in many different activities, including mining, manufacturing, trading, combat, exploration, and research.
If you've been playing Eve Online for a while, odds are you have some items that you no longer need. Selling items you no longer need can be a great way to make some extra ISK, which can be used to buy new items, pay for ship repairs, or anything else in the game. Here's a quick guide on how to sell items in Eve Online.
Also Read: How to Leave a Corporation in Eve Online?
What Is the Item Hangar?
Players must move their items from their ship's cargo hold to their item hangar in order to sell them on the market. The item hangar is a special type of storage available at stations throughout New Eden. To access your item hangar, open the inventory menu and select "Item Hangar." To move items from your cargo hold to your item hangar, drag and drop them from the "Ship Cargo" tab to the "Item Hangar" tab.
How to Sell Items on the Market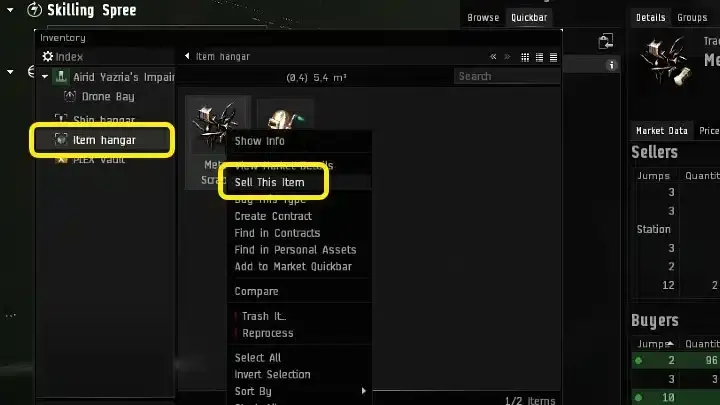 Once your items are in your item hangar, you can sell them on the market. To do this, follow these steps:
Right-click the space station of your current location and select the "Dock" option. Once your ship has proceeded to the station, complete the docking process.
On the game screen's left side, you'll see a toolbar. Select "Items," and a pop-up box will appear with all your available items.
Select the item you want to sell and right-click it. A "Sell" option will appear. From there, select the "Advanced" option.
Enter the quantity of items you want to sell. The more items you sell at once, the lower your price will be. You can also choose to sell all of the items in your selected stack by checking the "Sell all items in this stack" box.
The "Sell Price" field is where you set the price you want to sell your item. Eve Online uses a base price that is multiplied by the quantity you select. For example, if you want to sell an item for 10 million ISK, and you select to sell 10 items at once, the total sale price would be 100 million ISK.
The "Sell Duration" field is where you set how long you want to sell your item for. You can choose between 1 day, 2 days, 1 week, or 2 weeks. If you're selling on a weekend, the ideal sell duration is 1 day since most players are online. But if you're selling on a weekday, try to keep the sell duration 2-3 days to ensure that your items are seen by as many potential buyers as possible.
When you're finished, click the "OK" button. Your item will be listed on the market and can be bought by other players in-game. When a player buys your item, the ISK will be deposited into your character's wallet.
Also Read: What Happens When Your Ship Gets Destroyed in Eve Online?
Tips for Selling Items
Here are a few tips to keep in mind when selling items:
If you want to get the best price for your item, list it at the lowest possible price.
If you need to sell your item quickly, list it at a slightly higher price.
Listing fees are based on the total sale price of your items, so selling multiple items at once can save you money in listing fees.
Pay attention to market trends to see which items are in demand and selling for high prices. You can buy low and sell high to make a profit.
Use the "Reprocess" option to break down unwanted items into their component parts. These parts can then be sold on the market for a higher price than the original item.
Other Ways To Make Money In Eve Online
In addition to selling items on the market, there are other ways to make money in Eve Online. Players can engage in planetary interaction, complete missions, mine asteroids, or trade goods between stations. Here are some ways to make money in each of these activities:
Planetary interaction: Players can extract resources from planets and sell them on the market.
Missions: Players can accept missions from NPCs and complete them to earn ISK.
Mining: Players can mine asteroids and sell the minerals they've collected on the market.
Trading: Players can buy goods at one station and sell them at another station for a higher price.
Also Read: How To Sell Ore in Eve Online?
Bottom Line
Selling items in Eve Online is a great way to make some extra ISK. By following the steps above, you can list your items on the market and start earning ISK from other players in-game.