Here is an easy guide for both funded and unfunded players in the reboot server of the GMS.
1. General Tips and Guide Formatting
The numbers indicated with the dash represent the starting level and last level, respectively. The name displayed next to the numbers is the name of the map. If a story recommended to you is not a map, the plan would mention it in words.
Example:
100-115: Normal Zakum, Boss Level once a day.
2. The Tutorial Levels 1 to 10
After the Tutorial level completion, almost all the classes will automatically set their levels to 10. Some classes start with level 10, and the tutorials for the different courses will shorten the levels from 10 to 30.
Also read: How to unlock MapleStory Pocket Slot?
First Job Advancement Levels 10 to 30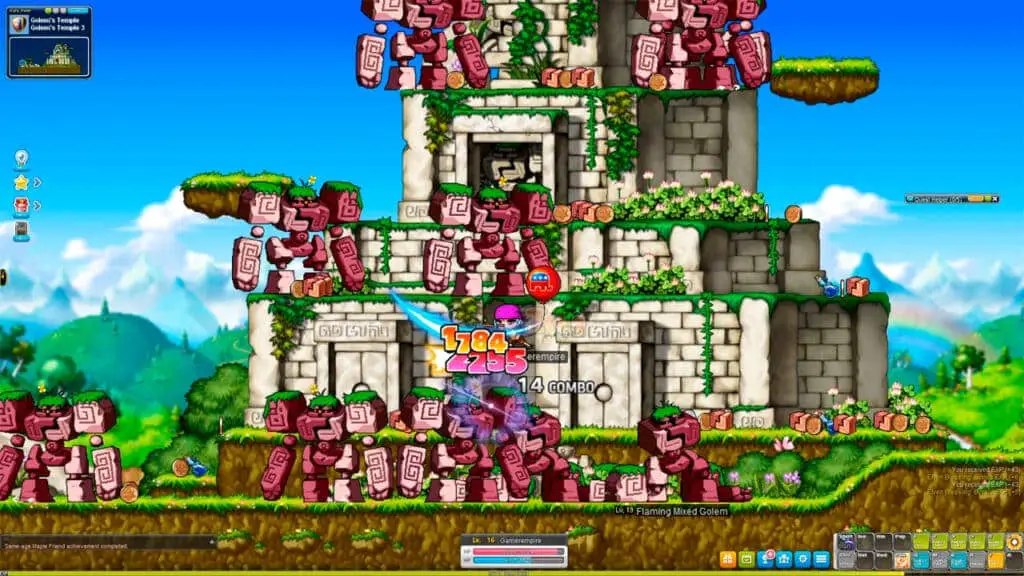 Characters in the game with Tutorial Questlines till level 30 are- Ark, Pathfinder, Shade, Cadena, Hoyoung, and Illium. Follow these recommendations for the questlines:
When you own the Rock for Hyper Teleportation:
23 to 30: Plant 3, Waste Treatment
15 to 23: 3 Golem Temple
10 to 15: Entrance to Golem's Temple.
When you don't own the Rock for Hyper Teleportation:
Grandis
21 to 30: Plant 3 Waste Treatment
10 to 21: 3 Hedgehog Pickleyard
Victoria Island
23 to 30: Giant Tree
20 to 25: Trail to Mushmom Forest
15 to 30: 3 Golem Temple
10-15: Entrance to Golem's Temple
Momijigaoka
17 to 30: Oda Warrior
14 to 23: Oda Scout
10 to 30: Story Quests
Edelstein
21 to 30: Streetlight Row
17 to 21: Path 3, Edelstein Strolling
10 to 17: Path 1 and 2, Edelstein Strolling
Second Job Advancement Levels 30 to 60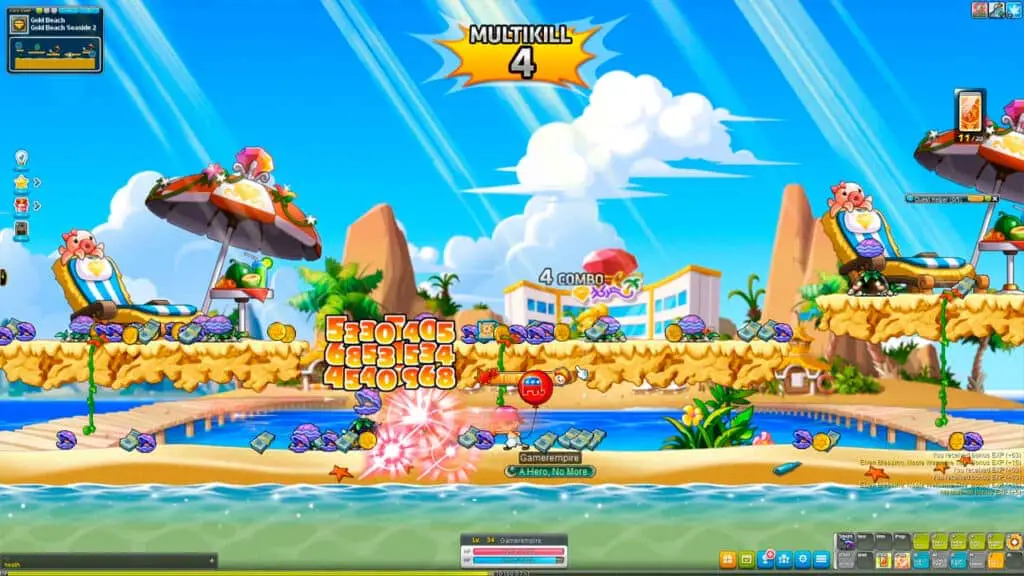 The Theme Dungeon, 30 to 60: Playing any three of these dungeon levels will get you level 60.
Riena Strait
Gold Beach
Ellinel Fairy Academy
Elodin
Classes like Kineses have these dungeon levels connected to story quests.
48 to 60: Land of Wild Boar
43 to 48: Kerning City Quests
40 to 50: 1, 2, and 3, Lair of Mr. Hazard
30 to 40: 1 and 2, Alley of Stray Dogs
Third Job Advancement Levels 60 to 100
90 to 100: C-2 Area- Lab
83 to 100: Desert of Serenity/ Sahel 2
72-90: II Ice Valley
65 to 81: Sky I Stairway
60 to 77: Humid Swamp/ Silent Swamp
60 to 72: Camp 1 for Military (This is a Hidden Map which you will find in the Excavation Intermission Area, located straight through the castle door.
Fourth Job Advancement Levels 100 to 140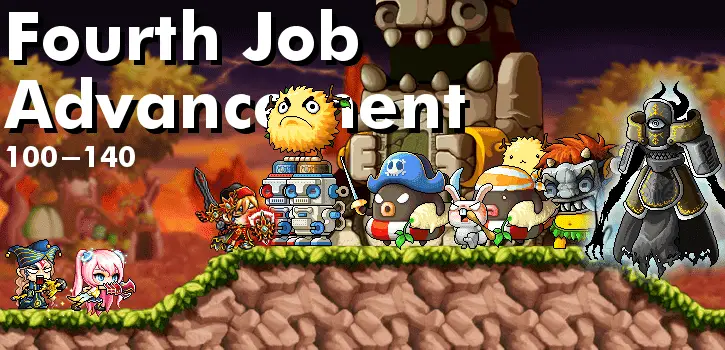 135 to 140: Moonlight Ridge, Quests on Goblin Ridge, and Fox Ridge Flash
130 to 140: II Tiger Forest, Quests of Forest I and Tiger Ridge
125 to 135: Entrance to Black Mountain
120 to 130: Forgotten Passage
115 to 140: Monster Park, Daily Quest
108 to 120: Apparatus Room, Toy Facotry
105 to 120: Sky Terrace <5>/ Cloud
100 to 113: II Sky Nest
100 to 108: Forest West Leafre
100-115: Normal Zakum, Boss Level once a day
Hyper Stage Levels 140 to 200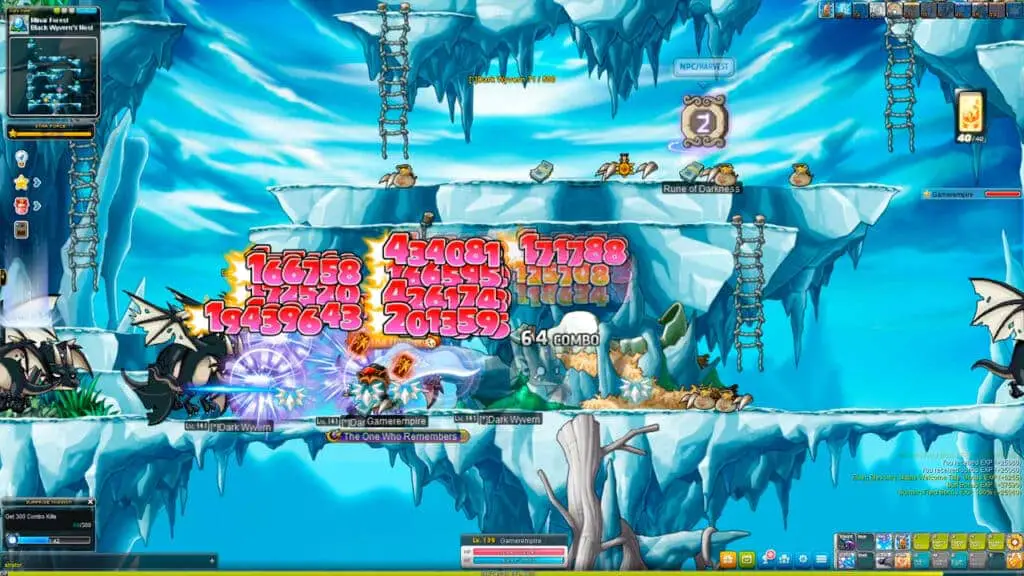 191 to 203: Site 2 Forsaken Excavation
185 to 192: Southern Deserted Ridge
180 to 190: Corridor H03: Inside the Mothership
168 to 185: Corridor 203: Inside the Mothership
165 to 180: Omega Sector, Theme Dungeon
160 to 175: Normal Horntail, Boss Level, requires good HP
148 to 161: Cosmetic Shop 5F
145 to 154: Café <4> 2F
145 to 150: Kerning Tower, Dungeon Theme
143 to 154: the Commercci Republic, Theme Dungeon
140 to 200: Monster Park, Daily Quest
140 to 149: Pirate Den 2 Red-Nose
Fifth Job Advancement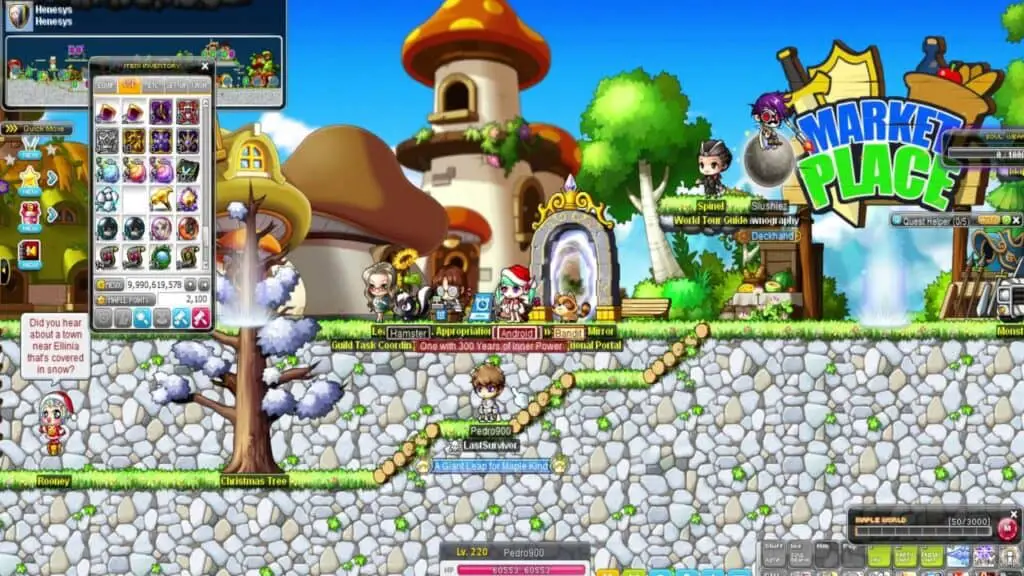 Farming is different in the Arcane River; the maps you need will base on the AF you have and how far you've made it into the Arcane River.
It would be best if you kept in mind the following when farming in the Arcane River;
When you have more than 110% AF, you can deal with more damage efficiently.
When you have 150% or more AF, you will take 1% damage from monsters, even elites.
Do not go to maps that do not have 100% AF.
Keep your EXP and Meso rate in check with Battle Analisys to collect data of the objectives to the best map available.
Since different characters have different reach and mobility, you should experiment with maps that work for your chosen character.
If you want to play in a weak or fragile class, you should play maps with 150% AF.
Arcana
360 AF: Path 1 Lower
360 AF: Lower Path Cavern
320 AF: In Between Thunder 2 and Frost
Chuchu Island
In Chuchu Island, you will find that there are only a few optional farming maps which means there are fewer or no bonuses in the burning field. Since this is the case, there is a better chance for your character to earn more EXP in Reverse City.
160 AF: Mountainside 2 Skywhale
100 AF: Slurpy Depths of the Forest
100 AF: Forest 1 Mottled: Hill of Five Colors
Esfera
640 AF: Temple 3 Radiant; this is an option for players without Kanna/ Wild Totem characters.
600 AF: Sea 6 Mirror-Touched
600 AF: Sea 3 Mirror-Touched, higher burning, unlike MTS2
600 AF: Sea 2 Mirror-Touched, MTS maps
I have yet to pass this level but have received the current information from former and current guildmates and community feedback. This information is all verified, not one out of speculation or guesswork.
If you want to use this guide anyway, make sure you use the Battle Analisys to try out different maps and those that are suitable for your character.
Lachelein
210 AF: Dance Floor 1 Occupied; this needs good vertical reach or mobility.
210 AF: 2 and 3 Chicken Festival
210 AF: 1 Chicken Festival
210 AF: Place 3 Revelation
Morass
520 AF: In Trueffet 3 That Day
480 AF: Hall 4 Shadowdance
440 AF: Boulevard 2 Bully
The location for Morass is often overlooked as a farming place since it is not the right choice for training and requires a higher AF. It has mob levels that are similar to that of Arcana.
But for people who fly solo, it is a good location for those who play without Kannas or Wild Totems. In case all maps in Arcana are full and you are in desperate need of EXPs, Morass is an excellent substitute.
Reverse City
100 AF: Hidden Research Train
40 AF: 1 and 4 Subway Tunnel
The maps as mentioned above are the best maps in Reverse City. Stay away from the M-Tower charts in Reverse City for leveling since the location is too large to cultivate alone.
Tenebris
880 AF: 1-5 End of World
880 AF: 1-4 End of World
820 AF: Deep Core 1 Labyrinth of Suffering
730 AF: Current 4 Void
670 AF: 2 Last Horizon
Vanishing Journey
60 AF: Below the Cave
40 AF: Zone of Fire
30 AF: Land of Rage Weathered
You can join a 25+ level guild to score additional AFs or invest some Hyper Stats into Arcane Force.
Yum Yum Island
160 AF: Fungos Forest Region
These maps have many platforms suitable for your character's class to attack several platforms. Examples of the Characters to use here are- Lightning, Ice, etc.
160 AF: Illiard Field Region
Characters like Kanna, Corsair, etc., who have very tall hitboxes for attack or full map attacks, can use this map with 2-3 platform layers.
130 AF: Mushbud Forest Region
Characters like Hunter, Aran, etc., can use this platform as they are further apart. These are more extended maps preferable for those classes with good mobility and can attack as they move.
The maps in Yum Yum Island are almost similar, so you need to choose a suitable location for your class and character with the highest burning in it.