MapleStory is a 2D, side-scrolling MMORPG whose primary role and aim is to travel the map and upgrade their character's skills and abilities by defeating enemies and monsters. MapleStory has been in the gaming scene for a long time, and with lots of people beginning to return to the game, there is a lot to update yourself and catch up on. This guide will give you insights on how to unlock that elusive pocket slot for a boost in range.
Since Maple Story needs a lot of grinding with time and patience, you will need some workarounds and shortcuts to save yourself the trouble and headaches that come along with acquiring rare quest items. This also includes having to fuse and mix items to further boost your skills and power to level up as you advance through the stages of the map.
If you want to unlock and get the Pocket Slot, your character's Charm should be at least Level 30, after which you should go to your left side of the game screen and tap on the Star. Once you've done that, you will find a quest named "Excessively Charming." You'll need to finish that quest in order to acquire a Rose Pocket Item and also open your pocket slot.
Also read: How to enhance gear in AFK Arena
How to get your Charm to Level 30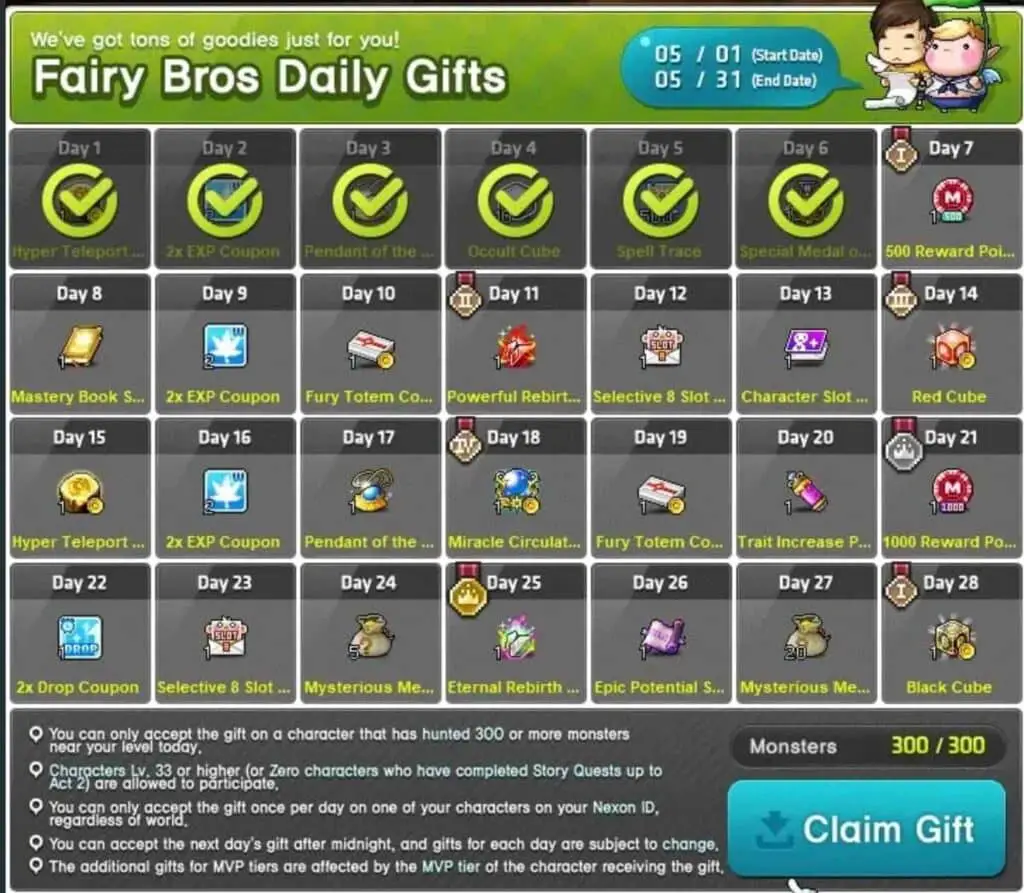 To get your Charm to Level 30, there are a couple of tricks. But the most convenient route to achieve this is with the help of a Trait Potion. The Trait Potion increases Ambition, Empathy, Diligence, Insight, and Charm.
You can get Trait Potions by receiving Daily Gifts or through Events. If you log in every day for twenty days without failure, you'll get a Trait Increase Potion. This will substantially increase your Traits volume. So activating the potion if you have a minimum of Level 5 Charm, you'll automatically reach Level 30.
In MapleStory events frequently occur which you should be on the lookout for. These events are packed with rewards. Acquiring the money for this event is crucial if you want to buy a potion by skipping yourself the trouble of grinding for Charm XP repeatedly. There's always a Trait Potion for sale in the rewards shop, which you can buy.
An additional method to gain Charm XP is to load up items that provide you with Charm XP. Below are some lists of bosses which range from easy to medium level of difficulty that you should definitely set out to do every day. One important thing to note is that you'll only get the Charm XP once when you initially use them. NX Items will also grant you with Charm EXP when you equip them.
| Item | How to Obtain | Charm EXP |
| --- | --- | --- |
| Vellum's Helm | Vellum | 50 |
| Cologne | Defeat Root Abyss Boss first and visit pop up shop | - |
| Horntail Necklace | Normal Horntail plus Easy Mode | 60 |
| Von Bon Helmet | Von Bon | 50 |
| Chaos Horntail Necklace | Chaos Horntail | 80 |
| Queen's Tiara | Crimson Queen | 50 |
| Black Bean Mark | Pink Bean Normal plus Chaos | 25 |
| Pierre Hat | Pierre | 50 |
| Monster Park Mustache | Monster Park Shop | 100 |
| Zakum Helmet | Zakum | 50 |
Maplestory Excessively Charming Guide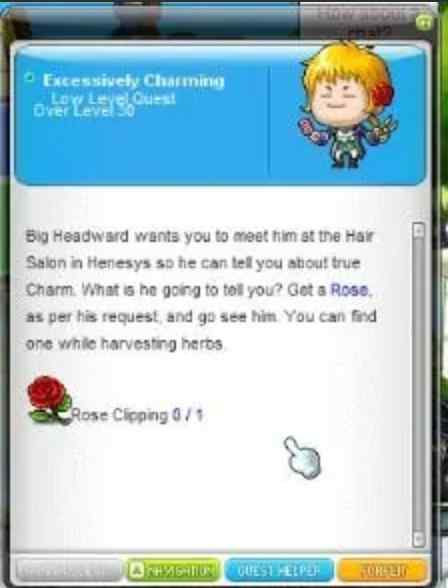 Meet Big Headward in the Hair Salon located at Henesys. Once there, accept the quest from him at the Star Tab. Big Headward will give you a quest asking you to find a Rose Clipping. To get this Rose Clipping, you'll need to harvest herbs and expect them to pop out. To do this, you'll need to learn the skill of Herbalism. You can learn Herbalism through Saffron in Ardentmill. You'll find the hair salon near the marketplace at Henesys.
Once you have gained knowledge about Herbalism, approach the portal, which is located beside Saffron. You can look for the Rose Clipping after you've finished these procedures. The Rose Clipping will drop from all types of herb, so you'll have to continue looking until it appears eventually. You might need to do this for an unspecified amount of time, as the drop rate is based on irregular odds. Finding the Rose Clipping could take some time because of the fatigue level. These fatigue levels will restrict your character to a controlled amount of harvests, as fatigue will drain but also reboot day-to-day.
Keep trying because you will find the Rose Clipping eventually. After you've found the item, show it to Big Headward, and he will provide you with a Rose Pocket. He'll also give you an additional Pocket Slot after you complete his quest.
Pocket Items
The Pink Bean Cup is the premier item to acquire in the Reboot version. The Normal and Chaos Pink Bean give you the ability to acquire this Pink Bean Cup item. You can get to flame this item but cannot maximize it with any potential. The most logical approach is to farm yourself some numbers of Pink Bean Cups. After which you can fuse them together to acquire more powerful flames in the course of time. To further fuse your items, head on over to Ardenmill.