Dragon Quest 11: Echoes of an Elusive Age is a Japanese role-playing game at its core, which ensures it follows much of the genre's conventions and gameplay. It is a mash-up with grand scales and micromanagement (in a positive way) that's a lot to handle at once.
This one-of-a-kind Dragon Quest 11 Jade Build and Equipment Guide will show you how to make the most of Jade's skills in order to truly conquer.
If you are playing Dragon Quest 11, you will want to know what Jade's strongest abilities are, as well as where you can locate all of her best equipment. That is just what this DQ11 Jade Build & Equipment Guide is all about. From beginning to end, we will tell you which skills to focus on and how to achieve all of Jade's finest equipment.
Also read: Best Powerline Adapters for Gaming
Skills – Dragon Quest DQ11 Jade Build
Jade enters the party with four separate skill trees in Dragon Quest 11: Claws, Allures, Spears, and Fisticuffs. Spears specializes in spear assaults, while Claws specializes in claw attacks. Jade gets a range of stat boosts and fighting art skills from Fisticuffs, and Allure offers her magic spells dependent on Charm.
The first decision you will have to make is whether you will use Spears or Claws. Spears are way stronger, so we would advise you to go with them, but it is entirely up to you. We're going to presume you want Spears because they are much more effective.
To begin, return all of Jade's points that she has already spent on Fisticuffs. Harvest Moon and Leg Sweep are useless. Grab all of the different Spear skills apart from Deliverance, which is not so useful. Lightning Stab and Multithrust are two essential Spear skills to have for getting rid of Metal Slimes.
After that, use the Max HP node to ascend into Fisticuffs and collect all of those stat buffs, which should get you from Act 1 to the end.
When Jade's ability grid extends in Act 2, grab Multifeet, which serves as a small improvement over Multithrust if you are using spears but a massive level up over Hard Claw if you are using claws (don't use claws). While you are up there, grab the HP node & Miracle moon, which are needed to activate Pink Tornado, which is the locked node present between Allure and Fisticuffs.
Grab Deliverance in Spears only to gain access into the latest assault force node, then grab it. You should get out of Party Pooper if you like since it isn't really that valuable until you get the latest Allure skills.
When it comes to Allure, you should put your points there. To unlock Pink Tornado, proceed up the right-hand side and directly to the Pink Typhoon. Jade's strongest effect area of assault is Pink Tornado. Finally, pick up the Charm plus 20 nodes you passed by on the route to Pink Tornado.
This will teach you all of the Jade skills you will need in Dragon Quest 11. Afterward, simply spend points anywhere you choose to unlock the remaining nodes, but none of them will be included.
Top Equipment – The Dragon Quest 11 Jade Build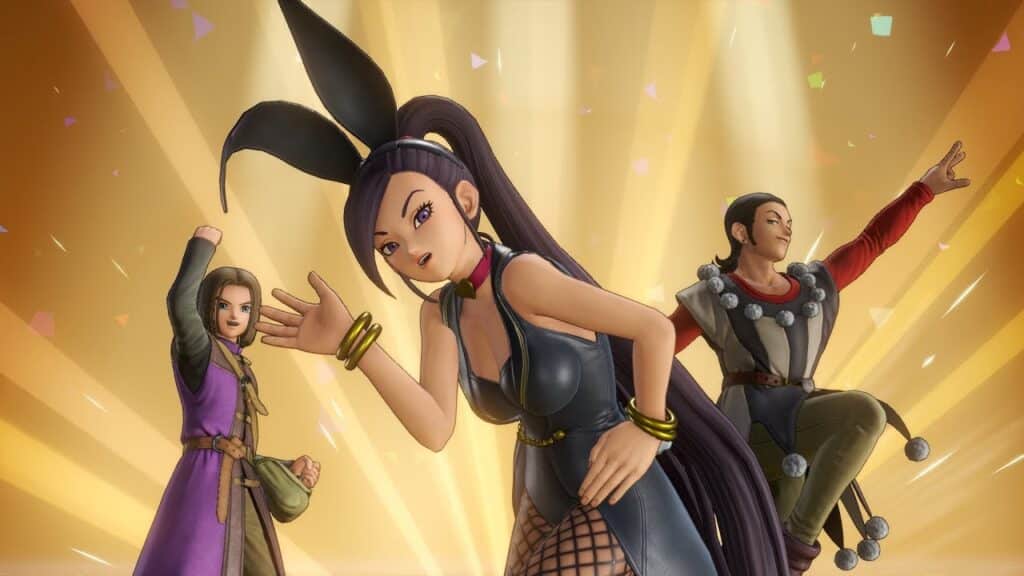 Also read: Best Fitness Games for Xbox Consoles
Dragon Quest 11 Equipment Setup
You have to follow a specific equipment set up in order to excel in this game. First of all, you should use Split Pot Poker +3 as your weapon. Next, it is recommended to use Xenlon Hair Ring +3 as a helmet. For armor, we recommend the Xenlon Gown +3, whereas you should use Belle's Bow plus 3 for Accessory 1 as well as Accessory 2. This completes your equipment setup.
If you are using claws, then we advise you choose between the Frostfire Fingers (which have the strongest crit) and the Xenlon Claws (which have the highest damage). Use 2x Assassin accessories instead of Claws for Jade's Dragon Quest 11 top equipment.
Locations – The Dragon Quest 11 Jade
– The Split Pot Poker
Improve the evolutionary arms with Jade Split Pot Poker. Poker is a card game that can be played in a chest located in Fortress of Fear.
– The Frostfire Fingers
This Drops from Master Moosifer enemies during Luminary's Trial on rare occasions.
– Xenlon Claws
Improve the evolutionary tool with Xenlon Claws. Beastmaster Claws are rewarded for completing the 3rd Wheel of Harma Trial in less than 20 moves.
– Xenlon Hair Ring
Created via Shine On, Xenlon is the award for completing the 4th Wheel of Harma Trial in twenty moves.
– The Xenlon Gown
Created with Shine On is a reward for completing the Fourth Wheel of Harma Trial in 20 moves.
– Belle's Bow
A reward for completing the L'Académie quest called "A Memorable Mystery." To get two, you must equip it after finishing Act 1 in order to get a duplicate of Act 3.
– Assassin
A reward for winning the Silver Cup horse race (which isn't easy). To get two, you must equip it after finishing Act 1 in order to get a duplicate of Act 3.
There you have it. This was all you need to know about the best Jade loadout, build, and equipment in Dragon Quest 11.