Stellaris is a grand strategy game that will keep you engaged for hours. Although it could be a little hard to figure out the interface and the basic game features, it is still a rewarding game that many enjoy playing in their free time.
Are you new to Stellaris and confused about how it works with all the options out there? Or did you play Stellaris in the past and got surprised by the 2.3 wolf update in 2019? Well, either way, don't worry because we've got your back with the ultimate beginner-friendly guide. In this article, we will explain exactly how to create sectors in Stellaris.
The Game
If you're a total beginner to Stellaris, let me give you a quick introduction. Stellaris is a game where you explore space, discover new planets and can colonize and inhibit these planets to build and expand your empire. One of the options in this game is to make sectors out of the planets and colonies you have.
Also Read: How to Claim Unowned Star Systems in Stellaris?
What are Sectors?
First of all, what are those sectors that we keep mentioning? The sector is a group of planets and colonies you have in your empire that can be ruled by one governor of your choice. The sector will also have a planet as capital which you can choose.
When to Make a Sector?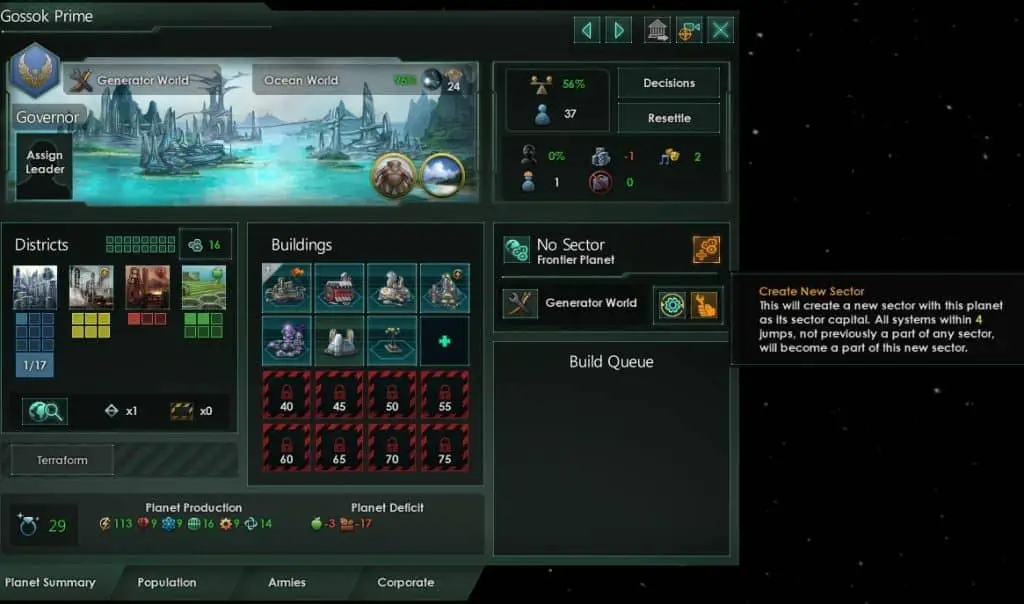 You might be wondering when to make a sector in Stellaris. Well, the sector can be used when your empire is expanding and if you don't have many governors for each planet on its own or in case you just have too many planets and colonies.
Now the question arises that how exactly can you make a sector? In the older versions of the game, you could basically make sectors by an option called "make a sector" and you could choose every planet and colony you want to put in the sector you wish to. In other words, you could basically choose and control anything and everything.
Now, the procedure is a little different as you don't really have that much control over the planets that will be in the sector. You basically choose the planet you wish to make it as a capital and open its planet view, and you will be able to see the no sector text or the frontier sector on the right. You will also be able to find "create a sector."
Note that in this new update, the sector will automatically include any colonies you have found within 4 hyperlane jumps from your capital.
This means that you only can do this in case this planet was not already in a sector. This also means that you have to choose the sector capital wisely.
Note that the sector can move depending on its capital, so if the capital changes or moves, the sector will also change and move.
You can also remove a planet from a sector or change the sector that it is in by basically deleting the whole sector from where you have created it. It is quite an annoying process as you can not edit it directly, but it becomes easier once you get used to it.
Also Read: How to Use Jump Drive in Stellaris?
What Are the Benefits of Creating a Sector?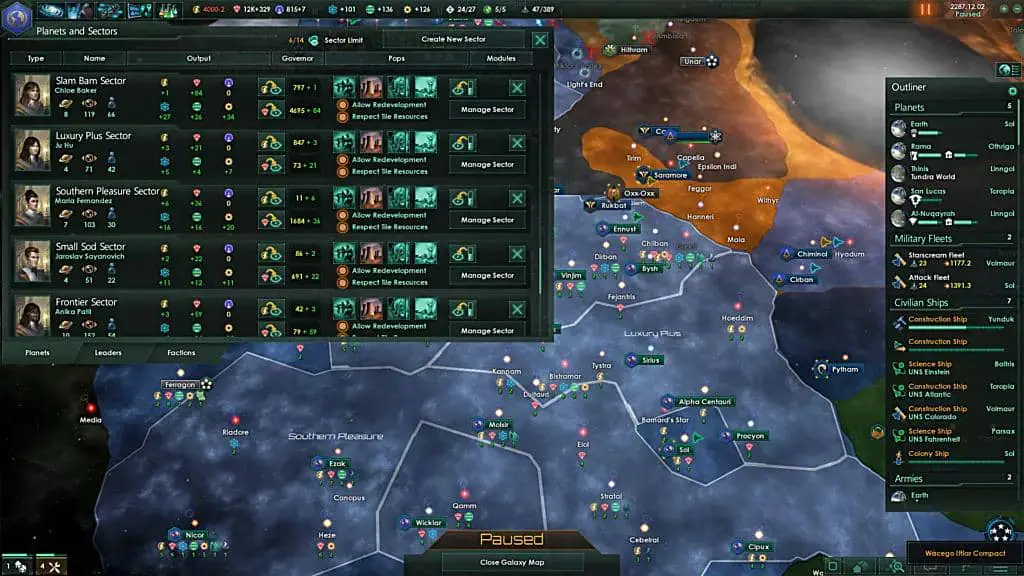 You can set the sector on auto mode instead of controlling it all by yourself, which will be quite helpful when there are just too many planets under your control.
How Can This Be Done?
To do this, you can go to the left bar of the menus and pick the sector menu. You will be able to see all the sectors you have, and you will also be able to automate the sector through it. You can choose what to prioritize and what to build first. Everything will be displayed in very general terms.
One of the most important features in this automation mode is the resources. You can send resources to the sectors or to a shared stockpile to help build the sector AI.
Also Read: How to Change Governing Ethics in Stellaris?
Conclusion
Now that you know enough about sectors and how to make them, you are ready to start your journey in Stellaris! This game has yet much more to uncover and we will always be there to answer your questions. I hope that this article was helpful to you and I really wish you enjoy and conquer!