Stellaris is a strategy evaluation game series set in the year 2200 in space. Users control a species at the dawn of space exploration, just after the advent of starship technology. The user is in charge of a variety of ships, comprising research, engineering, and warships. The focus of combat is more on the larger picture, planning, and tactics. Coalitions and trade partnerships with other races also create diplomatic possibilities.
In Stellaris, the current command limit cap is set at 500. A maxed-up empire with every command limit increase in the game (including repeating and ascension reward is 250. As soon as version 2.0 was launched, they doubled the cap from 200 to 500. (So that gamers. If the effective limit is 250, why extend it to 500?
Many users ask themselves 'why not simply use 250 as the limit, or put the restriction for this tech to 30?' (allowing those who accept the ascension perk to reach the 500 limits while everyone else is capped at 480)? Modifications aren't the answer, because mods simply modify this restriction.

The fleet's extra capacity is limited to 100. (20 per). The fleet's total capacity is 9999. The number of starbases that can be built is restricted to five (1 per level). The maximum capacity of a starbase is 999. As a militarist civ, you're usually around 1000 fleet size and 20-30 starbases when you hit repeating techs.
You can easily hit the fleet and starbase capacity caps without ever discovering the technology by just raising your population and constructing anchorages. Having a cap here helps massive late-game empires clean out unneeded technology.
The problem is that the nations which would take these technologies are usually smaller empires that are oriented on unity and science and wish to follow up with the power to their greater expansionist brethren. It's like watering a desert with an eyedropper, adding five more starbases and 100 fleet capacity.
A successful tiny empire can expand to the point where they could compete with a big but much less technologically sophisticated empire by adding 500 fleet capacity and 25 starbases to their initial 600 fleet capacity and 20 starbases (1000+ fleet capacity, 40-50 starbases total).
Also Read: How to Terraform the Planet in Stellaris?
Repeatable Techs
To begin, there are just four total physics repeatables:
Energy generation
Shield strength
Energy weapon attack speed
Energy weapon damage
And an additional 6 society repeatable:
Leader lifetime
Army attack
Army health
Food production
Edict duration
Admin cap
Apart from that, there are ten engineering repeatables, including:
production of minerals
toughness of armor
attack speed of kinetics
the health of the defense platform
damage to the defense platform
the harm caused by kinetics
Bombs have a fast attack speed
Explosives cause harm
assault by fighters speed
harm to fighters
There are a few irrelevant technologies, as well as a handful that are absent that we would want to see.
Ship Hull Strength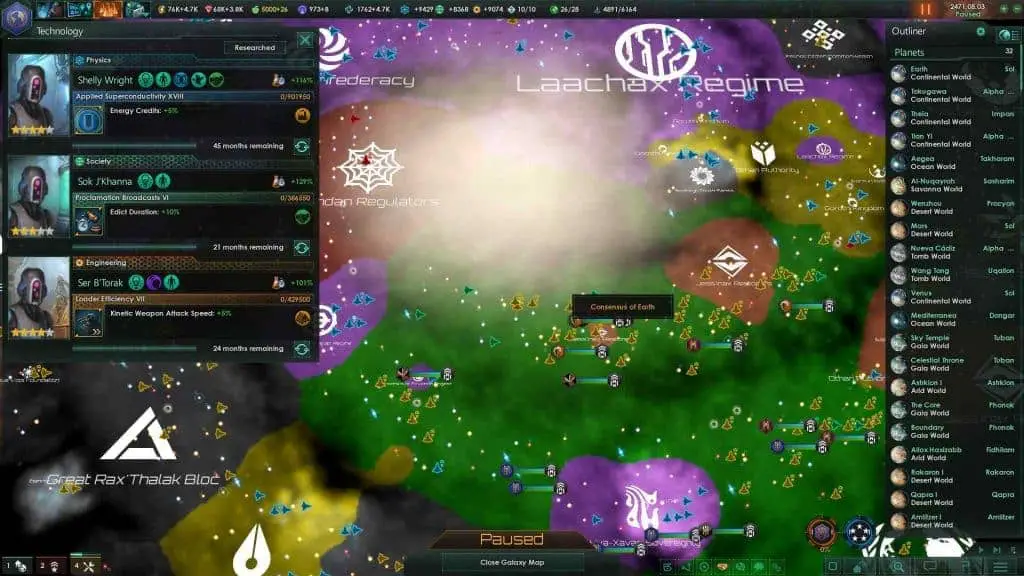 The battlecruisers have a shield strength of 30k, armor of 10k, and hull strength of 4600. Since there is no way to immediately strengthen your hull strength if you are fortunate enough to even get glass forged plating components, and even then it will still fall behind eventually, this makes direct hull damage weapons extremely strong, and shield ignoring weapons extremely good (as the opportunity cost of researching armor strength is much higher due to engineering having too many techs), as there is no way to directly improve your hull strength. Even if you are highly fortunate enough to get particle forged metallization components, and even that will nevertheless fall apart eventually.
Also Read: The Best Strategy to Beat Awakened Empire in Stellaris
Factory Throughput
Every month, additional minerals are processed into alloys/consumer products. Factory throughput is simply something that can be improved indefinitely. (For example, if one metallurgist turns 4 materials into 6 alloys, increase throughput by 5%, and the metallurgist now turns 4.2 minerals into 6.3 alloys.) Each tech should presumably provide 2% or such.
Research Efficiency
Factory throughput is the same, however, CG -> research is used instead.
Crime Reduction
Crime reduction, as the name implies, reduces crime in some way, most likely by increasing the amount of suppression provided by security jobs.
Then three techs are present but do nothing.
Also Read: How to Get Psionic Theory in Stellaris?
Defense Platform Health
By the time you're finished with repeatables, defense platforms are already outdated, but by merging them, you might be able to make them powerful enough to be helpful late in the game.