Stellaris is a grand strategy game where you can build empires, conquer planets, make colonies, build spaceships, and discover space in general. The game also has ascensions that are very fun and interesting to discover. However, many people wonder how they can get to one of these ascensions, one of them being the psionic ascension path, which appears right off when they start playing Stellaris. Psionic Theory is believed to be quite a rare ascension that not many can reach.
Psionic in general, refers to a science that was used back in the fifties and the sixties to refer to paranormal and psychic phenomena. This definition will help better understand what features this ascension will provide you with in the game. In the game, the psionic path is available to the spiritualist empires.
You will unlimitedly have the psionic path if you have purchased the utopia expansion. However, in case you don't have the utopia expansion and don't want to purchase and have the free 1.5 banks, we still have your back covered!
The overall procedure will be the same, but you will be just a little limited to only reach the psionic as a technology by a spiritualist empire. However, you need to note that even if your empire did not start as a spiritualist, you still can reach the psionic technology / path through changing the ethics of your empire to be spiritual.
The psionic ascension path has levels or events that you can unlock one after the other, and the very first one you can unlock is the psionic theory. After the psionic theory you will be able to reach the mind over matter perk. After it will come the transcendence perk, and then finally, you will be able to reach the shroud.
Also Read: How to Make Stellaris Mods?
How Can You Unlock the Psionic Theory?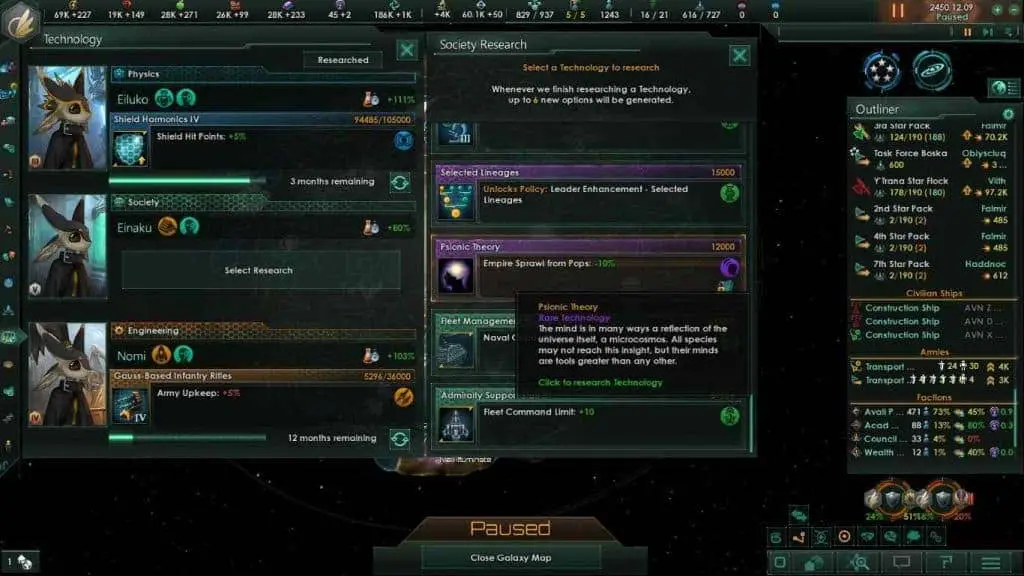 Unfortunately, unlocking the psionic theory is quite hard and needs some luck, since many players say it mainly depends on how lucky you are since it is a very rare social tech.
Even though the tech system of the game depends on the tech tree structure, it still has some randomness to it which makes the system quite random. However, you still can increase the chances of getting this tech by psionic scientists, psionic pops, and having a spiritualist empire.
After the psionic theory, you will be able to get the mind over matter perk, allowing you to unlock the very first psionic species. You will also start getting other traits and features like your leaders will get some psychic traits, and you also be able to unlock psionic army.
After that and after unlocking the 4th slot perk, you will be able to earn the transcendence ascension perk which will lead to marking all your leaders as psychic and now your species can be fully awakened.
Then you will finally be able to feel the shroud and then you can reach and unlock the shroud. 
Also Read: How Many Science Ships Do You Need in Stellaris?
What Is the Shroud?
The shroud is a paid feature which is basically a psionic sphere where what you see is not everything. It is quite challenging as the possibilities of opportunities and risks are pretty equal, making this level so hard.
In order to get to the shroud you will also have to first go through the preach, the shroud project, and then through the seance event. Eventually, you will reach the shroud. Every time you want to enter the shroud you need to have a lot of energy in your pocket to be able to explore it. I have to admit it is a unique experience.
Even though many gamers search about how to reach the psionic theory tech and how to get the shroud willing to put in as much time and effort as they can, many may argue that the psionic path is quite unworthy for all the challenges you go through. Especially given that the other options can give quite similar results without much effort.
However, whether your choice was to explore the pionic ascension path or the other ascensions, we hope you have a great journey and a great time playing. That's about it when it comes to the Stellaris psionic ascension path. We are interested in knowing how you got the psionic theory tech and if you have reached the shroud yet. If you did, was it an amazing experience? Let us know!
Maria Beklavac is a passionate Gamer, Marketer & Journalist with over seven years of experience in the Gaming and Technology Industry. Maria has a lot of hobbies, but gaming has always been her favorite one, and that's why she's decided to create GameTaco. On GameTaco, you'll find tons of problem-solving tips from many different video games!