Mesos! They're like the fuel to your car engine, which infers how important and valuable they are.
In MapleStory, there are a couple of things that are atop the scale of preference, from EXPs to Reward points, leveling up amongst others, and for my top of that list can have a lot of Mesos; enough to give power to your arsenal. This is much more common in the Reboot servers. In contrast to the Normal servers, you'll have to get everything done yourself in the reboot server. It would cost you in meso currencies and a lot of them too.
By the reasonable conclusion, it is obvious you'd need to know how to make as many Mesos as possible to keep you going.
Here I have stated numerous methods to earn Mesos to keep your gameplay alive. Strap in.
Below are ways you can obtain Mesos:
Obtaining 120% Mesos
Sale of Intense Power-packed Crystals
From Crusader Coins & Silent Crusade
Ursus
Extraction of Philosopher's Stones
Mining the Primal Essence
Partaking in Maple Tours
The Legion's Wealth Level 3
What Is Kanna Farming
"Kanna Farming," shouldn't be a strange term if you have been actively looking around for different ways to make as many Mesos as you can on MapleStory. This is basically where you create a Kanna, prepare it so it may be able to one-shot mobs found on high-level maps, then let it pull in the holy grail, Mesos. Through Kanna farming, you can make a really large number of Mesos in a short period too, as much as over 500 million in one hour, without tallying the Wealth and Legion potions as well, which give their own large fair share of Mesos on as much as 120% Mesos received at a level 225 and above maps.
This method has proven super effective. However, it does take a long time to get your Kanna to pull in as many Mesos as stated above.
Pers are also an essential part of Mesos farming, but in order to get good results, you would need three pets with a skill called "Auto Move".
Note that when buying pets, keep in mind Wonderberry, which gives you the opportunity to get a Permanent Pet that sometimes luckily comes with skill as well.
What are Mesos Obtained And How do I Get 125% Mesos
The Mesos Obtained is seen as a potential line which you are allowed when you get a legendary potential item that's available. It is possible to retrieve these Mesos from accessory items such as pendants, eye accessories, earrings, and rings, amongst others.
The game limits the amount of Mesos percentage you can possibly get on an item which is pegged at a 100%. As much as it is allowed to acquire more than a line of the Mesos Obtained from the desired item, keep in mind that you don't go above the 100% limit on a summation of the potentials gotten from all the selected items.
To account for the remaining 20% Mesos obtained, you would need to raise the Inner Ability of your character to the Legendary status and reset up until you have the guaranteed Mesos obtained potential line. A surefire way to achieve Legendary Inner Ability and Mesos Obtained is by utilizing the Miracle Circulators until you reach the Legendary status and lock the ability after that. If you're interested in continuous resetting, make use of your Honor EXPs until the desired result shows up.
Locking ability is essential as if it's not done, and there's the tendency to drop in ranking when the Honor EXPs are being utilized.
Still looking for other udders to milk dry some Mesos obtained percentages? Through the ability 'Phantom's legion", you can get some.
In a phantom, it is possible that you'll have access to 1-5% Meso obtained with an ascending incremental rate for the ranks B/A/S/SS/SSS, respectively.
These ranks can be achieved by levels attained:
Rank SSS: From Level 250+
Rank SS: Between Level 200-249
Rank S: Between Level 140-199
Rank A: Between Level 100-139
Rank B: Between Level 60-99
Note that the character being used to farm Mesos with would get the Mesos obtained. Always pick characters with some excellent mobbing and great map attack skills are those it is recommended that you get meso-accepted lines on. Reason being that it requires main stat lines. It requires a little over/under 2 billion Mesos.
Reasonably, you would want a piece of equipment to have at least two Mesos Obtained potential lines along with one Drop Rate up line. This way, you will be able to use the smallest amount of items to increase your damage resistance too, talk about having your cake and eating it too. This is primarily based on massive luck and probably isn't beneficial when you roll an equipment continually till you obtain it. It's like a Vegas casino. If luck isn't coming, don't push it.
Another way to use a character to farm for Mesos Obtained is to know all about the Legion's Wealth Level 3 coupons.
The rich goldfield for finding Mesos has evolved over time, thus the go-to answer is mostly to farm on condensed maps plus your level range plus you can one-shot as well.
How Do You Get a Wealth Acquisition Potion?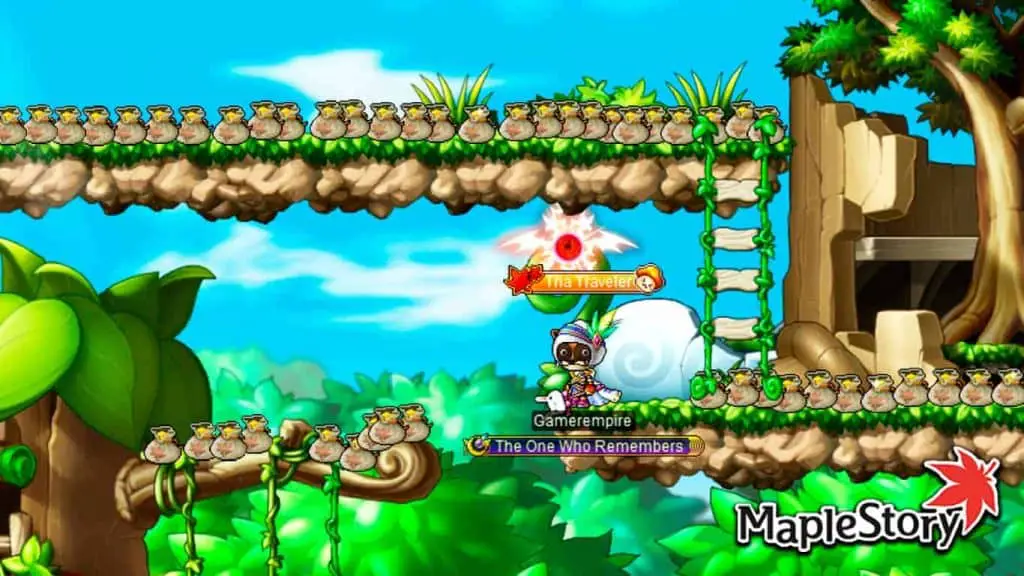 Potion for the top 1%.
The potion for Wealth acquisition raises your Meso procurement rate by a whopping 20% for about two hours. Where a level 3 Legion's Wealth coupon increases your character's Meso rate gains by a massive 50%, when farming using Fury Totems, keep in mind that you're supposed to make good use of these gains to the best of your ability for the given 2 hours. Being in possession of both potions all the while equipped to Fury Totem will provide you with an increased amount of Mesos, and therefore makes it definitely worth it.
Crafting helps in retrieving potions for wealth acquisition, but first, get the ingredients you can from Boss drops. Engage all the bosses (Horntail, Arkarium, Zak, RA, Ranmaru, Cygnus, Hilla) every day, and you'll acquire the necessary Power Crystals along with a shot at the Recipe for Wealth Acquisition.
The recipe for wealth acquisition is as shown below:
The harvesting of the purple herbs (which are in the Secret Herb Patch at Ardentmill) results in the production of the juniper berry seed oil. You can get the sought-after philosopher stone from the extraction of the Pensalir gear.
Only do this on the attainment of at least a level 10; else, there would be an increased tendency for failure.
Note: The recipe should never be claimed until you are completely ready. This is because the formula lasts just one day. Be sure to have gotten all the items for the recipe, then claim them and start crafting close to the Alchemist at Ardentmill.
How to Get a Legion's Wealth Level 3 Coupon
These life-saving Legion's Wealth level 3 coupons can be gotten in the Legion Coin Shop. They are priced at 70 coins. Buying at least 4 with each lasting 30 minutes if you want it to stay for two hours, that is the same timespan as the Fury Totem and a Wealth Acquisition Potion.
The Maple Tour Dailies
The Maple Tour is seen as a miracle daily and It is advisable that you do both of your free runs daily.
Maple Points obtained through events . There are also the ones that were bought and must be put to use at the Maple Tour. A total of 7 runs are available in a day, with only just two being free, with the other 5 being priced with Maple Points. You will be credited with around a billion Mesos if you run all seven for a week (or 380 mil if you do two a day for a week). Perfect math! Pocket full of Mesos
You can find the Maple Tour easily when you use the Dimensional Mirror and the Quick Move.
After completing each daily clearing, you will be awarded a Maple Coin. These coins can be utilized over in the Maple Tour Shop (click on the Travel Bag icon close to Lulu Spinel) then purchase the Meso Piggy Bank for the acquisition of more Mesos.
How Do You Buy Maple Points in the Reboot Server?
It is not possible to purchase maple points directly on the reboot; therefore, you have to purchase Prepaid NX, the Karma Koin, Razer Gold. Select a character in the regular server world and purchase the Maple Points which are available in the Cash Shop there. Its account is broad and cuts across both the reboot and non-reboot servers, whatever NX you buy, it will be made available for use in all worlds. It is important that you must purchase prepaid, as it is not possible for the NX Credit to purchase Maple Points.
Ursus Daily
The Ursus is an alternatively great way to get Mesos every day, and now two times the Mesos at all times instead of the only time limit of 2 hours each day. Earning Mesos can also be a direct function of your rank ranging from the B to the Triple S (SSS) ranks.
One S rank would guarantee you about 30 million in one run, and there's a maximum of a total of three possible runs to be done here. The trick to climb up in Ursus is dealing more damage and saving more people; if you get people, your chances of earning an SSS rank increase exponentially, which provides you with more Mesos and a Medal.
Sale Of Intense Power-packed Crystals
The collector gives you the opportunity to sell about 70 Crystals each week. If you are observant, you will find that you can get a lot more than this 70 weekly. Chaos and Weekly Bosses usually pose to be of a lot of value as they'll give a lot of Mesos, so you should be sure to grab and exchange as many as you possibly will be able to.
Weekly Bosses to Sell
The Weekly Bosses should be considered a priority. They can give players more Mesos than any other for each Power Crystal.
Lotus/Damien
Hard Magnus
Princess No.
Chaos Pink Bean
Chaos Papulatus
Cygnus
The CRA
Hard Hilla
Chaos Zakum
Lucid
Rounding up a total of 14 crystals
Daily Bosses
The Daily Bosses are Bosses that are not as good in value as the Weekly. However, they are worth around eight mil.
Chaos Horntail
Normal Pink Bean
Normal Magnus
Hard Ranmaru
Von Bon
Normal Papulatus
Normal Arkarium
Rounding up a total of 49
These Bosses aren't worth so much. Nonetheless, you should collect them as they make up for the ones you won't be able to get weekly.
How To Extract Philosopher Stones
The philosopher stones have proved an essential part in so many fictional adventure pieces, most especially one with flying brooms and wands, ha!
The extraction of Philosopher Stones from the Pensalir gear has proved an effective way to rid yourself of the Equip tabs as you make a fair amount of Mesos.
Note that your Alchemy has to be levelled up first so as to unlock the extractions.
The Pensalir Gear proves to be the best item players can use for mainly extracting praise to its level.
It would help if you went over to Adrentmill. You can then either press the extraction button at the bottom right or proceed to Alchemy and Extraction.
How To Mine Primal Essence and Confusion Fragments
Mysterious Herbs are hiding in plain sight, always making moves to harvest them!
These drops help in leveling up your Professions. There is a chance to get the Confusion Fragments and Primal Essence as well. You can sell them for a lot of Mesos (for about 10 million and 1.5 million respectively). You will also be able to use them to help in crafting high-level items. These gear include making or Pendants.
Silent Crusader Coin Shop
Crusader Coins drop from Bosses when you fight them. These crusader coins are utilized to purchase Meso Pouches available in the Crusade Coin Shop for an unknown number of Mesos.
On the Key Bindings tab, you will locate the Silent Crusade button. You need only this to get access to the Silent Crusade Shop.