9 Pokémon iPhone Games
Pokémon iPhone games have surged in popularity ever since the release of Pokémon Go peaking at 45 million players. If you're on this gaming blog, there's a chance that you or a person that you know is a fan of Pokémon. I know I am. Throughout the years, many Pokémon iPhone games have been released to the App Store.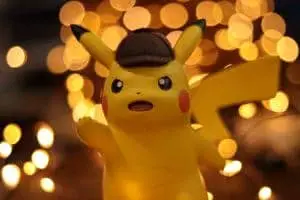 Since you're reading this article, you're probably in search of an iPhone Pokémon app game to play. If you don't want to try them all, then I'm here to help you make your decision today. Let's find a game that best suits your interests.
1. Pokémon Go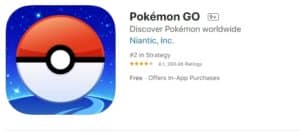 Pokémon Go is an AR (augmented reality) phone game that was created and published by Niantic. This is one of the Pokémon iPhone games where you can join other players across the world catching Pokémons as you explore. The game has been downloaded over 1 billion times and is currently the top Pokémon game in the App Store. You can also battle other Pokémon trainers and take over fighting in gym battles.
2. Pokémon Masters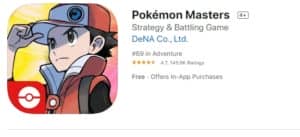 In Pokémon Masters, you can start your adventure in the Pokémon world. You can form a team with up the three trainers and have a battle 3 vs. 3 battle. As you battle and compete against Pokémon trainers, you're also aiming to become the champion in this game. Have a friend that's interested in joining this journey with you? There's a cooperative mode where you can work together to become champions.
3. Pokémon Rumble Rush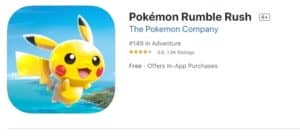 Pokémon Rumble Rush is a phone game where you will journey through various islands and seas in search of rare and powerful Pokémon. This game is more of fast-paced gameplay. You can even control your Pokémon with one hand. You will have to clear stages while controlling and making your Pokémon move forward. When you encounter an enemy, you can use your Pokémon to attack by tapping onto the screen.
4. Pokémon Quest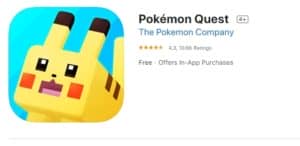 Pokémon Quest is an RPG game where you will be playing in a world of cube-shape Pokémon. You play as a Pokémon character and search for treasures. In this cube world, similar to Minecraft, you will explore an island and find awesome goodies. This game has simple controls and you can easily battle other Pokémon by tapping the screen. You can become allies with other Pokémon and have them on your own Pokémon dream team. In this game, you will also have your base and decorate your base with unique content from the game.
5. Pokémon: Magikarp Jump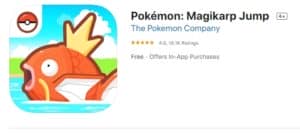 Pokémon: Magikarp Jump is a unique Pokémon game where your goal is to raise the best Magikarp. You might think this Pokémon is useless, but not anymore because you will now have a chance to prove your skills on the leaderboard. Anyone with spare time can create the greatest Magikarp ever on this Pokémon app. Similar to other aquarium games, you will have to feed your Magikarps in a pond and grow them. You also have the option to decorate and make your pond look nice. Think Magikarp is the most useless Pokémon? Now here's your chance to change that.
6. PokéQuiz

Do you think you're a Pokémon expert? Let's test out your Pokémon knowledge with this quiz game. If you play and watch Pokémon 24/7, then you'll be extremely happy with yourself when you see how many Pokémon you know.
7. Pokémon Shuffle Mobile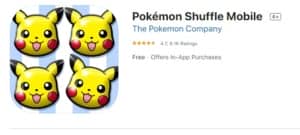 Pokémon Shuffle Mobile is another Pokémon iPhone app game where you have to line up three or more Pokémon horizontally or vertically. You have to solve the puzzle to fight against wild Pokémon. This game has many stages and hours of content. The graphics on this game are nice and have a really smooth gameplay to it. I don't want to spoil the game for you but there are legendary Pokémon in it.
8. Pokémon Playhouse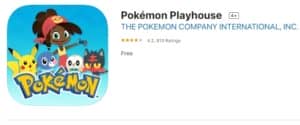 Pokémon Playhouse is one of the Pokémon iPhone games that's specifically made for kids. In this game, you can discover exciting activities throughout the Pokémon Playhouse. This Pokémon game is meant for younger fans. There will be cute Pokémon of different kinds while they explore different locations, lounges, towers, and the outdoor play area. Every location in this game has different activities for the person playing. This game is meant for children from 3-5 years of age.
9. Pixelmon Swing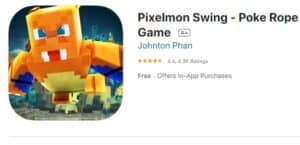 In Pixelmon Swing, you play as cube-shaped Pokémon to swing with ropes. You swing from one building to another. In this game, you have full control of your ropes and you will try to perform various kinds of jumps to unlock new achievements. Your goal is to beat your current score or other players around the world.
Brought to you by GameTaco.net