Talkative heroes are common in the Dota 2 game, frequently reflecting on the acts of other characters and on your own. You may hear several of your own favorite hero's most memorable lines by using the Chat Wheel.
Some lines on the Dota 2 Chat Wheel are exclusively reserved for use by allies, while others are broadcast to the entire map and all ten players at the same time. You can never get enough of it, even if you're the one being plagued by it.
How Can You Gain Access To The Unique Hero Chat Wheel In The Game?
The Dota Plus update that was released back in October 15, 2020, gave all players access to Slivers and various Hero Levels on their chosen hero, and this was the first time this had happened. Players who do not have a paid membership will be allowed to only go up to the level five, granting them access to two more voice lines.
Users who have a paid membership have the option of unlocking seven additional voice lines. There would be some grinding needed to reach that point, which will include playing the games and completing missions with that unique hero. This will take time.
Also Read: How Many People Play Dota 2?
Chat Wheel for Dota Plus Heroes
Every hero now features a pool of customized challenges—including some that are exclusive to a hero's specific mechanics—that allow you to refine and show your abilities and playstyle while playing the hero. Each challenge has three degrees of difficulty, with additional experience points provided for each successive star gained. This forces you to increase your level of growth while also exploring your mastery of each hero at the same time.
How Can You Use The Hero Chat Wheel Of Dota 2?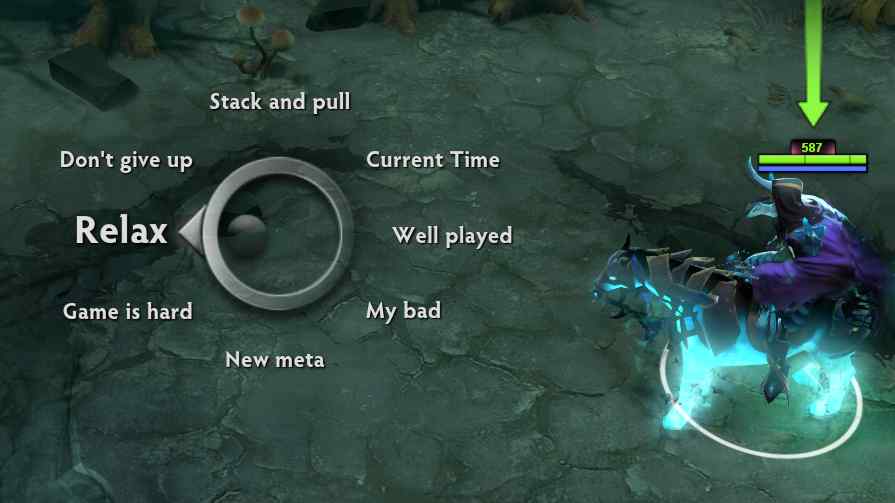 Relics, which are used to track a variety of battlefield successes, have been added to each hero's container, which has slots for 16 Relics (10 Common and 6 Rare). Upon being loosened from their attachment, Relics update and display your numerical milestones while you play, with a detailed breakdown of your achievement in each match viewable on the post-game screen. By utilizing Reward Shards, you can unlock Relics for any hero, and then once you unlock numerous Relics, they will appear on the track at the same time as one another.
Also Read: How To Enable Console Data In Dota 2?
Dota 2 Chat Wheel
Take command of your hero's speech with the new Hero Chat Wheel, which allows you to choose from a variety of phrases that will be said in allied or all chat conversations. Each hero's initial words are unlocked when you play your first game as that hero, with further phrases becoming available as you progress up the hero badge tiers.
How Can You Purchase Sound Effects In Chat Wheel?
More sound effects from the Nemestice Battle Pass are already available for purchase through shards in the Dota Plus Shard Store. Just like every major seasonal update, the Fall 2021 release includes new Dota Plus tasks as well as altered guild prizes for guilds in the silver, gold, and platinum tiers, among other changes.
How Can You Customize The Game's Hero Chat Wheel?
To make changes to one or more phrases of the wheel, one must return to the game's "Management" area of the settings, click on "Configure chat wheels," and choose the replicas that need to be updated.
How to Increase the Number of Dota Plus Game Chat Wheel Subscribers
Boost the level of your hero icon, and you will be able to increase the number of subscribers accessible in the ring. Dota Plus customers today have access to five different levels:
Master
Silver
Bronze
Platinum
Gold
Only teammates can write comments to bronze subscribers of the game. Simultaneously, starting with silver, a comparable option for general chat arises. As the character's level rises, so does the amount of phrases available to the character.
Also Read: Where Are Dota 2 Replays Saved?
Pros Of Using Chat Wheel Settings In Dota 2
For support players, a conversation wheelset is ideal. The wheel covers all of the necessary terms to set up a fight because they are regarded as the backbone of a team. This includes the current time, which is important for timing Roshan or a buyback. Using just one mouse click, the additional phrases assure smooth communication as well!
Here are some of the pros of using chat wheel settings in Dota 2:
Smoke Gank informs your teammates so you can smoke and battle together.
"Relax you're doing fine" is used to calm teammates in stressful moments. It boosts team spirit and ensures post-game praise!
The Stacking and Pulling Neutrals words alert your carry to play conservatively in your absence.
The "On My Way" line is important when entering a team fight or deploying the TP scroll.
Each support hero should build Mekansm, as the item gives massive heals enough to turn a team fight around!
Using Spells on Cooldown statement lets your teammates know you can't fight, avoiding unnecessary conflicts.
Conclusion
In Dota 2, communication is really important for success. To be victorious on the battlefield, you must communicate efficiently with your comrades. The Hero Chat Wheel allows you to hear some of your favorite hero's most famous lines.