Dota 2 is a popular MOBA, and as of right now, 2023, there are many people all over the world playing this game. Exactly how many people play Dota 2? Is this game popular? Today, I am going to answer those questions and give you the current player count for the year. 
Dota 2 was originally released back in 2013, but you had the first installment of the game coming into play, back in 2002. In the last twenty years, many things have changed in the video game industry, and Dota 2 just so happens to be one of the biggest games. The Valve Corporation delivered us games like Counter-Strike, Half-Life, and yes, Dota 2. Let's take a look at Dota 2 and see how it's doing …
There are thousands of people around the world playing Dota 2. In 2023, the game is rated among the top Steam games and is one of the best MOBA games ever made. Is Dota 2 still popular in 2023? Well, let's see …
In 2023, How Many People Play Dota 2?
When it comes to MOBA games, there are fans worldwide who love to play them. Games like League of Legends, Smite, and yes, Dota 2 help feed their obsession with MOBA games.
Fact: In 2023, Dota 2 just happens to be the most popular video game on Steam. The game that comes in first is CS: Go. Both of these games have been available for over a decade, and in 2023, they are still going strong. The Steam Awards have been running for five years now. Over the course of those five years, Dota 2 has been nominated a total of four times. However, the game has never won a Steam Award.
A Look at the Months
In January 2023, on Twitch, there were a total of 39.5 million hours of Dota 2 games being watched. When someone wants to improve their gameplay, they tend to go watch gameplay live stream. This is one of the reasons why so many people enjoy the live streaming platform.
How many people played Dota 2 in January of 2021? In January 2021, there was a total of 694,613 people playing Dota 2 on Steam. For quite awhile, Dota 2 has placed as the top 3 most popular games on Steam.
In February 2021, Dota 3 managed to rank number 13 on the Twitch platform. This means Dota 2 was the thirteenth most watched video game on Twitch. Isn't that pretty good?
Where are Most of the Dota 2 Players from?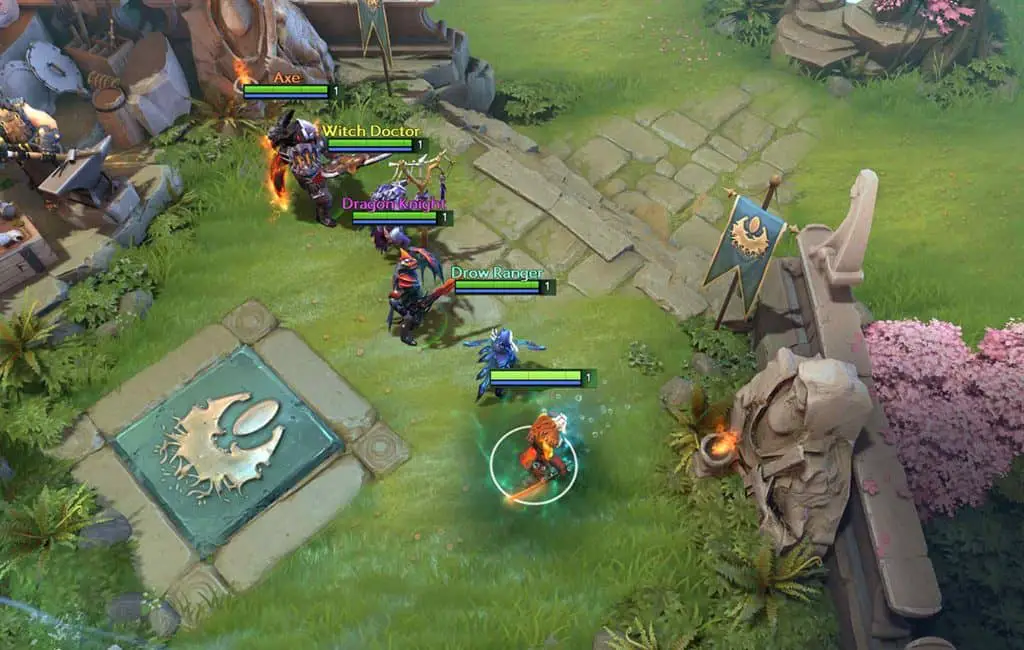 In 2023, according to Playercounter, the most Dota 2 players come from the United States and Russia.  Around thirteen percent of the Dota 2 players are from the United States, 10 percent are from Russia, 5 percent from Brazil, 4.5 percent from Germany, and 4 percent from Vietnam. 
When Was the All-Time Peak of Players?
There was a time where Dota 2 players skyrocketed, and that peak took place back in March of 2016. Perhaps it was the Dota 2 update that brought a lot of players back into the game? During that time, the average player count topped 600,000.
24-Hour peak
In 2023, the all-time 24-hour peak of Dota 2 was a whopping 631,243  people. Since November 2013, the amount of monthly active players on Steam for Dota 2 has not dropped below 600,000. So for those of you who say Dota 2 is losing popularity this year, I have to say, Dota 2 doesn't even come close to losing popularity (not that there's a popularity contest or anything).
Dota 2 During Lockdown in 2020
Back in November 2020, do you recall the lockdown we had due to Covid-19? During this time, because people were supposed to stay inside, more people started to play video games. As a result of this, many games skyrocketed in players (both old and new games). So, as expected, Dota 2 had a significant increase – during November 2020, Dota 2 had over 714,000 gamers on Steam.
2019's Player Base
Looking at the results for 2019's player base for Dota 2, I discovered that 50 percent of the games fanbase are players only. In all honesty, this doesn't surprise me one bit. Dota 2 is a popular multiplayer game (it's one of the most popular in its genre), and half of its fanbase are players only. Why is this? This is because the game is way too immersive for someone to stay inactive and only watch the game via live stream.
Conclusion
Hopefully, after reading all of this, you're not still wondering if Dota 2 is a popular video game in 2023. Looking at the latest Dota 2 statistics, everything you need to know is right there. It's pretty safe to say that the popularity of this MOBA is here to stay, because I don't see it going anywhere anytime soon.  In 2023, it's common to find the gaming community playing "old-but-gold games," like Counter-Strike, Minecraft, and yes, Dota 2.
In 2023, the player count for Dota 2 is around 600,000 gamers, and if you compare those numbers to 2013, the numbers have basically stayed the same since the release of the game, and that's not a bad thing at all. So, if you're looking to get into a video game, but you're afraid it's going to go down, you can count on Dota 2 staying up for years to come – this isn't the type of game that is just going to disappear out of thin air.