Reports are negative feedback signs that gamers can consider giving to one another. They could be given to players along either side at the end of a game. Reported players can be banned if repeatedly reported or could be ranked in the lower category for an extended period.
If you have got an unhealthy encounter that you believe should be flagged up, you must stay till the game's final moment to do so. During this spot, the match overview page will be displayed, which will list every player. To report players who is abusive, follow the following steps:
The performance section will come at the end of a Dota 2 match.
There are 2 choices over each hero: applaud and report. This could only be done right after the match; it will vanish after a while.
A pop-up window will appear if you click on the "report this player" option.
You have four report choices, three major primary options, and occasionally transitory options.
Choose the best option, enter a brief description, and send the report.
Also Read: How to Lock the Camera in Dota 2?
Why Should Someone Report In Dota 2?
Without a doubt, Reporting the players is a prominent feature in Dota 2 for various factors. For a short time, it separates pro players from amateurish and unethical players for a short time.
Regular and calibration games, particularly for fresh players & Dota 2 newbies, can be spoiled by other gamers and cast a poor image on the Dota public.
Suppose you are a player of Dota 2.
In that case, you might have encountered various in-game situations such as boosted accounts, purchased Dota 2 accounts, screaming children, game slingers, ability phishers, and insulting people. In Dota 2, particular player groups frequently refuse to speak English.
These types of players wreak havoc on the game, causing you to end up losing your undefeated streak and MMR (if it's a tier match). Valve created a Dota 2 review system to prevent playing with these felons in the long run: Because of the severe punishment, the reporting program enables good games to be played.
It's highly scarce a player to rage quit or disengage due to his signal, and we all understand why: Because disciplinary games, also known as low preference games, are the most toxic experience a player of Dota 2 can have: Criminals, child abusers, drug addicts, and you, a regular guy, are pushed into a ring! That can't end well.
Report Options of Dota 2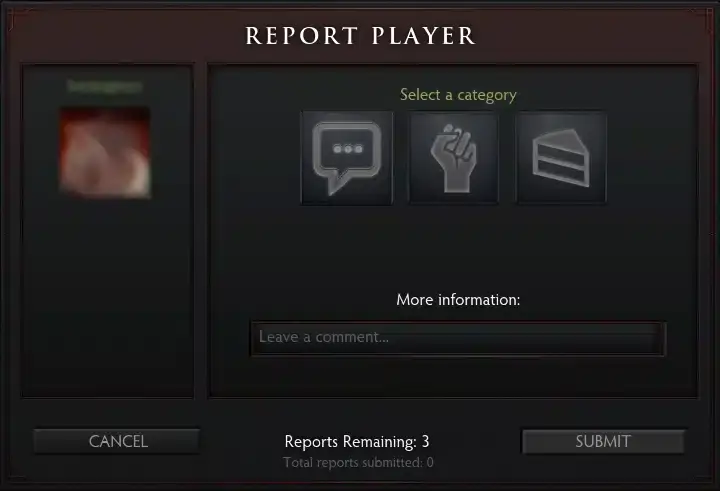 There are four types of report options, communication abuse, matchmaking abuse, Smurfing or Account Buying, international ability abuse, intentional feeding, battle pass report option. Let us discuss them in detail.
Also Read: How To Use Pings In Dota 2?
Communication Abuse
Trash talking has always been an essential part of Dota 2. Sometimes past The Worldwide winners use mischievous or confrontational trash talk in all conversations to attempt to bend the match in their favor.
Moreover, some boundaries should never be traversed. Whether any of the players spam or make derogatory or stigmatizing remarks, please report the guilty party for language abuse.
Matchmaking Abuse
Dota 2 has attempted to create the game more equitable for players by pairing them up against and with other players with reasonable skill or tier since its release. Some people try to game the system to play ahead of less skilled users.
If you come across a player like this during a game, you can submit a report of them for match-making abusive behavior. Valve prohibited over 40,000 subscribers in mid-2020 for misusing the match-making process.
Buying Account or Smurfing
Smurfing is the method of developing a backup account in the first place to be matched with lower-level players. In the meantime, highly skilled users sell their accounts to make quick money. And the person who purchased the account is likely to play beyond the account's apparent skill level.
International Ability Abuse
Some Allie gamers act like children, trolling like Pugna's Ethereal, and others on the champion. Furthermore, they start stealing creeps with low cooldown spells. This is the best choice for those types of young players.
Battle Pass Report Option
This choice is only available to Battle Pass holders; it allows you to avoid interacting with the same annoying player again. Users will never be able to contact the same player again if they use this option.
Also Read: How To Uninstall Dota 2?
A Good Report Making
It is not sufficient to simply press the report icon and pray for the finest. The game maker must be aware of the report in Dota 2 in order for this to be acted upon.
Since this reporting system is computer-controlled, numerous reports on a singular player can add up and result in penalties for the offender.
However, if you cannot persuade other users to file a viable report, it is you must include a late explanation of the misbehavior in the report. This can help draw attention to the report.
Final Thoughts
Whereas the game's reporting system has enraged some players, it usually has fulfilled its purpose of building the Dota 2 public more friendly. The fear of being revealed has also motivated a lot of players to act appropriately.