Cooking is a valuable life skill in BDO, and if done well, it may make you a lot of money. It could also ensure that you have accessibility to the most effective options. To cook, you must first get a house and purchase or create a cooking utensil. You'll also have to understand what ingredients are needed to prepare dishes and drinks, as the character doesn't master recipes as in previous games. That is something you must do on your own.
In this article, we will discuss everything regarding cooking utensils in Black Desert Online and how you can repair them. For more information, continue reading.
Finding a Cooking Residence
The only way to prepare cooking is in your own home with cooking utensils. There are many houses all across the Black Desert, so pick one which is convenient for you. Obtaining a home in BDO is very easy.
Simply open the map, navigate to the area wherein you wish to live, and begin tapping on the home symbols. Once you've found a property with the dwelling choice in a place you enjoy, all you have to do now is purchase it with the contributing points you have.
Based on the size of the house, the price of a contributing point might range from individual points to very few points.
Also read: How To Get Pirate Island In Black Desert Online
Cooking Utensils In Black Desert Online
After you've purchased a home, you'll need to purchase or manufacture a kitchen utensil. In the game, there are just a few cooking tools that provide different advantages. A standard cooking utensil and the Balenos Custom Cooking Utensil are the simplest to obtain, and you can purchase it from a Restaurant seller.
A standard utensil has few benefits and 101 durability points, whereas the Balenos custom cooking utensil has 550 durability points. However, there is a penalty of +10 seconds for every batch of cooking time. A Balenos utensil is the one to use for lengthy Mod cooking. There are a variety of different utensils that can be adjusted for both durabilities as well as cooking time. The medium cooking tool is one of the best since it's not very costly, has good durability, and doesn't add time to the cooking process.
After you have purchased cooking utensils, you must store them in the home. To enter installation mode, hit the P button once inside the home. Then just select the cooking item and position it anywhere you like in your home.
In Black Desert Online, How Do You Repair Cooking Utensils?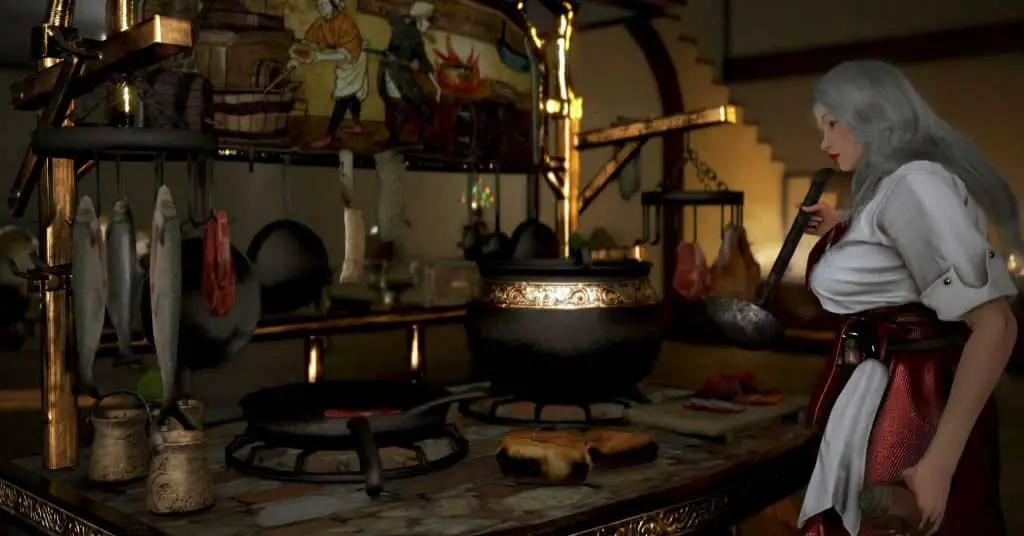 Since cooking utensils in Black Desert Online cannot be fixed, you will have to purchase a new one. You can create more lasting ones, but due to increasing energy prices in NA, gamers won't be able to afford them. To conduct very lengthy crafting sessions anyhow, there's no sense in producing more costly utensils. Simply purchase two or three of the less expensive ones and place them in your home.
Also read: How to Add Crystals to Outfits in BDO
Getting Your BDO Cooking Career Started
Once you have a place to live and cooking utensils, you may begin preparing the first meal. To do this, hit R on your keyboard when standing beside the cooking item.
You must now measure out the actual number of each ingredient for a single container of whatever you plan to make. This is crucial so just put in the quantity required for a single round. If you go any farther, you'll lose all of your supplies. Everything is shown in the window for beer, which is typically the best formula to start with.
According to your ability, your batch may fail if you put in fewer ingredients than necessary in the containers. However, it is said to use a less than optimum recipe when the cooking ability is extremely high.
You can opt to manage a second batch and go for manufacturing processes once you've picked the fresh materials and input the proper amount. You may hit "Continue Production" and afterward "Limit" to run numerous batches. This one will maintain your character cooking till he runs out of things to cook with.
To make 400 batches of beer, you'd need 2300 grains of the same type, 400 sugars, 1,000 sweetening agents, and 3500 gallons of water in the stockpile. Next, you'd put 5 grains, two sugar, three sweetening agents, plus seven water into the containers. Afterward, select "Continue Production" as well as "Max Quantity." This should display 400 runs, and pressing "Okay" will cause your character to begin brewing 400 batches of beer.
Notice that even as your cooking abilities improve, you'll be able to obtain even more products from each batch, as well as a blue variant that lasts longer and is much more precious. You can also receive extra meals that can be handed into specific NPCs for prizes such as contributing points, cooking skills, wine, milk, and gold.