Slimes in Stardew Valley are enemies that are found in several locations. By killing slimes, you can obtain many items that can be useful.
In order to get these items, many players raise slimes on their farms. If you want to know how to raise slimes in Stardew Valley, continue reading this article. 
Also Read: How to Catch a Lobster in Stardew Valley?
What Are Slimes in Stardew Valley?
You may be wondering, what are slimes in Stardew Valley? They are your enemies in the game. The two ways slimes attack are by "charging" and bouncing from a distance.
They are mostly found in Secret Woods and The Mines. There are five different varieties of slimes in the game. In order to complete Monster Eradication Goals, you need to kill 1000 slimes.
They are pretty easy to kill. In order to kill them, you need to hit them with any weapon from a distance. The best way to kill a slime is by using a slingshot.
What is a Slime Hutch in Stardew Valley?
A Slime Hutch is the place where you can store as well as raise slimes. It is a farm building that you can purchase from Robin. In a single slime hutch, you can keep up to 20 slimes.
The Slime Hutch is the key to making gold in Stardew Valley. The Slime Hutch is the only way to raise slimes.
It can be purchased at Robin's Carpenter Shop. The building cost of a slime hutch is 10000g. You need 500 stones, 10 refined quartz, and 1 iridium bar to craft a slime hutch.
The Hutch also allows you to hatch five different types of slime eggs. Once the eggs hatch, they will turn into the respective color of slime. There are 5 different kinds of slime eggs you can get from a single egg, but green eggs have a higher chance of being produced.
Also Read: How to Change Your Character in Stardew Valley?
How to Raise Slimes in Stardew Valley?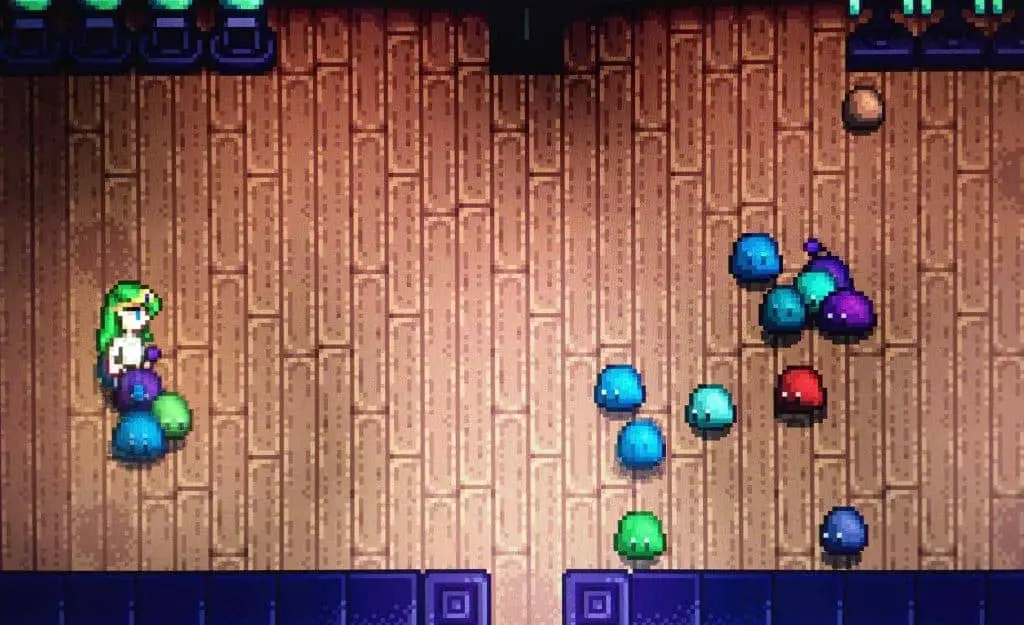 The first step in learning how to raise slimes in Stardew Valley is to place their eggs into their own incubator. Keep in mind that slimes have genders. The baby slime will be smaller than its parent slime and will inherit its mother's color.
The next step in learning how to raise slimes is to learn how to breed them. Each type of slime has different RGB values.
The higher the RGB value, the lighter the slime will be. The next step in raising slimes is to breed them. You can breed the slimes in a hutch. You want to craft a slime hutch to store slimes.
When raising slimes, you will want to be aware of the dangers of handling them. Although they are considered pets, slimes are still monsters. Fortunately, you avoid these risks. When slime drops eggs, you can simply put them inside the slime hutch to raise slimes.
They need only water to grow. There are 4 water troughs inside a slime hutch which you need to fill in order to raise slimes. When you are ready to raise slimes, you can use the Slime Hutch to place them in.
Why Do You Raise Slimes in Stardew Valley?
If you're new to Stardew Valley, you may be wondering about the benefits of raising slimes. Even though they are your enemies, you can make good money by raising them. When you skill slimes, they give you many items.
These slimes can be used to dye clothes and even craft shirts. You can also sell the baby slimes to Emily if you don't want to raise them yourself. Getting started with slime breeding is very easy if you understand the basic concepts of color and how to manipulate the RGB value of slimes.
Once you've got your slimes in a good environment, they will begin to reproduce eggs. The best place to raise them is in a Slime Hutch, which you can build outside the mine.
When you kill them, you will get drops like sap, algae, diamond, copper ore, slime, amethyst, dwarf scroll, etc. You can use these items to move ahead in the game.
Also Read: How to Talk To People in Stardew Valley?
Conclusion
So, if you want to raise slimes in Stardew Valley, all you need to do is purchase a slime hutch. Once you have the Hutch, you can put slime eggs inside it and water the troughs to easily raise slimes.
The eggs can be purchased from Krobus. The slimes can then be incubated in the slime hutch. You can then breed them using the color wheels, RGB. Thus you can create different colored slimes by using the parent slimes.