Lobster is a type of fish in Stardew Valley that you can catch without a fishing rod. It can be used to make different recipes as well as can help you to complete various quests. So in this article, we will be talking about how to catch a lobster in Stardew valley.
Also Read: How to Change Your Character in Stardew Valley?
What Are Lobsters in Stardew Valley?
If you're new to Stardew Valley, you might be wondering what exactly a Lobster is. The short answer is that it's a type of fish, and while you can't immediately eat them, you can gift them to NPCs in the game. These uses include energy, delicious food, and crafting.
You can catch a lobster with the help of crab pots. You don't need a fishing rod to catch this type of fish. Instead, you need to add bait to the crab pots and wait for lobsters. They are available in the saltwater body.
To prepare lobster for consumption, you need to gather the ingredients. You can also sell it for 120g. Apart from that, you can gift it to Elliot as he loves Lobsters.
How to Catch a Lobster in Stardew Valley?
To get the rare item Lobster, you need to know how to catch it in Stardew Valley. Lobsters are found in the ocean, and you can catch them using a Crab Pot. However, catching lobsters is not easy, so it's important to learn how to catch them.
The first step in this quest is to gather bait. You need five gold pieces to bait the crab pot. Throw it into the water beside Willy's house, where it will eventually catch a lobster.
Afterward, you can return the lobster to Gus at the StarDrop Saloon for 450 gold coins. This quest requires a fishing level of three or higher, but it is easy and fun to complete.
To start catching lobsters, you must first obtain a Fish Pond. The Fish Pond will replenish every three days with new fish. The lobsters will reproduce every three days, resulting in a steady stream of lobster meat and other goods.
Fishing is one of the best ways to earn money in Stardew Valley. Once you've mastered the basics, you can make delicious lobster and crab dishes for your inventory. 
Also Read: How to Talk To People in Stardew Valley?
What Are Crab Ports in Stardew Valley?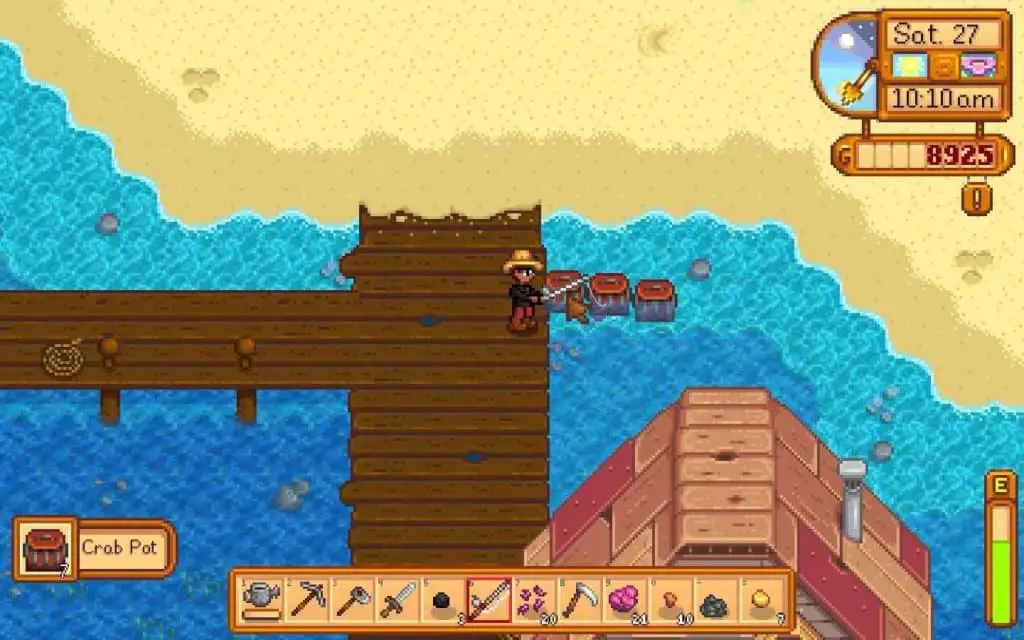 When fishing, a player can use crab pots in both saltwater and freshwater. Freshwater locations in Stardew Valley include mountain lakes, rivers, and oceans.
Although crab pots can catch trash, they still provide experience points for fishing skills. If you are a fisherman, you can choose from a variety of baits such as standard crab, magic, magnets, and more.
The most common destinations are the Beach and Cindersap Forest. The other possible locations are Woods and sewers.
There are a few disadvantages to a Beach Farm, but it's a good way to obtain access to more Ocean fish. If you have the space, a Beach Farm will help you unlock more Ocean fish.
Crab pots are a convenient way to catch fish in Stardew Valley. Fishing with a fishing rod can be tricky and requires a lot of concentration.
However, crab pots are useful in boosting your fishing skill and completing bundles in the Community Center. You can obtain them at a price of 1500G by completing a Crab Pot Bundle at the Community Center.
Crab pots cost a lot to craft and can be expensive. Many gamers try to craft a large number at once to maximize their profits, but this can be quite difficult early in the game.
In order to craft a crab pot, you need 40 pieces of wood, three iron bar, and fishing level 3. Once you have all these items, you can easily craft a crab pot and use it to catch lobster. 
Also Read: Where to Find Clint in Stardew Valley?
Use of Lobster in Stardew Valley
There are a few different ways to use lobster in Stardew Valley. In addition to using them to make delicious food, you can also give them to NPCs.
To catch lobsters in Stardew Valley, you can place a Crab Pot in any location on the Beach or Farm. If it is empty the next day, you can check again for more.
Lobster is an option for crab pot bundle in the game. You can catch a lobster to complete this bundle. Apart from that, you can use it for cooking various recipes.
You can make lobster bisque, maki roll, sashimi, and quality fertilizer with a lobster. Apart from that, you can use it for fish pond quests as well.
Conclusion
So, if you want to catch a lobster in Stardew Valley, you need a Crab Pot. Once you complete fishing level 3, you can craft a carb pot and use it to catch lobsters.
You can also create a fish pond and put the lobster inside it. The lobsters will be present in the pond every three days. You can also gift the lobsters to the characters or cook them when you have the recipe.