Leaderboards are an added feature in Diablo 3. They allow players to compete for ranked achievements with other players.
Continue reading to find out how to open leaderboards in Diablo 3.
Also Read: How to Change Screen Resolution on Diablo 2
What are Leaderboards – Diablo 3?
Leaderboards in Diablo 3 help players keep track of progress made during their gameplay, including Seasons, Greater Rifts, and Conquests.
They also allow you compare your progress to that of other members within the same region, friends list, clan, class, and with other parties of players.
There are two kinds of Leaderboards, and each type tracks progress differently. The two types of Leaderboards in Diablo 3 are; Season-only Leaderboards and the Greater Rift Leaderboards.
What is the Greater Rift Leaderboard?
The Greater Rift Leaderboards are divided into two modes and two characters: the Normal gameplay and Hardcore modes and the Non-seasonal and Seasonal characters.
To improve player's competition and encourage multiple play styles, the Greater Rift Leaderboards are broken into the following categories:
Solo play for each class (e.g., top players for Crusader, Barbarian, Demon Hunter, etc.)
2-Player Groups
3-Player Groups
4-Player Groups
On the Greater Rift Leaderboards, the top rank is given to the fastest player(s) – those who achieved the highest level of a Greater Rift before others. 
Also Read: How to Display FPS in Diablo 3?
What is the Season-only Leaderboard?
The season-only Leaderboards are designed for games like Conquests and seasonal achievements. They do not have a non-Season equivalent.
Furthermore, because achievements and Conquests are account-wide, their leaderboards are not split between Normal and Hardcore modes (though some tasks may require playing a particular mode).
How to open Leaderboards in Diablo 3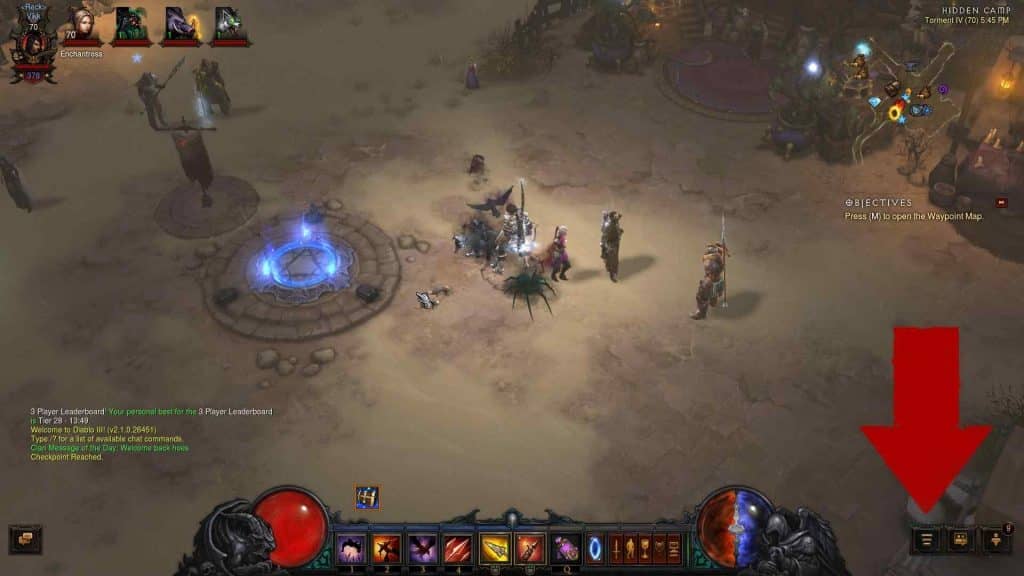 Additionally, the Rankings page (PC) will also let you track the players statistics.
How to view the Conquest list
To view the conquest list in Diablo 3, open the Leaderboard menu (Shift + L) and click on the "Conquests" button in the left menu.
If you want to view the list of conquests on the official website, simply visit the ratings page, and you will see the list of all new conquests on the left side of the screen.
Also Read: How to Get Convention of Elements?
How do I check my greater rift level?
Upon defeating the Rift Guardian, they may drop a Greater Rift Lock. Afterward, you will be able to use this key inside the Nephalem Obelisk, as with other Rift Fragments. This will trigger a Greater Rift.
How to get Season Rewards – Diablo 3?
It is pretty easy to get season rewards on Diablo 3, and you do not have to be an expert player to obtain one. All you need to qualify for the Diablo 3 Season Rewards is to complete some of the game's seasonal sections.
After this, follow the below instructions to claim the game's Seasons Rewards.
Go to the Seasonal Journey screen.
Highlight the sections you finished.
You will see a Claim Reward option beneath; tap on it to get the Diablo 3 Season Rewards.
Frequently Asked Questions
How many Greater Rifts levels are there?
There are 10 Greater Rifts levels in Diablo 3, from GR1 to GR11.
Is there a shortcut key to open Leaderboards on Diablo 3?
What difficulties do higher-level rift keys drop?
The Greater Rift keys drop from level 70 Rift Guardians in normal Nephalem Rifts.
Diablo 3 takes about 8 to 10 hours to complete on your first play.
How do I install Diablo 3?
To install Diablo 3, firstly download and install the Blizzard Battle.net desktop app. Afterward, log into the app and click the Diablo 3 icon on the left side of the app. Then, click install.
When is Diablo 4 coming out?
There is no official announcement about the Diablo 4 release date yet.
Conclusion
Maria Beklavac is a passionate Gamer, Marketer & Journalist with over seven years of experience in the Gaming and Technology Industry. Maria has a lot of hobbies, but gaming has always been her favorite one, and that's why she's decided to create GameTaco. On GameTaco, you'll find tons of problem-solving tips from many different video games!