In the gaming industry, the FPS has two meanings. For one, FPS means "frames per second," a term used to describe how smooth something can be like a video plays in a video game.
The actual rule of thumb in gaming is that the higher the frame rate is, the better and smoother the experience for the game's users will be. Second, FPS stands for "first-person shooter," which basically refers to video games in which players take on the role of a character and shoot enemies from a first-person perspective.
The more frames per second you can fit into the given one second, the smoother the motion on screen will be; frame rates that are usually below 30fps or so will appear slow. It is a useful metric for evaluating your gaming hardware's performance, and it is frequently used by personal computer enthusiasts who want to brag about their own setup.
Also Read: How to Get Convention of Elements?
Importance of FPS
The FPS is important in gaming because a low frame rate can put you at a disadvantage against your opponents. If you are playing Over Watch at 30 FPS, for example, this can be difficult because the frames do not accurately capture what is happening in the game.
The gameplay experience would be much better if you played Over Watch at 150 frames per second. Shooting a moving enemy, for example, would be much easier because the frames would update at a faster rate, more accurately displaying the enemy's movement. Knowing your frame rate can assist you in selecting a monitor.
Monitoring the Frame Rate
Monitoring the frame rate in conjunction with other hardware stats can reveal which component available in your system is the bottleneck and where an upgrade would be most beneficial. The more frames per second you can fit into a second, the smoother a game will appear on the screen.
Also Read: How to Trade In Diablo 3?
Any Issue With the Game?
If you are facing issues with the lag in your Diablo III, then you must check the frames per second (FPS). This is usually not shown by default, though it is straightforward to activate and can be achieved without any additional add-ons.
Another great troubleshooting method is to assess the Task Manager when running the Windows OS or by opening up the Activity Monitor when using Mac OS X. You may want to make sure that the latest drivers for the specific graphics card are installed.
Another likely cause of lag in Diablo 3 Reaper of Souls can be attributed to network lag. This can also seem like PC hardware performance function when it comes to FPS. You should check the network connection when you are facing problems, since it may not even have to do with your PC hardware.
The rate involved with back-to-back images that are called frames appear on a display and shape moving imagery is measured in frames per second (FPS). When a video gets shot at 24 frames per second, it gets played back in 24 frames per second. Depending on various other factors, they change at different rates across mediums.
Also Read: How to Play Diablo 3 Offline?
How to Display FPS in Diablo 3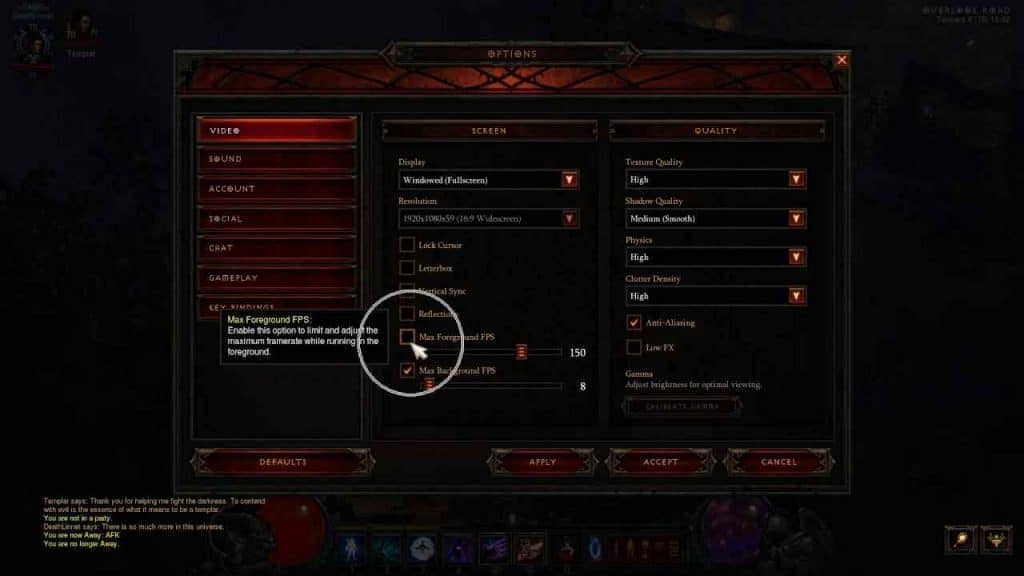 In the world of PC gaming, keeping track of frame rate is nothing new. You can easily check the speed of the game by monitoring the FPS. The ability to view FPS has been built into the framework of many launchers. Diablo III: Resurrected also has a built-in option for displaying frame rate and ping, which may surprise you.
Surprisingly, the function is not listed as an easily toggled option in the options menu. The easiest way to display FPS in Diablo 3 is to press Control + R on your keyboard.
If you want to check if any substantial improvements have been achieved, try changing some of your graphics settings.
You should also make sure you have the most recent drivers for your graphics card. You should also check the Task Manager when using Windows, or Activity Monitor if you are using Mac OS X for another good troubleshooting technique. I
If you are playing via a standard mechanical PC hard drive, you should assess if it is in positive shape and needs to get defragmented. Diablo III is a multiplayer online game, so it can be affected by poor network quality and poorer bandwidth speeds.
When you are having problems, you should check the internet connection at all times. These simple system checks may be used for all games that may giving you trouble, not only Diablo III.