How well Cities: Skylines performs depends on several factors, including your graphic card and DLC operations.
This article explains everything you should know to make your game run faster. Continue reading.
How to make Cities: Skylines run better
Delete unwanted save games
Deleting unwanted save games can improve your game performance and make the app launch a little quicker, especially if you use a very low-spec computer.
To delete unwanted save games, go to Main Menu > Content Manager > Savegames.
You will see an X button on the right side of the file. Press the X button to delete a save.
Monitor FPS (frames per second).
A higher FPS value means a faster game performance.
You can do this manually from the main Steam settings. Click on the In-game section and turn on the FPS counter.
You can also use alternatives like;
Monitor It! Mod
MSI Afterburn (Windows)
Nvidia GeForce Experience (Windows)
AMD Radeon software advisors (Windows)
Count it app (Mac)
MangoHUD (Linux)
Use dedicated graphics card
As much as possible, try not to use integrated graphics (like Intel Iris) for Cities: Skylines. They will not only make your graphics weaker, but they also slow down your CPU and RAM significantly.
Some recommended dedicated graphics cards to use for Cities: Skylines are:
For Windows: Radeon Settings or Nvidia Control Panel, and AMD.
Apple Mac: gfxCardStatus App
Update drivers
Outdated graphic drivers could be the reason why your game is slow.
To ensure Cities: Skylines functions optimally, always ensure your drivers are up-to-date. This is because manufacturers constantly update their drivers to fix bugs and improve the game's performance, so keep updating them.
For Mac and Windows, and Mac computers, you can update from NVIDIA or AMD.
Also Read: How to Delete Roads in Cities: Skylines
Disable DLCs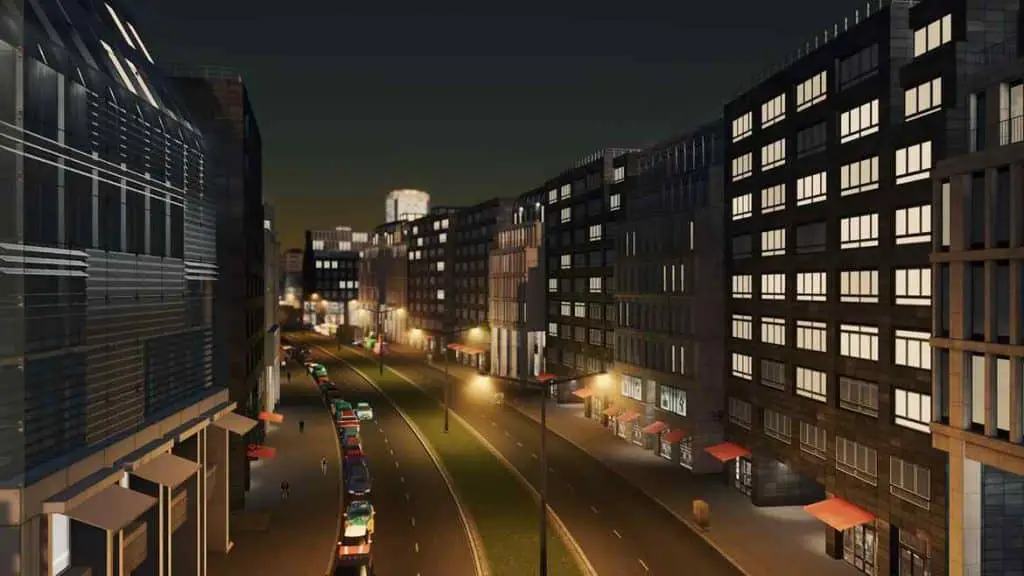 Adding too many DLCs to your game can impair its performance and even cause it to crash.
While radio stations do not constitute any problems, other DLCs can add large numbers of assets to your game (particularly Green Cities and content creator packs).
To disable purchased DLCs, open the Steam Library, right-click the game, select "Properties…" and choose the DLCs tab. Disable the setting.
However, note that some workshop mods and assets rely upon DLCs and might stop working if disabled.
Upgrade shader version
The shader version of a graphics card determines what features it provides, and Cities: Skylines works best with shader version 50 or above.
To find out your card's shader version, search "Shader version" at the bar near the top of the file.
If your graphics card has a lower version (usually version 30), problems may occur.
As well as experience some graphic glitches in-game, you'll see `d3dll` errors in the log, and the game may even crash.
To fix, add the `-force-d3d9` Launch Option (or `-force-opengl` if you're using an older Macs).
Turn on high-performance mode:
How-to:
For Windows:
Search 'Graphic Settings' in the start bar
Go to Graphics Performance Settings
Then, manually add Cities.exe as a 'Classic app,'
Set it to "High Performance."
Apple Mac:
Open the Apple menu
Select "System Performance" then "Energy Saver" (the light bulb).
Uncheck "Automatic Graphics Switching."
Check the Graphics settings
Go to Main Menu > Options > Graphics to access this. If your game runs slowly, perform actions like;
Reduce screen resolution
Disable film grain
Reduce or disable shadows
Reduce the graphic quality setting
You can also use mods like More Aspect Ratios and UI Resolution 1.1.2 to fix the screen resolution, and user interface automatically.
Reduce the Trees and Props
Too many trees and props can cause huge FPS drop, thus low game performance.
This is because the more trees you have, the more tree texture your graphics card needs to render the scene, slowing down your game.
If your Cities: Skylines loads slowly, try removing some tree and prop assets and reloading it.
Use FPS Boosters
FPS Booster mods also work well to improve Cities: Skylines performance.
Some FPS boosters to consider are;
Tree Anarchy: This mod has a faster tree rendering system than the vanilla game. 
Extended Managers Library (EML): This mod doubles the speed of prop rendering.
Mini FPS Booster: this increases the frame rate in-game by 5-15%. 
Main FPS Booster: As well as increasing frame rate, this mod reduces UI rendering and font processing overheads.
Also Read: How to Make Skyscrapers in Cities: Skylines
Conclusion
To enhance your game performance on Cities: Skylines, delete unwanted saves and increase FPS value.
Perform all the actions in this article, and your game will be super-fast.