In Diablo 3, players can gain Forgotten Soul as a crafting ingredient by salvaging legendary goods of any rank. Additionally, Rift Guardians and other varieties of Treasure Goblins can drop souls directly into the rift.
Souls are essential for various crafting recipes involving the Blacksmith along with the Cube, and also for several Mystic enchants. They are also required for many Mystic enchants. As a result, Souls are among the most difficult obstacles that players must conquer in their journey to earn and improve equipment.
Players looking to get more Souls should aim for higher difficulty levels, as legendary drop rates are much higher, and Goblins may drop more loot.
Read on to find out how to farm forgotten souls in Diablo 3.
Also Read: How to Get Deathwish in Diablo 3?
Development Of Forgotten Souls
Forgotten Souls were added to Diablo 3 when Reaper of Souls was released, which meant they didn't exist in Diablo 3 Classic. Fiery Brimstones were the raw material that could be obtained by salvaging legendary goods in the early game.
For a while in Reaper of Souls, Fiery Orbs stayed in the game and could be obtained through Level 1-60 gear, whilst Forgotten Souls could be obtained from Level 61-70 equipment.
When the crafting system was redesigned and simplified in Patch 2.3, brimstones (and the white/blue/yellow resources for levels 1-60) were removed from the game's inventory. As a result of that release and Patch 2.4, Forgotten Souls are now dropping straight from Treasure Goblins. The general drop rate for legendary artifacts, which can be salvaged and turned into Forgotten Souls, has also been considerably increased.
In Diablo 3, what's the best way to farm forgotten souls?
According to most players, doing rifts is the most efficient way to farm forgotten souls in Diablo 3. The rift keeper stands a good chance of dropping a Forgotten Soul. Pick the higher Torment level in which you can finish the rift fast (two-three min max). Farming in the party can help you farm better and in higher Torment, which will result in more Forgotten souls.
Also Read: How To Reforge A Weapon Property To A Socket At The Mystic?
Best Way To Upgrade Rare Things In Diablo 3
Using a Legendary Gem of Rank 30 or above can enhance the performance of an Ancient or Super Ancient weapon. To enhance an Ancient or Primal Ancient collar or amulet, a Legendary Gemstone of Rank fortyor higher is required, whereas, to augment a Primal or an Ancient piece of armor, a Legendary Gem of level fifty or higher is required.
How To Farm Forgotten Souls Quickly?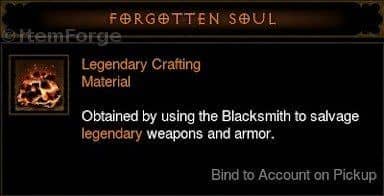 1. Bring the Settings to Torment 1
Bear in mind that you're simply farming souls from the graveyard. If you want to farm something else in addition to the soul, you should avoid doing this. However, for the quickest results, use Torment 1 to ensure that your kill speed is at its highest possible level.
2. Farm Them in Rifts
Forgotten Souls can only be obtained by farming in Nephalem Rifts, and there is no better place to do so. This time, however, avoid going after the Rift boss right away. Seek out the elites and harvest their souls from them as well. Nonetheless, the Rift boss is the most effective monster for obtaining the Forgotten Souls.
3. Gamble With Kadala
One source of Forgotten Souls is the recovery of Legendary Items, which may be obtained through several means. It does not matter if you acquire rubbish Legendary Items from Kadala, such as the Compass Rose, because you can always farm them for Souls.
Also Read: How to Add Diablo 3 to Steam?
How Do You Get Forgotten Souls Fast?
Forgotten Souls can be obtained in various ways, including Creating rifts: An very high probability of dropping a Forgotten Soul exists when fighting the rift guardian. Select the higher Torment level that will let you complete the rift more rapidly (2-3 min max). The benefits of farming as a group are that you can farm more quickly and in greater Torment, resulting in more Forgotten souls.
Where Can You Farm Lost Souls?
Crucible is a good area to farm for souls, even if you're just doing 130-150. If you have Nemesis status with the undead during the campaign, just playing SoT will provide you with three separate possibilities to find recipes: Moosie, Alamos, and the boxes in the locked chamber.
Conclusion
Farming for forgotten souls in Diablo 3 can be a quick and easy process. By following the tips provided, you can increase your chances of obtaining the desired outcome. Whether it's through rifts, gambling with Kadala, or recovering legendary items, there are several methods that will help you on your way to acquiring more Forgotten Souls.