Black Desert Online is an action-packed game developed by Pearl Abyss, the Korean game developer, for PC in 2015. And from 2019, it has also been available for both Xbox One and Playstation 4.
Four years later, with the rise in-game's popularity, the creator also released a mobile version of this game 'Black Desert Mobile.' The mobile transformation was first published in Asia and then embarked for the rest of the world in December 2019.
The game is famous for its appealing looks, avatar personalization, fighting, etc. It offers lots of adventures to the players when they begin their game. In addition, players get to choose from a wide variety of unique family names when they first launch the game.
If you cannot figure out how to change a family name after you have created it, this article will be of great value to you. Let's move on to discuss the various ways in which players can change a family name in Black Desert Online.
Also read: How to Make Plywood/Planks in Black Desert Online?
Family Name and Character Name: What are these?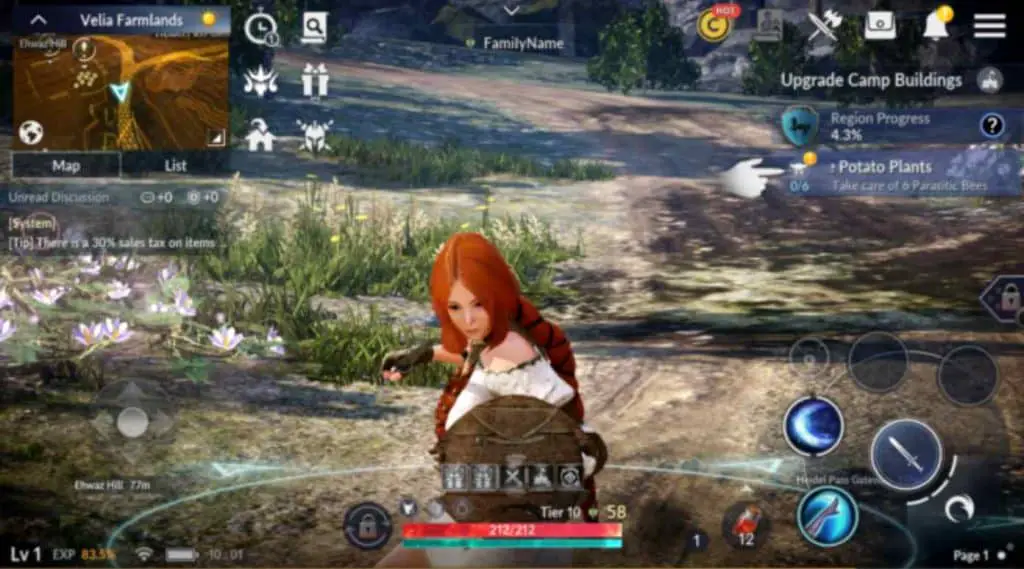 In Black Desert Online, players are prompted to choose a name that will serve as their identity throughout their gameplay. In the game, this name is called the "Family Name."
Apart from identification, this name doesn't quite have any other purpose in the game.
This in-game feature has a unique purpose and is a unique name of your characters under every server. Each player can notice your identity as it gets highlighted above your in-game character throughout the adventure.
Moreover, once you create a family name, you cannot change it, and it will stay the same if you switch to another server. In other words, the family name is the surname of your characters, whereas character names serve as the identity of each character.
The character name pops up when you are choosing the character. You can also see it on the 'My Info' screen.
Now that you have understood what these names are let's move onto the main point, where we talk about how players can change their mistakenly created family name in Black Desert Online.
Steps for Changing Family Name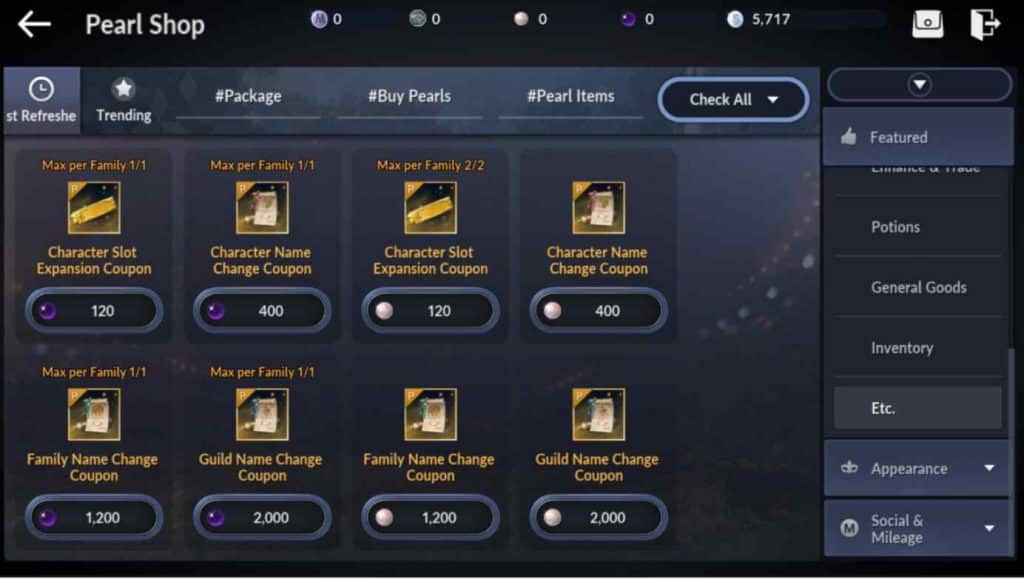 There is only one way through which you can change your family name in this game. However, this tool is a paid method. This implies that there is no free method for changing your family name; it is, unfortunately, impossible for now.
Step 1: Players need to buy a change coupon of Family Name from the game mart.
Step 2: Go to the 'Section Etc' of the account. (Pearl Shop> Miscellaneous >Etc).
Step 3: Here, you can earn a change coupon in exchange for 1200 pearls. When you buy the change coupon, it will get a shift to the Pearl inventory.
Step 4: Now, you will be able to change your family name.
However, the change will take place only after the subsequent maintenance by the developer. This means that if you amended your family's name in Black Desert Online, it would get displayed only when the game gets on under maintenance.
If you wish to change your character name instead, you can also buy a Character Name Transfer Coupon or a Character Name Change Coupon for 1,000 and 500 pearls. This can be a big investment for many, so it's important to choose the right name in the beginning only.
Also read: How to Make Copper Ingot in Black Desert Online?
Before You Leave: Six Important Rules for Changing Family Name
While changing a family name and character name, there are some rules that you must keep in mind, which are as follows:
The Family Name in the game must contain three to sixteen characters.
The first character of the name must be written with capital letters, and you can only use underscore, numbers and alphabets.
One cannot use the same letter more than three times sequentially.
You can use underscore only once, and it can only appear between two characters.
Capitalization of letters on both sides of an underscore is a must.
Now that we have walked you through how to change your family name in Black Desert Online, pick yourself a stylish name and get back into the game like a smashing barracuda. If you found this article helpful, don't forget to share it with your friends!