Cities: Skylines, fans and players, welcome to another how-to guide in which we will talk about this mega-popular addictive game that has been gathering new players for years. Cities: Skylines is a city-building simulation game in which you play as the mayor of the city. At the very beginning, you choose the map of the city and start construction.
You need to set up residential, industrial and commercial areas, provide jobs for your citizens, build transport infrastructure and much more in order for your city to develop. In this article, we will deal with the land, a question that players often have – how to buy new territory in Cities: Skylines?
As you already know, when you start building your new city you have to pay attention to the size of the plots you are starting with. That initial size can be upgraded later, don't worry. But, it's essential that the starting plot is large enough that your city can develop enough before you decide to buy more land and expand your city. Because in order to expand your city, you need money, and you will earn money by developing an already existing part of the city.
Also Check Out: How to Build Houses in Cities: Skylines?
A Guide For Buying New Land In Cities: Skylines
Basically, you will think about buying new land when you have a slightly bigger budget and enough money to build areas on a new, empty plot. Also, when your city is already built, you have no choice but to expand it.
First, click on the city icon, which is located in the lower left corner, your city will zoom out and you will have a view from the tile where your already built city is located and from the tiles around it that are free and empty. Information about it will be written on each of the tiles on offer, so read it before you buy it.
After that, you become the owner of new plots of land and you can do with them whatever you want. However, as your city progresses you will need to build more demanding buildings, such as colleges, for example. Only highly educated citizens are capable of some jobs, so you have to take this into account when building new buildings. 
First of all, you have to have a plan for how you will connect the built part of the city with the unbuilt one, as well as what will be built on empty plots of land. You can, for example, connect these two parts with a train, or you can build a highway, the choice is yours. And of course, supply new parts of the city with power and drinking water.
That's pretty much it. This is a very easy way to buy a new piece of land in Cities: Skylines, PC version. In the next section we will write how to buy a new piece of land but on the PS4 and Xbox One version of Cities: Skylines, intended for these game consoles.
Also Check Out: How to Reduce Noise Pollution in Cities: Skylines?
How To Buy More Land In Cities: Skylines – Xbox One And Ps4 Version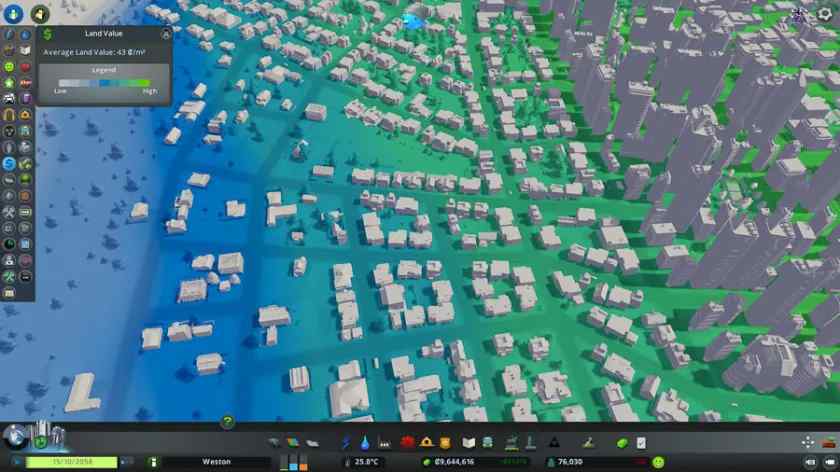 Of course you can buy a new piece of land in Cities: Skylines if you play PS4 or Xbox One version, only the steps for doing that slightly differ from the PC version.
For starters, hold the triangle until a menu opens with the various options offered. Choose option 'Areas' from the wheel. Your city will zoom out and you will be able to see the areas you own and the available areas that you do not own. They will be marked with white transparent color. However, some areas will not be visible simply because your city is not progressed enough and those are still not unlocked for purchase.
When you select a particular plot of land, it will write you information like the natural resources found on it, outside connections and its price. After studying the options well and choosing the plot of land that seems most profitable to you, choose the 'Purchase' option. That's it, that's how you'll buy a new plot of land on the PS4 or Xbox One console.
It's also very simple so don't hesitate, buy a new piece of land as soon as your city raises a little more money and start expanding your city to epic proportions.
All Spaces Unlockable Mod for Cities: Skylines
Well, well, what do we have here? Another mod? Are you excited? Mods are various improvements that can really refresh the game, and there are currently plenty of them so everyone can choose what suits them and what they would like to see in their city.
All Spaces Unlockable is the mod with which after winning the last Milestone (13th) automatically opens 17 new pieces of land instead of just one. So, if you install this mode you still have to reach the 13th milestone and only then will you get the benefit of buying any of the 17 unlocked pieces of land.
Also, you can buy all 25 available areas, and per default settings in the game you could only buy 9 out of 25.
You can install this mod by subscribing to it. Then, to activate it, you need to select this mode from the Mod-Menu located in Content Manager. You may need to restart the Cities: Skylines game to update the settings, but you will be able to continue the game from your city, so you won't have to build a whole new city. If you are prone to trying out mods, install it quickly into your game. You can find this mod on the official Steam Workshop page, just enter the name of the mod.
Warning: As tempting as this mode may seem, you need to know a few pieces of information before installing it. Mods are not part of the official version of the game, so you install them at your own risk. You also agree to share your data with mod creator.
Mods can easily mess up with your game in a variety of ways, so before installing the mod save your game just in case. Also, read the comment section, often players who have already installed the mode share with other players whether it is worth installing the mode at all, whether they have difficulty in gameplay and so on.
Also Read: How to Make It Daytime in Cities: Skylines?
Final Thoughts
Here we are at the end of another guide about the game Cities: Skylines. In this guide we have given you the steps on how to buy new pieces of land, on PC and also on the PS4 and Xbox One versions.
As your city progresses you need to expand it to have new city areas and new buildings, and to make your budget even richer. In order to that, just follow the steps from this article and soon you will have more land to build on it.
Also, we mentioned the mod with which you can unlock all pieces of land after you reach the 13th milestone, which is actually great. As a result, you get more choices to build and expand your city.
We wish you good luck in building the city and becoming the most successful mayor the Cities: Skylines game has ever seen!