Hello, mayors! We hope that your city looks sensational and that the citizens in it are really happy. Happy city means happy mayor, and that's you! Cities: Skylines is a game we are never bored with and which always tests our creative side in building the best and highest quality city. Speaking of which, today we will say something more about building houses in Cities: Skylines.
Since we know that the city is divided into various zones, from industrial to residential, we will say something about the residential zone. That is, we can call them suburbs. So, keep reading and learn step by step how to build houses in Cities: Skylines.
Living in suburbs definitely has many benefits. Quiet neighborhood, friendly (well, mostly friendly) people and plenty of facilities to meet the needs of its tenants. That's why the idea of suburbs in Cities: Skylines is very appealing to players who want something different from a classic busy city. So, we can start building those houses then!
Also Check Out: How to Reduce Noise Pollution in Cities: Skylines?
How To Build Suburbs In Cities: Skylines?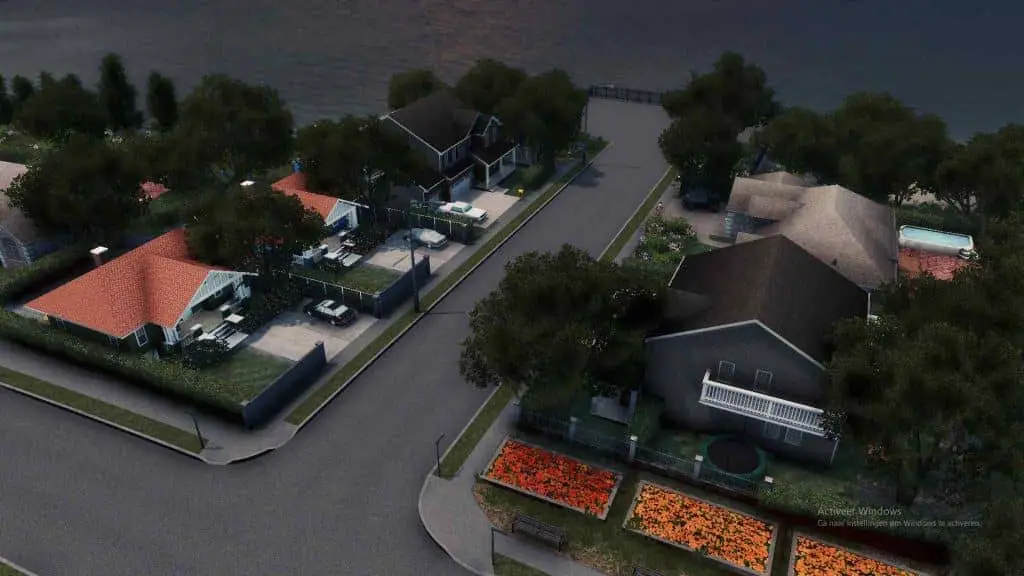 The first step is a plan – you need to know approximately where you want to build the suburb and how it will be connected to the rest of the city. After that, you need to start laying roads in places where you want your new suburb to be connected to existing roads, as well as place roads in places where you want traffic to take place in the new suburb. Also, it is up to you what type of roads you want to choose from the options offered.
Once the roads are properly laid, mark all the areas where you want to build residential houses. You can choose either low density residential zones or high density residential zones. Low density residential zones attract young families to your city, or even elders and students. Two adults will inhabit this type of settlement and start creating a family. For suburbs, low density residential zones are ideal because they require a lot of space, so it is not wise to place them in the city center. Also, fewer people will be able to populate it, so keep that in mind. Low density residential zones are marked in light green and will make it easier for you to recognize them.
On the other hand, high density residential zones are marked in dark green and are not intended for expanding, they attract mostly young people, singles, and for this type of zone you do not need to have a lot of space in the city. You can put them in the center of the city if you want. High density residential buildings can have many more people than low density residential buildings.
When houses are built, add as much greenery as you can as this raises citizens happiness and reduces noise pollution from nearby roads. Don't skimp on trees, place different trees wherever you have space. Greenery is a very important item in Cities: Skylines, as well as preserving the environment and nature.
Also, focus on public transportation. Your citizens love public transportation because it drives them from home to work, for example. Furthermore, public transportation should reduce city congestion by paying attention to lines and stops when you opt for public transportation. You can choose to build bus stations or even metro stations, whichever is more acceptable to your city. It really reduces traffic in your city, which is very important.
However, people from low density residential buildings prefer to travel by bicycle or car, which means that it will not be as crowded as in the city. And of course, be careful not to set up residential zones near the industrial zone. The industrial zone creates a lot of pollution and it greatly affects the mood and health of citizens. That is why our recommendation is that the industrial zones be away from the city center, but that you connect them with public transport so that citizens can travel quickly and smoothly from work to home. Industrial zones also mean jobs for your new citizens who will settle suburb you will build.
Once you've set up enough low and high density residential buildings, it's time for the next step.
In this step, you have to pay attention to setting up buildings such as police and fire department, educational buildings (schools and universities), hospital, etc. All these buildings significantly raise the quality of life of your citizens. Then, citizens must have a quality supply of drinking and clean water, so place water pump stations at water sources and supply their city with drinking water and sewage. Apart from water, electricity is also very important. You can choose different power supply systems and also deploy them around the city so that they can supply your new suburb with enough electricity.
Keep in mind that energy and sewage systems are very expensive, so you have to have enough money in the city budget to build them. And that's it to begin with!
Later, when your city is progressing and your city budget increases, you will reach special milestones and thus some new buildings will be unlocked that you can place in your city and thus make it even better. Take care of the environment, enough greenery in the city, solving problems with pollution, and the health of citizens as well as their satisfaction with the city in which they live. Citizens often have demands where they ask for something to be built for them, so listen carefully to their wishes.
Also Read: How to Make It Daytime in Cities: Skylines?
Final Thoughts
Now you know all about building houses in Cities: Skylines. What you need to pay attention to and what is the difference between low and high density buildings. Basically, here are all the tips to start building residential zones in your city, and suburbs are ideal areas for this type of construction.
Share with us some tips that have proven ideal for you when building houses in Cities: Skylines. We look forward to new ideas!