Wondering if you're in the right place? Of course you are, this is another article about your and our favorite city-building simulation, called Cities: Skylines. Cities: Skylines is a popular simulation game, designed for single players. Paradox Interactive launched it on the market in 2015 and since then this game has not stopped coming down from the top charts of the most popular games in its category.
If you are just planning to become a Cities: Skylines loyal player, you are at the right place. We will explain everything that every beginner needs to know when embarking on the adventure of building and running a city. Of course, we will also answer your question, and that is how many tiles can a player buy in his Cities: Skylines city?
Let's start with the introduction. As we've said before, Citites: Skylines is a city-building simulation game that hit the market in 2015. So, for 7 years now, he has been gathering new fans over and over again. In this game you play as a builder, but also as the mayor of your city.
You start from scratch, you have to build urban zones (residential, commercial and industrial), connect the city with roads, fill the city with green spaces, set up hospitals, police and fire departments and much more.
Furthermore, you have to provide citizens with energy sources, you have to manage natural resources, factory production, import and export, the tourism sector and the education of your citizens. And all this while at the same time balancing with the city budget, collecting taxes from citizens and trying to expand your city.
Indeed, being a mayor who builds a city at the same time is not easy. But hey, it will all pay off because in the end you have the opportunity to become the most beloved mayor whose citizens live a happy and fulfilled life.
Basically, these are just some of the items that will greet you when you decide to build your city. Now we will say something more about maps in Cities: Skylines.
Also Read: How to Fix Policies Not Showing in Cities: Skylines?
Maps in Cities: Skylines
Before you start building your city, you have to decide on which map you will build it. Maps are areas where your city will be located. Each map consists of tiles, and tiles you will be able to unlock as your city progresses and your budget increases.
The whole map contains 81 tiles (9×9) but you will see 25 of them (5×5). Also, 9 tiles you can unlock in the base game, but luckily, there are mods that you can unlock all 81 tiles. So your city will be very, very big if you try to build on all 81 tiles.
Also, there are areas with different natural resources on each map, so before you choose your new map, see which natural resources predominate on that map. The entire 9×9 map has a total area of 298.5984 km2, it will be the surface of your city if you decide to try to play the whole map.
These are the base game maps you can find at the beginning of the game:
Black Woods – Stockholm
Cliffside Bay
Diamond Coast – Hong Kong
Foggy Hills
Grand River
Green Plains – Washington DC
Islands – Venice
Lagoon Shore – Greece
Riverrun – Rivers in St Louis
Sandy Beach – San Francisco
Shady Strands – The Strait of Istanbul
Two Rivers
Paradox Interactive has allowed its players to create their own map, modeled on some real cities, for example. Also, each player can upload their own maps that players will be able to download from the official Steam Workshop site.
How Can I Unlock All 81 Tiles In My Cities: Skylines Game?
Also Read: How to Use Buses in Cities: Skylines?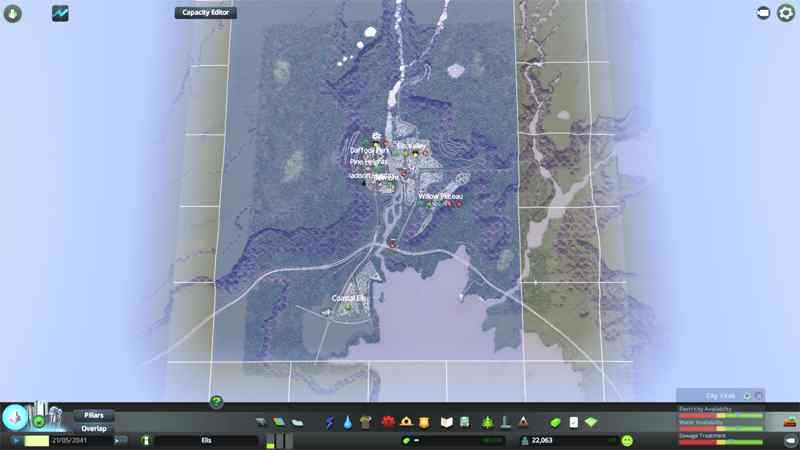 Now we will explain a little better how you can unlock all 81 tiles in your city, and try to play with the biggest city available in the Cities: Skylines game. For starters, go to the official Steam Workshop site and find a mod called 81 tiles. This mod is on its way to improve your gameplay and take it to a whole new level, so go and download it.
After downloading this mod, open your game, and in the Options window select the Content Manager tab, then Mods. In the Mods tab find 81 tiles mod and click enable. That's it, launch the game and the mod will be inside. Now, open the map and just click on the tile you want to buy and expand your city.
However, regardless of the fact that you have a mod with which you can play on all 81 tiles, it takes money to unlock all 81 tiles. You may not have enough money at the moment to buy all 81 tiles, but there is a solution for that as well.
Read carefully, this advice is very useful! In the upper right corner of your gameplay screen is the gear icon – click on it. The Pause Menu will open in which you need to select the Options tab. The Options window will list all the mods you have installed. Under the 81 tiles option there will be an option "Unlock all tiles for free", click this option. The moment you select this option your map will start unlocking, tile by tile. In a few moments your entire map will be unlocked. We told you that this advice is very useful, didn't we?
Eh, now that you've already decided to have all 81 tiles unlocked, you need to know the pros and cons of this feature.
The first and basic disandvatage is that your processor will start to run a little weaker because there is a big difference between playing with 25 tiles and 81 tiles. Likewise, with unlocking all 81 tiles you will get brand new areas for building and expanding the city. That means you'll be able to widen your roads, and maybe some tiles are ideal for beach and tourist buildings, who knows?
However, some parts of the map will not be able to build on them, no matter how you unlock them. This has to do with the fact that they are not among the buildable 25 tiles that are intended for the construction of the city. This means that these 25 tiles contain all the necessary areas for construction, and the other parts of the map are simply unusable and will not make any contribution to your city, so you will not be able to build anything on them.
Simply, those parts of the map will be foggy, cloudy and shady and you won't like building anything in those areas. Unless you have a mod installed that can turn off fog, with that mod you can turn off foggy depression above your new areas.
Warning: We need to let you know that the mods are not part of the official version of the Cities: Skylines game and that you install them at your own risk. Mods can make or break your game, so make sure you save your city before installing mod in your game.
Also, by downloading mods into your game you agree that your data be visible to the creator of the mod. Always before installing a mod check if there are reviews about the mod and how other players are satisfied with its quality.
Also Read: How to Make Cities: Skylines Look Better?
Final Thoughts
And that's it! Here ends our guide on how you can unlock all possible 81 tiles in your Cities: Skylines game. 81 tiles make a big difference compared to playable 25 tiles, so players often want to try to expand their city even more using all possible 81 tiles.
If you have read this article carefully then you know what you need to do to finally unlock all 81 tiles and start building a megalopolis. Also, you can do this the normal way, without mods, so if you have tips on how to unlock all 81 tiles as quickly as possible and share them with us and other players, we look forward to finding out!