While doing some searches on how did Kratos get to Midgard, I believe I came upon some crucial details regarding Faye's role in his presence in Scandinavia. We know Kratos arrived in Midgard about 100-150 years ago because of what Freya said the first time they open the travel room:
For more than 150 years, this temple has been dormant, submerged in water.
Because of the Vase discovered in Tyr's vault showing Kratos with his Chaos swords, we can say she isn't lying and that Kratos couldn't have been done in Greece in the last century. According to a Kotaku interview with Cory Barlog, the difference between Midgard and Olympus is the same as the distance between Greece and Scandinavia. As he puts it:
"I've always seen this planet as though it were our own. The cultural mythologies are divided by geography. These mythologies are myths that span from the beginning of time to the current day. These will be the origins and birthplaces of these civilizations. So, the Norse mythology remains in Scandinavia, and the Mayan mythology has its roots all over the globe, right? There are cultural tales of how people explain how their civilizations came to be. And I believe that each of these gods seems to have their own territories, based on my observations of the whole universe. The way nations used to have their own empires".
Also read: 5 Best Mobile Hotspots for Gaming in 2021
Kratos would only walk all the way from Athens to Midgard if he were extremely motivated. But even though this was the truth, according to Google Maps, the walk will take over a thousand hours, and considering that Kratos has no prior knowledge of Scandinavia, it's a stretch to believe he walked long enough to come across Scandinavia and Midgard. So how did Kratos end up in Midgard? Now in this part, the wolves enter the story. The latest God of War novelization describes Kratos' journey to Midgard as follows:
"He draws his blades to protect himself against a group of yelping wolves double his size: one black with verdant paws, one white, and one grey. The black wolf appeared to be the leader, taking the more aggressive stance. A beardless God of War sliced his Blades of Chaos to hold the monsters at bay, dressed in the clothing of his life in Greece. His acts, however, were ineffective in deterring their attack… The movement showed a woman hiding behind the wolves, her face hidden by a long robe and cowl. Her lifted arm propelled the three monsters into the air, ready to strike".
How did Kratos end up in Midgard?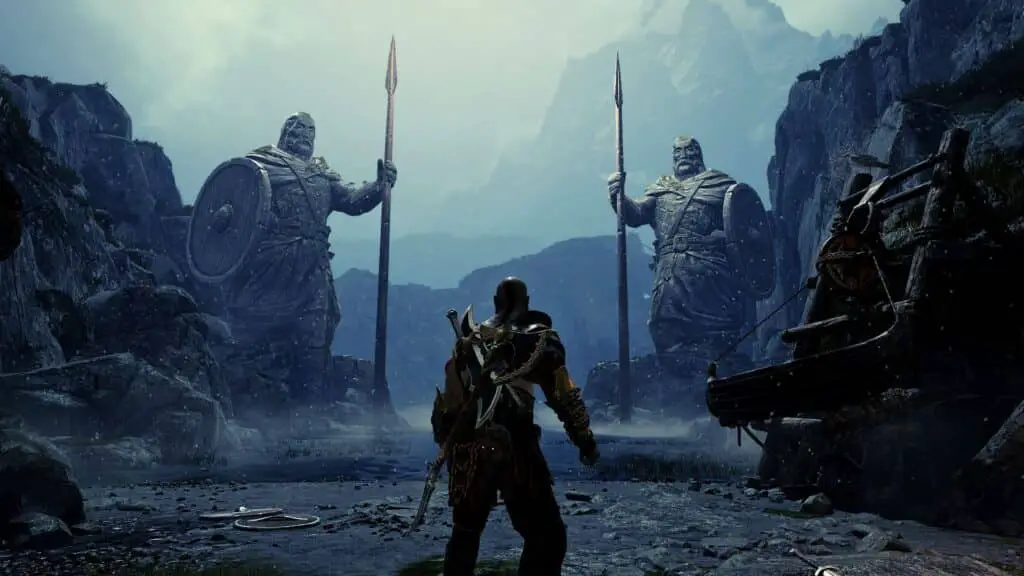 The wolves ultimately carry Kratos to Midgard, where the game's action takes place. These wolves couldn't be Fenrir, Hati, or Sköl, I reasoned at first. Hati and Sköl are Fenrir's kids, Fenrir is Loki's son, and Loki is a boy who had not yet been born. But then I recalled Mimir talking about Hati and Sköl in a video.
The content of the video justifies that Hati and Sköl are not only living but still under Odin's influence. Mimir also mentions their parent, the arche-wolf Hróvitnir, at the start of the novel. What's even more impressive is that Hróvitnir is simply another one of Fenrir's lesser-known names; simply go to Google and search for Hróvitnir. The results will all show you Fenrir! So, by the time Mimir is tied to the trees on top of the hill, all three of these wolves are intact, and that's where his alleged "gaps of knowledge" start to turn up. And we know that Odin has Mimir attached for "109 winters" since our first encounter.
That suggests the wolves were present when Kratos arrived in Midgard, and they may have been the ones who pulled him there. And if Fenrir, Hati, and Sköl are the three wolves that bear Kratos, the next question is for this quote:
"A lady stood behind the beasts, her face hidden by a long robe and cape".
The lady, I believe, is none other than Faye herself. Let's take a step back for a second. Here are a few facts about Faye that we learned. First and foremost, she was not a follower of the sir. Mimir described her as a giant lady who baffled many of the Æsir god's plans and the dwarves call her "Laufaye the just." Second, she gave her ax (one of the few arms capable of countering Mjölnir's power) to her husband, who is notorious for killing gods. Finally, we have proof that Tyr and Faye collaborated. When you glance at this mural of Tyr, you'll note that the lady by his hand is the same woman who appears in the game's final mural. And why is this significant? Tyr is the only deity other than Loki who deals with Fenrir until he is bound in Norse mythology. There are some sentences in the old Norse text Gylfaginning that go like this:
Also read: Best Fleets and Fleet Build Guide for Azure Lane
"Tyr was the only person who dared to approach him and offer him food. When the gods realised how fast he grew day after day, they were amazed".
Tyr is the only deity able to make contact with the Wolf-giant. Fenrir soon grows so big that he terrifies Odin and the other sir to the point that they have Sindri and Brok create a fetter to tie the arche-wolf. If we presume Fenrir, Hati, and Sköl are the three wolves that carry Kratos to Midgard, therefore, he had not yet been tied 100 years ago. And we understand that the only deity who deals with him from the moment he is born and the time he is bound is Tyr.
Faye, on the other hand, isn't a god. We also know she was collaborating alongside Tyr at the time to keep the gods from destroying the giants. So, I believe she took Fenrir and his children away from Asgard with Tyr's assistance in order to get Scandinavia a savior who might save the nine realms from the gods' wrath. And how better to be a hero than someone who has just shown he can defy the vengeful gods of Greece?
Hello everyone! My name is Kyle, and I've been a passionate gamer for 15 years. I enjoy playing video games such as League of Legends, Stellaris, and Cities: Skylines in my free time. I created this blog with one purpose, and that purpose is: to help you out. Whether you're stuck on a quest in Black Desert Online or you simply don't know what to build on Lucian in League of Legends, don't worry because I've got you covered.