Cities: Skylines keeps track of each and every vehicle that passes over your city's road network. Service vehicles, residents' private vehicles, and freight are among them. It's critical to keep the traffic flow on your roadways under control since a clogged road creates delays in operations reaching particular locations and increases noise pollution.
You may choose from a list of policies that influence the city and its areas. Policies have both favorable and unfavorable consequences. A smoking ban, for instance, will make residents healthier, but it may also make them dissatisfied. Players may define policies for the whole city or for certain districts within the city to differentiate how they appear, play, and feel.
Also read: Taxis in Cities: Skylines – A Complete Guide
Cities Skylines features two built-in policies that you may use to attempt to keep the chaos under control. You may employ the Old Town policy to entirely prohibit trucks from entering residential neighborhoods, and you can stop heavy traffic from accessing "smaller" routes.
The latter applies to two- and four-lane highways, implying that trucks may still rumble past your area. This results in congested intersections and roundabouts since drivers will always take the shortest route to their destination rather than the fastest. Trucks won't be allowed to travel where there are green plots, but supply vans will be allowed to get to your business.
In simpler words, a heavy traffic ban is a policy in Cities: Skylines that is unlocked in a busy town. The effect of a heavy traffic ban is that the cargo trucks will be restrained from traveling through a specific district. However, this policy does not have any effect on highway traffic, and hence it remains unchanged.
Players can place a heavy traffic ban on a whole city, but it won't affect traffic. However, everything comes with a drawback, and so does this policy. A heavy traffic ban policy can possibly block deliveries, so keep that in mind before placing it on a city. 
By merely glancing at the flow of cars on the roadways, routes with high and/or heavy traffic may be seen visually. Long lines of cars will be noticeable. Observing the flow of vehicles at a crossroads or junction might reveal the reason and answer to a particular traffic flow issue.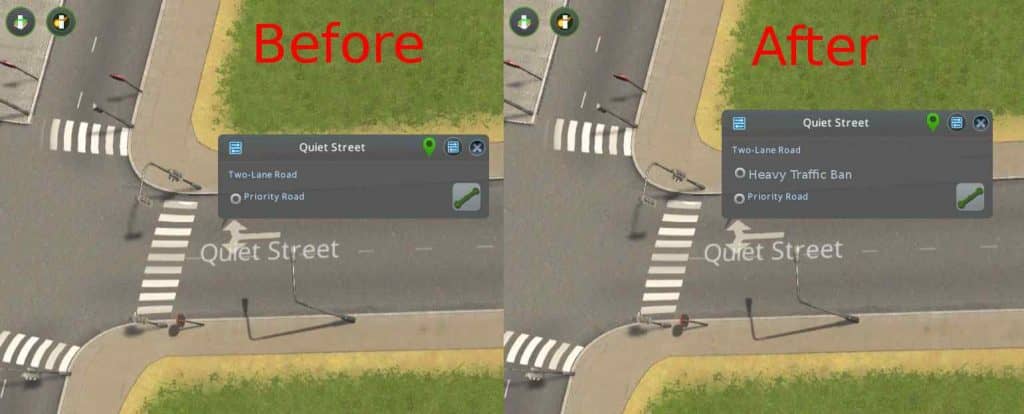 Cities: Skylines also has a traffic info screen, which can be accessed through the info view menu's Traffic button. When you click it, a gradient of red or green appears on the roadways, based on the quantity of traffic in the region. Heavy traffic (red regions) aren't always an issue in case of traffic flow; a properly designed road system should be able to handle its crowded areas.
A "Traffic Flow" score for the entire region is also provided in percentage. The higher the number, the better the flow. The Traffic Routes button opens a second information view. When this option is chosen in the "Route" tab, selecting a road or route will display all the traffic that is presently planned to pass by that location.
Switching traffic signals and stoplights is possible using the "Junctions" option. The fourth option, "Adjust Roads," enables you to change the road's title, among other things. The route will be highlighted by a line with dots on each end that may be dragged to modify it.
Also read: What is the Most Efficient City Layout in Cities: Skylines?
Heavy Traffic Ban Policy vs Old Town Policy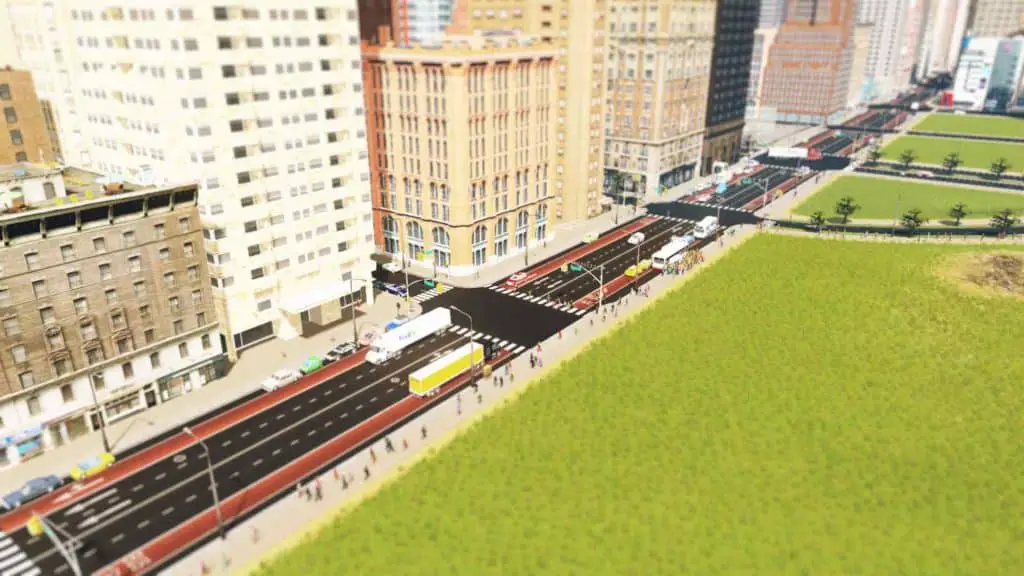 As mentioned earlier, there are two built-in policies in Cities Skylines with the help of which players can control the traffic. These include the heavy traffic ban policy and the old town policy.
Heavy Traffic Ban
The heavy traffic ban policy restricts big commercial trucks from entering an area or road. However, this does not apply to smaller vans that are headed to commercial stores.
Also, it apparently doesn't apply to forestry or farming trucks. You might find log tractors and trucks passing through your banned area despite the ban. Lastly, service, residential, and store vehicles will remain unaffected despite the heavy ban policy.
Old Town
The old down policy is quite similar to the heavy ban policy, but it is at the same time quite different. This policy only lets the residents or workers of a specific district enter or leave the district. Thus the policy restricts big commercial trucks from entering the banned district. However, just like the heavy traffic ban, this policy doesn't apply to delivery vans heading towards commercial stores.