Elden Ring offers its players countless build and combat possibilities as they progress in the game, experimenting with new weapons, magic, and armor. Magic is one of the most exciting aspects of Elden Ring, the spellcasting being at its most enjoyable compared to previous FromSoftware games.
Therefore, it is obvious why the inability to use a cool-looking spell would bum you out. Here is why you can't use the Bloodflame Blade in Elden Ring.
To keep it short and simple, the reason you cannot use the Bloodflame Blade is not a bug. Most likely, your inability to use the Bloodflame Blade is due to one of the following reasons:
Your weapon already has an affinity
You do not have enough Faith to cast the Incantation
You do not have the right catalyst equipped to cast Bloodflame Blade
You do not have enough FP to cast the spell
Curious to learn more? Keep reading to identify which of the aforementioned issues could be preventing you from using the Bloodflame Blade in Elden Ring. We will go over each of these common issues individually so you can be on your way to scorching enemies who dare stand in your way. Without further ado, let us answer the question: Why can't you use Bloodflame Blade in Elden Ring?
Also Read: What To Do With Extra Golden Seeds in Elden Ring
Bloodflame Blade: Why Can't You Use It?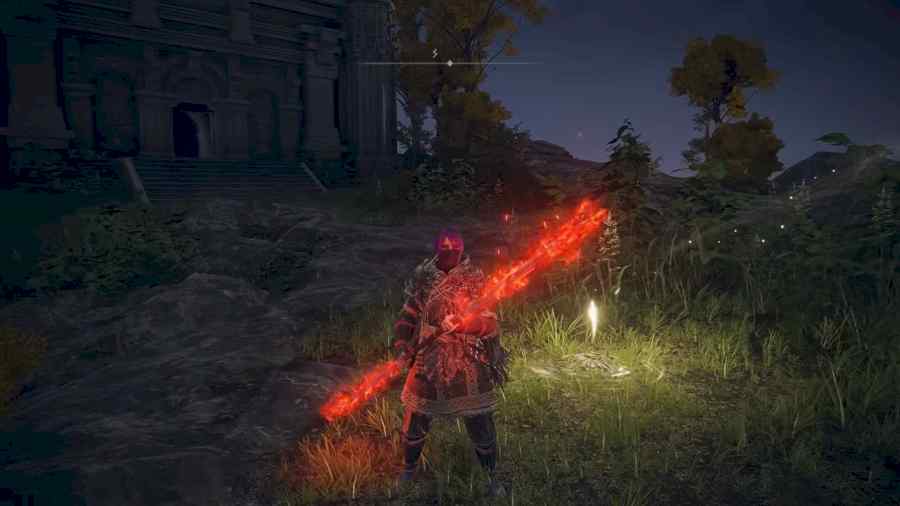 Credit: Fresherslive
The Bloodflame Blade being unusable can have a multitude of reasons and it can be quite frustrating to figure out, especially when all you want to do is kick back and have fun in the Lands Between. Luckily, since this is a common problem, the Internet has gone ahead and provided solutions so players can get back to enjoying their game.
Bloodflame Blade
Spell Type: Blood Incantations
Required: 10 ARC, 12 FAI
FP Cost: 20
Effect: Enchants right-hand armament with bloodflame.
Description: A Blood Oath incantation, granted by the Lord of Blood.
Engulfs armament held in the right hand with bloodflame.
This incantation can be cast while in motion.
After dealing damage, bloodflame continues to build up onset of blood loss for a very short time.
The Bloodflame Blade is a Blood Incantation that can be found in Liurnia of the Lakes. It is dropped by a Teardrop Scarab in the marshes northwest of the Rose Church, southwest of the lake. This Incantation buffs a weapon with Fire damage and applies the Blood Loss effect to the weapon.
It is an extremely handy Incantation and the Fire damage scales with Faith. There are a few reasons that you might be unable to use the Bloodflame Blade. They are discussed below:
Weapon Affinity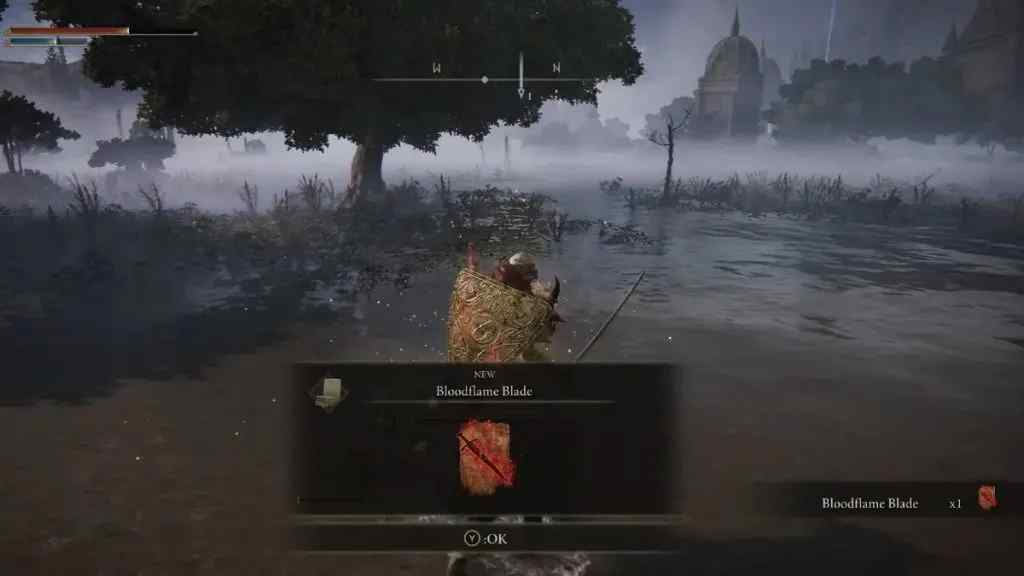 It is to be noted that you cannot use the Bloodflame Blade on a weapon that already has an affinity. This can be due to elemental infusion or that weapon could have an innate affinity of a certain kind. For example, the Uchigatana and the Moonveil are both Katanas but the Moonveil has a Magic affinity.
Therefore, you can use the Bloodflame Blade on the Uchigatana but not on the Moonveil. If you are unable to use the Bloodflame Blade, check your weapon to see if it has an affinity that might be stopping the Incantation from working. 
Also Read: How To Invade Your Friends in Elden Ring?
Faith
Incantations require Faith to cast in Elden Ring. Faith is one of the main attributes or stats your character starts out with. Faith can be leveled up by investing Runes into it. Having ample Faith allows you to use Incantations and weapons effectively that you were previously unable to use.
If you are unable to use the Bloodflame Blade, you should head over to your character profile and check if you have the required amount of Faith to cast the Incantation. Bloodflame Blade requires 12 Faith to use, and Fire damage scales with each additional level.
Catalyst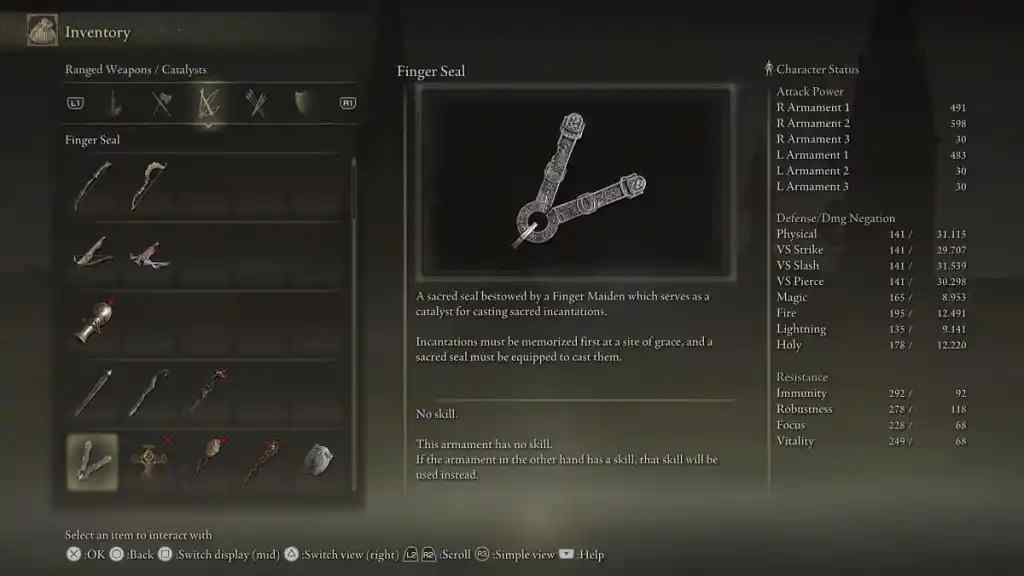 This might seem obvious but to err is human. Catalysts are weapons and objects which allow you to cast different types of Magic. You cannot use any Sorcery or Incantatrion if you do not have the proper catalyst for it.
Faith spells or Incantations require a Sacred Seal to be cast. If you do not possess a Sacred Seal or do not have one equipped in your off-hand, you will not be able to cast Bloodflame Blade. Check to see if this fixes the issue.
If you do not have a Sacred Seal in your possession, the easiest one to obtain is the Finger Seal which can be purchased from the Twin Maiden Husks at the Table of Lost Grace.
Also Read: Why Did Marika Shatter The Elden Ring?
FP
Ending off our list with the most basic of these solutions, we have FP. FP is Focus Points which are required to cast Magic or even perform special skills in Elden Ring. If you were previously able to cast Bloodflame Blade, this could be the reason.
Check to see if you have enough FP to cast Bloodflame Blade. If that is not the case, try taking a swig of your Flask of Cerulean Tears. We recommend investing in Runes for increasing your max FP. The Bloodflame Blade Incantation costs 20 FP to use.
Conclusion
That concludes our guide where we answered a hot question: Why can't you use Bloodflame Blade in Elden Ring? The seemingly frustrating issue can be resolved easily by following the aforementioned steps.
Do not forget to leave a comment below if this helped fix your problem. Have fun testing out your new Incantation on unsuspecting foes. Good luck, Tarnished!