Love is great, but so is ripping off an enemy's head in Doom Eternal! Why not combine the high of being in love with the thrill of finishing a mission successfully? If your partner has decided to explore your interests and wants to get into gaming, there are a ton of great games that you can play together.
While it can be daunting exploring the uncharted waters of gaming, especially with the ungodly number of games out there, it is really all about finding what works for your tastes and what will entice you enough to play more games. Look no further if you are searching for awesome video games to play with your girlfriend. This list is for you!
While there are a ton of games that you can enjoy with your partner and have a blast playing, here is a diverse lineup to help you get started. See what works best according to your tastes:
Among Us
Fall Guys
Overcooked 2
A Way Out
Stardew Valley
Minecraft
Lovers in A Dangerous Spacetime
It Takes Two
Overwatch 2
Cuphead
Rocket League
Don't Starve Together
Haven
Bloodborne
Diablo III
Keep Talking and Nobody Explodes
Monster Hunter: World
Resident Evil 5
Spiritfarer
Animal Crossing: New Horizons
Portal 2
We Were Here
Unravel Two
Super Mario Odyssey
Naruto: Ultimate Ninja Storm 4
We know at least some of the titles on this list caught your eye. If you want to learn more about these games and which one is best for your next stay-in date night, then we suggest you keep reading.
We will be discussing all you need to know so you can be on your merry way and fire up a game to play with your girlfriend. Without further ado, let us get right to it!
Also Read: The Best Place to Sell Crops in Stardew Valley
Video Games That Your Girlfriend Will Love To Play With You
Consider it a blessing if your girlfriend has decided to take an interest in your hobbies because it is these little things that keep the spark going for longer in relationships.
Here, you will find a nice variety of video games for you to play with your girlfriend. Is this her first video game? Does she like horror? Or is she more of the action-heavy adrenaline rush kinda gal? Whatever the case, we have you covered, soldier!
Among Us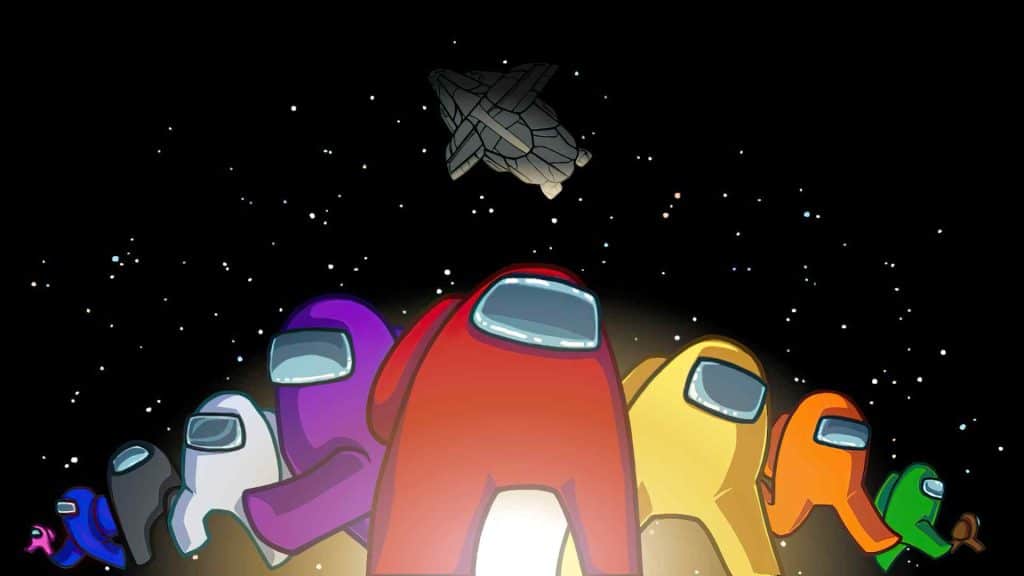 Unless you have been living under quite a big rock, you must have heard of Among Us. The game's popularity skyrocketed back in 2021 when everyone was stuck at home due to the pandemic. This classic whodunnit multiplayer game is a great way to play together with your girlfriend.
Among Us incorporates casual elements of multiplayer into a playful setting aboard a spaceship where crewmates need to finish their tasks while avoiding the killer on board.
Every time a body is spotted, the team takes a vote in an attempt to get rid of the imposter. On the other hand, the imposter has to use deception and clever strategies to avoid being caught.
Partners are bound to enjoy this game, possibly showing up in public lobbies in matching costumes for maximum cuteness! Why be so protective of this cutesy and cartoonish murder-mystery game when you can share it with your friends and make it a double date?
Fall Guys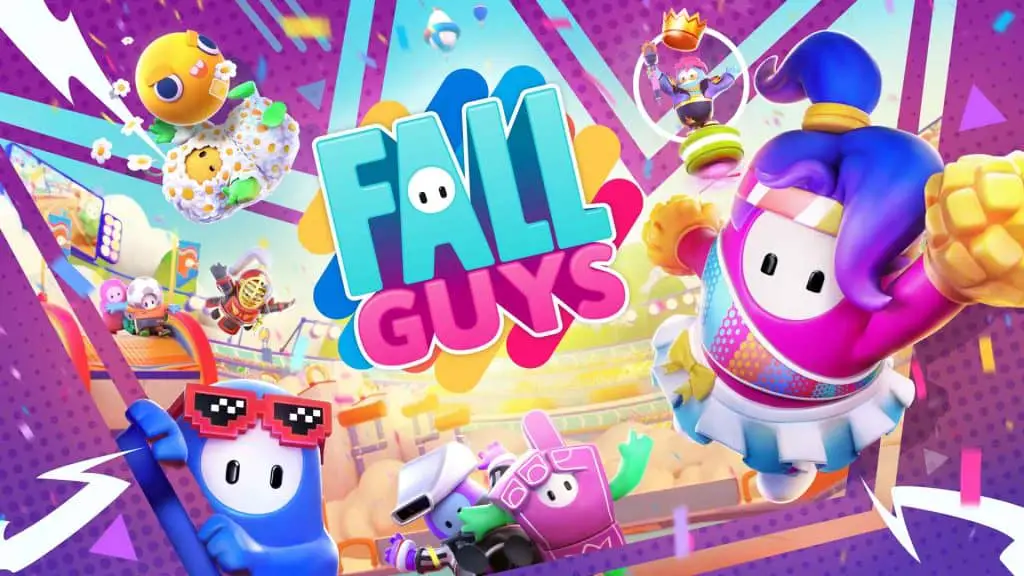 Around the same time that Among Us stole our hearts, Fall Guys proved to be a worthy, higher-definition competitor with its hilarious setting, a lovable online community, and adorable character models that make us all fuzzy inside every time we look at them.
Fall Guys is a wacky and insanely cute obstacle course-type battle royale game. With every new thematic seasonal update, there are new game modes added to enhance the fun. If your girlfriend loves cute things and wobbly characters doing funny things, this is the game you want to play with her.
While there is no option for a local private room, Fall Guys is just as fun in a large lobby of humorous characters, trying to emerge on top. Create a party, invite your girlfriend, and pray you do not get Hex-a-gone because it is a pain in the butt!
Overcooked 2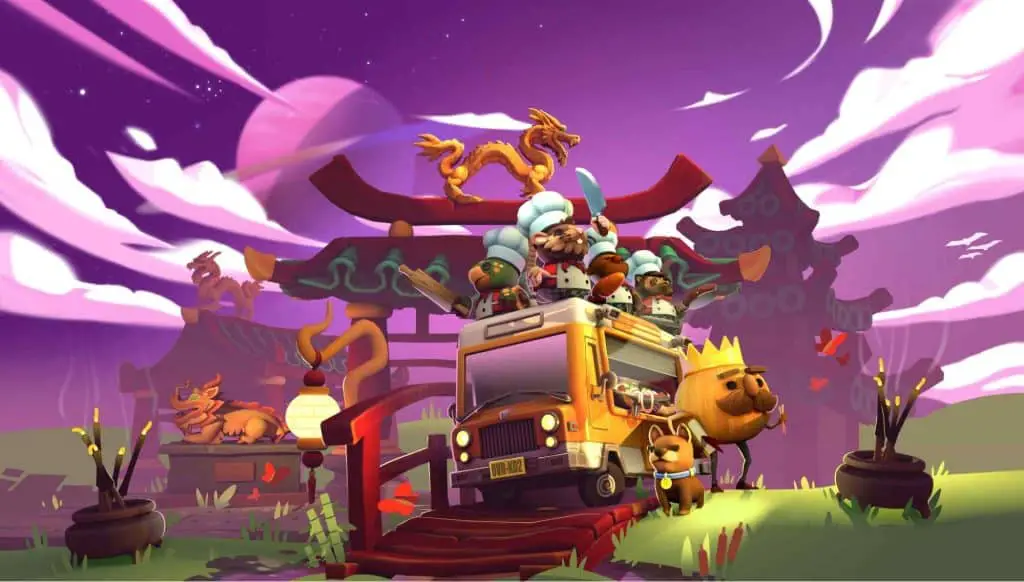 This game has PewDiePie's stamp of approval when it comes to some of the best games for couples. He frequents it with his now-wife, Marzia. Overcooked 2 is an experience that merges the charm of old-school kitchen management and cooking games with the wonders of modern-day multiplayer modes.
The sequel to Overcooked follows a similar story to the first game. The Onion King has read from the fabled Necro-nomnom-icon and has unleashed new troubles for players called the Unbread Army.
Play through many fun kitchens as you chop, fry, and cook your way to victory in an attempt to stop the Unbread from taking over.
The multiplayer mode is perfect for couples to kick back and relax. The option for both local and online co-op modes exists. While the story itself should only take you around 7 hours, Overcooked 2 is infinitely replayable with your girlfriend.
This perfect blend of humor and coziness will keep you occupied for countless hours to come.
A Way Out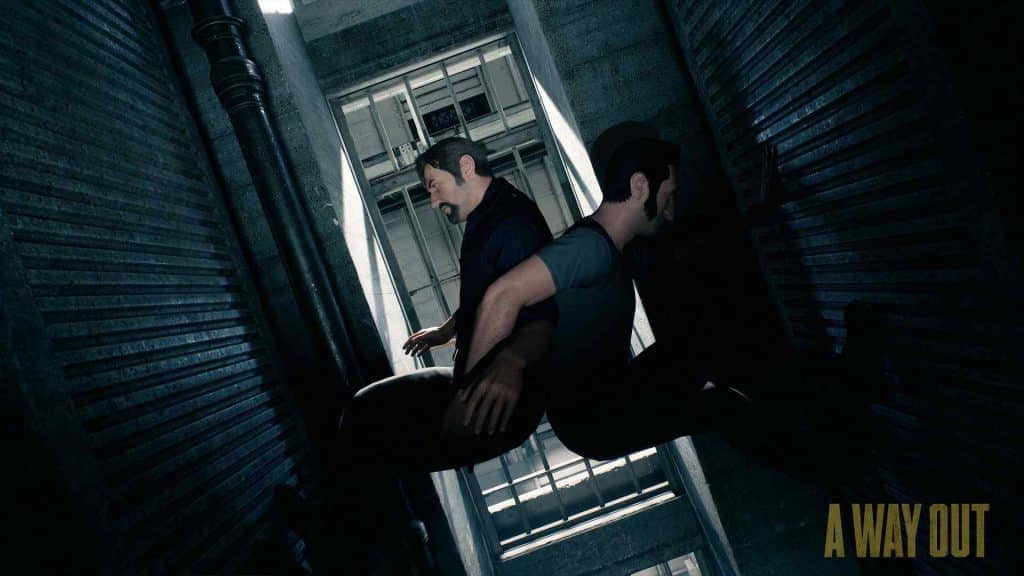 Hey look, Escape from Alcatraz just became playable! A Way Out is the perfect video game to enjoy with your girlfriend if she is a fan of suspense and prison break/heist movies. This game is only playable with two players, either online or split-screen couch co-op.
The story is a typical prison break one following our main characters, Leo and Vincent. One has spent around half a year in prison and the other has just arrived. They plan to break out and must overcome a lot of hurdles if they want to come out on the other side as free men.
A Way Out is an exceptionally fun multiplayer game because the essence of the game is sharing the experience with another person. Create some memories and watch Leo and Vincent live through their own thrilling and memorable moments.
It is a relatively short game that you and your girlfriend can binge on a single game night.
Stardew Valley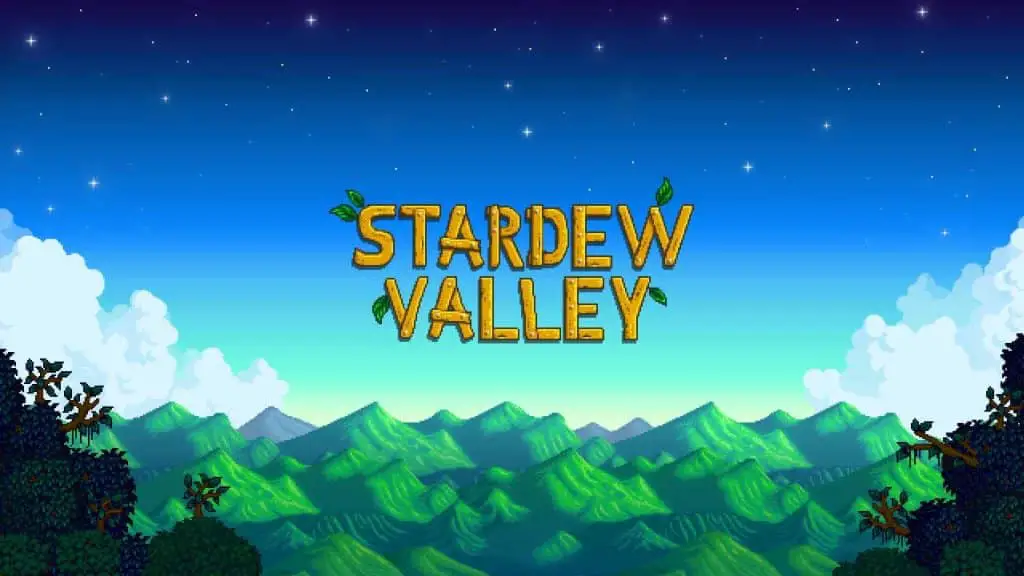 We already know you will have a blast playing this with your girlfriend, because who doesn't? Stardew Valley is a simulation farming game where players need to attend to every facet of life on a farm to survive.
The story follows our protagonist (ourselves) who inherits his deceased grandfather's farm plot in Stardew Valley. The farm is dilapidated and people have stopped valuing the ways of old-school life ever since Joja Corporation came into play.
It is up to you to restore Stardew Valley to its greatness with just your modest tools and finances. Opportunities await around every corner!
Stardew Valley now has a multiplayer mode on PC and consoles where the host is the world's creator and all other parties are farmhands. This is one of the best long-term investments that you can start with your game. It is perfect for the cozy winter and fall evenings when you want to stay home and enjoy something relaxing.
Minecraft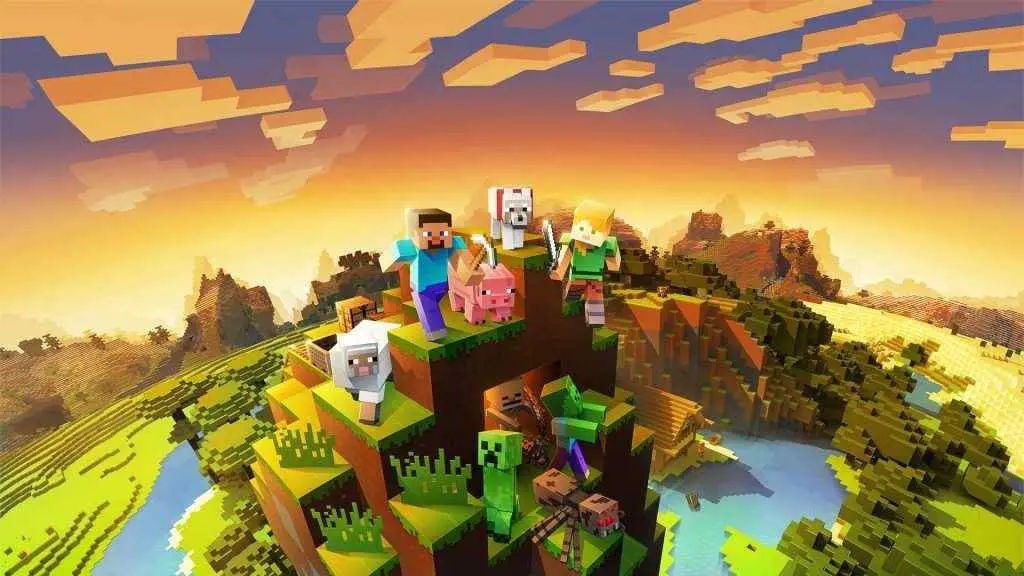 Even if your girlfriend has never had any exposure to gaming, she may have heard of Minecraft simply due to its astronomical influence in the gaming medium. Minecraft unraveled new highs for the wonders of sandbox gaming and it serves as both a survival-adventure game as well as a creative escapade to let out the genius within.
It is entirely your choice whether you decide to play the story and survival mode of the game or create your wonderful creative world with an abundance of material to create wondrous things. This is a great game to play with your girlfriend because of the relaxing nature of the game paired with the fuzzy feeling of having a smaller world, just for the two of you.
Take on wild beasts and travel through portals together, or create your own small city and raise sheep on a farm. It does not get much better than this for couples seeking a casual gaming experience that they can jump into whenever. Give it a go. It will be worth it.
PS. Surprise your girlfriend by leaving her cute messages in your private world 🙂
Also Read: How to Assign A Villager A Job in Minecraft
Lovers In A Dangerous Spacetime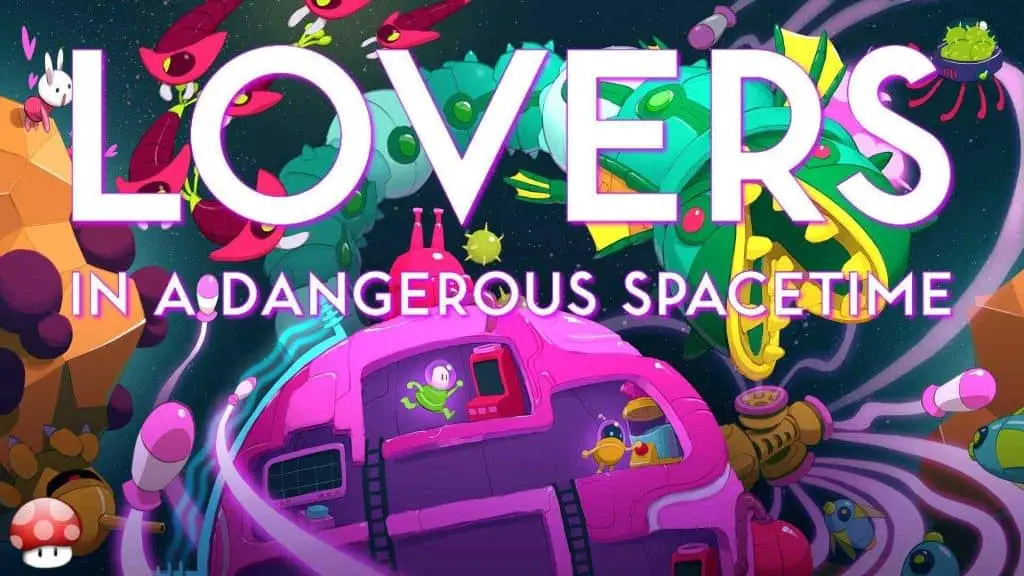 What happens if you take the absurdity and cuteness of Fall Guys and blend it with a frantic mess of neon lights and guns in outer space? Well, that is essentially what Lovers in A Dangerous Spacetime is. It is fun for all ages and a cooperative experience to remember!
Lovers in A Dangerous Spacetime lets you explore a vibrant and action-packed space setting with 1 to 3 other people. It is a simple game with deeper challenges as you progress. If you were searching for a funky and vibrant shooter with co-op at the heart of it, then look no further.
There is much to do together in the game, like manning turrets and lasers, avoiding the vacuum, and even rescuing cute space bunnies. Share the experience with your girlfriends, and there will surely be some great laughs and a general feeling of warmth and sweetness in the air.
It Takes Two
If we only had one game to recommend from this entire list, it would be It Take Two, simply because it is co-op perfection for couples due to the story, the multiplayer, and the mood that the game sets.
It Takes Two follows a clashing couple – Cody and May – that has been turned into dolls by a magic spell. The game follows their heartwarming story as they navigate through a wild ride full of angry vacuum cleaners, buzzing nightclubs, and even angry squirrels! There is unpredictability around every corner, making it a joyride through and through.
It Takes Two is a phenomenal expression of the hardships that every fractured relationship has to deal with and overcome to emerge a happier, better version of itself.
The humorous and endearing hardships encountered in the game serve as a reminder that the characters are better together; they make something beautiful. These things make it the ideal game for couples to experience together.
Overwatch 2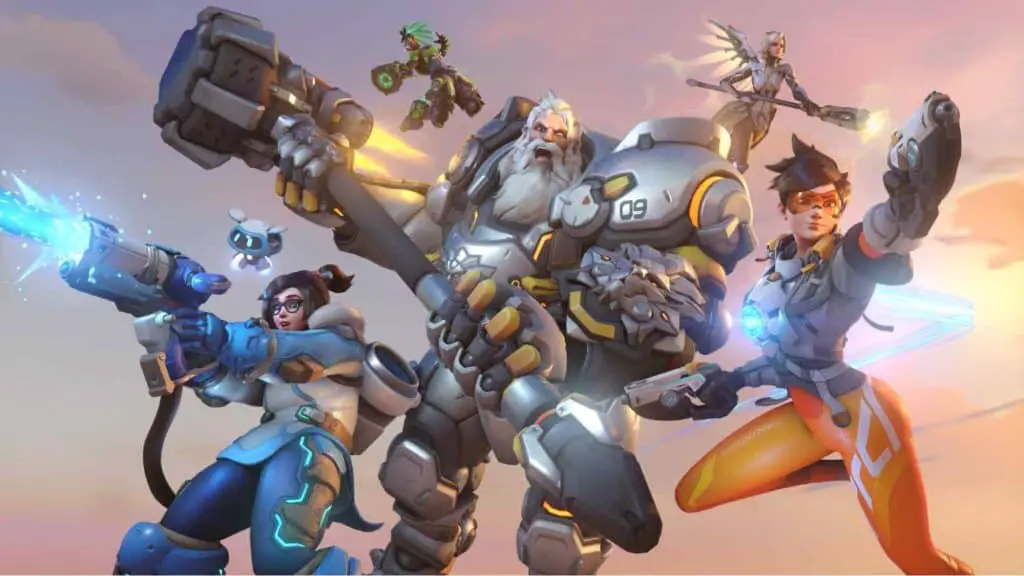 Successor to arguably one of the most popular shooter games to hit the market, Overwatch 2 has a lot more craziness and action in store for you. Blizzard did not fail to hit the mark with their new and bangin' sequel to Overwatch.
The heroes from the first game come together once more to deliver a truly awesome game to enjoy with other people around the world in matches full of superpowers, guns, and much more! While Overwatch 2 might not be the best fit for new players to jump into, this is a great option if your partner already plays shooter games.
Overwatch 2 is set to be much more PvE-focused with its story mode launching sometime in 2023 where the heroes will have to go up against another Omnic uprising. Online multiplayer in Overwatch 2 is extremely fun, and the new characters are wonderful to play with.
Cuphead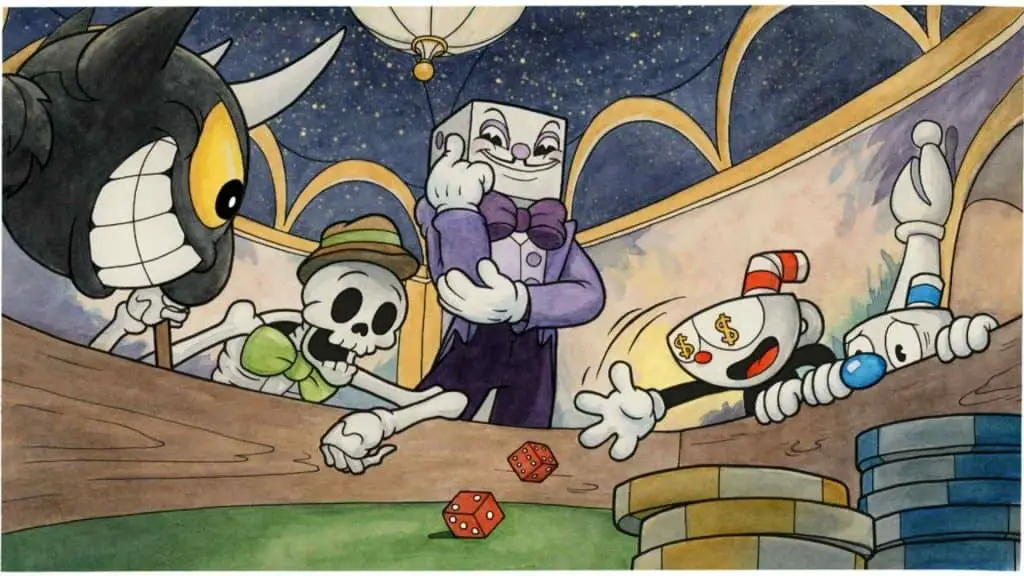 We cannot stress how much we absolutely adore Cuphead. The game is nigh-perfection for fans of old-timey cartoons and the gentle caress of nostalgia. Cuphead is a game that reminds you of comfort and light-hearted fun. It's basically hot cocoa for the child within you!
Take on the role of Cuphead or Mugman as they explore the beautifully-drawn lands as you try to undo a bad deal with the Devil. There is charm galore, and each enemy is a treat with a distinct art style, new combat approach, and beautiful presentation. It is a classic run-and-gun adventure that you do not want to miss out on.
With an excellent selection of shooters and special moves, there is always something new to do in Cuphead. The bosses are undoubtedly the highlight of the game, and even the frustrating ones are delightful to take on.
There is couch co-op available, so make sure to have a blast when you rouse up the theatre when fighting Sally Stageplay or when you're doing one of the run-and-gun levels!
Rocket League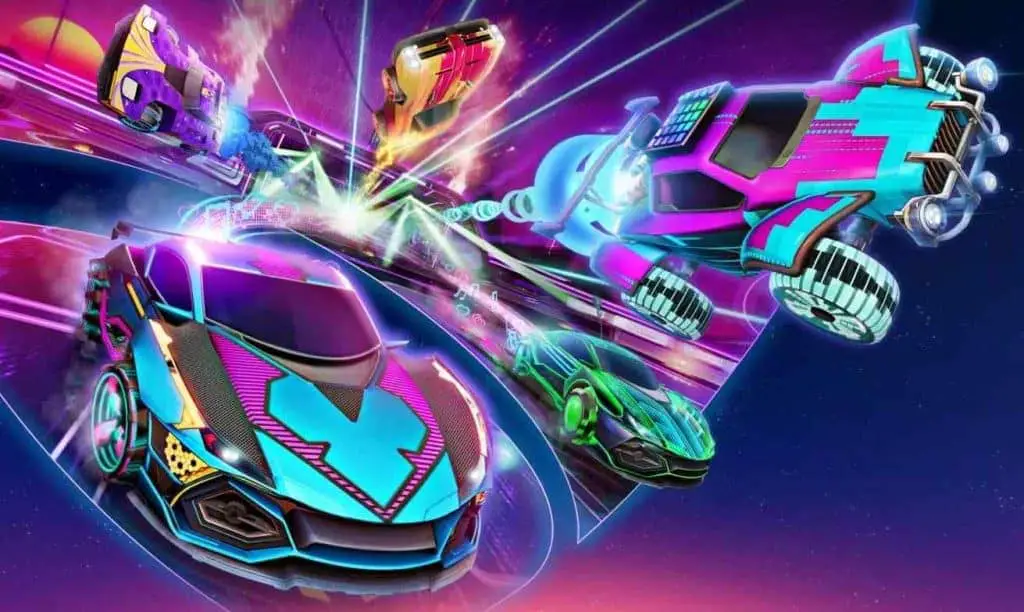 Football and cars. That's two things we bet your girlfriend never thought she would enjoy together in a hearty video game. Rocket League is the go-to game for couples who wish to mix casual and competitive gaming in a wacky setting with high-speed cars bumping into a gigantic ball hoping to score a goal.
There are several modes to play in Rocket League, and the option to play solo exists to improve your skills for the upcoming game/date night. There is much fun to be had when you both fire up Rocket League and jump into a local co-op session trying to see who can score the most goals.
The best part? Rocket League is totally free! At the fair price of zero, you and your girlfriend can say goodbye to boring takeout and board game nights and say hello to hi-octane adrenaline rushes as you play in lobbies together, having a blast.
Don't Starve Together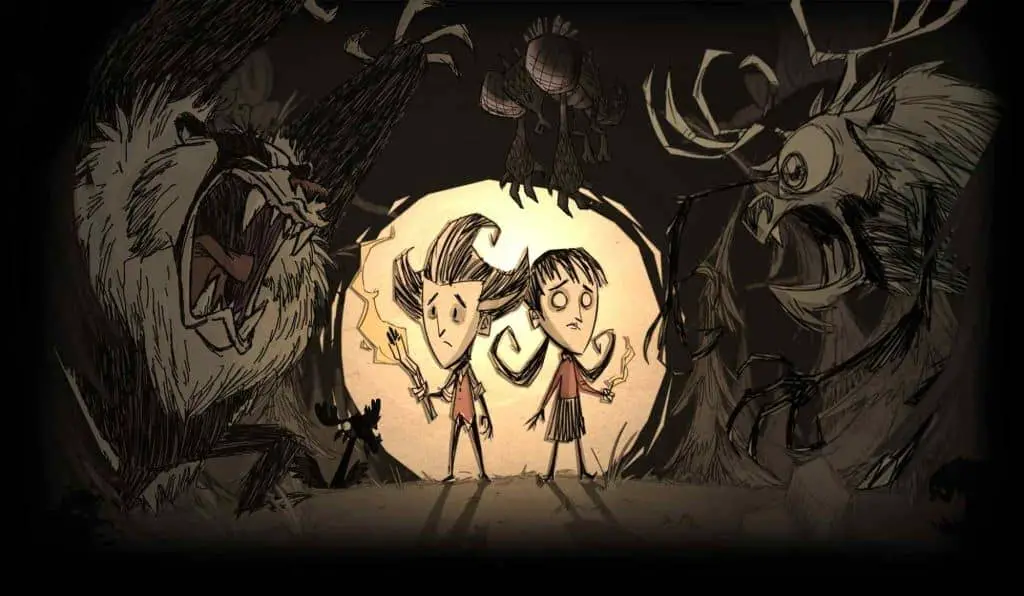 The spectacular sequel to Don't Starve, Don't Starve Together was made to provide players with the multiplayer experience of this action-adventure, survival horror game. Explore the terrifying wilderness, and well, try not to starve.
There are three game modes to play, which are: Survival, Endless, and Wilderness Mode. Each mode has a varying start, and different amounts of cooperation are needed for separate modes. Set up a base, look out for enemies, collect resources, and try not to lose your sanity!
Don't Starve Together is a fun experience that brings with it all the goodness of the first game and gives you a chance to play through it with your significant other. This virtual getaway full of crafting, survival, and the great wilderness could be just what you need!
Haven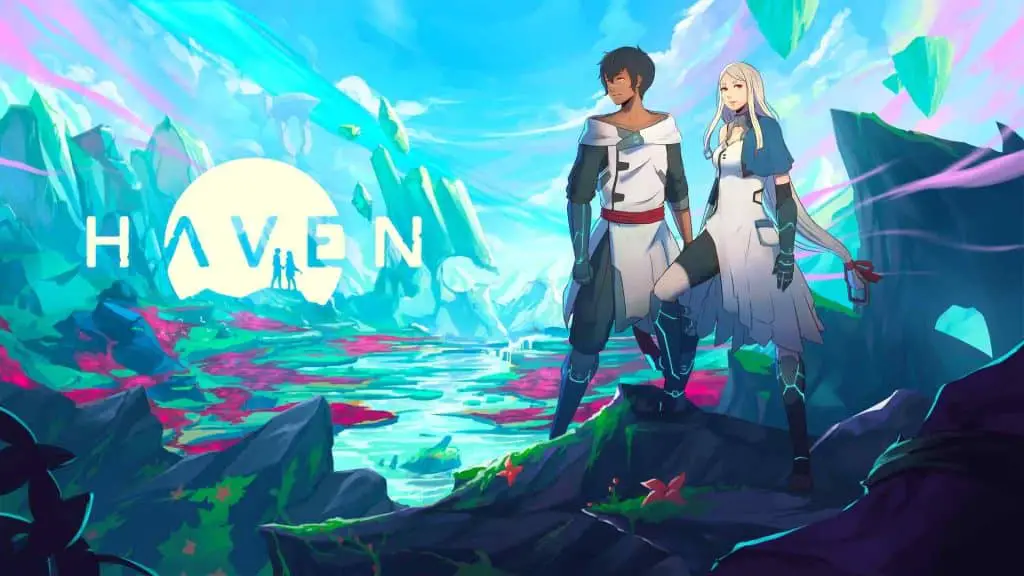 The game that screams romance and warmth is up for grabs at an extremely fair price. Haven is a sensational experience that will make you warm and fuzzy as you play your way to the endgame.
The game follows two lovers, Yu and Kay, who escape to a desolate planet known only as Source. It is here that they must fend for themselves while gathering resources and materials for their spaceship. In the meantime, they enjoy doing what couples do and engaging in the mundane tasks of relationships in the best ways possible.
Haven is a super fun game that is ideal for a couple co-op. Yu and Kay are a dynamic duo and will leave you longing for more once you finish the game. Make sure to have a blast!
Bloodborne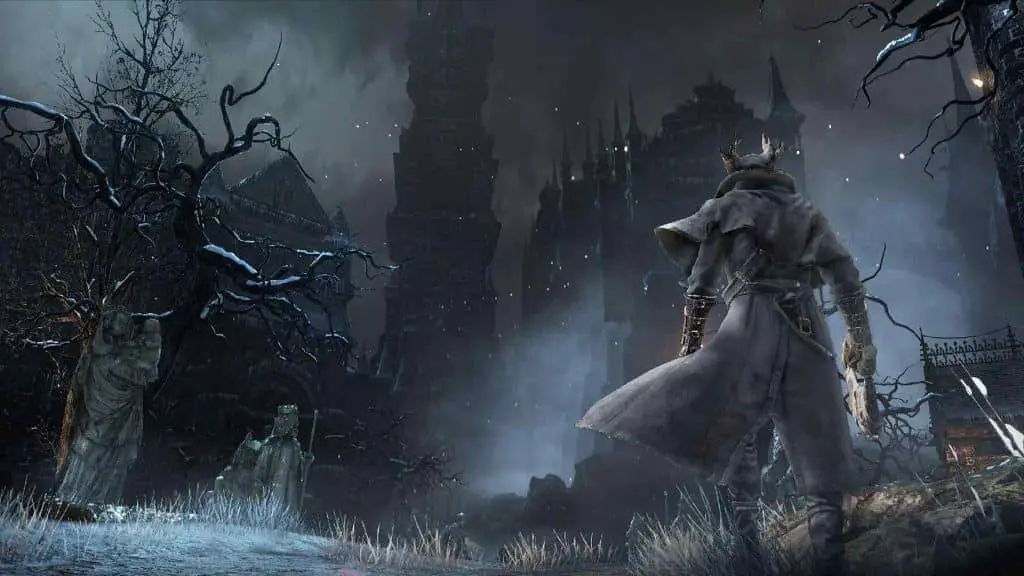 We are certain some people will scoff at the mention of Bloodborne in a list of games for couples to play, but trust us when we say that Bloodborne checks all the boxes brilliantly. FromSoftware's infamous PS4 exclusive can be played multiplayer from the game's early hours.
If your girlfriend loves horror and enjoys something fast-paced and challenging, then Bloodborne is the perfect game to play with her! Not only is Bloodborne a great introduction to the legendary SoulsBorne games (and associated FromSoftware titles), but it has a wonderfully eerie setting and nightmarish beasts to play around every corner.
Bloodborne has a lot to offer. There is an immaculate gothic victorian setting paired with a hauntingly mesmerizing soundtrack which is bound to set the mood for fans of horror games. Taste the horror in the Forbidden Woods and smell the misery as you explore Yahar'gul, and the Unseen Village, together, all in stunning gothic fashion. It's fun, we promise!
Diablo III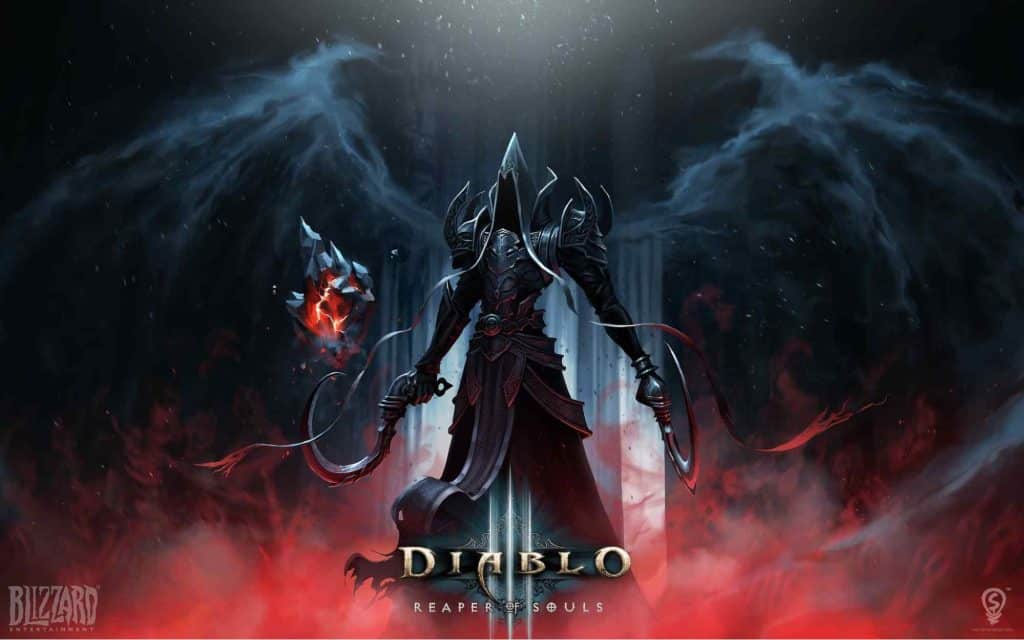 There is no escape from chaos. There is only the sweet release of death.
Diablo III is the spectacular sequel and latest entry to the Diablo series, with Diablo IV just around the corner as well.
An epic tale of demons and magic, and insanely fun gameplay! It is set twenty years after the events of Diablo II. You can choose to play as one of seven character classes – Barbarian, Crusader, Demon Hunter, Monk, Necromancer, Witch Doctor, or Wizard – and are tasked with defeating the Lord of Terror, Diablo, as in the previous Diablo games.
Diablo III has been around for a while, and is one of the most famous multiplayer games that gets constantly talked about even after all this time. Give it a try with your girlfriend and look forward to hours upon hours of fun, battling, and demons!
Keep Talking And Nobody Explodes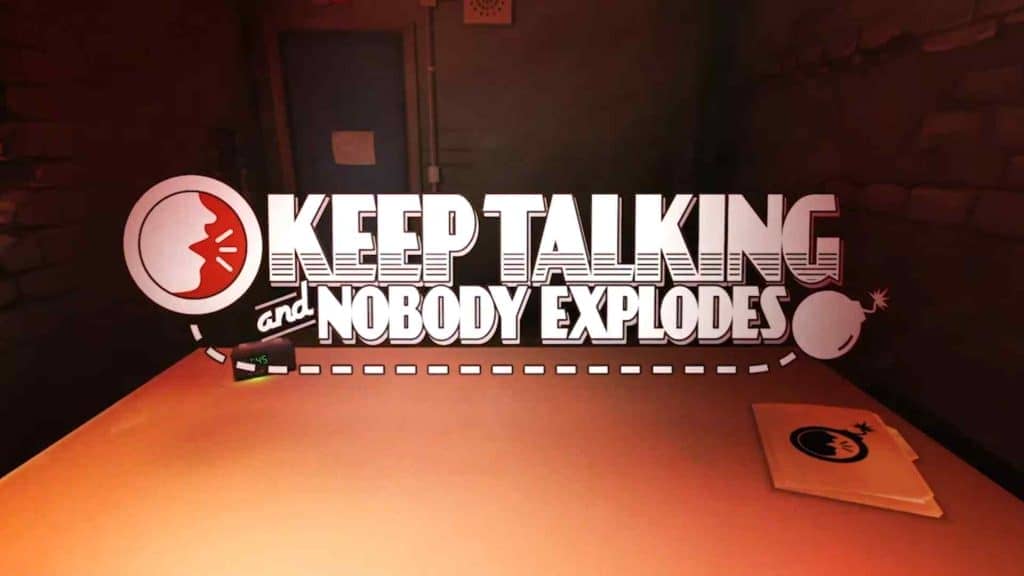 This is one of the more unique games on our list. Keep Talking and Nobody Explodes is a semi- multiplayer video game that people of all ages can have fun with. The best part? The game is a lot of fun and varies when playing with different people.
The objective of the game is to defuse a bomb. Simple enough, right? Okay, so you do not actually know how to defuse a bomb. But your partner does! One person reads the instructions for a variety of bomb defusals and the other tries to perform them without causing any unnecessary explosions.
One person plays the game on their device of choice while the other reads off the instructions through the application or hard-copy, which is available for orders. This is the perfect way to spice up your game nights. Sorry, Monopoly. There is a new favorite game in town!
Monster Hunter: World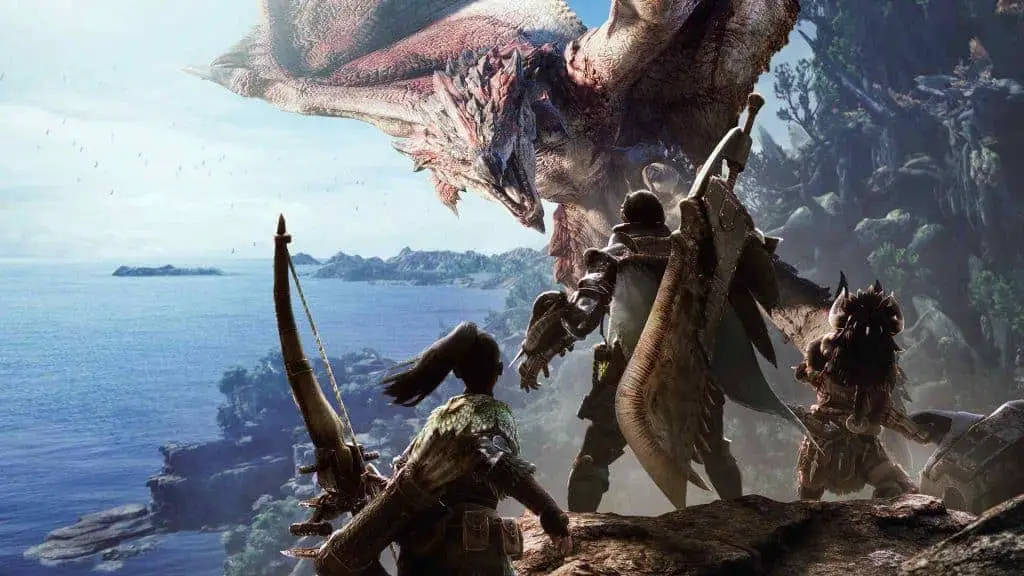 This game is perfect for fans of adventure. Monster Hunter: World is one of the most popular entries in the titular series of beast-slaying games. The multiplayer is wicked fun and can make for some fun long-distance game nights with your significant other.
This may shock many of you, but the objective of Monster Hunter is to hunt monsters! The simple concept of the game paired with the complex intricacies like gear upgradation and weapon play styles make it the perfect long-term investment to enjoy with your girlfriend.
The game easily has hundreds of hours of content in store for you and your partner as you take the New World head-on with your loyal Palico at your side. Hunt monsters, get better gear, and hunt bigger monsters. The flow of the game is simple, and the mission-based structure of the game allows for short game sessions. Explore the uncharted wilderness, stalk your prey, and make the New World safer for you and your fellow hunters. Good luck!
Resident Evil 5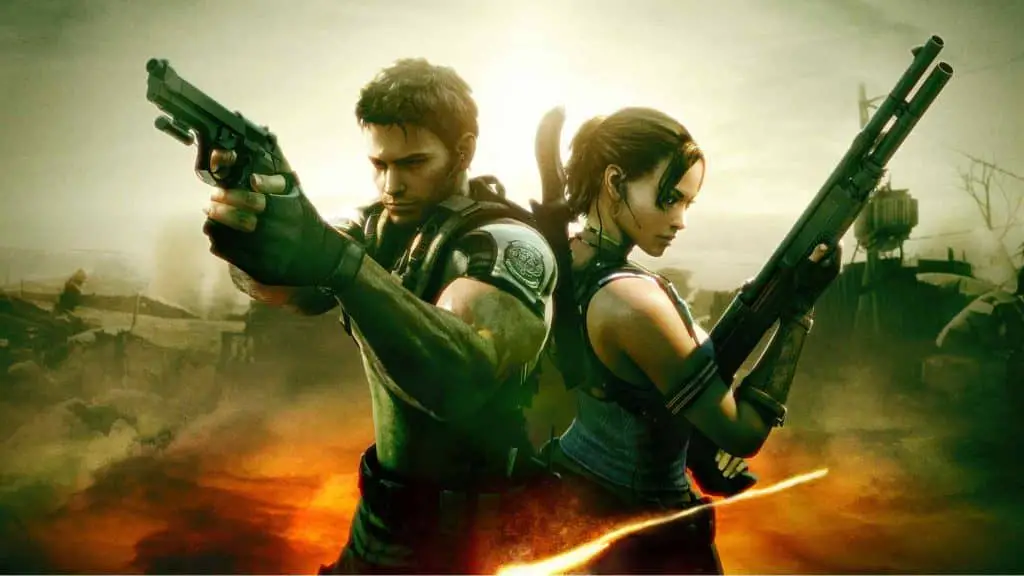 While we love the entire Resident Evil series, Resident Evil 5 is the better of the two mainline split-screen multiplayer options. Resident Evil 6 outlines everything fans dislike about the action-heavy side of the RE universe.
The story follows a terrorist threat investigation in Kijuju by agents Chris Redfield and Sheva Alomar who get faces with more than they signed up for. Chris is haunted by his past partners and enemies in this exciting multiplayer adventure.
While the narrative strength of the game is quite lackluster compared to some of the better Resident Evil titles, the multiplayer is an entire beast of its own. This is an excellent blend of action, adventure, and horror to experience with your partner. Just do not expect too much from the story.
On that note, Resident Evil 2 Remake and Resident Evil 7: Biohazard are great single-player games that will be ten times as fun. While there is no multiplayer option, they are great games that you can play by passing the controller after every checkpoint or death.
Spiritfarer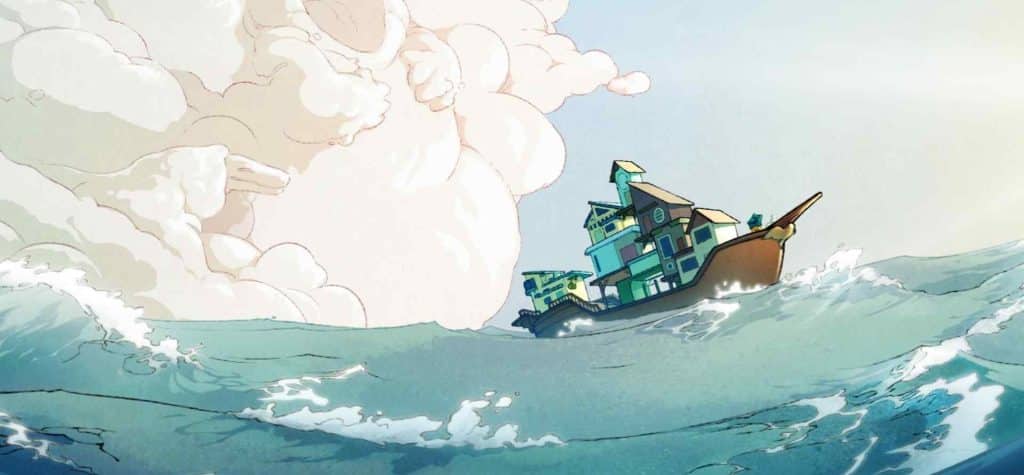 Dealing with loss is never easy, but the company of the right person can help you get through it in one piece. Spiritfarer is a soothing experience that can help you unwind and even push through some hard times by finding the value of the smaller things in life.
Play as Stella, a ferrymaster for the souls that have left the mortal realm. She is a Spiritfarer who collects the souls, cares for them, and eventually releases them into the afterlife. The game starts with building a boat and then you can begin to explore the mystical world in a beautiful hand-drawn experience.
This cozy management game can be played in two-person cooperative play. The second player joins the game as Daffodil the cat. This is a relaxing game to enjoy with your girlfriend that touches on some touchy topics like saying goodbye with excellence.
Animal Crossing: New Horizons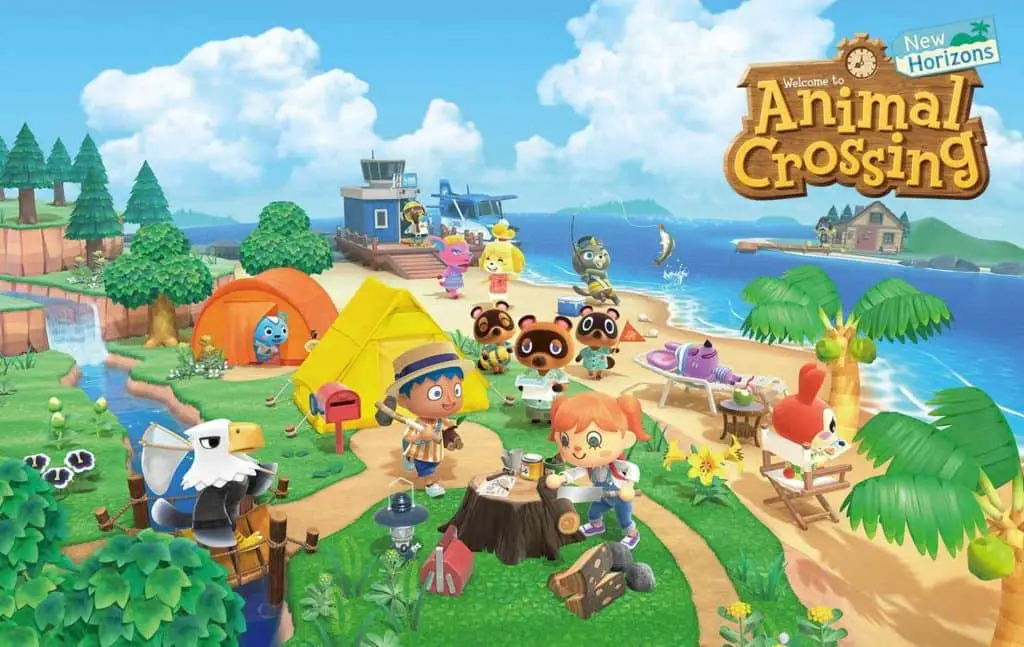 The fifth entry in the Animal Crossing series is the perfect pastime for you and your girlfriend. The social simulation game has much to offer and will have you both occupied for hours to come. You can create the perfect life for yourself in a wonderful world full of fantasy and cute animals.
The main objective of Animal Crossing: New Horizons is to bring civilization to a deserted island. It is a great social sim where you can do everything from befriending adorable animal villagers to fishing, and even digging fossils!
It is an absolute joy to play New Horizons with your partner as you can create fond memories to look back on together and the fruit of your labor will be manifest in the form of a brilliant little island full of flowers, better resources, and a bustling community!
Portal 2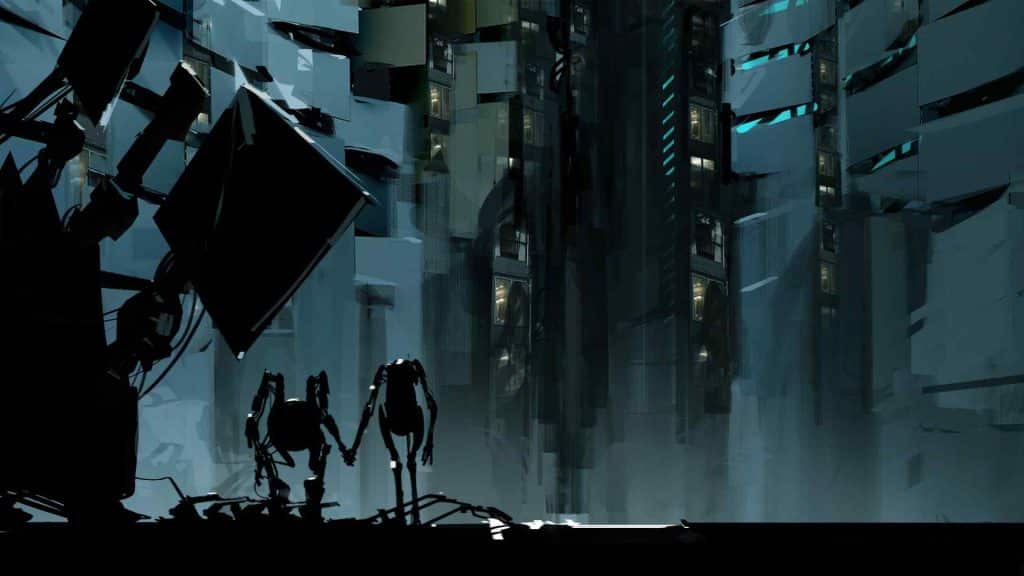 Valve's Portal 2 might be over a decade old, but that does not stop it from being one of the best puzzle games in the market that can hold its own even against some of the puzzle games of the 2020s. There is a lot of fun to be had and a lot of memorable moments to be uncovered in Portal 2.
The blaze of freedom ignites from the most desperate of sparks. Take on the role of either Chell or one of two robots – Atlas and P-Body – in this first-person perspective puzzle game that was much ahead of its time. Escape a facility that has trapped your sanity along with your body by overcoming several hurdles and thought-provoking puzzles in your way.
If you are the type of couple that loves action movies and puzzle games, then Portal 2 is a great blend of the two. Do not be put off by its old release date, because it will keep you hooked to the point where you won't even notice the hours flying by. With several awesome moments, a solid storyline, and the option of complete cooperative play, Portal 2 is a must-try for you and your girlfriend.
We Were Here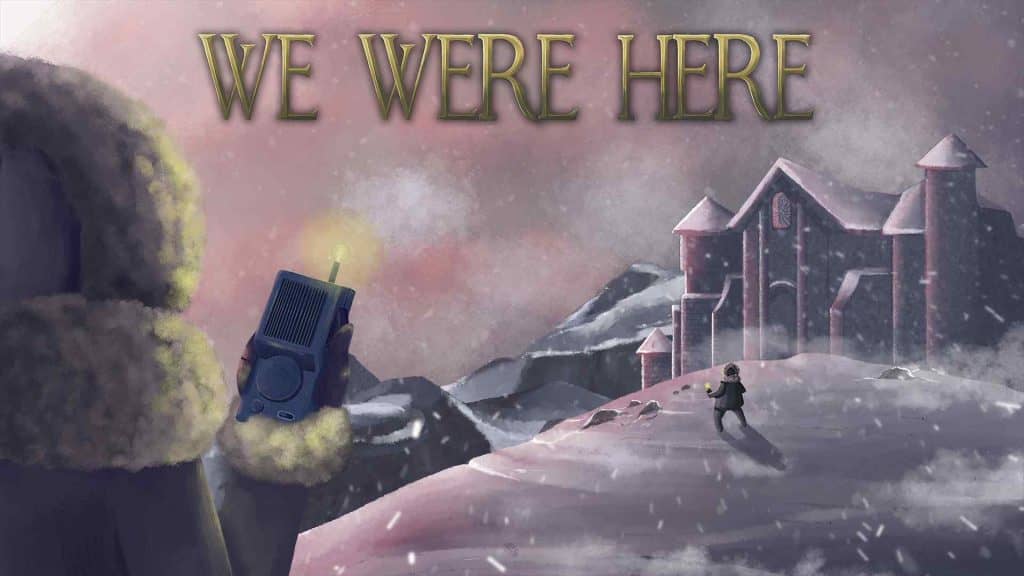 The entire We Were Here series is worth your time and your dime. It is an engaging series of cooperative puzzle video games that look and play amazingly. For those cozy winter game nights, it does not get much better than this.
There are a total of four games in the follow order:
We Were Here
We Were Here Too
We Were Here Together
We Were Here Forever
The games get increasingly better and have no room for boredom. The very first entry starts with the two players in an abandoned castle where they must use their wits and puzzle-solving skills to make it out in one piece.
Lighthearted, casual, and hella fun! It checks all the boxes for a good game to play with yor significant other. Since there are four games in the series, that is four times the fun you and your partner can look forward to! Give it a go and let us know what you thought.
Unravel Two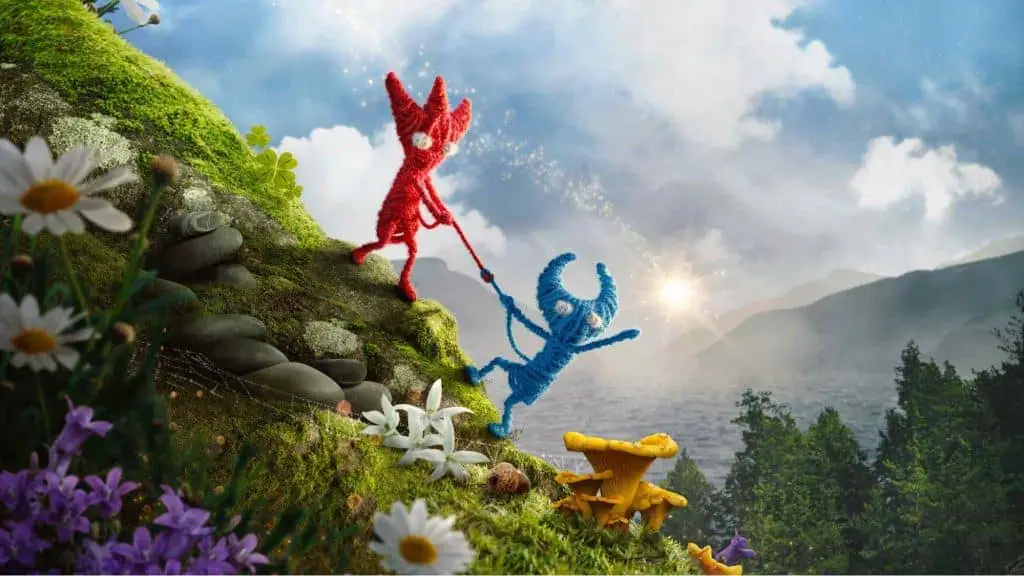 "Love forms bonds, like strands of yarn. Like yarn, those bonds can be fragile, or get all tangled. But when they're kept and cared for, they can bridge any distance."
One of the best games to experience with your girlfriend is Unravel 2. The game follows a red Yarny and a blue one who find each other after a bad shipwreck (like there are any good ones!) and connect their dead ends together, forming a bond.
Separated from their owners and home, they must navigate a handful of interesting puzzles while the overarching story plays out. It is a similar experience to It Takes Two with originality galore to keep you hooked. Enjoy the cooperative experience with your partner and be reminded of the sweeter things in life, like connections and love.
Super Mario Odyssey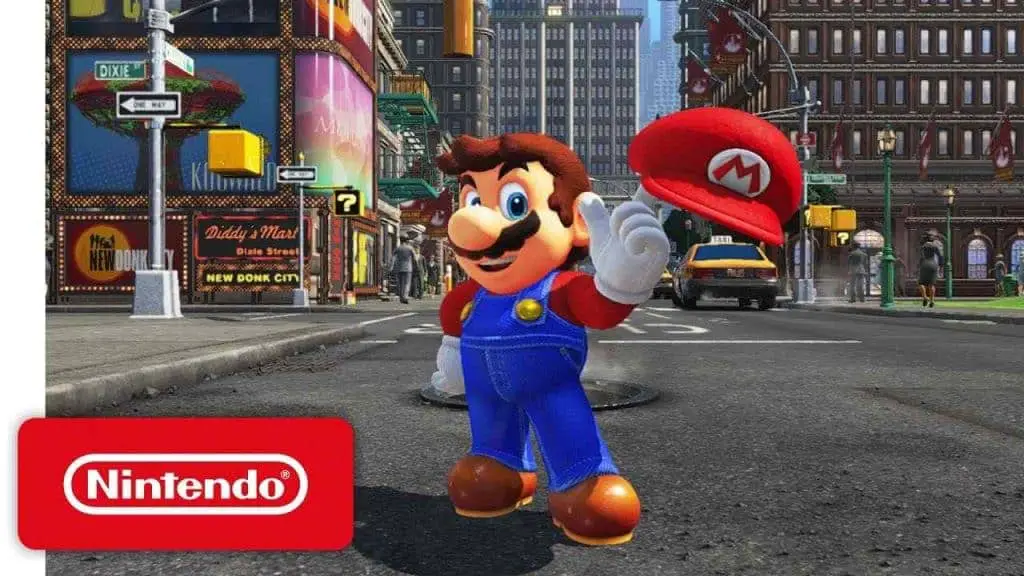 We do not really need to sell you on Super Mario Odyssey. If you own a Nintendo Switch and enjoy yourself the occasional platformer, then you know just what Super Mario Odyssey has in store for you. It has been almost six years since the game came out, and it has aged like fine wine.
Like previous Mario games, the main goal is to catch up to Bowser and save Princess Peach. Travel as Mario to different worlds and collect moons that will be used to power up your spaceship, the Odyssey.
Super Mario Odyssey can be enjoyed by couples in Two Player mode which will double the fun and account for a lot of lovely memories throughout your playthrough with your partners. It is a great game to enjoy with your partner if you both own a switch. Have fun!
Naruto: Ultimate Ninja Storm 4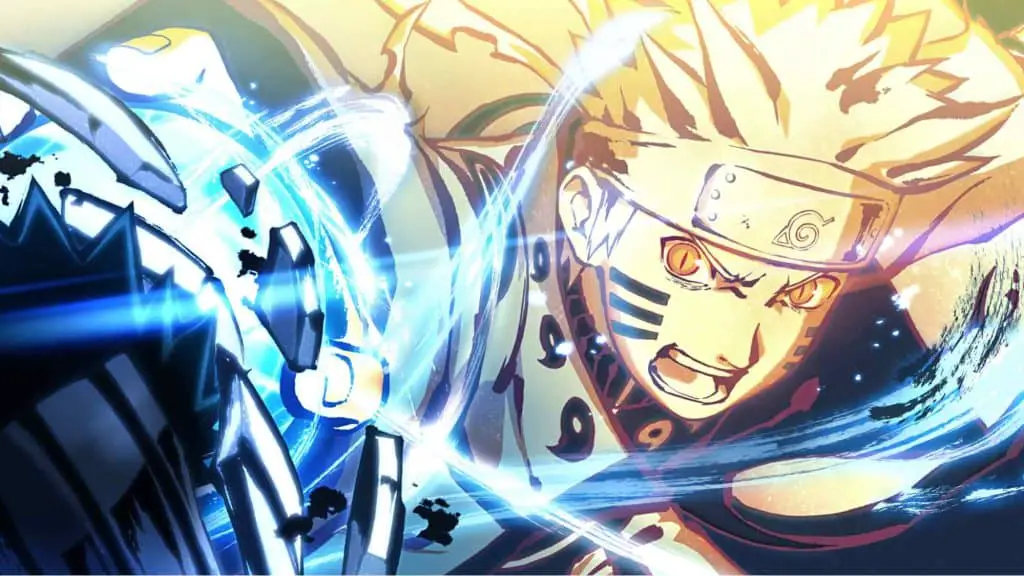 Let us finish off this list strong with arguably one of the best anime fighting games in existence. If you and your girlfriend are anime fans who adore Naruto, then this is the perfect game for you! There are predecessor games in the series like the Ninja Storm Trilogy and Revolution, but Ultimate Ninja Storm 4 is perfect to play with your girlfriend.
If you have already watched Naruto and have no chance of being spoiled, then this is a great game to pick. Not only does it let you relive some of Naruto Shippuden's best moments with its phenomenal story mode, but it has an amazing co-op mode (both online and couch co-op) that lets players face off against each other with their favorite characters.
If your girlfriend enjoys anime and is looking for an entryway with a more casual fighting game, this is the way to go. Whether it be Shisui's lightning-fast Kotoamatsukami or Neji's brutal 64 palms attack, there are tons of fun combos and special movies to try out in Naruto: Ultimate Ninja Storm 4. Give it a go!
Conclusion
There you have it, folks. That concludes today's article on some of the best video games that you can play with your girlfriend. We made sure to include a variety of games tailored to all tastes. Sharing a hobby with your significant other is a blessing, and it helps to keep the relationship fresh and exciting.
Whether you decide to pick whatever game you want or put on an old record and sit in silence, the important thing is to have fun and spend time with the person you're head over heels about!
We sincerely hope that our guide helped you learn more about some good video games to play with your girlfriend. If it did, be sure to leave a comment down below and let us know. Your feedback is much appreciated. Have a wonderful gaming session with your loved one!