Mojang's popular sandbox survival and building game knows no bounds. Over the years, Minecraft has given rise to a bustling community of gamers who share their creative expertise in the playground provided by Mojang.
From crafting rare blocks to slaying beasts in other dimensions, Minecraft really does have it all. Our favorite pastime is carefully creating an amazing Minecraft city and then blowing it up with TNT, because we can.
In order to make trading and gathering materials much easier, you will need to befriend some Villagers with the respective professions. However, many of the Villagers that you come across are bound to be unemployed. Here is how to assign a Villager a job in Minecraft.
Assigning an unemployed Villager a job in Minecraft is very straightforward. Usually, Villagers will pick their profession automatically based on the available utility block in an immediate 48-block radius. If that is not the case, you can assign a Villager a job by crafting and placing the respective utility block near them. They will automatically choose that job and you will be able to trade with them. There is no way of manually assigning a Villager a job. If you wish to change a Villager's profession, you need to destroy their old utility block and place a new one near them.
If you are curious to know more, it is suggested that you keep reading to find out all there is to know about Villagers and professions in Minecraft. We will be going over all of the available professions in detail so you can figure out how to create the best and most productive village in the game. Without further ado, here is how to assign a Villager a job in Minecraft.
Assigning A Villager A Job in Minecraft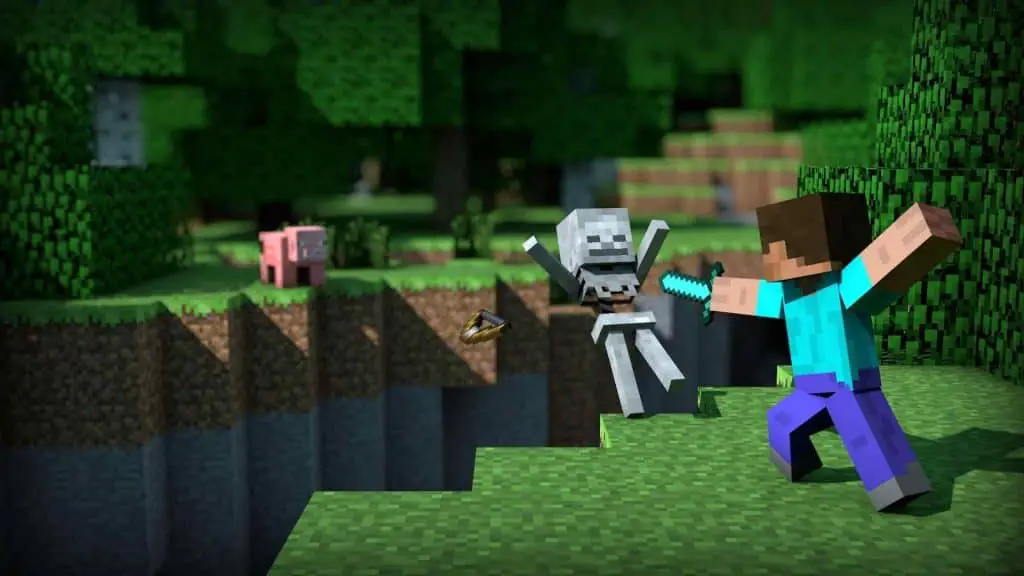 Minecraft is a game that refuses to die. It has been around for over a decade since its initial release back in 2011. The creative freedom at the player's disposal along with heroic ventures and missions in a minimalist pixelated art style all add to the charm of Minecraft.
The game has only increased in popularity in the last 5 years due to Twitch streamers and YouTubers like Dream, Tommy Innit, and even MrBeast and PewDiePie diving headfirst into the world of Minecraft live for the world to see.
While there is no correct way to enjoy Minecraft (part of what makes the game for us), players tend to enjoy creating villages and growing as the creator in either Creative or Survival mode. The quickest way to do that is to interact with Villagers throughout the world. These Villagers can either be unemployed or have jobs.
The employed Villagers will have materials to trade with you depending on what kind of villagers they are. These materials can be bought to help you grow in the game and create bigger and better things. The sky's the limit when you have a bunch of handy Villagers on your side.
How to Choose A Villager's Profession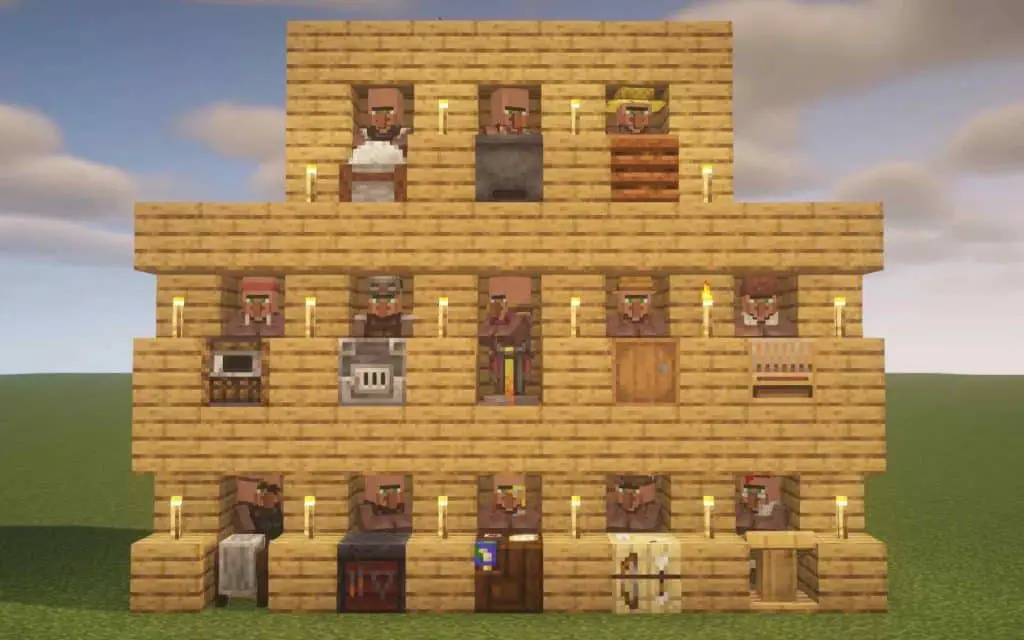 The profession of Villagers is chosen automatically by the game based on which utility block is available near them. If the Villagers have a place to sleep and a compatible utility block, they are automatically employed and can then interact with to buy items. There are different professions of Villagers which are discussed later on in this article.
While there is no way to manually select a Villager's profession, you can definitely nudge them in the right direction.
If there is an unemployed Villager that you can't bear to look at because he isn't busy getting that bread, you can assign him a job by placing a utility block in their immediate vicinity. There are different utility blocks for different professions.
As long as you give the villagers a bed and they are not hostile, the utility block is all you need to make them work for you. For example, a Butcher can allow you to get meat (wow, big surprise) and some shiny something somethings.
Yes, it is really that simple.
Utility Blocks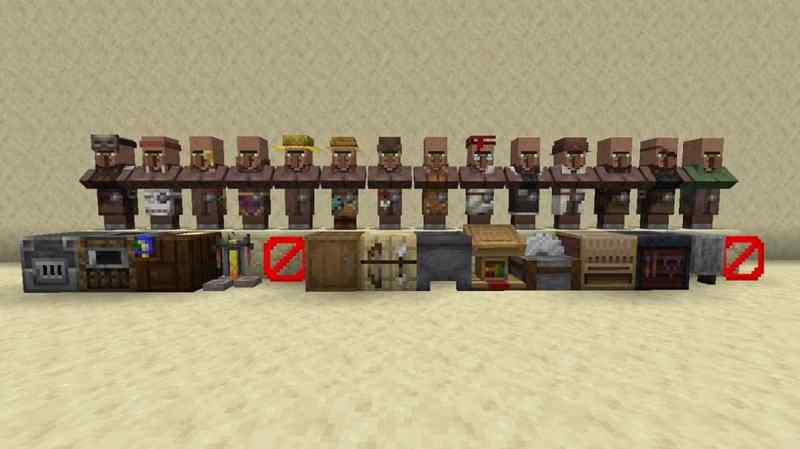 There are a total of 15 Professions in Minecraft with only about 13 of them being productive to the growth of your village in Minecraft. Each of these jobs has a distinct utility block that allows the Villagers to take up that job and help you get things started.
Here is a list of all of the professions and the utility blocks you will need to assign those jobs if you do not already have access to a certain vendor.
Armourer: Blast Furnace
Butcher: Smoker
Cartographer: Cartography Table
Cleric: Brewing Stand
Farmer: Composter
Fisherman: Barrel
Fletcher: Fletching Table
Leatherworker: Cauldron
Librarian: Lectern
Mason: Stonecutter
Shepherd: Loom
Toolsmith: Smithing Table
Weaponsmith: Grindstone
The other two types of Villager jobs are Unemployed and Nitwit. As you might have been able to guess, Nitwits are useless Villagers that cannot be hired while Unemployed Villagers can be assigned specific jobs using the method stated above.
If you want to know more about the use of each profession, read ahead, soldier!
Villager Jobs in Minecraft
As we mentioned earlier, there are a total of 13 useful and productive jobs in Minecraft for your helpful Villagers to do. Having a Villager manning each of the tasks will make your life easier and the game a lot more fun. Here is a brief description of each type of Villager and their respective trades so you can get an idea of what you want to check off first from your bucket list.
Armourer
This may come as a massive shocker to everyone reading this, but you can purchase armor from the Armourer. Yeah, we know. Just as surprised as you, my friend. You can also purchase some chainmail from the Armourer to aid you better in combat as you take on bigger and badder enemies to become the true boss of your Minecraft world.
Butcher,
We will spare you the cheesy joke this time. To be honest, we were not really feeling it the first time either. The Butcher is there to meet all of your meat-related needs. You can buy cooked meat from him and spare a poor cow or pig (PETA smiles upon you, child) as you let someone else do the dirty work. More importantly, you can trade emeralds with your fancy Butcher which makes having one on your side all the more worthwhile.
Cartographer
The Cartographer is your go-to guy if you were looking to get your hands on a sweet map or two. This will make navigating the in-game world a lot easier and you can have more time for fun and less for frustration. Moreover, the Cartographer can hook you up with Banner Patterns. So, make sure you visit him sometime soon!
Cleric
Clerics in Minecraft are pretty much as the name implies. They are the traders of magic and everything magic-related you could ever wish to get your hands on in the game. In addition, Clerics in Minecraft also trade Bottle o' Enchanting with you! Definitely a handy trade.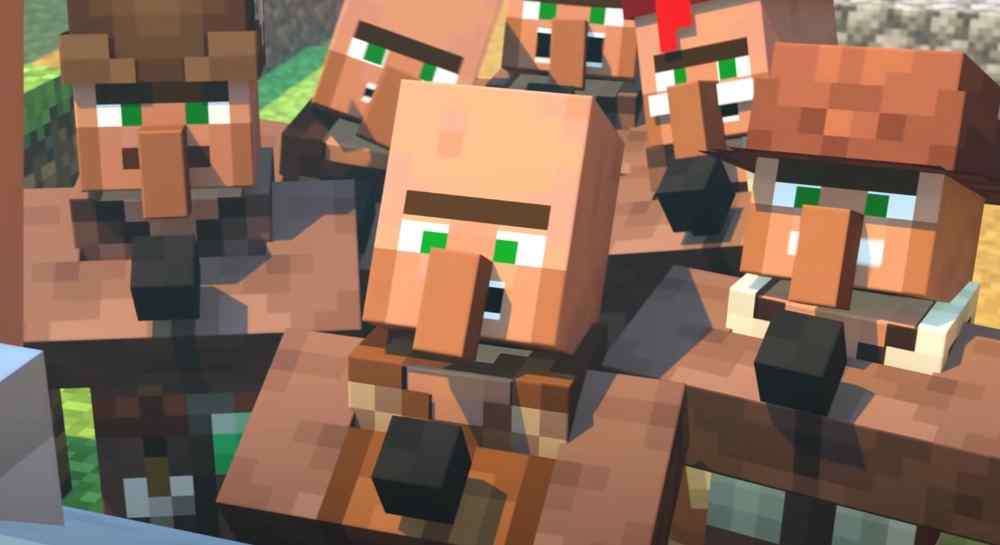 Farmer
The Farmer is by far the most popular profession among Minecraft Villagers. It might have something to do with the abundance of Composter as compared to other utility blocks. Farmers are very useful to have by your side, as you can imagine.
You can get some brewing items along with advanced food items without having to hunt for them tirelessly. A Farmer will be part of the core of your Village. Treat him well!
Fisherman
In addition to the fish that you can purchase from a Fisherman in Minecraft, you can also buy an enchanted fishing rod. That is the best kind and will help in amping up your game as you take a step closer to dominating your Minecraft world.
Fletcher
The Fletcher is your main man when it comes to bows, arrows, and all that jazz. You can purchase Arrows, Tipped Arrows, Bows, and even some flint. These will help you in your hunting escapades all the way to the end of the game. So having a Fletcher in your village will never stop benefitting you.
Leatherworker
The Leatherworker is another important Villager profession that you should definitely have in your pocket. The Leatherworker has much to offer.
He can fix you up with leather armor, armor for your trusty horse, and even Saddles for a smoother ride toward greatness. If you are one to explore (well, you ARE playing Minecraft) then you can benefit immensely by assigning a nonantagonistic Villager a Leatherworker job.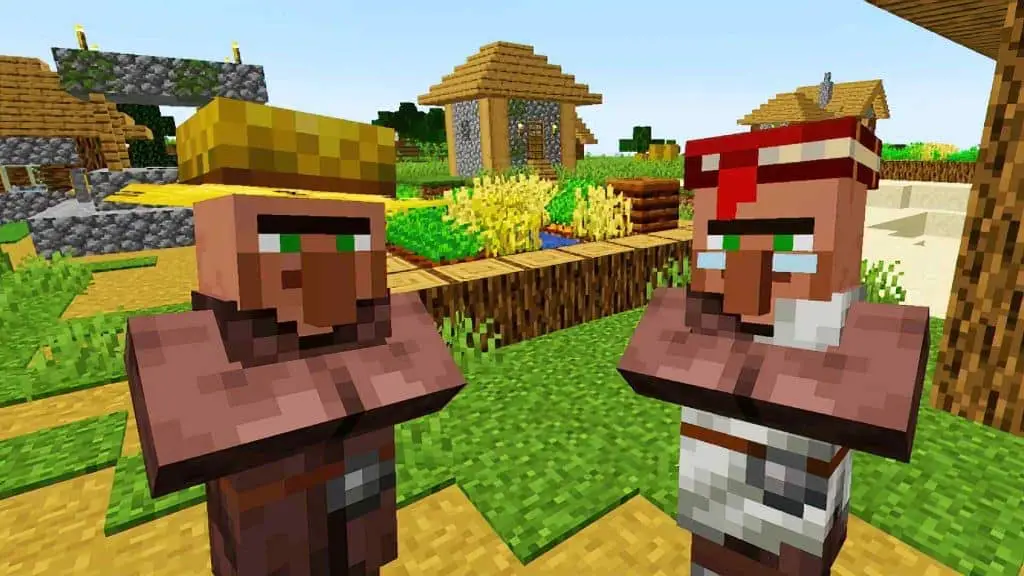 Librarian
This is not a regular Librarian, this is a cool Librarian. Librarians in Minecraft are beneficial and productive Villagers to have at your disposal because they offer you Enchanted Books. Every Minecraft player should be able to see the value of said Enchanted Books on their journey. Moreover, you can even score some Name Tags off the Librarian!
Mason
A Mason will offer you cut blocks and bricks to play around and build with. Masons are helpful in refining the raw material you stumble across in the game and directly purchasing the cut versions without having to grind for the rarer materials on your bucket list. Each of the mentioned Villagers aids a core mechanic of Minecraft. In this case, Masons are assistants in building and crafting.
Shepherd
Shepherds are your artsy friends in the game. You can get your hands on a variety of wools including many different dyed pieces of wool that you can use to spice up your buildings in Minecraft.
Your interiors will definitely thank you for some colored wool to cut the monotony of your buildings. Furthermore, you can get some sweet paintings from a Shepherd to tie the whole room together!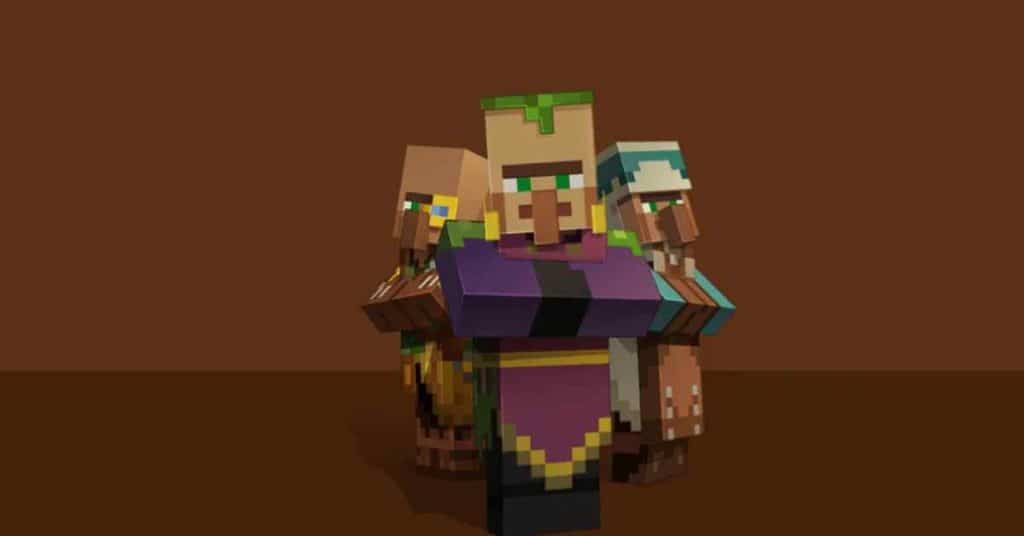 Toolsmith
You've gone long enough without the cheesy joke so… Hey! Did you know you can buy tools from the Toolsmith?! We apologize. However, there is many a tool to choose from when you have a Toolsmith Villager to trade with.
The quality of these tools can vary and you can even score some sweet enchanted tools. This will give your game progress a much-needed boost and you will surely have fun trying out new and better stuff.
Weaponsmith
Last but not least, we are ending our list with the Weaponsmith. He is a fundament to your warrior's journey through the enchanting world of Minecraft. The Weaponsmith has Iron and Diamond swords and axes to offer you. Sounds appealing, right? There's more! You can even get enchanted weapons as the cherry on top!
Conclusion
That concludes our guide on how to assign a Villager a job in Minecraft. We made sure to be comprehensive so you did not have to turn to an external source after reading our guide. There is much fun in figuring things out yourself, but no shame in seeking some help whenever needed.
We sincerely hope that this article helped you understand more about how to assign a Villager a job in Minecraft. If it did, be sure to leave a comment down below and let us know. Your feedback is much appreciated. Happy building, fellow Minecraft lover!