Class-based FPS games are always a thrilling experience because every class comes with unique features that make you hooked to a game. Deep Rock Galactic is one of the best class-based games you will ever play because every class has unique abilities and weapons.
All classes have pros and cons, which is why it can be overwhelming to pick the winner. Deep Rock Galactic is best played with a squad. Don't have anyone to go mining with? No worries, you can go down into those deep dark caves alone, too.
There are four best classes for Solo in Deep Rock Galactic, excluding Bosco. The best solo classes in the Deep Rock Galactic include the driller, engineer, gunner, and scout.
Also Read: Best Japanese PS5 Games
1. Driller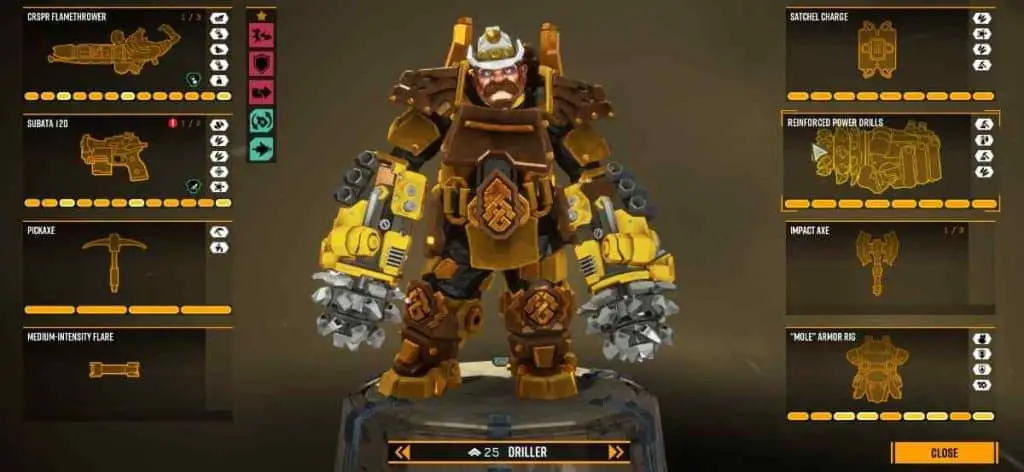 The first is the Driller, whose only purpose is to drill. It has giant drills on both hands to quickly dig through the tough stone. For the weapons part, the Driller has a flame thrower, a small pistol, explosive satchel charges, and throwing axes which you can pick up whenever you want.
Driller is among the most underrated classes as it is a heavy-duty dwarf.
Many gamers don't find his kit enjoyable, but that doesn't mean he is not worth it. He is very productive when you want to take down a huge swarm of enemies. You should always keep him at the front of your squad because he is an expert in crowd control, meaning he will get rid of the enemies fast.
The Driller specializes in creating different shortcuts, so he can help create instant exit routes for you during the game.
Driller Weapons
The Driller carries some of the best weapons in the game. Here are some of them:
Corrosive Sludge Pump
As we have already discussed, the Driller is the best at crowd control. This weapon will prove it during the game. It is a newly added weapon, but you can get the most done with it because it will shoot acidic blobs of goo on the ground.
It will cover the entire ground with sludge, and bugs who walk over it will get damaged instantly. You can charge it up, and then it will be firing out blobs which will be excitingly destructive.
CRISPR Flamethrower
If you are looking for something that does severe damage, this is the weapon because it will shoot a stream of hot flame that will set everything on fire. When using this flamethrower, you leave behind flames that cause damage to the bugs walking on the ground.
When you want to wipe out a massive group of enemies, all you need to do is combine this weapon with the neurotoxin grenade, and you are good to go!
Cryo Cannon
This one is a crowd-pleaser, for sure. No pun intended. However, this works the opposite if you compare it with the flamethrower. It is a cold and icy weapon that uses a freezing temperature to stop the enemies approaching you.
When you want to eliminate any group, it will give you a quick kill. However, remember that it will not spawn additional Glphid Swarmers if you destroy them when frozen.
2. Scout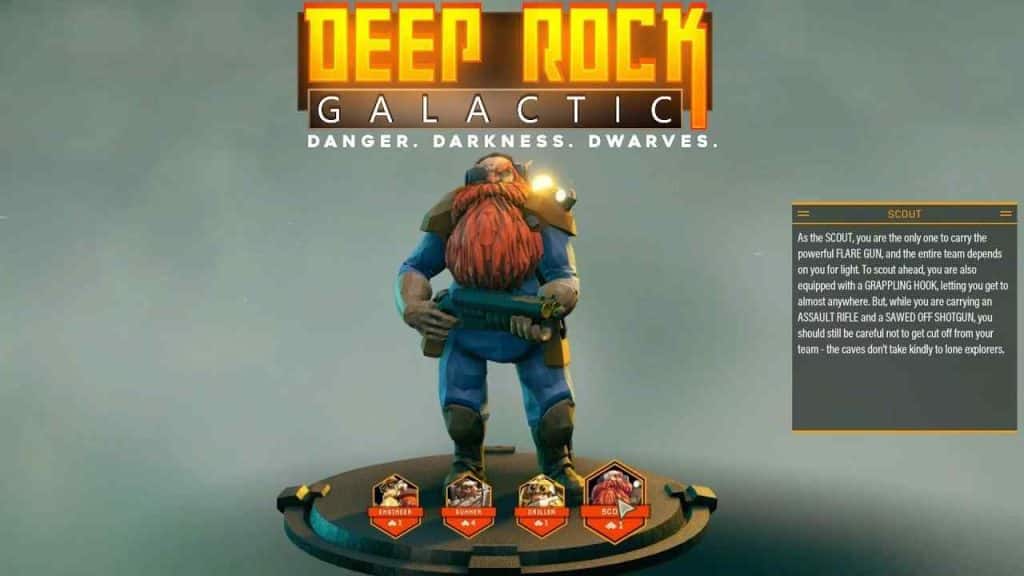 The Scout is not perfect, but he is still an ideal pick because he will come with an assault rifle and a sawed-off shotgun. You will also see throwables like an inhibitor field simultaneously slowing enemies down. He has a flare gun that is very good for lighting up a dark cave to give you all the light you need.
He is not the best option for mass damage because his weapons are less potent than the other available classes. However, he is very popular due to his high mobility, so many players like to choose him. If you are in a solo game, he will give you a pretty good performance because there is no situation he cannot tackle alone.
Scout is well-known for being the pathfinder of the entire group and lightening up the dark world.
Also Read: Best Games With Progression Loops
Scout Weapons
The naked truth is that Scout's weaponry isn't the best when you compare it with the other characters. However, he is still worth it; the only difference is that his weapons are not as unique. If enemies come at you at a medium or a long-range, the Scout will help you because his weapons are versatile.
DRAK-25 Plasma Carbine
It is a magical weapon because it is a rifle you never have to reload. You only have to vent it when you want to remove the extra heat because it is an energy-based rifle.
It is very productive when you are using it to fight your enemies because it works at a fast rate of fire. All those bugs coming at you a few seconds ago are mere goo now.
M1000 Classic
As you already know, there is no sniper rifle in Deep Rock Galactic, but this is the closest you will ever get to a sniper rifle in the game. It is best to charge up each shot for more significant damage, giving you more accuracy during the shot.
For long ranges, it is the finest weapon that you can use in the game against your enemies.
Deepcore GK2
When unsure what weapon to use, you can always pull this assault rifle out because it is adaptable to all sorts of enemies in the game. It is a fully automatic rifle that does a lot of damage to your enemies, and you can also upgrade it!
Different mods are available, giving you much more damage and a faster rate when firing at your enemies.
3. Engineer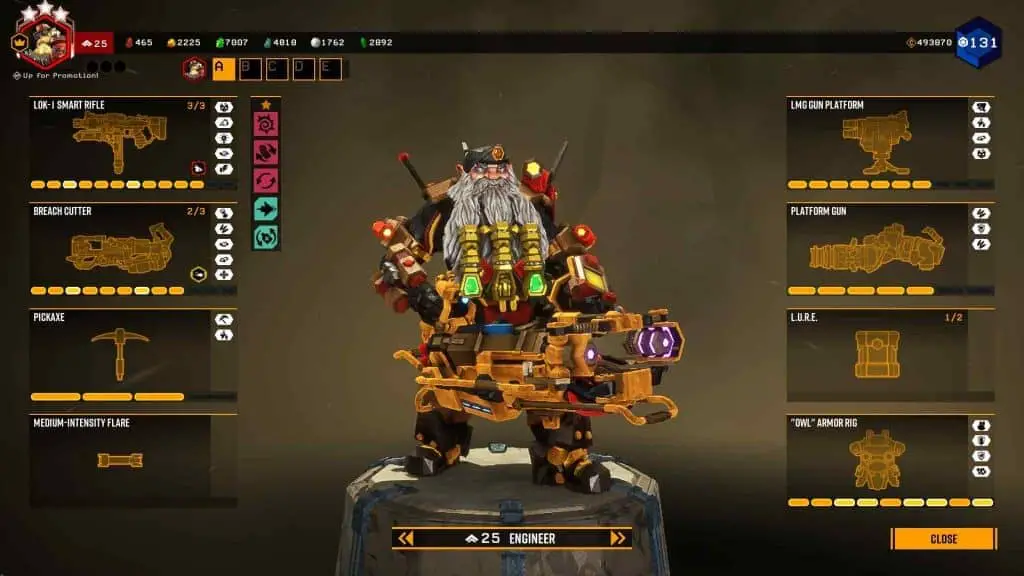 The Engineer is a solid pick for every solo player in Deep Rock Galactic. His weapons are splendid because they offer you much help throughout the game. He has a combat shotgun and a grenade launcher when you want to eliminate those pesky bugs. It can deploy sentry turrets to offer extra firepower when needed.
The Engineer throws grenades that project dancing hollow dwarfs, which not only destroy all the enemies but also provide a lot of entertainment at the same time. Overall it is a solid class and very effective during solo gameplay. However, he needs some fantastic mobility tools because they require vital upgrades.
Also Read: Best Multiplayer Games For A Group Of 5 People
The Engineer Weapons
The Engineer is a mid-range class in the game and is excellent for all the gamers alone in the missions.
LOK-1 Smart Rifle
This rifle will remind you of the smart pistol from Titanfall 2, as it is an SMG. It is modified with an AI, and you can easily lock it on your enemies. Undoubtedly you will have most of the fun in the game with this satisfying weapon once you get the hang of it.
Warthog Auto 210
This weapon is the best that you can use for close-range combat because it is a short semi-automatic gun. It is not that powerful, but it will still be quite productive when near your enemy.
Stubby Voltaic SMG
It is an electrical weapon to instantly eliminate enemies by electrifying them. This weapon assists you in getting rid of all those annoying bugs at once.
4. Gunner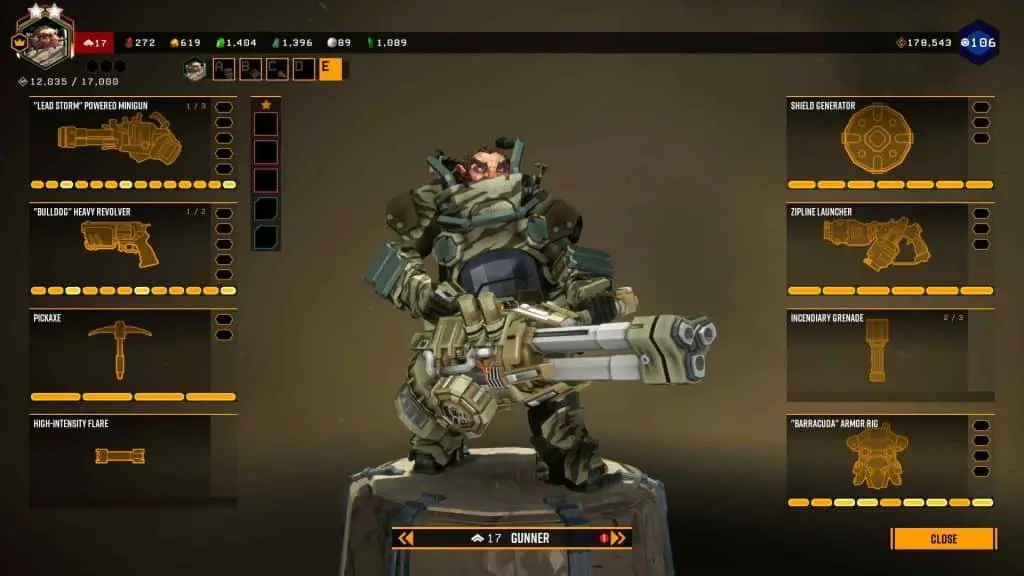 The Gunner is a fantastic all-around choice for solo players. He has a minigun full of ammo, a decent pistol for when you run out of all that ammo, and sticky grenades.
Firepower is one of the main reasons for choosing the Gunner, but what makes the Gunner shine is its zipline launcher and shield generator. When you can fire a Zipline, it will make traversing these dark caves a lot easier.
The shield generator is also notable because it will help you heal your shields in the heat of the battle. So you will get good weapons, a reliable method of traveling, and even a method to heal yourself. He has terrific abilities for doing the best in any situation.
If you are about to go on an elimination mission, then the Gunner is the one you must pick.
The Gunner Weapons
The Gunner is the best for providing sustained fire that will do severe damage.
Take a look at these weapons:
Hurricane Guided Rock System
This system shoots guided rockets continuously but is slow in the firing process. It is the best weapon for you when you want to hit enemies behind the corners who are not accessible to you quickly.
Lead Storm Powered Minigun
As it is clear from the name of this weapon, it is going to bring a massive storm, and there is no need for you to reload the weapon. It has a high fire rate, but you must be careful because it comes with a short spin-up time!
Thunderhead Heavy Autocannon
Initially, this weapon will give you a slow rate of fire, but it will become faster as you pull the trigger. You get another benefit of explosive rounds when using this weapon. Due to this, the Thunderhead autocannon proves best in mass destruction.
Bonus: Don't Miss Out On Bosco!
No matter where you decide to go in the game, you will always have your old pal Bosco with you. A flying drone will always be by your side to help you fight enemies and mine for minerals.
It can also help you revive the situation if it gets dire. Do you want to make him more powerful? Yep, you can upgrade him. You go, Bosco! Such a mesmerizing flying boy.
Final Thoughts
Deep Rock Galactic was designed to excel in cooperative gameplay. But when Bosco and the growing skills of the players came forward, everyone wanted to play solo, even when it came to the most challenging missions in the game.
You should pick a class you like playing to ensure an engaging gameplay experience. Deep Rock Galactic is a game that is entirely worth playing solo. So don't be afraid to dive in solo while playing Deep Rock Galactic to create the desired experience like a breeze.