Black Desert Online's gameplay is action-oriented, demanding precise aiming and unrestricted movement in the same way as third-person RPGs do. Building, boating, gardening, fishing, and trading are some activities in the game. Players can also partake in massive PvP attack tournaments or castle fights. It's notable for allowing players to customize their characters in great detail.
However, unlike the tab-targeting method used in several MMORPGs, interactive gameplay necessitates accurate human aiming, evading, and employing combinations. Players could use combos for striking, evading, and blocking to trigger skills. The mounted battle is also available to players. You can tame Mounts in the wilderness, and unique mounts can be bred by marrying specific sorts of mounts. Although you may keep mounts in the inventories, they should be properly cared for, or else they might be killed as well.
A lot of elements are included in the game to aid immersion and the sandbox element. The dynamic climatic system will influence hurricanes and other large-scale occurrences. Persistent fog, for example, will be part of the localized weather that gamers may use to conduct counterattacks on opponent guild facilities. A progressive daily operations cycle with a progressive evolution of lighting effects is also included.
Many NPCs will be inaccessible throughout the evening when they head home, while enemies will drop extra loot. Based on whether it is nighttime or daytime, various gaming materials are available. Gamers' residence is explorable and available in various sizes and places. Furniture can be purchased from NPCs or crafted by players to decorate their homes.
In this article, we will discuss everything you need to know about what accuracy does in Black Desert Online. For further information, continue reading.
Also Read: How To Get Fogans In Black Desert Online
What Does Accuracy Mean In Black Desert Online?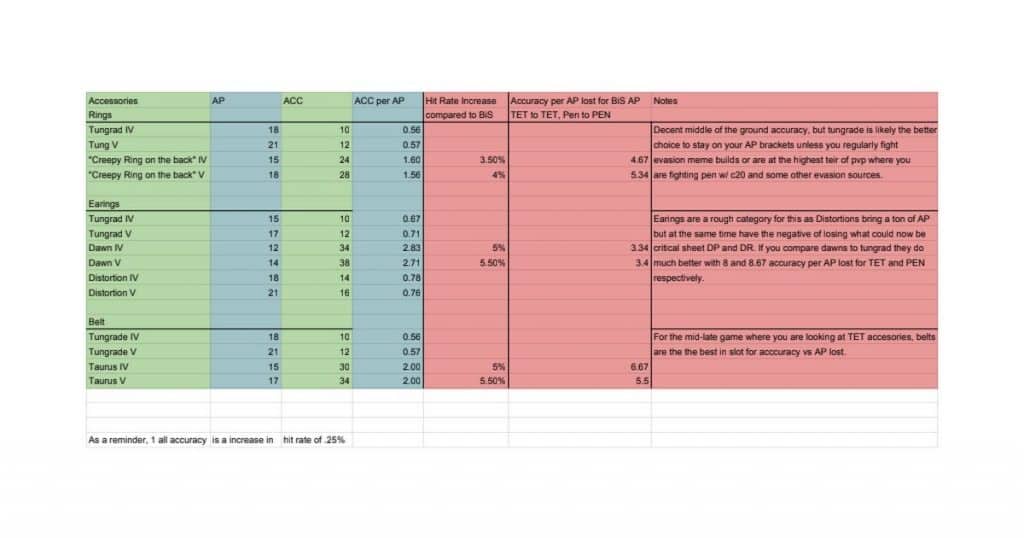 Accuracy is a distinct attribute, whereas Agility and DR are the metrics that are used to calculate the DP of the gear. The statistics will improve when the armors enhance higher specificity improves. For example, many primary weapons own Accuracy. However, TRI: Kzarka has a better Accuracy compared to DUO: Kzarka. As the enhancing level increases, defense gear will then have better agility and DR.
TRI Kzarka weaponry has an Accuracy of 170 for the biggest targets. Double Liverto weaponry has an accuracy of 152, whereas Extreme Else weapons have identical accuracy with Kzarka weapons. All those other Superior green weapons feature 149 Accuracy, whereas Supreme Azwell weapons feature 175 Accuracy.
Whenever green primary weapons are reassembled, they get higher accuracy. Ordinary Greens Yuria weapons, for instance, have just a 96 accuracy rating, whereas Blue Yuria weapons get a 128 accuracy rating, and Ultimate Yuria weapons have a 145 accuracy rating. Therefore, before continuing on to Kzarka, if you're utilizing Green primary weapons, you'll need to reform them to Supreme. You must convert the green to Ultimate for moving onto the Kzarka.
Accuracy Given For Different Weapons
TRI Kutum has 12 Accuracy with off weapons. Also, its 20/20 DP is made up of 10 Agility with 11 DR. Accuracy-focused Blue off-hand weapons have 78 Accuracy Ultimate, whereas Nouver and Awaken weapons carry 0 Accuracy.
The agility and DR numbers are given on description for defense equipment and boss equipment of the same kind: Giath's helmet, Griffon's forest soul's heavy armor nostrils armor, and Muskan's shoes and urgon's have the same Evasion and DR value. Bheg's Socks, the sole Bosses Glove, will give 44 Accuracy with TRI.
Also Read: Fences in Black Desert Online
Accuracy Give For Different Accessories
Apart from green accessories, only a handful of distinct accessories feature Accuracy. Tungrad Jewelry, Goblin Ring, Laitenn's Strength Stone, Sarap's Earrings, Older Herald's Seal, Kensho's Pendant, Marla Bracelet, and Manos Necklace all have a basic Accuracy of 8 and gain an extra 4 Accuracy with each enhancement level. Every enhancement level gives the Dragon's Necklace two additional Accuracy, but Sicily's Pendant has none.
Several rings and bracelets have a basic Accuracy of 4, including the seal of shadows, rings of lunar guardian, vampire's earring, and tungrad necklace. On the other hand, the Nert ring has no base Accuracy but already has +5 Accuracy as just an item effect.
Several belts have a basic Accuracy of 2, such as the Basilisk's belt, lunged belt, and also the belt of Hugo the Warrior. Besides the Accuracy previously listed as an equipment effect, the forest soul belt provides no extra Accuracy. Therefore, Accuracy maintains the same even though the item becomes Enhanced.
Final Thoughts
Your likelihood of striking is affected by the accuracy: the higher the accuracy, the further likely you are to strike your rival. Accuracy is gained by power leveling. Enhancing your primary weapons will give you a +1 Accuracy point at every level. and the use of additional specialized goods and/or boosts. It does not affect the hit damage, and it has no impact on the Armor Penetration. It does, therefore, add to your DPS.