Many new players of Stardew Valley have trouble finding Clint. He is a villager who works as the local blacksmith. He can help you with various tasks in the game.
If you don't know how to find him, we can help you. In this guide, we will show you where to find Clint in Stardew Valley.
Also Read: How to Get Milk in Stardew Valley?
Who is Clint in Stardew Valley?
The blacksmith, Clint, is one of the most important characters in the game. As the blacksmith of Stardew Valley, he is responsible for upgrading tools and opening geodes. While this job may seem monotonous, it actually allows players to build a relationship with Clint.
He is a socially awkward guy who struggles with human interaction. You might be surprised to find out that he will only speak to people if you help him. Eventually, however, Clint will start to change and be more approachable.
Where to Find Clint in Stardew Valley?
Visiting Clint will reward you with a few crafting materials and extra friendship hearts. For instance, when you collect your first Copper Ore, Clint will come to visit you and ask you to bring him an Amethyst for Emily.
When visiting Pelican Town, try to visit Clint's blacksmith. You can buy items from his shop for a few gold and silver coins, and he will give you a small amount of gold in return.
Whether you're playing on PC or console, knowing Clint's Schedule in Stardew Valley is a great way to improve your game. He lives in a building to the north of the museum and is a blacksmith.
He spends much of his time working at the Blacksmiths. He is mostly available at his blacksmith shop. However, you will not find him on Fridays after the Community Center is restored. If it is raining, you can find him, but if the weather is good, you will not find him on Fridays.
During his schedule, Clint will visit you if you have collected your first Copper Ore. He will give you the blueprints for crafting the Furnace and will ask for an Amethyst. Occasionally, Clint will randomly request coal and ores from the "Help Wanted" board outside Pierre's General Store. The reward for helping Clint will depend on the type of item you collect.
As per his regular schedule, he moves the counter of the Blacksmiths at 9 am every morning. At 5 pm, he moves to work on the anvil. Then he heads to the saloon at 7 pm. Around 12 am, he heads home. 
Also Read: How to Get Coconuts in Stardew Valley?
How to Befriend Clint in Stardew Valley?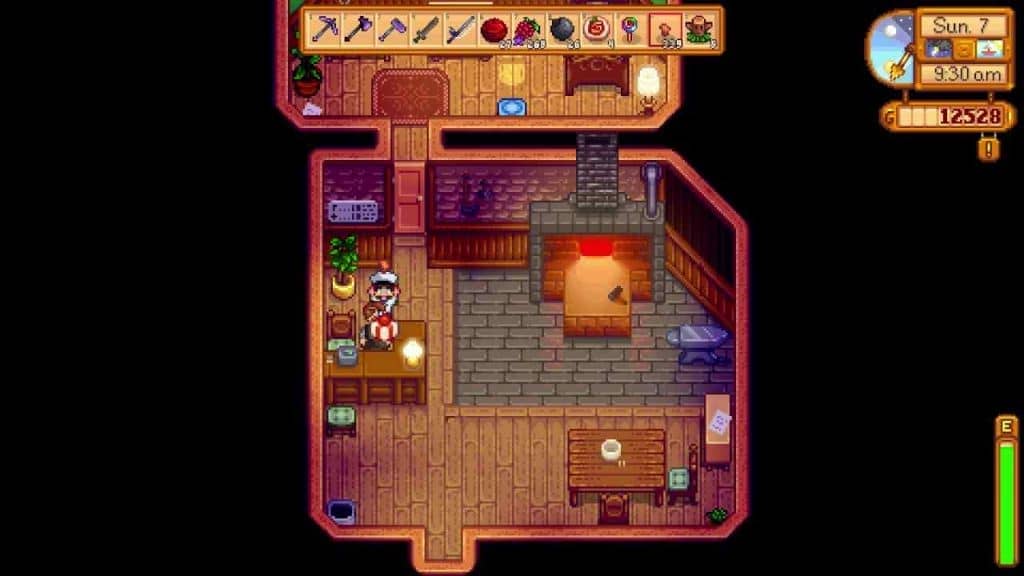 Once you reach six hearts, Clint will appear in the town. This event will occur when the player enters the town from the entrance of the Cindersnap Forest.
After Emily accepts the invitation, Clint will walk back to the player. He will ask her to a carnival and will also send you his Bean Hotpot recipe during the 7-heart event.
This quest will increase the number of friendship hearts that you have and give you an extra gift to give to Clint.
If you want to make him feel special, consider giving him an Amethyst or two to give to his crush Emily. After you give them the gift, you'll be rewarded with an extra friendship heart and 500 gold.
Depending on the type of item you give Clint, you can get three times more gold or 150 friendship points. To make your friend even more valuable, offer him items on the "Help Wanted" board.
You'll receive three times as much gold as you would normally get from selling these items. However, beware! It's a bad idea to sell items that don't suit Clint's needs.
To make Clint even more desirable, try to give him a gift of cloth, wool, or anything else you can craft in Stardew Valley. You can also give him a quarto note, which will confirm his feelings.
If you're able to give him a gift that you're enchanted by, you'll get some bonus items from him. Just remember that it takes over two days to get a love gift from Clint, so be sure to give him something worth your time and effort! This is how you can befriend Clint in Stardew Valley.
Also Read: How to Pick Up Chest in Stardew Valley?
Conclusion
So, in case you do not know where to find Clint in Stardew Valley, you have to head to Pelican Town and go to his Blacksmith Shop. He works at his shop till 5 pm and then goes to the saloon at 7 pm. You can follow his schedule to know where to find him.