Don't Starve has a multi-season experience, winter, and summer. In these seasons, you should know what you need to do. Winter can be a tough season for many and especially beginners. Don't Starve is a linear game, but for some souls, it proves challenging because they need a sense of direction.
The game won't tell you your temperature; it only indicates it with signs. Freezing is challenge players face every winter, you might think the Deer Clops is big and scary, but there are always ways to avoid this cute yet dangerous creature.
For Winter, you need many mechanics to understand, precisely temperature, freezing, insulation, and thermal stones. So that keeping yourself from freezing to death will be a breeze. One thing to note is that freezing is the most challenging aspect of Winter, and you should be aware of it more than anything.
Also Read: Best Japanese PS4 Games
How Does Cooling and Freezing Work?
Without any appropriate seasonal clothing, your character temperature always moves to match the outside temperature. If warmer than the ambient temperature, you cool down at 1 degree per second.
At 5 degrees above freezing, ice starts to form on your screen to inform you that you are getting too cold.
You want to prevent your character temperature from dropping to freezing or below because if it does, you start to take damage of 1.25 health per second until your temperature returns to 0. This chilling effect has killed many players, so keep it in mind.
Warm Yourself With Fire
Standing near a fire is the best bet when freezing or cold. When your character is below freezing, and you are beside a fire spot, you start to warm up at 5 degrees per second until you are no longer freezing. Once your character is above freezing, you continue to warm up at 1 degree per second as long as you are near the fire.
Torches are a thing and have a fire, but they won't protect you from the cold or offer warmth. Though torches are helpful, you can light up flammable objects to warm yourself up, but you lose your torch.
The game does limit how warm you can get when standing beside a campfire or a fire pit. The warmest you can get varies on how cold the temperature is. During the middle of Winter, your character's temperature can only get to 30 to 40 degrees above freezing, but only when you warm yourself up using a level 4 fire.
Level 4 is the brightest and warmest a fire can get, and to obtain it, you add 4 logs, a set of boards, and a glommer's scoop. If you have nothing to face the cold but arrive at the base just as the ice formed on your screen, and you light up a level 4 fire, it takes 30 to 40 seconds to get as warm as possible from a fire.
When you leave the fire and have no winter clothing, you return to freezing in roughly 30 to 40 seconds.
Also Read: Best Indie Games Of All Time
You Must Wear Winter Clothing
There are simple ways to extend the time you can last in the cold by wearing winter clothing. Many pieces of clothing in the game protect against low temperatures, not including armor. The clothing in the game is organized into three tiers.
Tier 1
Tier one clothing items provide you an insulation value of 60 and consist of Rabbit ear muffs, a Cat cap for your head, a breezy vest, a dapper vest, and a raincoat for your body.
Tier 2
Tier two clothing delivers 120 insulation and only has two headgear options the Winter hat or the Tam o' Shanter dropped by the Walrus MacTusk, which only comes in Winter.
Tier 3
Tier three provides 240 insulation and only offers one hat and two body options. You have the Beefalo hat for your head and the Puffy or Hibernation vest for your body.
The Puffy vest is crafted from the Koalefant Turnk, and the Hibernation vest is crafted from the Barrager Spur.
Whatever clothing items you wear, combining the insulation decreases the rate at which your character chills. Wilson, with the magnificent beard, grants you 135 insulation value, and Woody's amateur beard has insulation of 45.
Weber's biggest beard provides 67.5 insulation and these beards stack with all other insulation items granting you a hefty amount of insulation.
What Are The Benefits of Wearing Winter Clothing?
A major benefit of Winter clothing is its cool-down time. You cool down at 1 degree per second with no winter clothing, so how slower do you cool down with varying insulation levels? For practical application, how long can you be away from a fire with varying amounts of insulation?
Here is a chart to help you with these questions:
Note: This chart assumes you start around a temperature of 30 degrees which you should always be able to do at a level 4 campfire or a fire pit.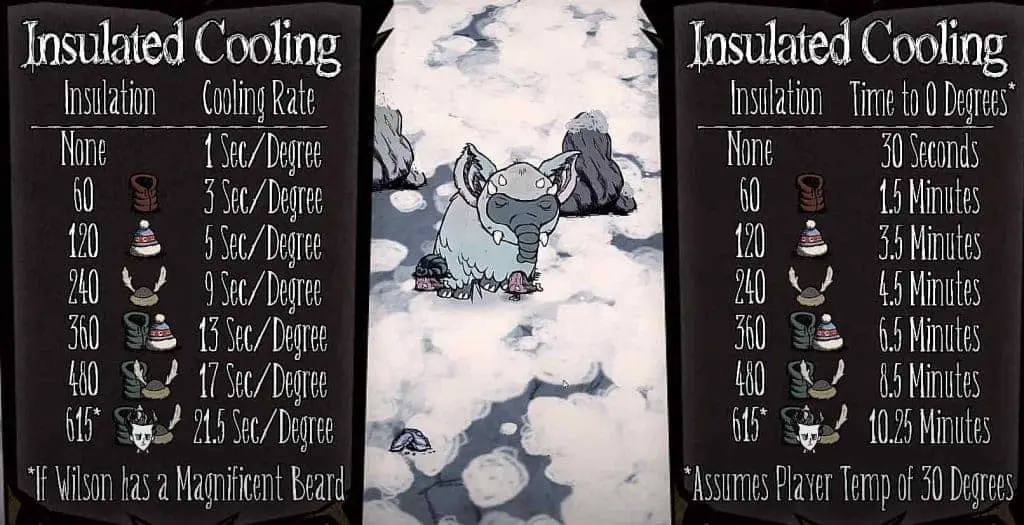 One of the best benefits of winter clothing is that it's based on your total insulation. The rate at which you cool down is constant and not negatively impacted by the ambient temperature or its changes. You cool down at the same rate if it is -5 degrees outside or at -30 degrees outside.
With a tier-three hat and a coat, you easily last a day out there in the cold without needing to be warmed up, especially if you have a beard like Wilson.
The Thermal Stone
There is an item in the survival tab called thermal stone. Many players need to understand the thermal stone. A thermal stone is a variable temperature heat source. It can be warmed next to a fire, and its internal temperature cools you down at 5 degrees per second.
The rate at which the thermal stone cools you down is not affected by the insulation you have. The problem with the thermal stone is that no one knows the internal temperature, and there is a limit on how warm it can get next to a fire, but it varies based on the ambient temperature.
Three Rules For The Thermal Stone
These are the three rules a player must know about thermal stones.
Also Read: Best Games With Progression Loops
1. Holding A Frozen Thermal Stone
Holding a cold or frozen thermal stone does not make you get cold faster. To understand this much better, if you have a beardless Wilson wearing a breezy vest, pick up a frozen thermal stone while on 60. insulation; his temperature still goes down 1 degree every three seconds while holding the frozen thermal stone.
2. You Don't Cool Down With Thermal Stone At 120 Insulation
If you have insulation of 120 or more, then the thermal stone, hot or cold, won't impact the rate at which you cool down. At 120 insulation or more, your temperature decrease rate will be determined only by your insulation.
3. Thermal Stone Keeps You Warm Below 120 Insulation
At less than 120 insulation or no insulation, a fully heated thermal stone keeps you warm when away from the fire. With no insulation, a fully heated thermal stone keeps you warm for as long as 120 insulation, though this varies based on the ambient temperature outside.
The thermal stone would keep you warm for half a day if it's warmer outside. When it's cold outside, the thermal stone only keeps you warm for 3 minutes without any insulation.
Three Ways Thermal Stones Are Helpful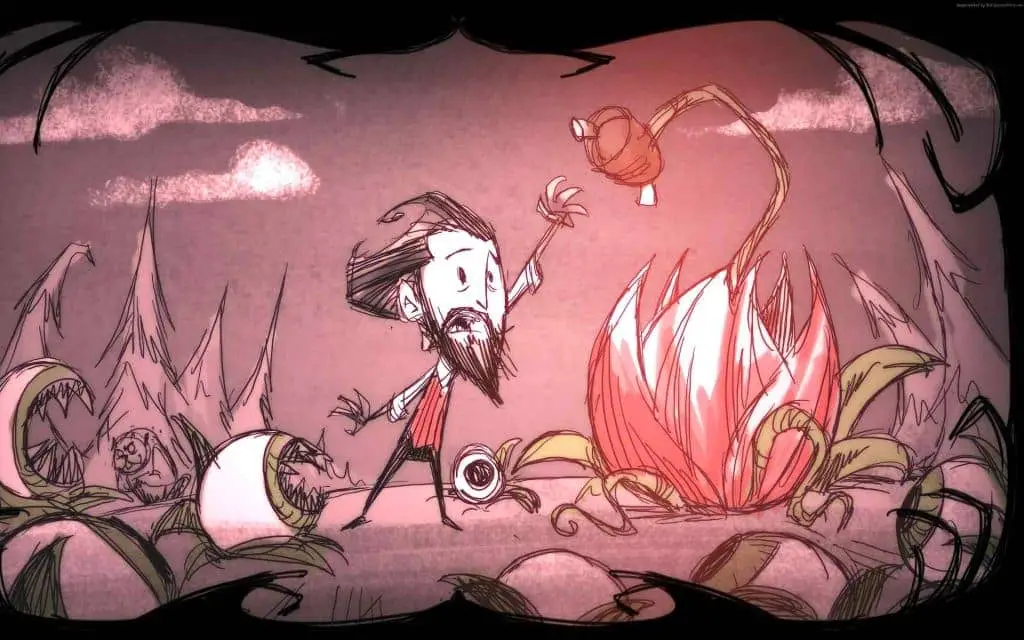 Thermal Stones are helpful because they provide some extra features.
1. Extra Warmth With Thermal Stone When Near A Fire
Holding the thermal stone next to the fire allows you to reach a higher player temperature without a thermal stone would. The maximum temperature you can reach with the thermal stone next to a fire depends on the ambient temperature. Luckily, if you heat yourself and then stack on tons of insulation and drop the thermal stone, that translates to about 20 to 40% gain in the time to stay away from the heat.
2. Thermal Stones Are Backup Heat Source
Even if you have suitable winter clothing, there could be times when the thermal stone in your inventory will prove helpful. For instance, when fighting and wanting to wear extra protection but can't stand next to a fire, the backup thermal stone will keep you warm enough to finish your enemies before getting too cold.
3. You Can Overheat With Thermal Stones In Winter
If you place two heated thermal stones in your backpack, they will cause overheating and cook until you die. Dropping one stone from your backpack after overheating prevents you from dying. To take advantage of overheating, wear the backpack until you overheat, then drop the backpack after overheating and wear your winter clothing back.
Because you overheated 65 degrees, that will be about 30 to 40 degrees higher than you can typically get. With this method, you enjoy the slow rate of insulated temperature decrease over the next two or more days.
A Recap On What To Do In The Cold
Winter clothing is a great way to warm your character. The more winter clothing you have, the longer you can survive. A thermal stone is a decent option if you have no winter clothing, but it is significantly better in the late or early winter.
Even when you get winter clothing, thermal stones are still valuable because you reach higher temperatures with them when standing near a fire. Thermal stones are also best as a backup heat source.
Final Thoughts
Winter is an excellent addition to the game and is also challenging. Generally, you should prepare for it at the end of summer. Winter clothing and thermal stones are also very advantageous. You especially need to learn how winter and freezing work.
Since the game doesn't tell you the ambient temperature, you can always download a mod. Before going out in the wild in winter, prepare for it because it is dangerous.