Quite naturally, every gamer has some goals that they intend to achieve when they're playing their favorite game, such as Stellaris. Stellaris is a game that deals on strategizing and manipulating other factors in the game in order to come out victorious.
This game, developed by the Paradox Development Studio, is an exploration game that is set in space. In this game, gamers fight for survival with a myriad of goals in mind. These goals could range from aiming for a peaceful coexistence with other species in the environment, the absolute conquest of the Galactic area, or just for the pleasure of hoarding resources.
A great desire for players of this game is to increase the percentage level of happiness in the Stellaris game. This is so because having unhappy pops can cause some damage for the player during the gameplay. A major disadvantage of having unhappy pops is that unhappy pops may not be able to produce as many resources as is required by the player.
Another reason could be that a happy population rate could create unrest, and even if they do not do this, they can combat the unrest without the use of any stronghold. For some players, the sheer thrill of having the green bars full and showing at 100% is enough reason to go the extra mile to increase or maintain the happiness level whenever the need may arise.
At this point you may be curious to know the ways you can increase your happiness level when it goes down. Well, here are some practical ways in which you can increase the happiness level of the pops:
Also Read: In What Year Does The Stellaris Game Start?
1. Make the Factions Happy
One major reason why the percentage happiness of your pops may be declining may be because the various factions in your game are not happy. To change this scenario, you need to change the policies you have adopted in playing the game, so that you can achieve a different result. This can increase the population happiness significantly.
Some ways to make the factions in your game happy may include having a different approach for the different factions. The faction they call the materialist faction can be made happy if you can buy the curator order. Another way is to make sure that Al is enabled on your device. This simple switch can change things considerably.
Another interesting faction is the faction termed the militarist. This faction loves warfare and believes in combat. To make them happy is quite easy – all you have to do is declare some planet members as rivals and act like a superior species to others. They are a belligerent faction and only aggression can make them happy.
The Xenophile faction is an interesting faction to make happy. A simple twist like banning a purge and following some democratic policies can make this faction happy. This faction also favors the co-existence of refugees in the empire.
For some other factions, they are impossible to please. It will be best to avoid them altogether if you care about your happiness percentage.
2. Build a Holo Theatre on Every Planet
Creating a holo theatre on every planet in the empire is also a great way to increase population happiness in Stellaris.
3. Always Play with a Familiar Faction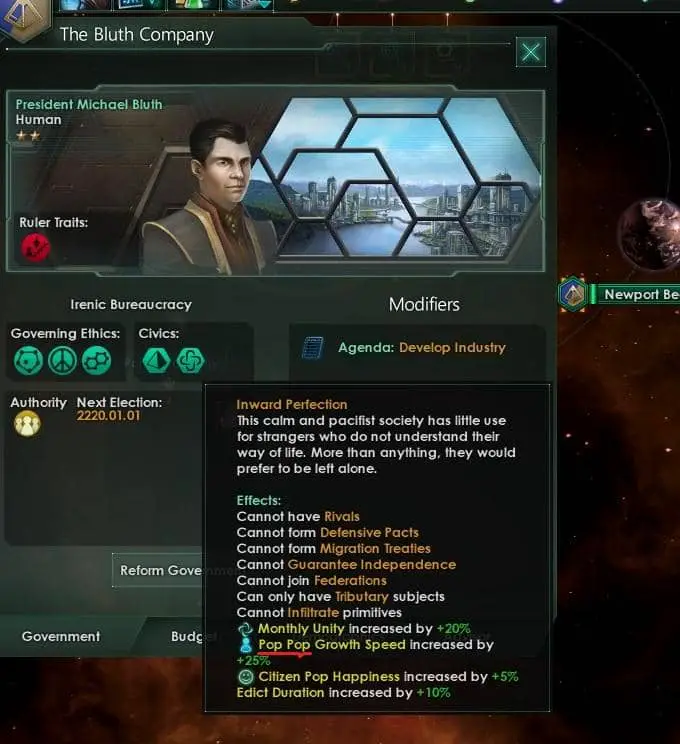 A good way to increase the happiness percentage is to study the various factions and play with the faction you understand most or are familiar with the most. For most times, I prefer playing with the Egalitarian faction. I enjoy their principles of play. The Egalitarian faction comes with a 20% happiness level, so topping this will just require living in utopic situations. The lifestyle of Egalitarians is quite high, this is what attracts the pops to them.
Also Read: How to Build Transport Ships in Stellaris?
4. Study your Factions
A great way to increase the happiness percentage in the Stellaris game is to observe the numbers in your factions. If a great number of the factions in your empire are unhappy, the happiness percentage will be low. You have to find a way to make them happy and this can be done by increasing the living standard.
Increasing your happiness percentage in Stellaris is not so tough, I will recommend taking a few minutes or games to study the different factions to understand what each faction favors, supply these materials and you can sit back and watch your happiness percentage soar.