In Stardew Valley, you can cook various recipes. There are different types of ingredients available in the game, which you can use to make different types of recipes. You can cook the food and give it to others.
If you want to access the recipes in the game, we can help you. In this guide, we will show you how to learn recipes in Stardew Valley.  
Also Read: How to Get Hay Out of Silo in Stardew Valley?
Concept of Cooking in Stardew Valley
While the game may look like a typical MMO, cooking in Stardew Valley isn't just about eating; it can help you gain health, boost stats, and gain more friends. Cooking is available to players once they've upgraded their farmhouse and added a kitchen, stove, and fridge.
You can also learn new recipes by watching the cooking show "The Queen of Sauce" on TV. You can view these episodes whenever you want, but make sure to check the TV schedule to avoid being disappointed.
In Stardew Valley, there are 74 different recipes available in the kitchen. The recipes are divided into three categories, each of which can help players gain luck. Some ingredients can be farmed, while others can only be found in certain locations.
In case you're looking to get a rare ingredient, you can sell it to Pierre for extra cash. Once you've mastered cooking, you'll find that cooking in Stardew Valley can be a fun and productive hobby.
What Are Recipes in Stardew Valley?
In Stardew Valley, there are recipes for many things, from Tom Kha soup to Blueberry Tart. Cooking in the game can be incredibly rewarding, and some recipes even require you to make friends in Stardew Valley. Recipes can make your farm day a lot easier, and they can even boost your luck.
The recipes you make can help you restore your health and energy. Some will give you buffs and other useful stats, while others will replenish your health and energy meters.
Some of these recipes are simple to make, like Roots Platter, which requires Cave Carrot and Winter Root. Upon completion, it will replenish you with 135 Energy and 60 Health. You'll also get an Attack + 3 buff for five minutes.
To unlock a recipe, you must first learn it. If you don't have the ingredients in the game, you'll need to purchase them at a shop. Once you purchase them, you'll have a lot more options to cook.
The recipes you unlock will be different every time you play. But in general, recipes will be more useful when you have a lot of resources. It's important to get the ingredients you need for a recipe before you can make it.
In Stardew Valley, there are three cooking achievements. You can earn the "Cook" achievement after learning ten recipes. You can also earn the "Sous Chef" achievement after cooking 25 recipes. And finally, you can become a "Gourmet Chef" by cooking all 74 recipes. Cooking is a great way to use any extra produce and restore energy. You can also sell your raw materials.
Also Read: How to Sell Fishing Rod in Stardew Valley?
How to Learn Recipes in Stardew Valley?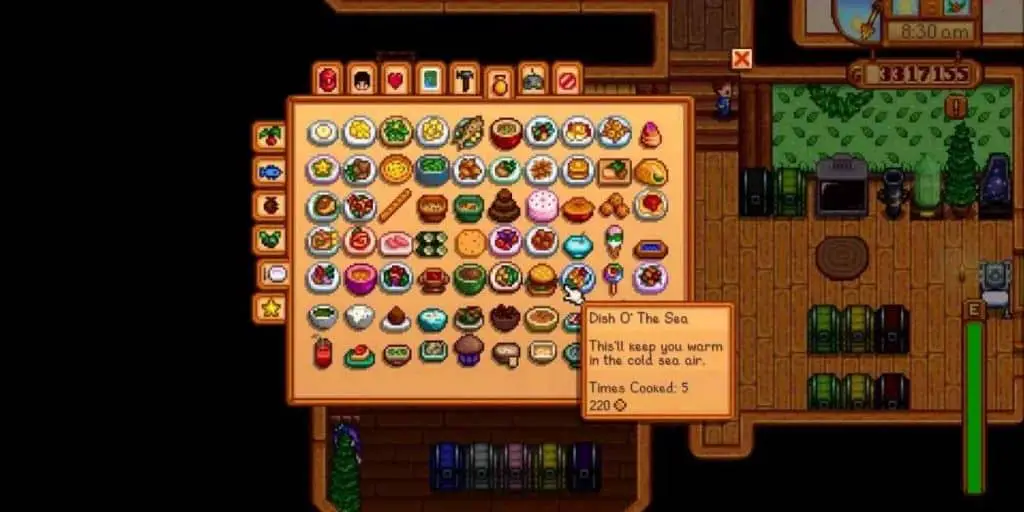 Cooking is an integral part of Stardew Valley. Players will need to learn a recipe before cooking something. One way to do this is to watch 'The Queen of Sauce' show on TV, which airs every Sunday and Wednesday. Once you have watched the show, you can learn additional recipes by befriending villagers, buying from The Stardrop Saloon, and leveling certain skills.
Queen of Sauce Recipes
This cooking show shows new recipes every week. However, before you can start cooking, you must check the schedule. New episodes are aired every Sunday in the first two years of the game. You can also catch random reruns on Wednesdays.
The cooking show can also teach you how to prepare chocolate cake, which you can cook in your own kitchen. If you want to make a delicious chocolate cake, you can watch the Queen of Sauce cooking show on TV on the fourteenth day of winter.
Friendship Recipes
There are hundreds of recipes to choose from, and NPCs such as Linus can provide you with these recipes. To unlock the recipe, you need to reach three stars of friendship with Linus.
Once you have reached three stars, check your mailbox to get your recipe. In the game, you can make new friends by sending recipes, as well as making dishes that others can cook. Friendship Recipes are a great way to make a day at the farm easier and boost your luck.
Level Up Recipes
In Stardew Valley, cooking has several uses. Unlike actual skills, cooking has no set number of levels. Rather, gamers can unlock more recipes as they play the game. In addition to increasing a player's health, eating meals can also provide energy and other advantages.
As you progress through the game, you can unlock seasonal recipes. These recipes can help you grow more items and even provide gifts to your friends.
Other Recipes
Other recipes in Stardew Valley are available on the game's menu. Players start with eight recipes and need to earn more to unlock new ones. Players can also gain recipes by advancing their farm, making friends with other players, and buying them from shops. Players should know that the menu is divided into two sections: the recipe menu and the skill bar. 
Also Read: How to Quickly Level Up Foraging in Stardew Valley?
Conclusion
So, if you want to learn recipes in Stardew Valley, you can either watch "The Queen of Sauce Recipes" cooking show, learn recipes from NPCs, level up in the game, or check recipes from the game menu.