Diablo 3 tells the story of the Nephalem, a warrior on an eternal crusade against the powers of Hell, which will lead them even to the High Heavens to avert the End of Days. Although your demonic adversaries come in all shapes and sizes, many of them are much stronger, demanding a higher effort from you to vanquish them in combat.
Also Read: How To Learn Jewelcrafting Recipes in Diablo 3?
Who Is Izual in Diablo 3?
Izual, an angel out from High Heavens, was among the most loyal servants and closest allies of Tyrael until he became corrupted and subsequently imprisoned in the Endless Conflict. After being a shadow of his previous self and giving away some of the darkest secrets of the High Heavens, Izual wound up dead and then reincarnated as a demon, henceforth serving the Flaming Hell, leaving behind any sign of the holy warrior he once was.
Where And How To Find Izual In Diablo 3
Izual's position in Diablo 3 is the Crystal Arch throughout Act 4 of the game's storyline. You will come here after a spectacular cut-scene wherein Diablo invades Heaven and sends his minions to kill the angels.
This location is the core of the High Heavens; therefore, you will have to fight through a substantial chunk of the map before meeting Izual himself. Then, make your way thru the Silver Spire location of Paradise till you reach the Crystal Arch.
Also Read: How to Run Diablo 2 in Windowed Mode?
Izual's Location In The Silver Spire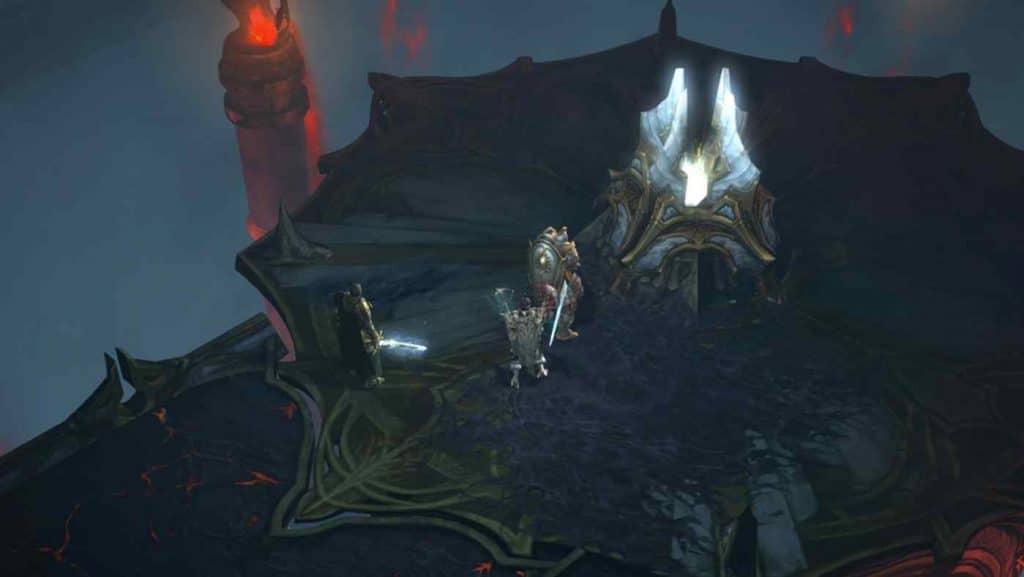 The Great Span is a zone in Diablo III that can be discovered between Silver Spire Levels One and Two in Act IV. Izual will be found near the bottom on the lowest right side of the bridge.
How To Beat Izual In Diablo 3
After entering the blue crystal-framed circle, the player would only be able to engage in combat with Izual. A short cut-scene will present the character once the combat begins in earnest, providing you wit a few precious seconds to plan your attack.
Izual is a hulking brute that moves deceptively rapidly and constantly spams Frost Nova, making anti-cold buffs extremely useful against him. He's replaced his swords from D2 with a massive mace, and he'll summon minions to help him in his fight against you on a regular basis.
Beyond the normal Oppressors and Tongue Lashers that have infiltrated the Heavens in the wake of Diablo, Izual will summons Corrupted Angels to aid him in battle. These are only harmful if the player is completely encircled; thus, it is best to deal with the minions as fast as possible before concentrating all of one's efforts on Izual himself.
Izual only utilizes three other techniques after Frost Nova, making learning and preparing for his patterns a simple task. His Frozen Storm ability, on the other hand, is extremely lethal to characters that are susceptible to cold damage. Most of his attacks will be slashes, with a slower but more powerful variation of this as a backup option.
Izual is immune to most types of damage, although he has the greatest resistance to cold; consequently, avoid engaging him with anything that has the element of ice or cold.
Also Read: How to Farm Death Breath?
Other Strategies For Battling Izual
By having a follower, players may make the combat with Izual a lot less difficult. Kormac, the Templar, is particularly valuable since his healing bonuses aid in keeping your group alive while on the battlefield. Kormac is also capable of holding his own against Izual in close quarters. If all other followers try to go toe-to-toe with the large behemoth, they may find themselves falling soon.
Think about equipping the Ice Climbers set and the Talisman of Aranoch in order to make beating Izual a little less difficult. This equipment gives a reasonable level of protection against his cold assaults.
Once Izual has been defeated, he will drop the Staff of Herding recipe, which may be valuable to caster builds in particular. A new lore entry for the character will also become available, allowing players to learn more about the character's background.
Conclusion
The first major boss battle in Diablo 3 would not be too difficult; however, the mad king is still capable of crushing the skulls of those who aren't properly prepared. At greater difficulty levels, he may catch you off a surprise by mixing skeletal summoning with a number of lethal melee assaults, which he can use to his advantage. Deal with those groups of skeletons as soon as they come, but otherwise, simply keep chipping away at the show's main attraction until it is defeated.